Pinned against the slope of a hill in Bangladesh's newly-engorged Kutupalong-Balukhali refugee camp, Mohiuddin's classroom is nothing but a parcel of bamboo and tarpaulin.
It may be slightly sturdier than the makeshift homes crammed onto every other available inch of the incline, but Mohiuddin fears it will offer little resistance when cyclone season arrives in just a few months.
"In this kind of situation, how are we going to live during the rainy season?" said the teacher. "How will we stay here?"
Mohiuddin says he was forced out of his village in Myanmar's Rakhine State two months ago, part of an exodus that has seen more than 655,000 Rohingya surge into Bangladesh since late August.
"It's going to be a disaster within a disaster; we're going to have to re-start."
The furious rate of refugee arrivals has completely occupied aid groups, local NGOs, and Bangladesh's government over the past four months. They have rushed to supply shelter, food, water, healthcare, education, and latrines to a rapidly expanding population thronged together on flood-prone fields and slippery hillsides.
But as Mohiuddin and other new refugees dig in for what will likely be a long-term existence in Bangladesh, they're also looking ahead to a looming danger: next year's cyclone and monsoon season will bring winds and rains hurtling down on the camps.
Even a moderate storm could have a devastating impact, and the short dry season now underway offers precious little time to prepare.
Floating away
The Bay of Bengal sees frequent storms during a cyclone season that typically peaks in May and November. In May 2017, three months before the latest refugee surge began, Cyclone Mora tore through the area with 130-km/h winds. The International Organization for Migration estimated that the storm destroyed one quarter of the makeshift homes in refugee settlements, damaging supplies and wrecking infrastructure.
But that was considered a Category One storm on a five-point scale of severity: dangerous, but not typically catastrophic. Now, the refugee population has multiplied.
Even a storm like Cyclone Mora could destroy the work done since the latest round of Rohingya refugees began arriving in August, aid groups say. A more extreme storm could be a total disaster.
"If it's a slow-moving cyclone and it dumps a lot of water, we're going to see massive landslides, massive amounts of flooding," said Graham Eastmond, who coordinates the myriad aid groups working on supplying shelter in the camps. "Rather than houses flying away, we're going to have houses floating away."
Apart from powerful storms, the regular monsoon rains could bring devastating landslides and floods. While Cyclone Mora was damaging, a series of landslides that quickly followed claimed dozens more lives.
Aid workers fear that shelters, latrines, and other infrastructure hurriedly put in place to cope with the weight of this year's influx could be washed away.
"It's going to be a disaster within a disaster; we're going to have to re-start," Eastmond told IRIN. "The monsoons themselves are going to create a whole different landscape to what exists now."
Refugees that arrived after the August violence were spared the impacts of a powerful storm. But early December brought an indication of what could come. A deep depression over the Bay of Bengal deposited a fraction of the rainfall that would accompany a tropical cyclone, but even this was enough to turn the camps' narrow footpaths to mush.
A plan, but little room
The logistics of preparing for cyclones and a heavy monsoon season are daunting in the densely packed camps: reinforcing muddy roads, sandbagging, and levelling unstable areas, pre-positioning supplies, formulating evacuation routes, finding sturdy emergency shelters, and even communicating all of this to refugees in a frantic environment where language barriers have been a problem.
"You talk to anybody here and most people are worried that we have a very, very small window now in the dry season," said Shelley Thakral, a spokeswoman for the World Food Programme.
WFP engineers have built a bridge in a part of the camp and are working on ways to make sure aid groups can still deliver supplies when the monsoon rains come. But the crowded landscape is formidable, from tents clustered on floodplains to homes carved into the slopes.
"It's tiered housing. People have cut themselves into the sides of hills," said Thakral. "The earth is very porous; you just sink in it. It's impassable."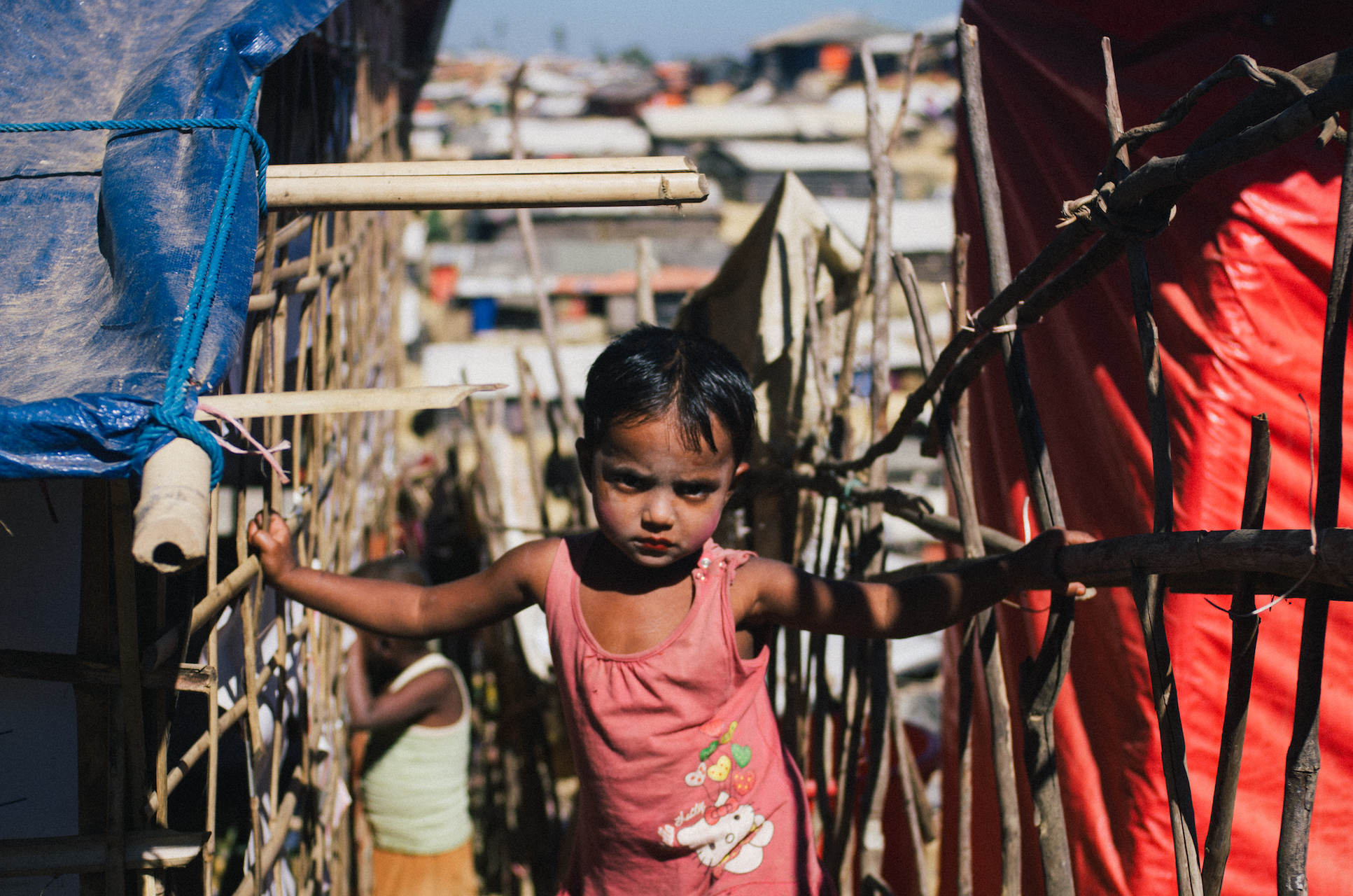 A powerful cyclone could demolish the muddy footpaths that connect the most isolated shelters in the sprawling camps, but it could also cut off agencies based in the resort town of Cox's Bazar from the 40-km stretch of road along which most of the settlements are scattered.
Local NGOs have set up bases closer to the camps and the WFP has a central logistics hub where a refrigerated container and 16 mobile units will be stocked with supplies. Smaller containers could be brought in to the refugee sites – though where exactly they would fit in the teeming camps is uncertain.
This speaks to the central problem posed by the land itself: there's not enough space in the crowded camps.
Eastmond told IRIN that a viable evacuation plan for the Rohingya refugees is a priority. Yet existing cyclone shelters built for the local population in the surrounding sub-districts are already overwhelmed.
His team is exploring plans to either ask longer-term refugees with more stable shelters to take in new arrivals, or to evacuate refugees into more permanent structures like schools and mosques. But it is unclear whether there are enough to hold the sheer numbers who would need shelter.
"The problem with relocation is the fundamental problem we have with the whole response, which is that we don't have land," he said.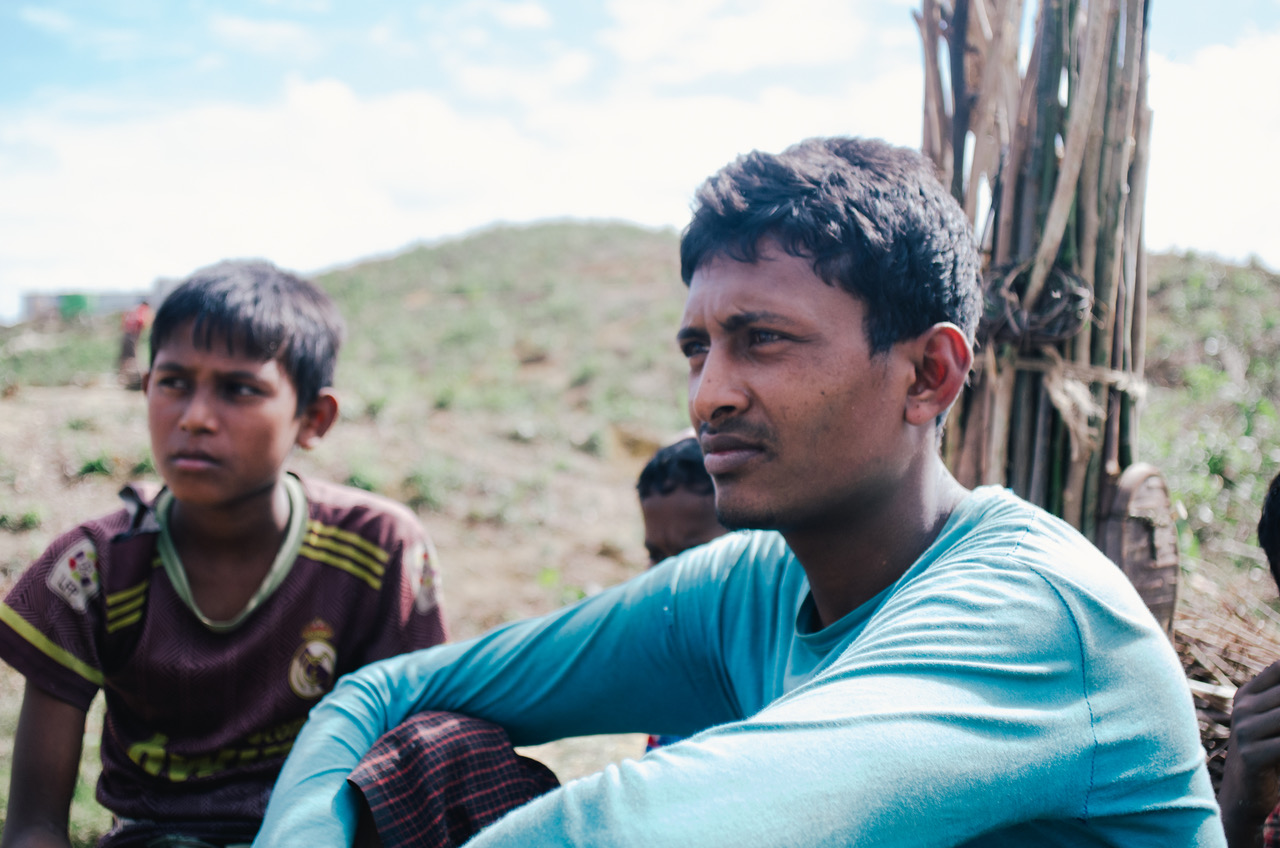 'Everything came down'
Cyclone Mora is still fresh on the minds of Rohingya who were already living here, pushed out by previous waves of violence in Myanmar's Rakhine State.
Nur Asha's home has mud walls, offering more stability than the bamboo and tarpaulin tents many of the newest refugees have built. But it wasn't strong enough for Cyclone Mora.
"My home was destroyed. Everything came down," she said.
Salim Shaheen was born in the camps after his parents fled Myanmar in the 1990s. He told IRIN that people took shelter in nearby schools and madrassas when Cyclone Mora hit, but there wasn't enough room for everyone.
Now, there's even less space. Sunjuddin, a newer arrival who fled his village in late August, told IRIN he's certain a strong storm would knock over his home — a tarpaulin roof latched onto bamboo poles.
"I didn't build my home sturdily, so if a cyclone comes, it will be destroyed," he said. "There's no way I can stay in that hut."
(TOP PHOTO: The crowded makeshift homes in Bangladesh's Rohingya refugee settlements spread out over flood-prone fields and slippery hillsides. Kaamil Ahmed/IRIN)
ka/il/ag