The temperatures soared and the sun seared as Shamsul Islam pieced together a few branches of bamboo and a tarpaulin sheet.
Days earlier, the 50-year-old father of five had fled through waterlogged hills from his home in Myanmar to reach the safety of southern Bangladesh.
More than 507,000 Rohingya refugees have pushed into Bangladesh over the last six weeks, fleeing a Myanmar military crackdown that followed a Rohingya armed group's attacks on border posts in northern Rakhine State.
With refugees overflowing existing camps, newcomers have been forced to seek shelter wherever they can find the space.  
For Shamsul and his five children, this meant sleeping on a roadside when he arrived in Bangladesh's Cox's Bazar in late September.
Now, the Bangladeshi government is pushing forward with plans to build a massive camp it says will host the majority of the new Rohingya refugees. Newer arrivals like Shamsul and his family are being directed toward a 2,000-acre tract of land that stretches from one longstanding refugee camp to another — several kilometres apart.
It's where Shamsul is setting up his new home, propped near a muddy slope and crammed beside similarly stopgap tents. 
"The humidity is high and staying in the sun is difficult," Shamsul told IRIN as he struggled to erect his family's new home in a muddy field.
But the priority is a roof over his children's heads – to shield against the heat, but also the monsoon rains that have lashed the area. Building a latrine is the next step. "This is the biggest challenge now," he said.
The challenge for the Bangladeshi government is bigger: constructing the equivalent of a small city from scratch in the middle of a humanitarian emergency.
Wrangles over coordination in the critical emergency phase can only distract from the efficacy of operations, and Bangladesh has selected the UN's migration agency, IOM, to coordinate international response, not the UN's refugee agency, UNHCR. The unusual arrangement has ruffled feathers in the UN hierarchy and triggered concerns among donors, aid workers say. Bangladesh is however not a signatory to the refugee convention. Observers told IRIN the move may further weaken respect for refugee rights at a time when they are under pressure internationally.
'Not yet suitable for mass habitation'
Families like Shamsul have already moved in, building homes on rain-soaked fields and slippery hillsides.
During a recent IRIN visit to the area, large parts of the camp were muddy and difficult to navigate after a heavy rainfall. Children bathed in dirty water in nearby ponds, while human faeces speckled the ground. 
Missing is the vital infrastructure to support a vulnerable and swelling refugee population: water, toilets, or even the access roads that would help build them.
This has raised concerns that overcrowding could trigger outbreaks of disease, from measles and diphtheria to dysentery and cholera, which is endemic in Bangladesh.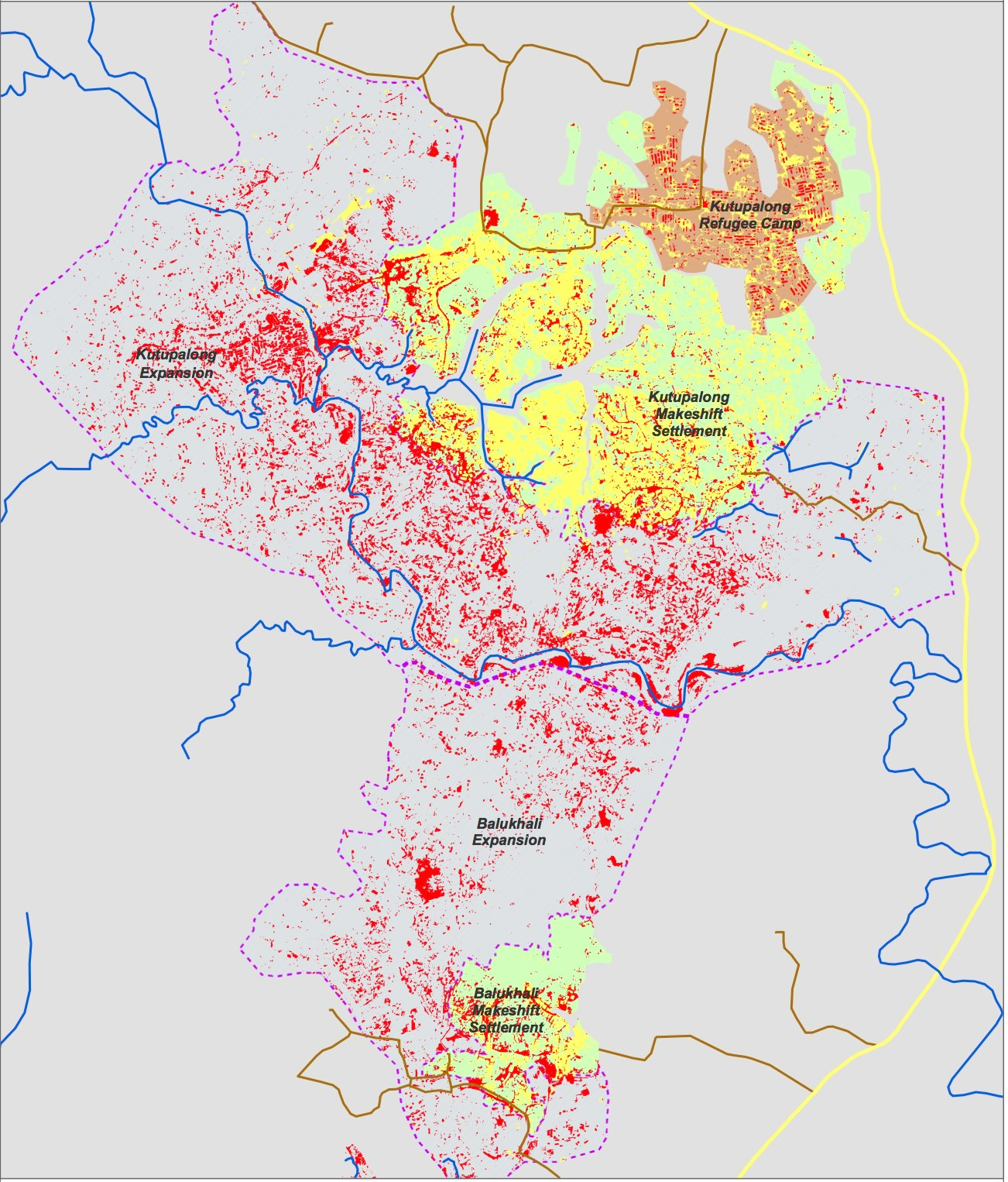 In a 28 September analysis of the public health situation in all camps in Cox's Bazar, the World Health Organization warned that it is "very highly likely" that small clusters of cholera could emerge, while the risk of a large outbreak is "high". 
"Newly created spontaneous sites are not yet suitable for mass habitation," the analysis stated.
UNICEF says a sweeping cholera vaccination campaign for children will soon begin – the group says 900,000 doses of an oral vaccine will arrive in Bangladesh by the weekend.
Aid groups say there's not enough solid information about the extent of "acute watery diarrhoea", which can include cholera, among new Rohingya refugees. But there is "an increasing trend of diarrhoeal disease cases", according to UNHCR.
"Cholera is endemic in Bangladesh and can easily spread any time hundreds of thousands of people live in close proximity without proper sanitation," spokesman Andrej Mahecic said in a statement.
Floods, landslides and elephants
The government has promised to build toilets and tube wells throughout the new camp, enlisting the help of UN agencies and others to plan for 14,000 shelters and other vital infrastructure. 
On IRIN's recent visit, several tube wells had been built in the new camp area, while soldiers laid bricks for pathways into the settlement.
But it could take two months to muster emergency shelter, water, and sanitation coverage in Cox's Bazar's sprawling refugee sites, according to the WHO analysis, and Rohingya continue to push into Bangladesh on a daily basis – weeks after the influx began.
And it's unclear how much of the new camp's 2,000 acres will ever be livable. The WHO estimates 70 percent of the land, set amid low-lying canals and sloping hills, may be unusable, which could entrench overcrowding if the majority of new refugees are clumped together on the 30 percent that is habitable.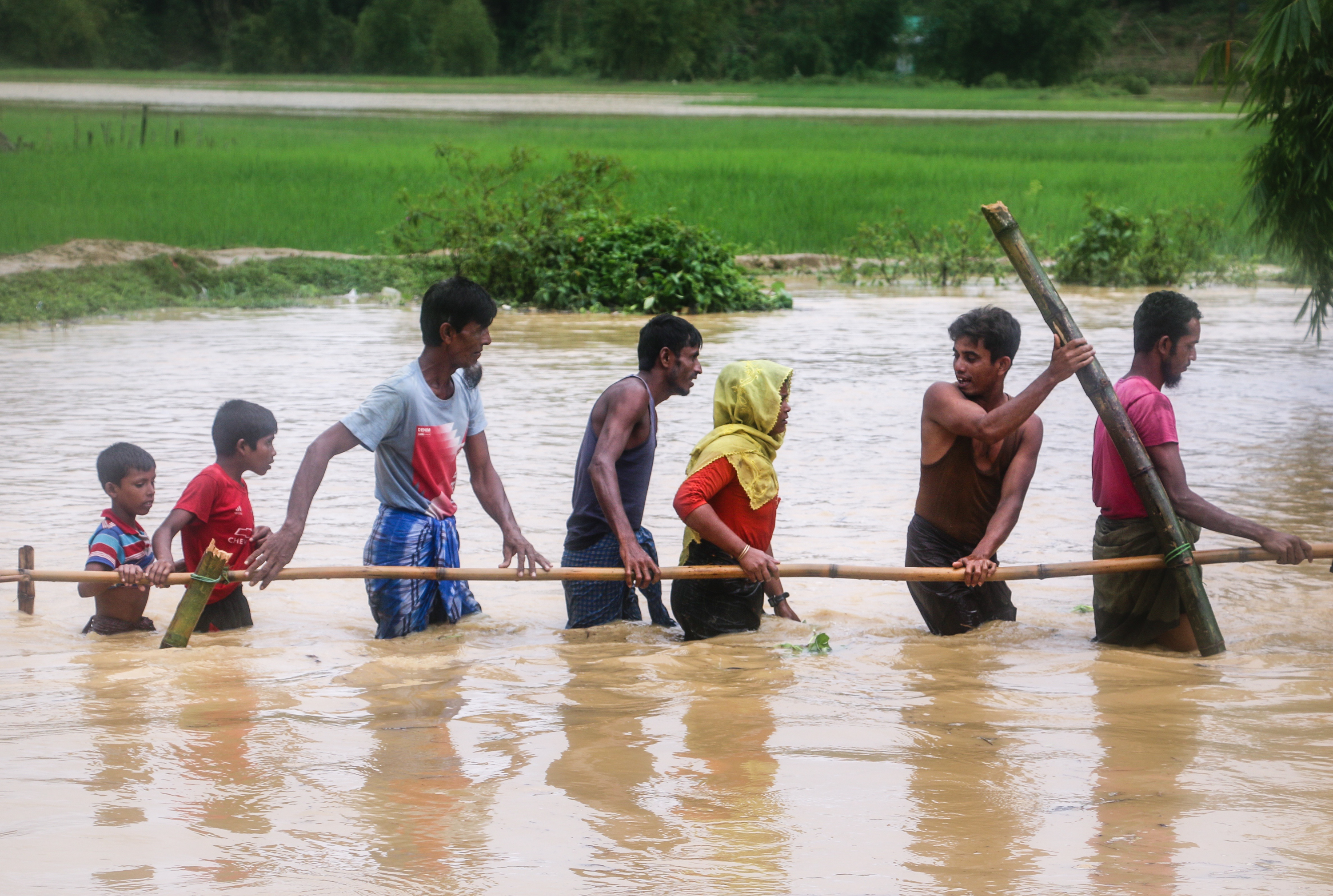 Local Bangladeshis say the land is prone to floods and landslides – and wild elephants.
Safayet Hossain, a fire services official in Cox's Bazar, told IRIN that the makeshift tent cities sprouting up on hillsides could trigger landslides.
Main Uddin, a local government official who coordinates aid distributions in Ukhia sub-district, where the new camp is located, acknowledged concerns about the land, but stressed that authorities would try to make it livable.
"Our target now is to take all refugees to the new camp area so that refugees do not stay on the streets," he said. 
'The fearful life'
While there is an air of permanence to plans for the new camp – reinforced by longstanding refugee settlements that have remained in Cox's Bazar since the 1990s – officials in Bangladesh are stressing that the site will be temporary.
They have again raised the possibility of sending Rohingya refugees to a remote, barren island. 
Officials have also said refugees would be barred from leaving the planned new camp, and suggested the settlement could be fenced in with barbed wire.
Rights groups say this would amount to creating a "locked detention camp".
Related stories:

Killings spark fear, rumours in Rohingya refugee camps
"It's quite clear that it will be some time before the aid being provided to these refugees is sufficient to take care of their daily food and other basic needs," said Phil Robertson of Human Rights Watch. "So these refugees need to be able to take care of themselves in some way, which they can only do if they are able to move around as needed."
During IRIN's visit in late September, Rohingya refugees were free to leave the new camp area, but a series of checkpoints had been set up to block refugees from leaving the sub-district.
But these are more distant concerns for recently arrived refugees. Din Mohammad, 35, told IRIN he fled Myanmar carrying his elderly father on his back in a bamboo basket. His new home is muddy, but safe.
"We should not complain. We are better now," he said. "It is a much better life than the fearful life back in Myanmar."
mw/il/ag