Kalu Kanwar walked three hours under a scorching sun to collect compensation to rebuild his house, which was destroyed in last year's Nepal's earthquake. But he returned to his family empty handed. His home had been left off the list of damaged buildings.
About 9,000 people were killed in the 25 April 2015 earthquake and another that followed on 12 May. The back-to-back disasters damaged 284,479 houses and completely destroyed another 602,567, according to surveys carried out by the government.
Quake victims are eligible to receive grants of about $1,885 for reconstruction. After more than a year of bureaucratic bungling and political infighting, the government finally began distributing the first installments of about $470 during the past couple months. 
But people like Kanwar now face an additional bureaucratic hurdle: surveyors may have missed more than 100,000 homes when carrying out their damage assessments. The government only realised this belatedly, issuing a form in May to allow people who were left out to register.
Surveyors failed to note more than half of the 600 homes in the Kerabari Village Development Committee area, which includes Kanwar's village of Ragé and is in Gorkha District where the epicentre of the quake was. 
Those left off the list in Kerabari submitted their forms to the government. But when a group of residents went to the town of Bhachhek to claim compensation two weeks ago, they found that their forms hadn't been processed yet. Only those counted in the initial survey received grants.
"This present situation is like bringing three brothers to a table laid out with a sumptuous meal, and then letting only one of them eat while the others watch," said Kanwar as he prepared to walk back to Ragé.
Waiting game
The government's National Reconstruction Agency has received almost 150,000 forms from across the country, according to Ram Prasad Thapaliya, the NRA spokesman.
"Committees for deciding cases of houses missed out have been formed at the village and district levels already, but it's not effective yet because we are focused on the distribution of funds (for houses included in the initial survey)," he told IRIN.
Before disbursing funds to people who have submitted the forms, the NRA will need to check their homes to confirm damage. It's unclear how long this process will take, but considering that it has taken Nepal about 15 months to start disbursing reconstruction grants to those who were surveyed, the prospects are not encouraging.
"I've been told from the centre that those who have filled the forms will receive the money soon," said Ram Prakash Chaudhary, secretary of the Village Development Committee in Kanwar's area. "But I can't say what that 'soon' means. It could mean one month, two months, or even next year."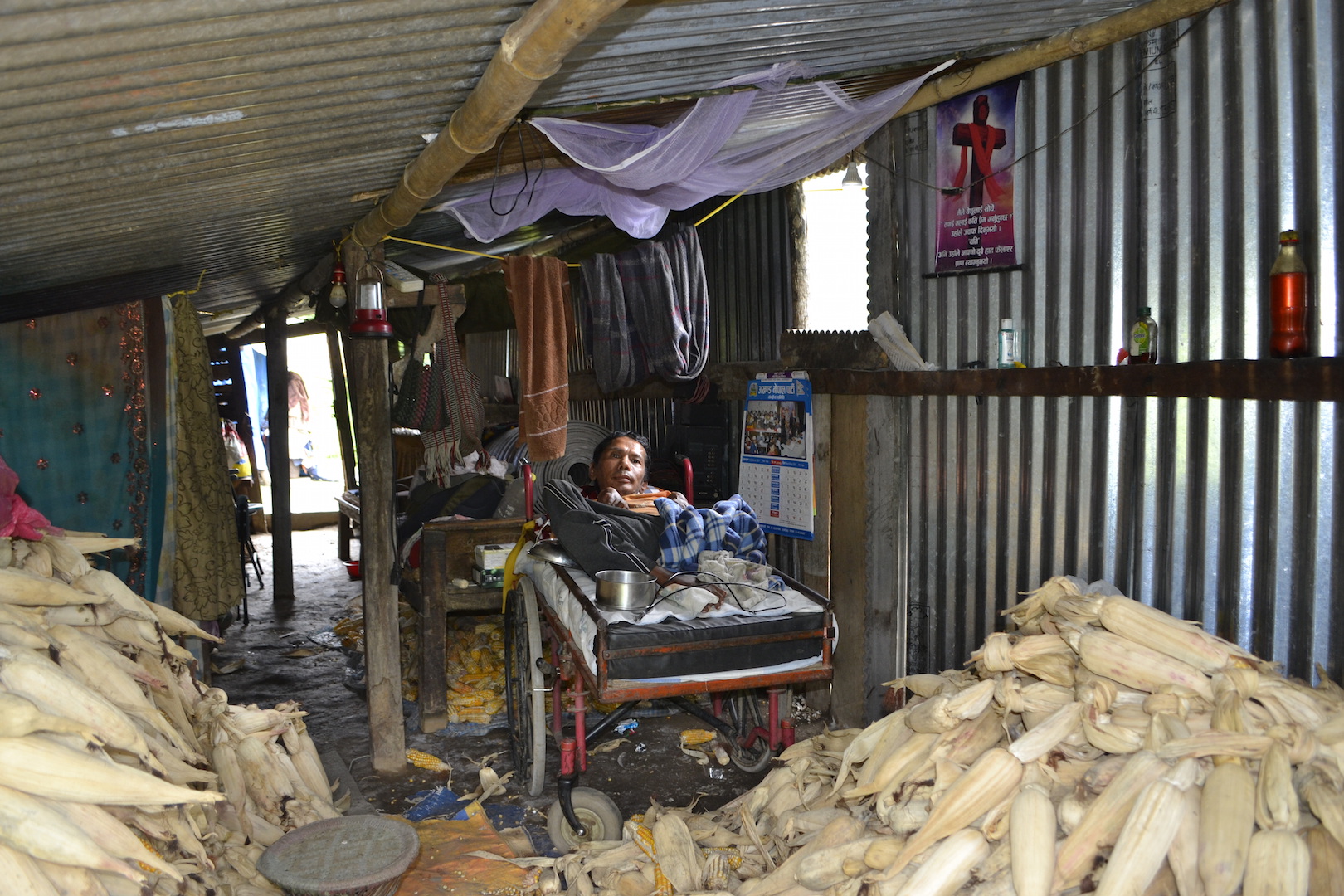 Frustration rising
Errors, both technological and human, appear to have undermined the initial survey, although the government has so far declined to explain publicly what happened.
Villagers said some of the tablets used by the surveyors to collect images of damaged buildings malfunctioned, and an official at the NRA confirmed this to IRIN on condition of anonymity.
"Confusion about the area assigned to an individual surveyor, and deploying social workers in villages other than ones they had worked in also contributed to the errors," said Shiva Bhusal, a government engineer working in Gorkha District.
He explained that social workers could have easily missed homes if they were surveying areas they were not familiar with, because they would not have known where all the houses were and may not have known the exact boundaries of the areas they were surveying.
The reasons for the missteps hardly matter to victims who are weathering their second monsoon season without adequate shelter, as winter looms.
Rajendra Regmi, a teacher in a primary school in Birauta, said frustration is rising in his village as some receive compensation while others are left out.
"It's hard to console yourself when the person who is receiving government aid has not lost anything more than you have," he said. "The aid distribution has become like a lottery."
(LEAD PHOTO: 

Victims of Nepal's 2015 earthquake queue at a bank in Bhachhek in August 2016 to receive compensation grants to rebuild their homes. CREDIT: Kapil Bisht/IRIN)