As Greece prepares to deport an initial 500 migrants and refugees on Monday under a controversial agreement between the EU and Turkey, senior Greek officials say the pressure to process applications quickly has become too great, at the expense of legal and ethical standards.
"Insufferable pressure is being put on us to reduce our standards and minimise the guarantees of the asylum process," Maria Stavropoulou, who heads the Greek Asylum Service, told IRIN. "[We're asked] to change our laws, to change our standards to the lowest possible under the EU directive [on asylum procedures]."
Under the terms of the 18 March agreement, Greece must screen all new arrivals from Turkey as quickly as possible and return those deemed not in need of international protection on the basis that Turkey is a "safe third country" or "first country of asylum" where they were already protected.
Most of the pressure, according to Stavropoulou, is coming from "countries that are very invested in the deal with Turkey working." Germany, which received more than one million asylum seekers last year, took a leading role in negotiations with Turkey during a tense two-day summit earlier this month.
In addition to having to screen and return new arrivals, Greece is also dealing with high numbers of asylum applications from the more than 50,000 refugees and migrants who were already trapped inside Greece before the agreement with Turkey came into effect. An overland route through the western Balkans to Germany has been closed for a month and many of those who cannot afford to pay smugglers to find a new route to Western Europe are now applying for asylum in Greece. Authorities here expect to receive just under 3,000 applications in March, double the figure for January and three times last year's monthly average. But even as the numbers have mounted, so has the pressure for speedy processing.
The Greek Asylum Service has just hired three dozen new personnel, bringing its total staff to 295. But it says it will need at least double that number to handle the expected caseload in the wake of the EU-Turkey agreement. The European Commission has estimated that some 4,000 personnel are likely to be needed in Greece and is sending reinforcements.
Many of those slated to join the effort are coastguard officers, but some 800 are asylum experts and interpreters from other member states and from the European Asylum Support Office, the EU's coordinating body for asylum matters. The first 60 are to arrive in Greece on Sunday.
"I believe the Greek system is well supported through this increase in staff – it can handle this workload," said EASO spokesman Jean-Pierre Schembri, who added that much would depend on a speedy initial screening of new arrivals.
"If you have many people arriving every day it makes sense that this process is short in order to be able to deal with the workflow," he told IRIN. However, he insisted that, "it's not a question of making a very, very quick [process] without taking the interests of the applicant into account." 
Short shrift
Some asylum experts believe that the pressure for rapid screening will mean that vital information for determining asylum claims is overlooked.
"It always takes time," said Spyros Kouloheris, head of legal research at the Greek Council for Refugees (GCR), the country's most respected legal aid NGO.
"Someone who is traumatised will speak in fits and starts. They appear not to be telling the truth. We've lost a lot of cases because we didn't have the time, the information, the culture, the experience, to understand that the more broken up the narrative, the more likely it is that there is a background of torture and abuse. This is how true refugees are lost. Do we really think that a Somali woman who has been raped will sit down and merrily rattle off her experiences?"
Of additional concern is the fact that initial screenings are taking place in reception venues on Greek islands that, since 20 March, have been turned into closed detention centres. "A detained person simply doesn't function… You don't play with people's freedom. It's all the worse when they've been storm-tossed," said Kouloheris.
Final decisions on asylum applications rest with the Greek authorities, but officials are so swamped that they are coopting anyone else they can to help inform new arrivals of their right to seek asylum and how to go about it. "We depend on the UN or EASO, on NGOs and on the volunteers – anyone who can have a knowledge of the basics – to hand out our flyers and pass on our web page to people," said Stavropoulou.
GCR has been sending lawyers to the port of Piraeus to tell thousands of migrants and refugees camping out there after recently arriving from the islands about their options. "It's not that they don't know," said Negia, a volunteer at the port. "It's that having made all this effort, they can't believe the borders are closed and they have such few options."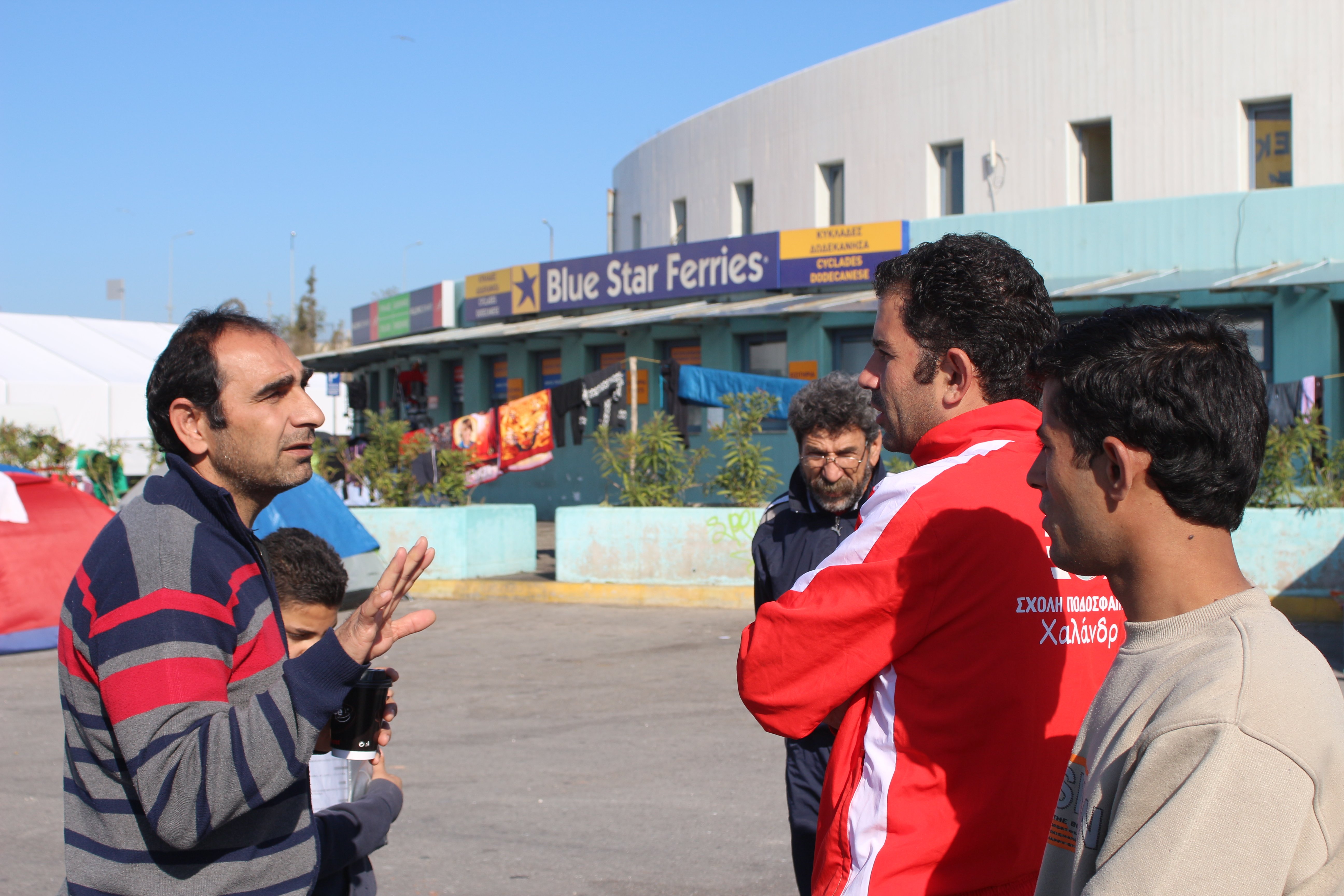 Hala and Fouad, a young couple from Iraq, have made up their minds not to apply for asylum in Greece. "We like Greece, and the Greeks have been very good, very kind," said Hala. "But for my children's sake, I do not want to stay here." The family, who have already spent the past 40 days at Piraeus, have applied to be transferred to Sweden through the EU's relocation scheme, but will have to wait another three weeks for an appointment to assess their case.
So far, a September 2015 agreement by the EU to relocate 160,000 asylum seekers from Greece and Italy over two years has resulted in just under 900 being moved from Greece and a further 2,300 are at various stages in the process, according to Stavropoulou.
For whom is Turkey safe?
The most controversial aspect of the EU-Turkey agreement, however, is Turkey's designation as a safe third country as a basis for rejecting asylum seekers in Greece.
Turkey has ratified the 1951 Refugee Convention, but has not signed a 1967 Protocol extending refugee rights to non-Europeans, meaning that many of those in danger of deportation back to Turkey will have limited legal protection there. The agreement obliges Turkey to make legal changes, but Ankara has already indicated it has no intention of doing so. Greece is about to vote on legislative changes that will make it legal to deport people to Turkey.
Rights groups have pointed out that Turkey has effectively closed its borders to Syrians fleeing the war and recently deported asylum seekers to Afghanistan and Iraq without granting them access to an asylum procedure.
"There is a political dishonesty and evasion in Turkey's designation as a safe third country, and this is also open to legal challenge," said Andreas Takis, a law professor at the University of Thessaloniki who sits on the Greek Human Rights Committee.
Takis predicts that the agreement will turn out to be unenforceable. "There isn't a specific passage in the agreement one can point to and say, 'this is where the Geneva Convention or the asylum procedure is being violated,'" he said. "Instead, everyone is rightly concerned that… it will violate it in the manner in which it is implemented."
Kouloheris agrees, and plans to challenge the deal in court. "I think there is a policy of hostility. Europe is putting up a wall. It doesn't want these people. This treaty makes it clear."
jp/ks/ag