As the world focuses on daily fighting in Syria and the flight of refugees to neighbouring countries, the humanitarian situation inside Syria continues to be under-reported. Here are 10 pressing issues you may have missed:
School year at risk
About one million internally displaced persons (IDPs) are living in public buildings, mostly schools, meaning that thousands of children could be denied access to education when the school year starts. (Classes were scheduled to start next week, but are likely to be delayed). An alternative solution for these IDPs has yet to be formalized, but options include moving the displaced to other public facilities such as sports venues or youth camps, or adopting double-shifts in schools such that some schools can continue to serve as shelters. A ministerial committee has recently been formed to follow up and relocate displaced families. Aid workers stress the relocations should be voluntary.
Shortage of medicines
Syria is experiencing severe shortages of medicines and pharmaceutical products. It used to be nearly self-sufficient in medicine production, but the destruction of pharmaceutical plants and storage facilities, particularly in Aleppo, has left gaps. Patients with hepatitis, diabetes and cancer who need drugs on a daily basis are in particular need. Meanwhile, the number of people severely injured and in need of medical care is increasing as the death toll mounts. Access to health facilities has become difficult or impossible in some areas due to violence, checkpoints and fuel shortages. Opposition supporters often do not trust government hospitals for fear of being picked up by police; and many health staff are not reporting for work.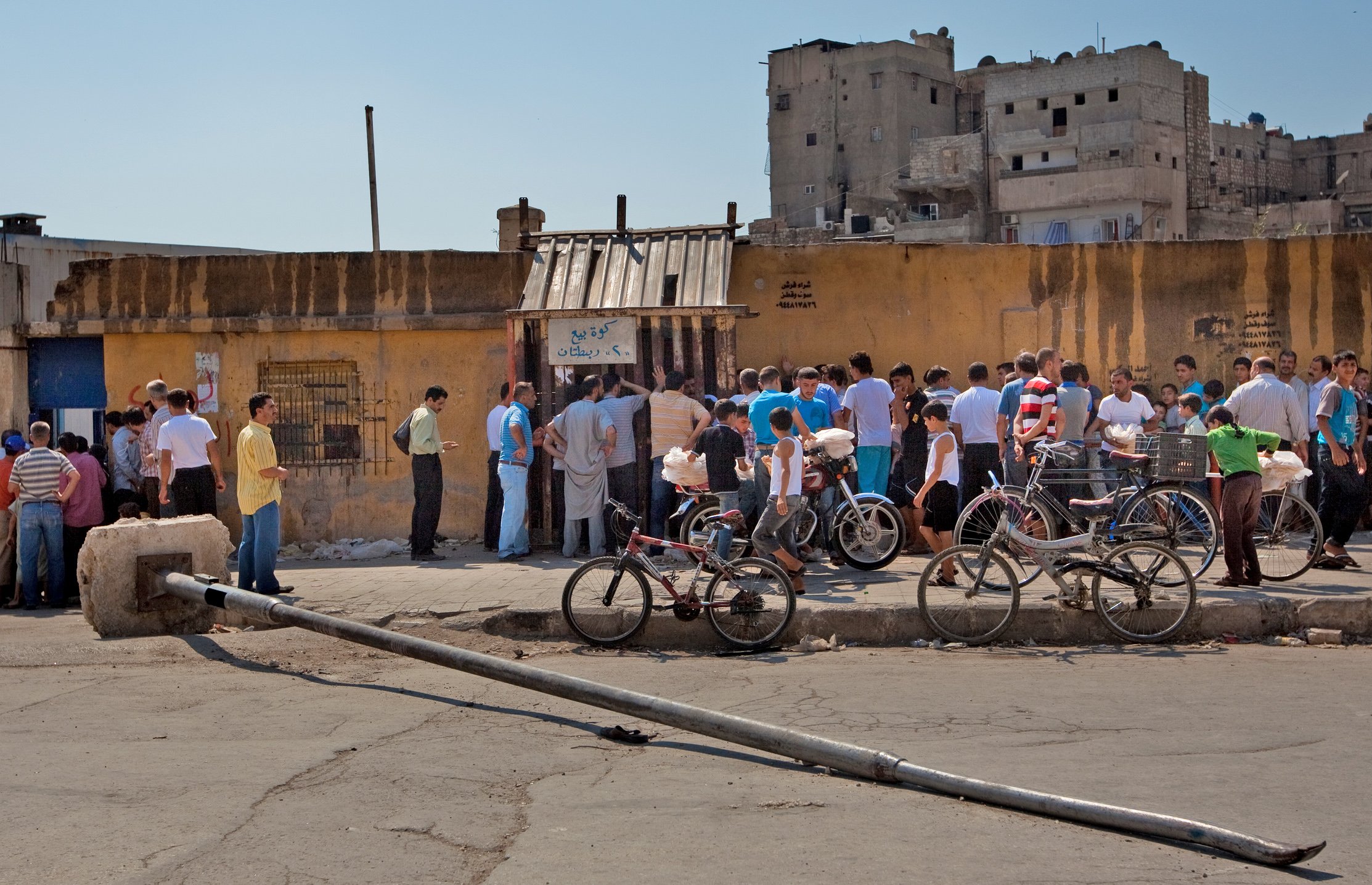 Bread lines targeted
Amid rising food insecurity, bread queues are being targeted, according to rights groups. An early September bulletin by the UN Office for the Coordination of Humanitarian Affairs says civilians appear to have been targeted while seeking food and other essentials or trying to evacuate the wounded. Human Rights Watch reports that Syrian jets and artillery killed scores after targeting at least 10 bakeries in Aleppo in recent weeks. Overall, food insecurity in Syria has worsened to the extent that three million people need food assistance, according to the UN and the Syrian government.
Winter approaching 
A further deterioration of the humanitarian situation is looming as winter approaches. Syrian winters can bring near-zero temperatures and cold winds, and aid workers are concerned the displaced will not be able to cope without adequate preparations. But with few resources and constant new waves of violence, many aid agencies cannot afford to think that far ahead. "Winter could be quite severe in Syria," UN Regional Humanitarian Coordinator Radhouane Nouicer told IRIN. "With the crisis in terms of fuel, and the lack of sanitation and water and heating systems, the winter might become a bit of a tragedy for many Syrians, unfortunately."
Unemployment skyrocketing
In some parts of the country, unemployment has more than quadrupled, according to government statistics from last December. The national unemployment rate rose from 9 percent in 2010 to 15 percent in 2011. Hardest hit was the northeast of the country: in Ar-Raqqah Governorate, unemployment rose from 7 to 22 percent, an increase of 222 percent; in Hassakah, from 15 to 39 percent; in Deir-ez-Zor from 13 to 24 percent; and in Homs from 7 to 17 percent. Aid workers say the numbers are likely to increase further as economic sanctions bite and violence disrupts normal life.
Funding neglects key sectors
While funding for the humanitarian response in Syria is low overall, certain sectors have been almost entirely neglected. For example, while coordination costs are more than 100 percent funded, and food costs are nearly half funded; water and sanitation costs have received only 12 percent of requested funding. "There's a big concern [within the UN] about the problems that might come from lack of clean or adequate water," Paul Stromberg, deputy representative of the UN Refugee Agency (UNHCR) in Syria, told IRIN in July. "[In summer], in many areas, it is 37-40 degrees. If people aren't able to wash and there isn't adequate sanitation, that's an issue that will create a number of knock-on problems in the heat." Already, Aleppo has seen cases of scabies and lice; while cases of diarrhoea have been reported in Homs and Rural Damascus.
Read More: 

Politics trumps humanitarianism

Three million people need food aid - UN

Fighting in capital adds to growing displacement challenge

The mounting Syrian refugee crisis

Palestinians being drawn into the fight

Unrest affecting entire communities
Criminality rising 
As violence and chaos spread, extortionist kidnappings are on the rise. Sectarian and politically motivated kidnappings have been well-documented, but according to residents of different Syrian cities, kidnappings increasingly appear to be carried out solely for the purpose of extorting ransom or settling personal scores, with for-profit criminal behaviour becoming pervasive in some badly policed areas. Often, financial, political and private motivations for kidnapping intersect. "These days, everybody is at the risk of being kidnapped on the streets," Rami, a resident of Damascus, told IRIN.
Non-Arab refugees
Syria has long hosted more than one million Iraqi refugees and half a million Palestinian refugees. Lesser known are thousands of non-Arab refugees who have sought refuge there. In Damascus, refugees from Afghanistan, Sudan and Somalia who were hosted in schools had been requested to leave for other locations by the end of August, according to UNHCR. These refugees have limited resources to find alternative shelter, and are particularly vulnerable, although UNHCR has distributed some grants for rental accommodation.
Fewer places of refuge
The worsening conditions and deepening violence in Syria are making it increasingly difficult for displaced civilians to find refuge. More and more villages are empty or destroyed; space in public buildings is becoming limited; and host communities have less capacity to take in guests. Syrian activists also accuse the government of punitive house demolitions or arson. As frontlines multiply, displacement has become more chaotic: families often have to flee violence for the second or the third time, and compete for shelter.
Kidnappings of Iraqi refugees
Instability in Syria has allowed Iraqis to try to settle old scores with fellow nationals that had taken refuge next door in Syria, with a series of kidnappings occurring in recent months, according to a UNHCR official, particularly in Sayeda Zeinab District of Rural Damascus, an area of Iraqi refugee concentrations.
ag/ha/cb
Sources:
UN Office for Coordination of Humanitarian Affairs in Syria
World Health Organization (WHO)
Speech by UN Deputy Secretary-General Jan Eliasson at the Security Council on 30 August
IRIN interview with UN Regional Humanitarian Coordinator for Syria Radhouane Nouicer
Human Rights Watch
Central Bureau of Statistics
UN Financial Tracking Service
International Crisis Group
---
This article was produced by IRIN News while it was part of the United Nations Office for the Coordination of Humanitarian Affairs. Please send queries on copyright or liability to the UN. For more information: https://shop.un.org/rights-permissions