The latest UN figures show that 160,000 houses in northern Sri Lanka have to be repaired or rebuilt as the conflict-displaced return to their home areas.
"That's what I want the most," said Nagarajan Kallaiamuda, 22, a returnee to Pulliyankulum village in Mullaithivu District outside her temporary shelter.    
Her home today is nothing more than four poles surrounded by mud brick walls, topped with a piece of tin roofing that her family has managed to cobble together.    
She spent much of last year in Menik Farm, a sprawling government camp for thousands of internally displaced persons (IDPs) in the town of Vavuniya, returning to her village in January.    
"We had a small, but nice house. Now there is nothing left. Not even the bricks."  
Her story is echoed across much of Sri Lanka's Vanni - an area comprising Mullaithivu and Kilinochchi districts and parts of the Mannar, Jaffna and Vavuniya districts - in former rebel-controlled areas of the north.
Along the A9 highway running through the north, few homes or buildings escaped unscathed, as fighting between government forces and the defeated Liberation Tigers of Tamil Eelam - who had been fighting for an independent Tamil homeland for over two decades - intensified.  
Massive needs, limited resources
In addition to ongoing landmine clearance activities on the ground, which has slowed the activities of aid agencies, there is limited local building capacity to meet the demand, while financial resources remain a concern.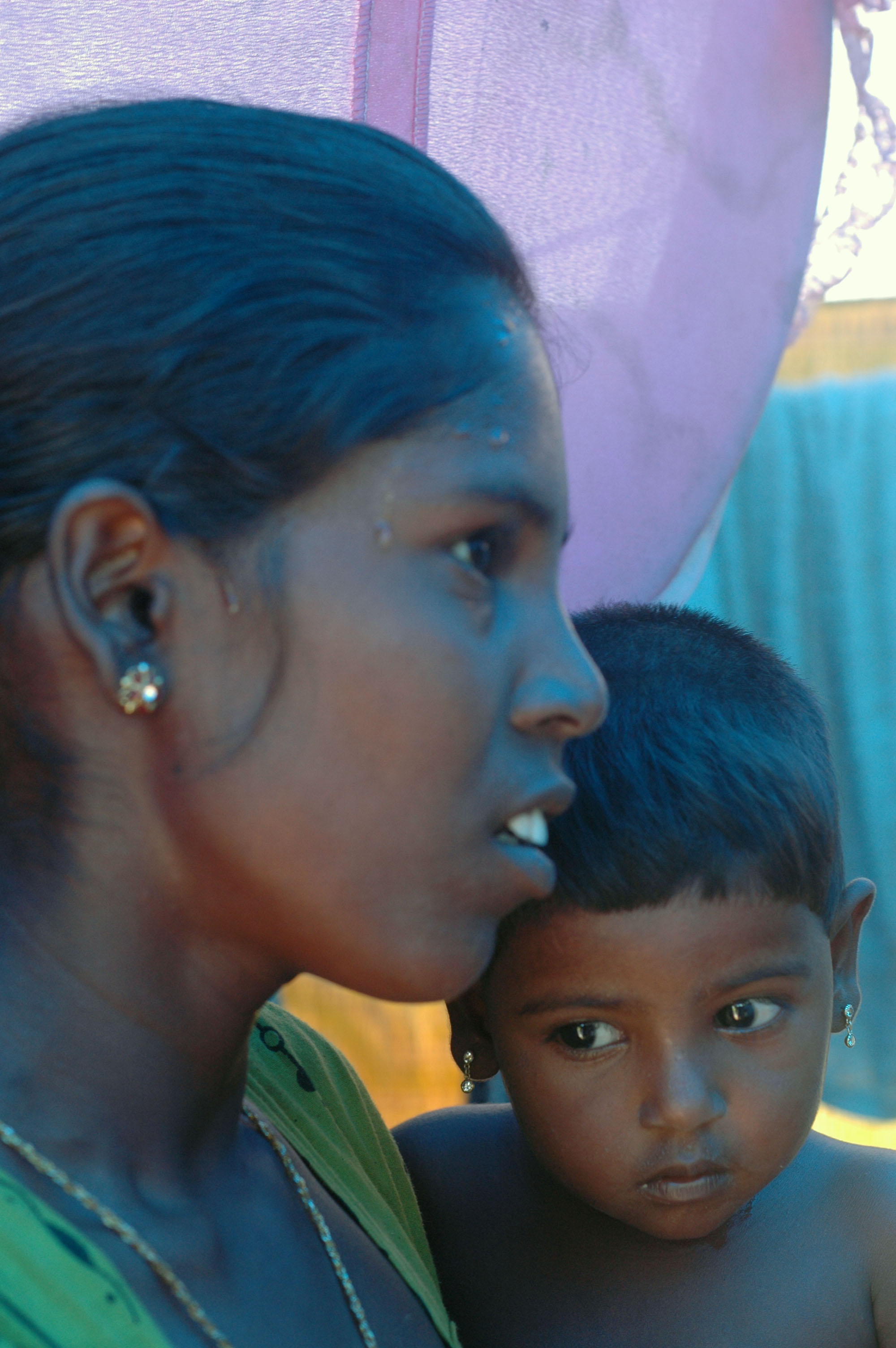 201003280600500572

Photo: Contributor/IRIN
Nagaranjan Kallaiamuda, 22, outside her makeshift home in Pulliyankulum
Current available funding allows for the repair and reconstruction of just 22,120 units. These include the World Bank-sponsored North-East Housing Reconstruction Programme of 14,000 homes, as well as 4,500 by the UN Human Settlements Programme (UN-Habitat), 3,220 by the Arbeiter Samariter Bund (ASB) and
Solidar
, and 400 by the
Sri Lankan Red Cross
with German Red Cross funding.    
"Meeting immediate needs for shelter is key to safe and dignified returns, and is a basic condition if people are to start to rebuild their normal lives and to begin earning an income again," Neil Buhne, the UN resident and humanitarian coordinator for Sri Lanka told IRIN.
 
But that will take time.
"We can slowly rebuild our lives, but we don't have any money. If we wait to build houses with our own money, it will take years," Nagarajan's neighbour, Viggneswaran Sinngamuththu, said. The 59-year-old is starting to cultivate his own land to grow vegetables and says he can earn some money, but "not enough to eat and build a house".  
Shelter grant
The UN Refugee Agency (UNHCR) provides each returning family with a shelter grant of about US$220 as a first step towards helping them rebuild their homes and lives.  
The grant is calculated to be sufficient to build a shelter that will last for two years.    
However, many returnees are using the grant for other expenses.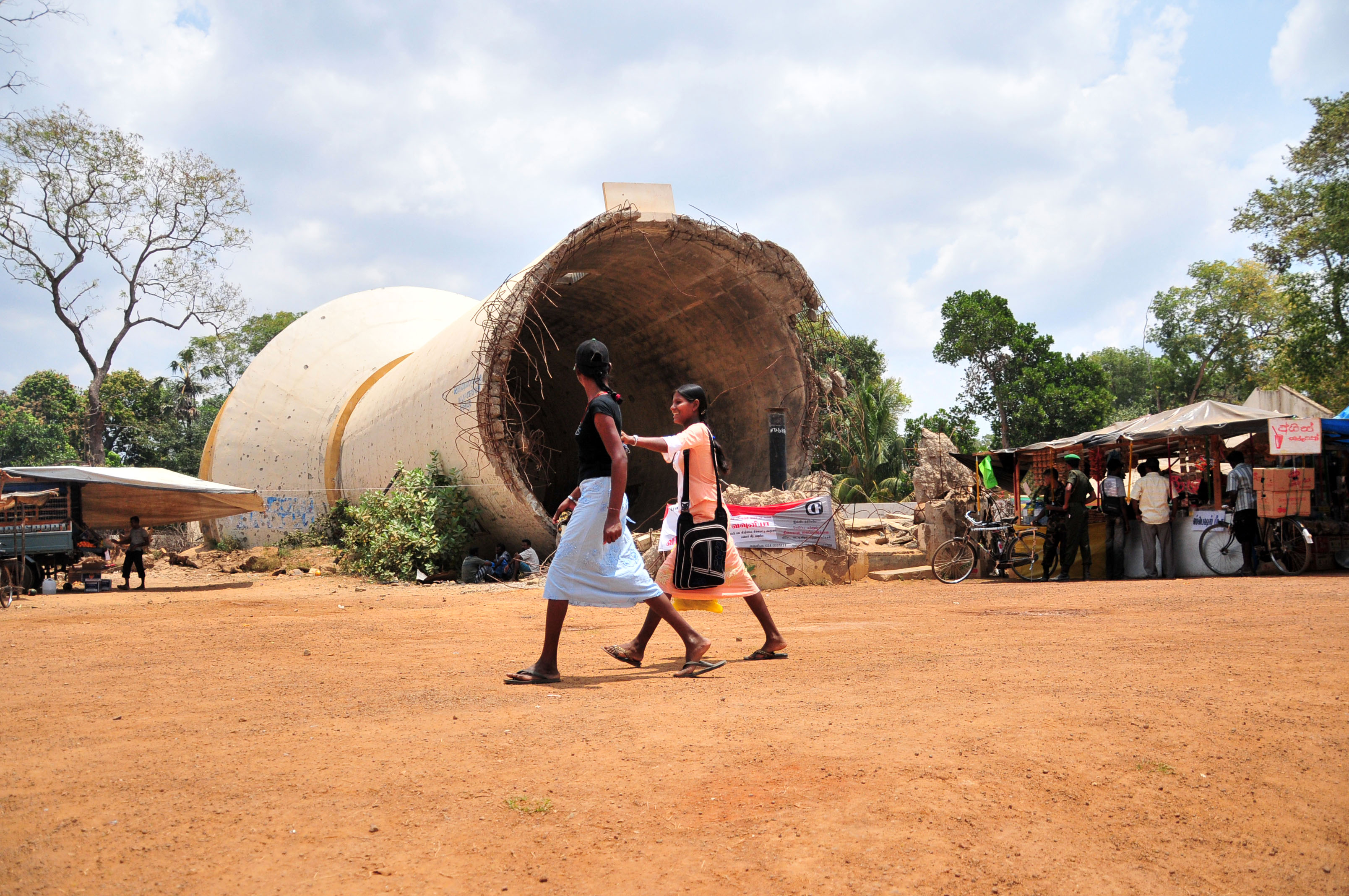 201003280612060056
Photo: Contributor/IRIN
Two women walk by a water tank destroyed by the LTTE in Kilinochchi, the former capital of the rebel group
"While the grant is intended to provide for initial emergency shelter, returnees in the spirit of regaining control over their lives are not limited in the use of the funds," UNHCR senior programme officer, Laurent Raguin, explained.  
At the same time, the agency lacks immediate funds to maintain the shelter grant for the 88,000 displaced or more than 25,000 families still in camps - the vast majority in Menik Farm.  
UNHCR is operating on less than half of the $39.8 million needed for this year, Raguin said. "For the shelter grant alone, we urgently need $13 million in 2010," he said, warning that if immediate donor assistance is not forthcoming, funds will run out.     
According to the UN, of the 192,000 who have left government IDP camps, more than 99,000 have returned to their places of origin, while 92,000 are living with host families.  
contributor/ds/mw
---
This article was produced by IRIN News while it was part of the United Nations Office for the Coordination of Humanitarian Affairs. Please send queries on copyright or liability to the UN. For more information: https://shop.un.org/rights-permissions