Land reform in Côte d'Ivoire must take into account people displaced by conflict, says a
report
by the International Displacement Monitoring Centre (IDMC). 
With all eyes on Côte d'Ivoire's pending presidential elections as a way out of crisis, longstanding land disputes remain unaddressed and
threaten stability
particularly in the cocoa- and coffee-producing west. And vast population displacement has only complicated the issue, IDMC says.
As the government applies a 1998 rural land law – whose implementation IDMC says has been held up by the conflict and a lack of enforcement resources – it must not penalize people forced from their homes, says IDMC, established by the Norwegian Refugee Council.
"Certain provisions of the law that would normally be insignificant have a negative impact on...IDPs, and it is essential to adapt the law to their specific situations, to avoid discrimination," the report says.
The 2002 rebellion and subsequent fighting forced hundreds of thousands of people from their homes – some Ivoirian citizens, others immigrant farmers who fled plantations mostly in the west where they had enjoyed customary land access rights. Many IDPs trying to return in recent years have found their land occupied by others; residents of the west told IDMC land ownership fights were common.
"The 1998 law provides frameworks for resolving land disputes," Marzia Montemurro, IDMC West Africa country analyst, told IRIN. "But the conflict and ensuing population displacement have changed the dynamic and this must be taken into account."
In the absence of a system for compensating IDPs, the 1998 law – aimed at converting customary rights to formal deeds or contracts – is the only legal framework for settling disputes, IDMC says in a 30 November communiqué. "It is therefore essential for IDPs to be able to access its mechanisms."
Communication
Montemurro said any land reforms must be fully and clearly explained to everyone affected. Distorted information or misconceptions about the law often circulate, fuelling tensions among the different communities, she pointed out.
Gnonsékan Martin, prefect of the western district of Bloléquin, agreed.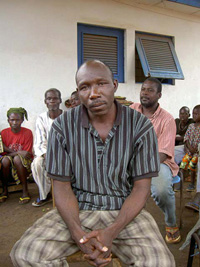 20035128
Photo: IRIN
A farmer displaced by fighting in the western town of Guiglo (file photo)
"It is essential that there be awareness campaigns and ample opportunity for communities – both indigenous and immigrant – to discuss land issues," he told IRIN. "All actors must be implicated in decisions involving land access and ownership."
IDMC estimates that hundreds of thousands of people are still displaced in Côte d'Ivoire, but says the current exact number is unknown. Montemurro said to move forward on the land issue a survey is needed to determine the number of IDPs and the patterns of displacement and return.
In several recommendations for the government, UN, other international partners, civil society and donors, IDMC addresses the issue of non-Ivoirians and land access, saying in part that the government should establish affordable long-term leases for farmers who cannot become landowners. 
Under the 1998 law only Ivoirian citizens can own rural land; non-citizens can have access via rental agreements or long-term leases.
In a 2009
midyear review
the UN Office for the Coordination of Humanitarian Affairs in Côte d'Ivoire says many areas remain problematic for people trying to return. Access to cocoa and coffee plantations is one of the fundamental problems creating ongoing community tensions and sometimes even violence, OCHA says.
np/aj
---
This article was produced by IRIN News while it was part of the United Nations Office for the Coordination of Humanitarian Affairs. Please send queries on copyright or liability to the UN. For more information: https://shop.un.org/rights-permissions