School-children in the Gaza Strip face psychological trauma and lack facilities after schools were badly damaged or destroyed during Israel's three-week assault on the enclave that began in December.
Primary and secondary schools in Gaza run by the government and the UN Agency for Palestinian Refugees (UNRWA) report a shortage of drinking water and textbooks for students,
according to the UN
Office for the Coordination of Humanitarian Affairs (OCHA).
Restrictions on the amount and type of materials being allowed into Gaza by Israeli authorities are hindering the education system.
Many parents and children say they were afraid to return to school after the war. The first attack hit Gaza on a morning while school was in session.
"I was afraid to return to school after the war," said 15-year-old Fatin Na'im, a 10th grader at Ahmed Shawqi Secondary School in the Rimal section of Gaza City. Her two brothers, a 20-year-old university student and a 25-year-old accountant, were killed by Israeli tank fire while trying to evacuate their home in Tal A'hawa.
After suffering nightmares Na'im sought psychological help. Educators and local and international NGOs are making psycho-social services for children and adolescents a priority.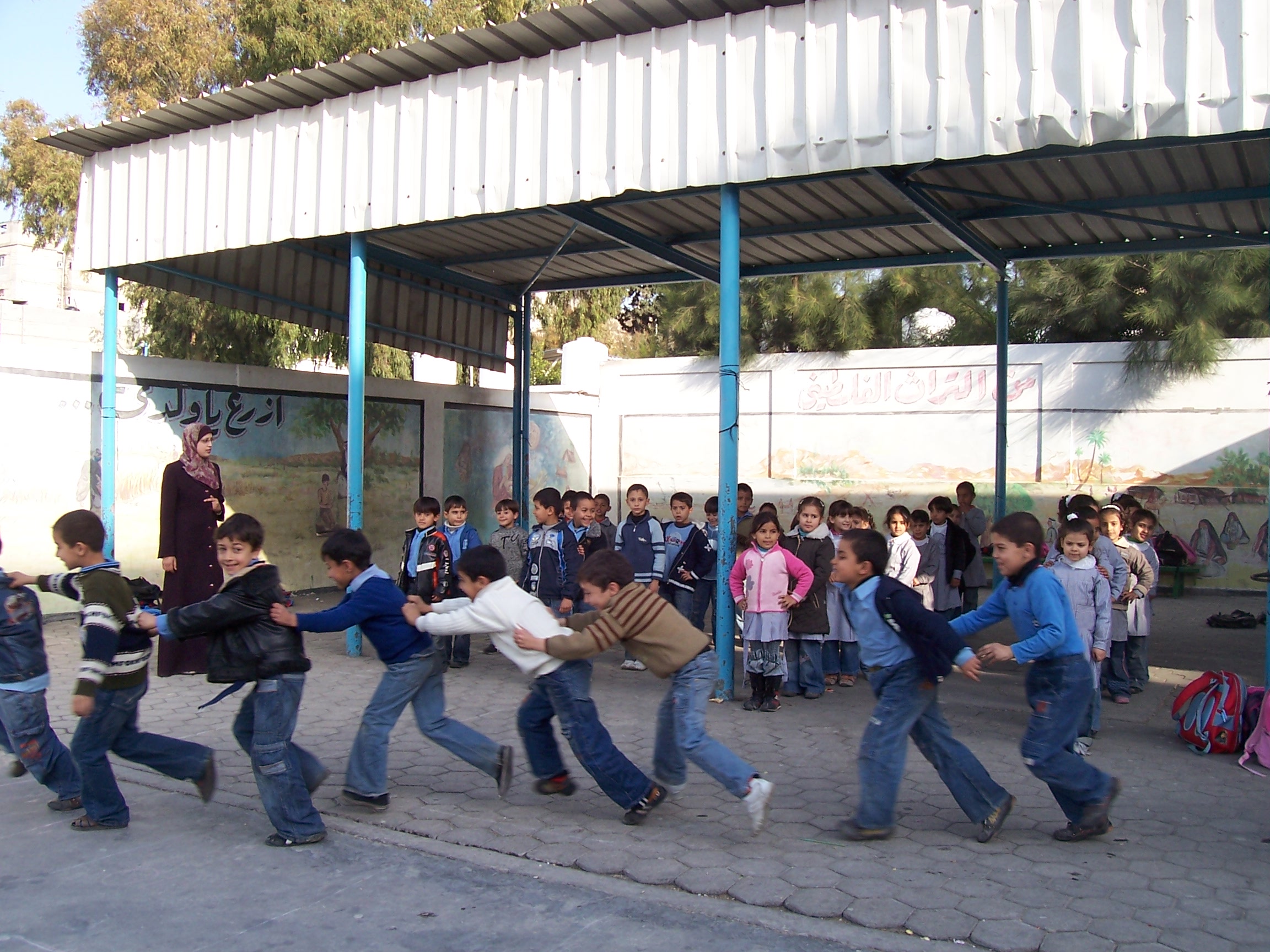 200902237
Photo: Erica Silverman/IRIN
Children at Asma Co-ed Elementary School "A&B" are still waiting for this semester's textbooks

Lack of books
Asma Co-ed Elementary School "A&B", run by UNRWA, is still waiting for this semester's textbooks, according to area officer Mohamed Abu Hashem.
"We have been waiting three weeks for paper to print the books to enter Gaza; meanwhile, students are sharing textbooks," said Abu Hashem. "The main problem is the psychological effects of the war on the children."
After the war he organised stress-relieving activities for the children, including group therapy session and plays produced by local NGOs, such as the Children's Theatre Organisation.
"The children are frightened by loud noises and panic when they see an airplane in the sky," said Abu Hashem.
Some 161 of UNRWA's 221 schools are running psycho-social support programmes, he said.
The school operates without electricity two to three days a week, and about 1,800 students attend the school in two shifts.
The windows remain shattered, since the glass for repairs is not available. Other facilities, such as the bathrooms, were damaged as the school was not designed to accommodate hundreds of evacuees, said Abu Hashem.
Evacuees used school-desks as firewood to keep warm, said Abu Hashem, who is struggling to replace the materials.
Between 8 and 14 February, 35 percent of goods allowed into Gaza were for aid agencies and food made up 83 percent of all supplies, according to OCHA. No education or stationery material, livestock or construction materials were allowed into Gaza in that time.
Israeli authorities have told the humanitarian community that 150 trucks per day would be allowed into Gaza; however, from 8 to 14 February, on average 103 truckloads per day were cleared to enter the enclave, said OCHA.
es/ar/mw
---
This article was produced by IRIN News while it was part of the United Nations Office for the Coordination of Humanitarian Affairs. Please send queries on copyright or liability to the UN. For more information: https://shop.un.org/rights-permissions