As Pakistan reels from some of its worst flooding ever, survivors are asking why more wasn't done to prepare communities long known to be at risk. The vast scale of the disaster – following a record heat wave across South Asia in May – is also adding to pressure on rich nations over reparations ahead of November's UN climate summit.
Nineteen-year-old Maryam Jamali is living her worst nightmare. All the mud-baked homes in her village, Chowki Jamali, in the southwestern province of Balochistan, have been washed away. Her ageing grandmother was among the last in her family to evacuate – they got her out on a tractor. 
"There's water everywhere," Jamali told The New Humanitarian by phone, referring not only to weeks of relentless downpours, but also to surges of floodwater being diverted from upstream. "Some of these [irrigation] canals aren't even properly built yet, but water is being released into them and they are breaking left and right," she explained.
At least 12 dams in the province broke over the summer. The provincial government has denied allegations of corruption, claiming the breaches are a consequence of above-average rainfall. Near Jamali's village, local groups had to cut huge gashes in the roads to stop them being turned into rivers. Her father, who is coordinating rescue operations in her village, has requested inflatable rubber boats to get people to safety as soon as possible.
Flooding across Pakistan since mid-June has left nearly one third of the country under water. At least 1,314 people have been killed as of 4 September, while nearly 33 million – one in seven Pakistanis – have been directly impacted. Satellite images show how the flooding turned large parts of Punjab and Sindh provinces into inland lakes.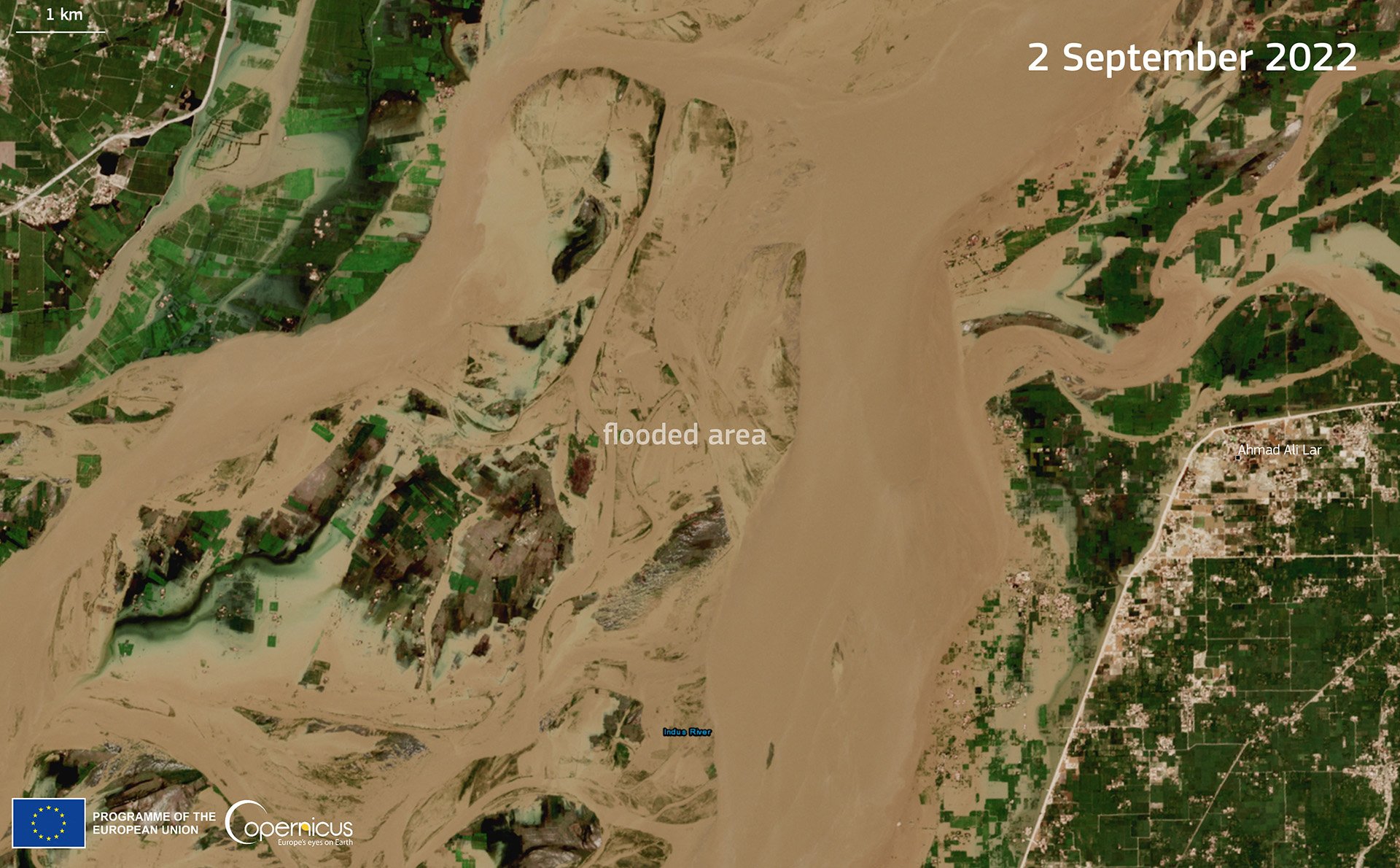 The World Health Organization (WHO) and Pakistani health officials have warned of significant health threats, including water-borne illnesses such as cholera and diarrhoea, which UNICEF said could lead to "many more child deaths". Other risks include outbreaks of malaria, COVID-19, and dengue in crowded relief camps. The dangers are made worse by the fact that some 1,460 health facilities have been damaged in the floods, according to the WHO. 
Given the extent of the devastation, the death toll could have been far higher. Pakistan's early warning systems appear to have prevented more deaths, according to Ali Tauqeer Sheikh, one of the country's leading climate change experts.
"But if you compare the death toll with the data on houses destroyed and the National Disaster Management Authority's claim regarding nearly a million damaged, it suggests that our houses are not climate-resilient, and the ability of our infrastructure to withstand flash floods and flood runoff is very low," Sheikh added. "We need to invest in new building standards."
Pakistan is among the countries most vulnerable to climate change. It faces a rate of warming considerably above global average, with a potential rise of 1.3-4.9 degrees Celsius by the 2090s. Earlier this summer, the extreme heat accelerated glacial melting; and weakened flows to the Indus River, resulting in a 38 percent water shortage in Punjab and Sindh – major crop-producing provinces. 
Pakistan is gripped by an economic crisis, with an inflation rate of 27 percent for August, according to official data. The Pakistani rupee has crashed, and net foreign reserves have fallen to just $8 billion. Meanwhile, continued political instability due to a showdown involving the government, the military, and ex-prime minister Imran Khan threatens to complicate the task of responding to the disaster and rebuilding.
Planning Minister Ahsan Iqbal estimates it may cost at least $10 billion to rebuild. On 3 September, he said it was the worst climate-induced disaster in recent world history and called on the international community to launch an "immense humanitarian response".
In an interview with The Guardian, the climate change minister, Sherry Rehman, suggested seeking reparations from rich polluting countries would be at the heart of Pakistan's negotiating strategy at the UN's COP27 climate talks in Egypt in November.
Not just climate change to blame
Back in 2010, extensive flooding in Pakistan led to more than 1,500 deaths and spurred the UN to issue its largest-ever disaster appeal, at over $2 billion.
Some flood victims now – most of them still living in the same vulnerable areas – are questioning why more hasn't been done in the past decade to flood-proof their communities.
"We kept crying and screaming after the 2010 floods," said 45-year-old Fauzia Ehsan. "We kept telling local authorities that it will take years to rebuild if another flood hits us. Look where we are now. People here don't know whether to stay or leave."
Speaking to The New Humanitarian last week from Ramzanpur in Sindh province as it braced for floodwaters from the Indus, Ehsan asked: "Already, the rains have wreaked havoc on our city and our drainage system – what will we do when the flood arrives?"
The death toll from this disaster could yet surpass that of 2010, and experts suggest the damage this time is much worse.
"If you compare it to 2010 floods, we've had four times more land inundated," said geoscientist Hassan Aftab. "It has affected twice as many people as it did in 2010, and there has been four times as much economic damage to crops and livestock."
Pakistan received almost twice its 30-year average of rain in the June-August quarter. Sindh and Balochistan provinces – with a combined population of 60 million – had 625 percent and 501 percent above-average rainfall, according to the climate ministry.
"This year, for the first time, we saw a multitude of floods taking place concurrently and simultaneously, reinforcing and overlapping with each other – urban flooding in Karachi, torrential rains in Balochistan and Sindh, glacial outbursts in the north, cloudbursts along the Kabul River and Nowshera," said Sheikh.
While climate change is seen as the key driver of the unusually extreme weather, experts say government inaction and mismanagement, structural inequalities in marginalised areas, and bad policy decisions contributed to the devastation. 
It wasn't only Jamali's village that saw broken drainage systems and roads swamped. Multiple dam breaches across the country represented a nationwide failure to contain the disaster.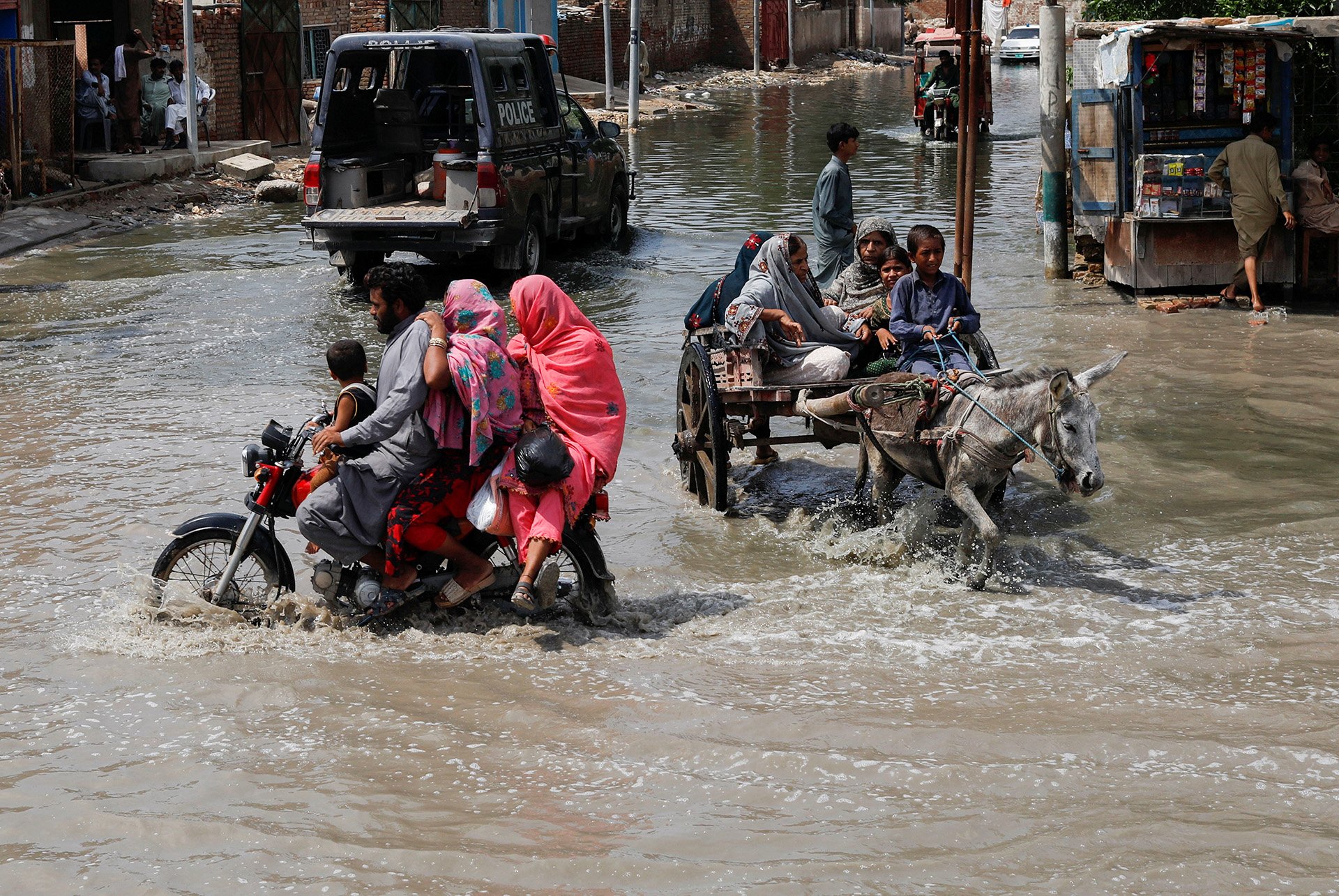 Images and videos of buildings, homes, and hotels constructed next to rivers being washed away have been going viral on social media. But Jumaina *Siddiqui, senior programme officer for South Asia at the United States Institute of Peace, told The New Humanitarian, they "never should have been there in the first place".
"While no country can be fully prepared for such a severe natural disaster, there needs to be more convergence between science and policy," Siddiqui said. "The Pakistan Meteorological Office has been issuing warnings about the above average rainfall, but it is unclear how much of that was taken into consideration when the National Disaster Management Authority and its provincial counterparts were developing their monsoon plans."
"I think the federal and provincial governments place a lot of blame on climate change and use it as a scapegoat for their own incompetence."
Jamali, speaking after her evacuation to Quetta, the capital of Balochistan province, made a similar point.
"Our irrigation departments are not in touch with locals, our environmental protection agencies are not in touch with locals, and the Balochistan disaster management authority is currently the most useless institution in the country," she said. "And while climate change is important in water policy and government discourse, I think the federal and provincial governments place a lot of blame on climate change and use it as a scapegoat for their own incompetence."
What next?
Pakistan contributes less than one percent of the world's greenhouse gas emissions, prompting many to clamour for reparations from the Global North for such disasters.
"Countries such as Pakistan should 100 percent demand climate reparations," said Lahore-based climate change lawyer and policy specialist Sara Hayat. "The Paris Agreement does say that the developed world should finance the developing world. In that [case], Pakistan should receive more funding since we are vulnerable in a way that the Global North is not. Those responsible for climate change should take financial responsibility this time."
Along with campaigners, Rehman, the minister, has repeatedly urged wealthy nations to provide "loss and damage" financing to developing countries hardest hit by climate change. The issue is likely to be at the forefront of the November climate talks. 
But international assistance alone isn't enough to prevent a disaster of this magnitude from reoccurring. 
"Post-disaster response cannot just end [with] providing relief and funds for rebuilding houses or buying livestock," said Aftab, the geoscientist. "The government needs to understand that a focus on risk reduction and resilient infrastructure development is crucial, since these disasters will get so repetitive that we won't have the ability to respond as effectively."
With "anticipatory action" – making funding available to vulnerable communities before disasters strike based on more accurate forecasting – gaining steam in the aid sector, this disaster and response is being keenly watched for lessons learnt. 
Only $50 million (PKR 10 billion) has been allocated to Pakistan's climate change ministry in this year's federal budget, but Aftab believes limited funds should not hinder the ministry's work: "We should focus more on risk reduction and adaptation to heatwaves, droughts, floods; identify cascading effects of these disasters on our infrastructure – both human and physical."
Siddiqui, with USIP, believes investment in improved data modelling is also key, alongside promoting and training the next generation of climate scientists and urban planners. And while the international community is providing aid for the immediate relief efforts – the United States has announced $30 million – she said it should also "collaborate with Pakistan to invest in systems that will mitigate the impact of future disasters". 
"This is just the beginning for Pakistan," she said. "[The country] will continue to face extreme weather and climate change-related disasters in the future."
(*An earlier version of this story incorrectly referred to Siddiqui as Nasir. A correction was issued shortly after publication.)
Edited by Abby Seiff.