Four months into the Russian invasion, Ukraine is facing multiple humanitarian crises on several different fronts, with local and international aid responders girding for the long haul amid the expectation that needs are only going to grow and last longer.
Concentrated, brutal fighting in the east is preventing aid groups from reaching the most vulnerable communities, while millions who fled their homes to the country's west are preparing for long-term internal displacement with few options for work or shelter. Many who have returned to liberated areas around the capital, Kyiv, are struggling to rebuild their lives, having run out of money and found their homes reduced to rubble.
As the conflict drags on, people say they're running out of time and options for survival. In the west, where nearly two million people are internally displaced, the majority are living in centres such as schools and kindergartens. The government, aid agencies, and displaced people told The New Humanitarian they were unsure where they'll go when school restarts in September. Others have moved into temporary mobile houses, which aren't equipped to house people when temperatures drop come winter. 
"People can sustain themselves for now. But maybe in three months' time that's not going to be the case," said Karen Whiting, assistant representative for protection in Ukraine for the UN's refugee agency, UNHCR. "The situation is getting worse."
When Russia invaded on 24 February, few predicted the war would turn into a protracted conflict as many suspected Kyiv could fall in days or weeks. But the international community is now warning of a three-to-five-year response, according to internal emails between aid agencies seen by The New Humanitarian. Some five million people have lost their jobs, seven million are internally displaced and more than ten million are in need of food and livelihood assistance, according to the UN.
While Ukraine is one of the best-funded emergencies in the world – receiving $1.6 billion, or more than 70 percent of the requested funds so far – aid workers and Ukrainians say assistance is still not reaching people fast enough; at times not at all. Aid teams are also increasingly having to look beyond emergency response and plan with the Ukrainian government for the more expensive and longer-term tasks of sustainable housing, jobs, and rebuilding.
The rapid outpouring of money can also have adverse effects. More funds means aid groups are expected to deliver more aid to more people, sometimes over unrealistic timeframes. Several aid workers, who spoke on condition of anonymity, told The New Humanitarian that some larger agencies are too focused on speed of spending rather than quality programming that takes longer to implement.
However, humanitarian assistance has helped nearly nine million people. Almost two million have been given cash assistance, and more than 500 Ukrainians in need of urgent or continued medical assistance have been transferred to European hospitals, according to the UN. Aid groups are expanding operations to the east from the west, where they were stationed at the start of the invasion, and are starting to figure out how to increase their access into more remote and harder-hit towns. 
Outside the country, some five million refugees, the majority of whom fled to Poland, are receiving housing, employment, and education opportunities. The EU has also granted immediate temporary protection to all people fleeing the war, meaning displaced people can benefit from the same rights across the 27-nation bloc for things such as residence permits, the ability to work and get housing, social welfare, and medical assistance.
But within Ukraine, even for those trying to resume some semblance of normal life in parts of the country with easier access and freer movement, there is still the constant threat of attack and lingering uncertainty. 
After a month of relative calm, Kyiv was struck in early June by at least five missiles. Soldiers in towns near the capital say they've seen a build-up of military forces along the Belarus border – some 80 kilometres away – and that they're catching more Russian spies, according to Dmytro Korbut, who fights with the Territorial Defence Forces, a military reserve unit comprised mostly of Ukrainian civilians.
"We're living between these two states. On the one hand it's quiet, and on the other there's the threat of air alarms," Korbut said. "Right now, our lives mean sitting with bags packed and being ready to go." 
Focus shifts eastward
While there are still attacks throughout the country, the front lines have become more defined since Russia, in April, abandoned any short-term plans to encircle Kyiv, instead concentrating efforts in the eastern Donbas region. 
The shift has allowed for freer movement in the centre of the country, particularly in the capital and surrounding towns where some 700,000 people – out of 2.5 million who fled – have returned, according to the government. When The New Humanitarian travelled to Kyiv in March, days after the invasion began, the road was lined with checkpoints, and the city was fortified and largely empty of people. Today, there are few barricades, and people stroll the streets and socialise on terraces.
Yet beneath the calmer facade is a wake of death and destruction. Forty-six out of 69 towns and villages were impacted in the region, according to the government. In towns like Bucha and Irpin, civilians were slaughtered, their bodies left on the road; women were raped; and people were detained in basements, at times for weeks. In many less-well-chronicled places, like the village of Moschun, nearly all the residential houses are also damaged or razed to the ground.
In February, two missiles struck Vadym Zherdetsky's home, tearing the roof off, destroying the rest of it, and nearly killing four of his family members inside. The 51-year-old, who was lauded for fending off four Russian tanks armed with just a rifle when they entered Moschun, said returning to his village in April was more daunting than being there during the fighting. "It was scarier to come back than to be here during combat," he said. "There was the smell of burnt wood everywhere."
Zherdetsky had spent $270,000 building his home – using his life savings – hoping it would one day be a place for his 10 grandchildren to live. Now he has to start again from scratch, only he can't because he has run out of money due to the war. Building materials from the government and aid groups haven't arrived, and he says banks won't give him a war loan because they still deem his area to be an active conflict zone.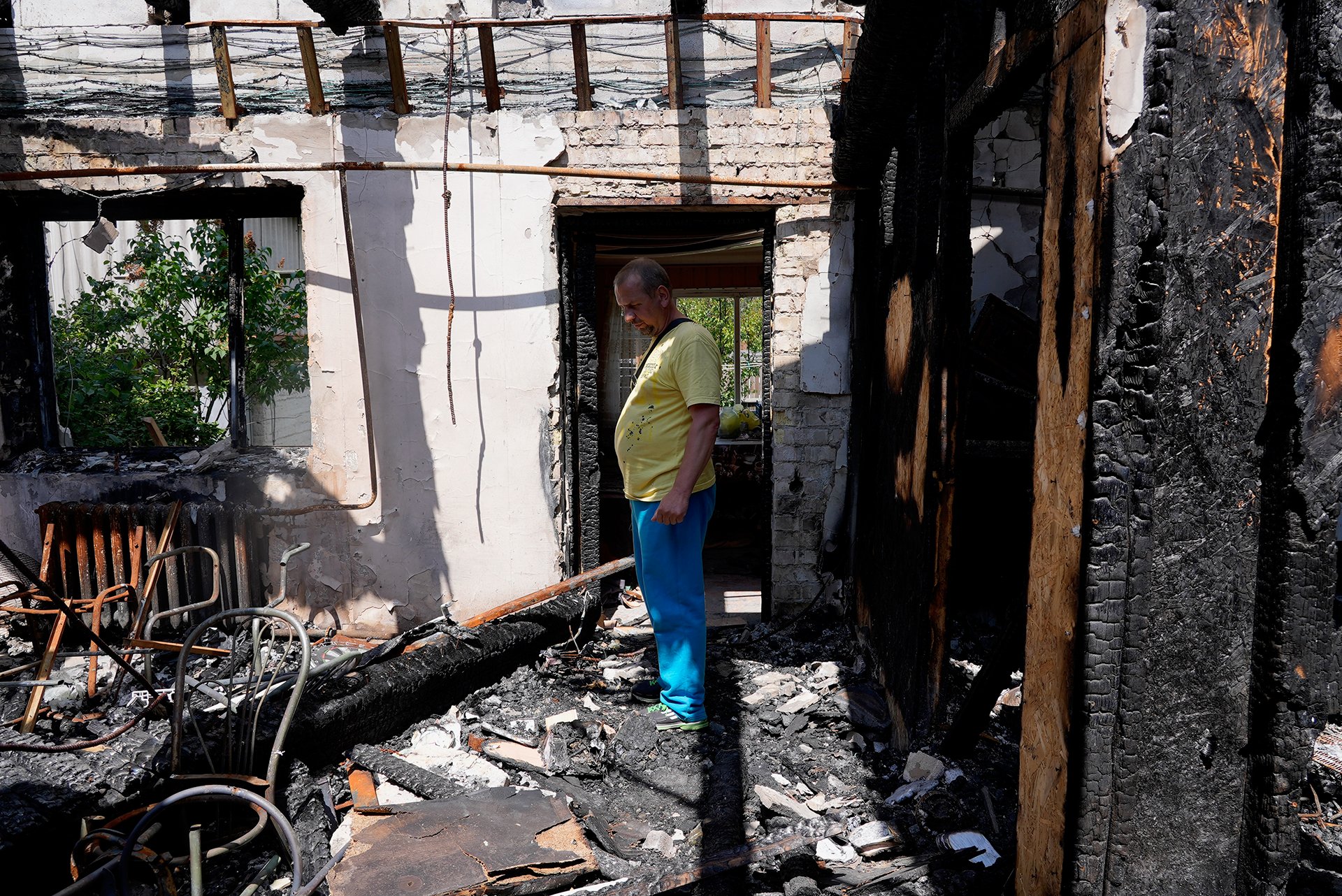 The government has created a digital application where people can take photos of their damaged homes and submit it to be assessed for compensation, but payments have yet to start and any large-scale reconstruction effort seems a long way off.
"I don't think we'll have enough [building materials] in the near future," said Oleksiy Kuleba, head of the Kyiv region military administration. "Our ports are closed. We don't have much production of our own, so the only way is getting materials from Europe."
For people living in villages like Moschun, rebuilding their homes is just one of many concerns. Approximately 300 people – out of some 2,500 – have returned since the Russians left. Stores don't have much food as the Russians cut the electricity, while residents say they're receiving little international aid and local assistance is drying up.
"We're getting less food and less deliveries," said Larysa Lishchynska, head of Public Beam of the Future, a local aid group operating in Moschun and nearby towns. 
"It's not sufficient for people." Lishchynska's organisation distributes food and other essential assistance, relying on a network of friends to provide goods. But much of the volunteer support has now moved east and there are fewer resources for small towns. Lishchynska said her group used to run food distributions in the area daily, but now they're only happening weekly. 
Local versus international 
"Despite the willingness of responders to connect," there's a disconnect in Ukraine between the international humanitarian system and local aid groups, according to a 25 May report from ACAPS, which provides independent humanitarian analysis.
Local volunteers, who shoulder much of the aid response burden and fill the gaps where other groups aren't always present, told The New Humanitarian they want international organisations to trust them more and to make it easier for them to collaborate by reducing the onerous bureaucracy and paperwork required for funding.
Lishchynska said her teams reached out to international organisations to partner with, but they were shut out. "They said they're afraid to work with us," she told The New Humanitarian. "They say they don't trust us and will work with the government instead."
While the UN acknowledges the need to work with local partners, it told The New Humanitarian it doesn't have a system in place that can help volunteer groups do more since many of these organisations aren't officially registered, meaning there's no due diligence on the group or its operations.
"We have a lot of volunteer organisations, they could do more, they know the ground, they are from there, they know the people who are in need," said Esteban Sacco, Ukraine head of office for the UN's emergency aid coordination body, OCHA. "So how [can we] help them to continue what they're doing or even to expand? So we are trying to find out how we can do that… [but] we're not going to find an answer in the next coming weeks."
In the meantime, many Ukrainian civilians say they're not getting enough assistance. Registration with the UN for cash aid – people are eligible for $74 a month for up to three months – has been slow. Several locals told The New Humanitarian they either register and don't receive money, or they don't know where or how to get help. Internal emails between aid agencies seen by The New Humanitarian said people promised money within two weeks hadn't received anything after more than a month, they were unable to reach anyone on the UN hotline, and many were losing trust in aid groups.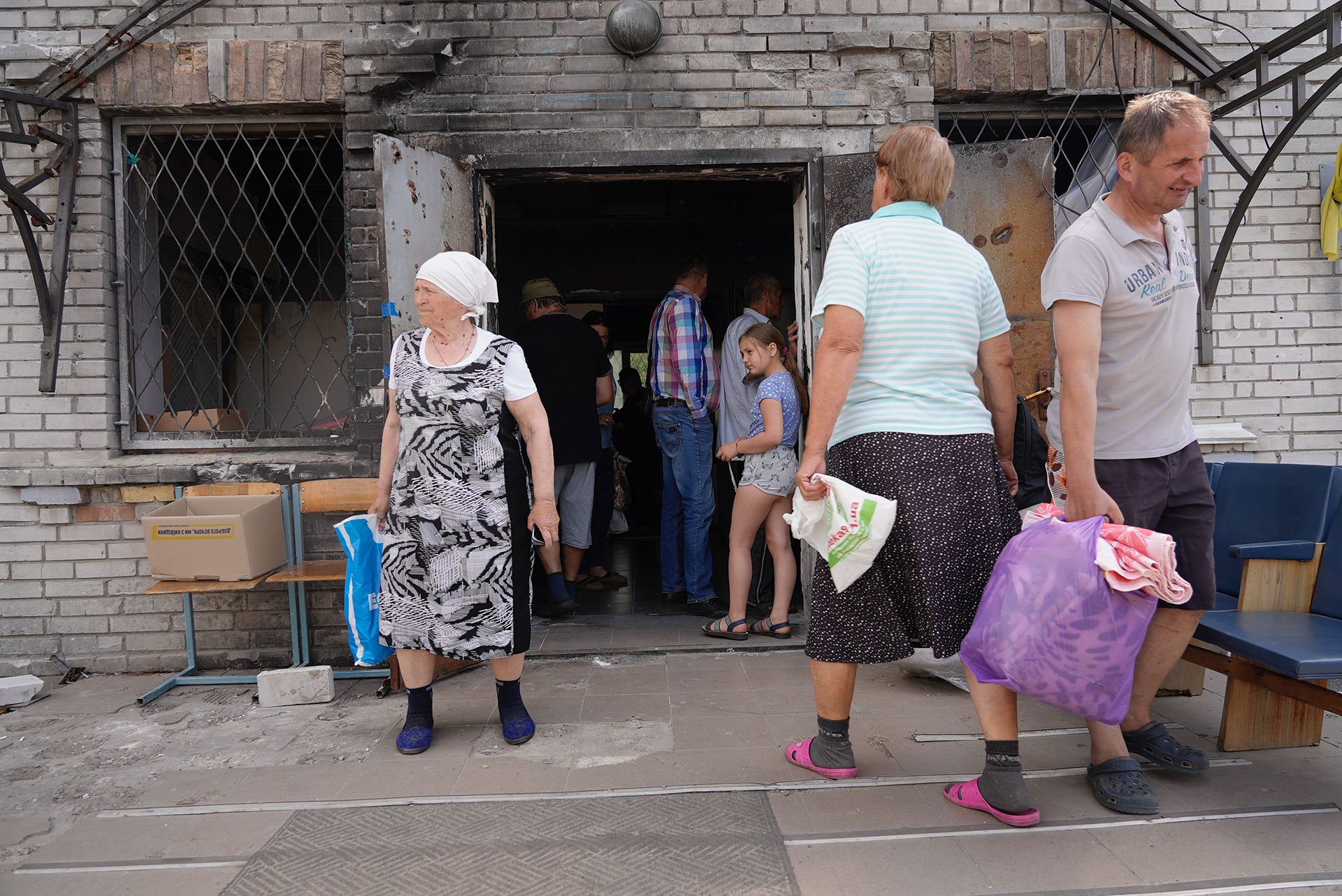 Several humanitarians, who did not want to be named for fear of reprisal, said there wasn't enough accountability for the mammoth influx of cash. Some organisations have been taking "safari" trips to visit field projects so communications teams have something to show donors, according to one aid worker.
"People are visiting shelters like they are zoos, taking photos and doing communications about activities that haven't taken place yet or that weren't funded by them. They're doing this to raise more money which we're already struggling to spend," said the aid worker. The New Humanitarian cannot independently verify the allegations, but they were corroborated by a second source.
Ukraine's government is working with the international community but is wary of creating a culture of dependency. In May, it changed the law, reducing the regions where displaced people are eligible for assistance. One aid group, who did not want to be named, told The New Humanitarian it was prevented from distributing food assistance to displaced people in the western town of Lviv. 
"We don't have a culture of receiving social aid. People are used to working," said Kuleba, the regional military official.
The government says it wants to restart the economy by fuelling local business, but there isn't really the money right now. For instance, it has only given approximately $13,500 so far to support small repairs for damaged houses in the Kyiv region – a drop in the ocean, as Kuleba noted, compared to the billions needed to rebuild. 
Inaccessible front lines
While Ukrainians in the west and around the capital look to rebuild their lives or try to figure out where they'll find shelter come winter, communities in eastern Ukraine and along the front lines are struggling to survive. 
The UN estimates that one million people aren't receiving assistance because it's either too dangerous for aid groups to reach people, or because access is being denied by the Ukrainian or Russian militaries. Out of 17 requests for access by humanitarians to either side since May, only six have been successful, according to the UN.
"It's very clear that across the lines of control [into Russian-occupied areas], it's very very difficult to get support," Matthew Hollingworth, emergency coordinator for the World Food Programme in Ukraine, told The New Humanitarian. "Of course, some of those areas are the areas where there are [the] most acute needs… it's very difficult to negotiate pauses to get access when there is ongoing fighting."
Half a million families in the east have no electricity for cooking, only 30 percent of the Zaporizhzhia area in the southeast is accessible, and fighting in the north around Kharkiv is intensifying, making it harder to reach people there as well, Hollingworth added. 
It's not only challenging for aid groups to reach people near active front lines. Even in places where the fighting has subsided, many roads are still lined with explosives, preventing assistance from getting through and civilians from getting out. 
In June, The New Humanitarian travelled close to a remote village in the northern Chernihiv region that had been cut off from assistance since February – after a tank was blown up by an anti-vehicle mine on the main road into the town.
The Danish Refugee Council, one of the few groups clearing mines in the country, says it can take more than a week to clear just a few kilometres. "If they are not cleared, mines and unexploded ordnance will threaten lives, livelihoods, and freedom of movement for many years to come," DRC's Secretary General Charlotte Slente told The New Humanitarian.
During a trip to the frontline eastern town of Lysychansk, which Russia has been bombarding daily, a local Red Cross team of 18 people described how they live and work in a bomb shelter trying to bring food and water to thousands of civilians still living in the city with little outside assistance.
Without a car – they've all been damaged or have left, and there's little fuel for those that remain – aid workers bike around town under the missiles, delivering food. "People are afraid to come here. No one can deliver [aid] here. The road is hard and dangerous," one Red Cross worker, who didn't want to be named for fear of her safety, told The New Humanitarian. The team was also worried that supplies were running out. 
In a village outside the northeastern city of Kharkiv that was partially occupied by Russia until April, and is still just five kilometres from Russian-held areas, shells line the road, and the few remaining people have no electricity or gas and are forced to rely on handouts. "We have nothing here," said 45-year-old Dina Gribanova. "We can't get food here. No stores are open. We rely only on volunteers."
Edited by Andrew Gully.