When 16-year-old Omer got a tattoo last year of a crown on his right hand, the Taliban – which considers tattoos un-Islamic – detained him for 18 days, beating him regularly. Now, every time Omer looks down, he is reminded of the life he crossed borders to leave behind. 
Omer is one of the tens of thousands of people reportedly leaving Afghanistan every week following the US announcement in May that it would withdraw troops and wind down its nearly 20-year military presence in the country. America's NATO allies followed suit, and the pullout of Western troops from the country is almost complete. 
Somewhere between 500 and 2,000 Afghan refugees are now estimated to be entering Turkey every day after undertaking the long and arduous journey from Afghanistan. The numbers are still lower than those recorded during a previous uptick in Afghans entering Turkey in 2018 and 2019, judging by apprehension statistics from the Turkish government, but they are expected to rise further.
A Taliban offensive following the US announcement has led to surging violence in Afghanistan. The militant group has made rapid territorial gains. Its fighters have encircled most provincial capitals, bringing clashes to the edges of urban centres like Kandahar and Lashkargah in the south, and to Herat in the west. Civilian casualty rates increased by 47 percent in the first six months of this year, and an estimated 270,000 Afghans were newly displaced. Nearly half of the deaths and injuries occurred in May and June, when the US and NATO withdrawal accelerated.
---
---
US President Joe Biden has authorised emergency funding to meet "unexpected urgent refugee and migration needs" stemming from the situation in Afghanistan, and the United States is expanding its refugee admissions criteria for Afghans who supported the US war effort. 
For the vast majority, however, opportunities to seek safety outside the country through legal pathways simply don't exist, and it's unclear where new Afghan refugees will be able to find safe haven: Afghanistan's neighbours are wary of taking more people in, and European countries have expended considerable effort – and money – on constricting irregular routes to the continent since the 2015 migration crisis.
Pakistan and Iran already host close to 90 percent of the nearly 2.5 million registered Afghan refugees who have escaped the country during four decades of conflict, as well as hundreds of thousands more who are unregistered. Both countries have pushed hundreds of thousands of people to return to Afghanistan in recent years, and Pakistan has said it will not accept any more Afghan refugees.
Meanwhile, the ripple effects of the brewing refugee crisis have already reached Turkey's eastern border with Iran, where The New Humanitarian met Omer.
When Nerkh – the district where Omer lived, in Wardak province near Kabul – fell to the Taliban in May, Omer decided it was time to leave. "It's not safe at home, and the Taliban want to control us," he told The New Humanitarian on 9 July in Tatvan, two days after he entered the country. "I want freedom," he added. 
'If the country was peaceful, no one would leave'
Like Omer, many of the Afghans The New Humanitarian spoke to who had entered Turkey recently were young men who struggled to see a future in Afghanistan amidst the intensifying conflict and potential return of Taliban rule. But there were also elderly people, people with medical conditions unable to get the care they needed at home, and families hoping to find a place where their children could get an education. 
The countryside in eastern Turkey is dotted with villages of small, stone houses and rocky hillsides where shepherds tend their flocks. To reach here from Afghanistan, asylum seekers have to cross Iran, covering more than 1,500 kilometres by car, van, bus – sometimes on horseback. Those with less money cover the majority of the distance on foot, taking up to six weeks to complete the journey. Smugglers charge between $600 and $4,000 – half upfront and the remainder on arrival – depending on the method of travel. 
"It took us 29 days to get here," said Omer. "We walked 12 hours a day, usually with no food. We felt so bad. Iranian border police took our things, even our clothes, and burned them in front of us. They beat us very hard and hurt our heads – if we had known they would beat us so hard, we would not have come," he said, adding that his cousin had fallen and hurt his back while crossing the mountainous border between Iran and Turkey. 
Many of the people The New Humanitarian spoke to said they arrived in Turkey injured, drained, and in poor health after crossing difficult terrain in hot summer weather. Some said they were attacked by gangs of thieves, and even wolves, crossing Iran, and many struggled with the sheer, rugged peaks and steep canyons of the Zagros mountain range, which fringes the border. 
Making it into Turkey can take many attempts, they said, with up to 500 people moving at the same time and only around a quarter completing the journey during any given try.
"If the country was peaceful, no one would leave," 26-year-old Murtaza from Kabul, who was travelling with his relative, Shahidullah, told The New Humanitarian. "This journey is horrible and boring and tiring."
Risky Journeys
The two men were walking along a country road after having crossed the border, heading towards the city of Van, around 40 kilometres away and a hub for people waiting to travel further west to Istanbul and other cities. 
"It was really dangerous. I was really sick, and some people got injured," Murtaza added. "When everyone was running from the police, as they fired at us, I suddenly felt really tired," he continued, referring to an incident he said occurred while entering Turkey. "I fell, and the group left us behind."
Shahidullah and Murtaza said the smuggler they paid $800 to had promised to provide transportation once they entered Turkey, but the transportation never arrived. Instead, the two men – lips cracked from dehydration, and skin red and raw from the sun – were walking more than 150 kilometres from the border to a safehouse in Van in the summer heat.
'In the hands of smugglers and gangs'
Once inside the country, life in Turkey for Afghan refugees is often difficult, and many see it as a place to stop temporarily to earn some money so they can pay smugglers to take them onward to Europe. 
Turkey already hosts nearly four million refugees and asylum seekers. The vast majority – 3.6 million – are Syrians who were able to escape their country's civil war. Afghans – at around 117,000 – are the third-largest group, although there are likely tens of thousands of others who aren't officially registered. 
Attitudes in the country towards people seeking asylum have soured over the past decade as Turkey's economy has faltered and it has become clear that many Syrians will be staying for the long term. Many in the country are now wary – if not outright hostile – to the prospect of a large number of Afghans entering the country. 
Turkey only grants full refugee status to Europeans. Afghans can apply for Temporary Protection Status, but it affords them fewer rights. In 2018, the UN's refugee agency, UNHCR, transferred responsibility for the registration and processing of non-Syrian asylum seekers to the Turkish government. 
Since then, human rights groups say it has become more difficult for Afghans to receive protection in Turkey, and many do not apply because they fear being rejected and deported.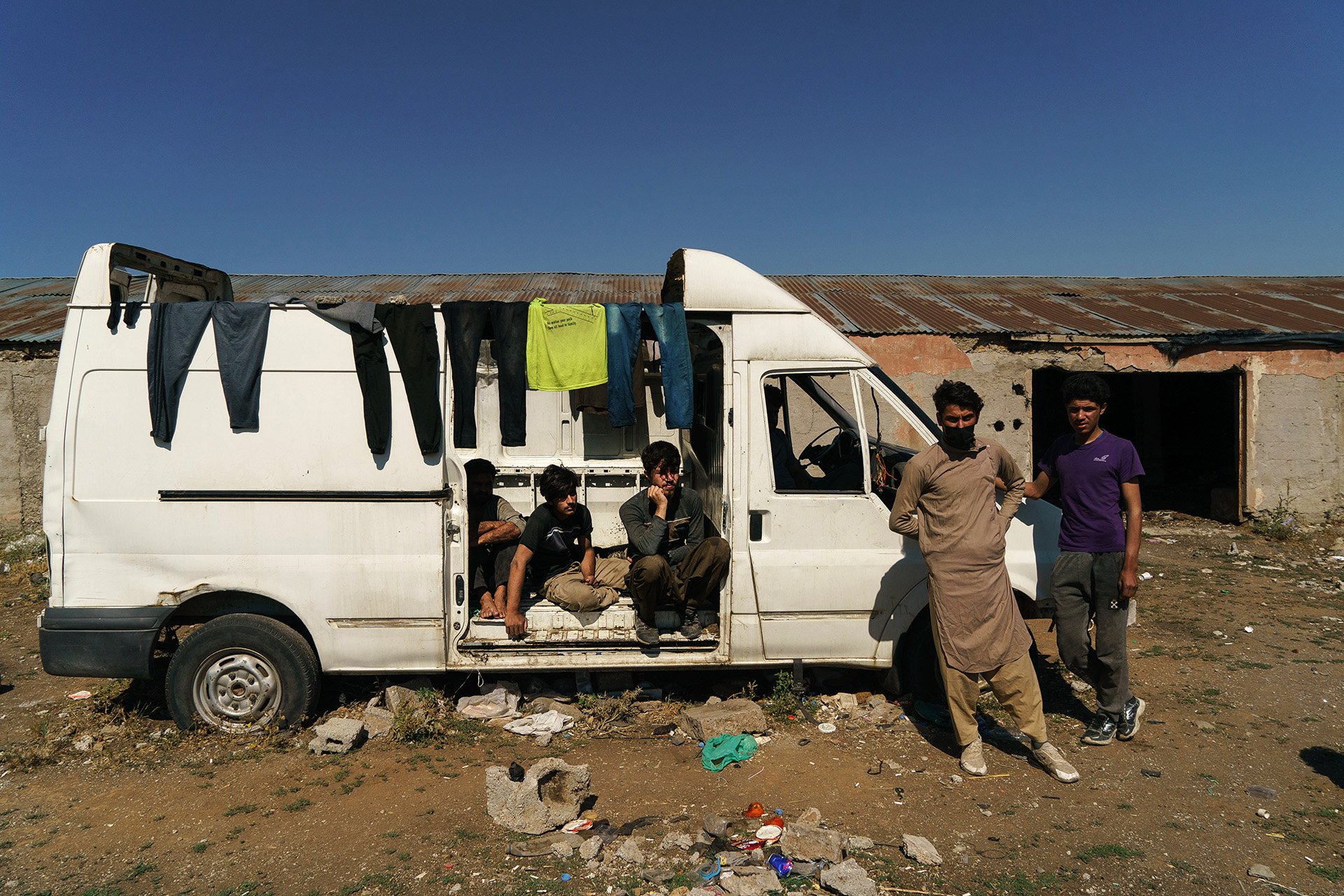 A UNHCR spokesperson told The New Humanitarian that the government's "legal framework ensures refugees and asylum seekers have a dignified life in Turkey". The Turkish government's Directorate of Communications did not respond to a request for comment. 
When the number of Afghans entering Turkey increased sharply in 2018 as the conflict in Afghanistan intensified – more than doubling from the previous year, according to Turkish government apprehension statistics – Ankara responded by deporting at least 17,000 Afghans over the course of a couple of months. The deportations have reportedly continued. 
Mahmut Kacan, a lawyer who formerly worked for UNHCR and now represents the families of 61 asylum seekers killed when their boat sank while crossing Lake Van last year, said he expects the number of Afghans arriving in Turkey to gather pace as US and NATO troops complete their withdrawal from Afghanistan in the coming months.
Read more → Lake Van: An overlooked and dangerous migration route to Turkey and Europe
"The journey is becoming more dangerous day by day," he said, referring to both the routes into Turkey and those from the eastern border region to cities elsewhere in the country. When UNHCR handed over registration to the Turkish government in 2018, it closed its office in Van. Since then, "many died because now there is no international protection, and the fate of Afghan migrants is in the hands of smugglers and gangs", Kacan added. 
As tensions in Turkey over the increase in arrivals rose last month, the Turkish government detained nearly 1,500 asylum seekers and migrants, and arrested 11 smugglers, in Van province. The Turkish government also recently completed the construction of an 81-kilometre wall along Turkey's eastern border in a province north of Van in December 2020. There are now plans to extend the construction further south, walling off the entire border, but that likely won't be completed for several years. 
European countries are also renewing efforts to fortify themselves against the arrival of more refugees. The EU is considering $3.5 billion in funding to Turkey for refugee aid and migration projects. An unspecified amount of the money is reportedly earmarked for border control initiatives along Turkey's eastern border. 
Greece, the main arrival country for asylum seekers and migrants from Turkey, has also been pursuing hardline migration policies, including allegedly pushing back thousands of people from its land and sea borders – a charge the Greek government denies. 
For Afghan refugees, all of this means the odds of finding a place to build a stable life are slim. A week after meeting Omer in Van, The New Humanitarian caught up with him in Istanbul. 
The first couple of nights he was in the city, he slept in a park before finding a bed in a small apartment with other Afghans, who gave him new clothes and are helping him find work. Omer dreams of eventually moving to France and becoming a doctor, despite there being innumerable barriers in his path. 
"I am not happy this far from my friends and family, but if I go back home the Taliban will force me to join them," he said. "Turkey is not good for me either though. I just want to go forward."
With reporting support from Emre Caylak. Edited by Eric Reidy.
Read more about...