The coronavirus pandemic has disrupted schooling across the globe. But in southern Bangladesh, local communities hosting nearly one million Rohingya refugees say they've been struggling for the past three years.
Local teachers, students, and aid workers say schooling in host communities has grown more precarious since a military purge in Myanmar's Rakhine State drove more than 700,000 Rohingya refugees into Bangladesh's camps starting in August 2017. 
Educators warn of a lost generation of students as communities grapple with rising poverty, school dropouts, and teacher shortages – side effects, they say, of life amid a massive aid response.
Gul Bahar, 13, stopped school last year because her fisherman father couldn't afford to pay sky-high transport fees, which have doubled since 2017. Government bans on fishing in the nearby Naf River, imposed partly to cut off a transportation route used by Rohingya to enter Bangladesh, have put thousands out of work.
"My younger sister and I don't attend school now," she said. "My father can no longer fish in the river after the arrival of Rohingya."
Multiple factors are driving the schooling problems. Falling income and rising poverty have worsened school dropout rates. Poorer families are quick to withdraw daughters from school, and a scarcity of public transit has made it harder for girls in particular to attend, teachers say.
Poorer students are also leaving school early to support their families by re-selling relief supplies to village shops – aid items are a common sight in Cox's Bazar's markets.
At the same time, teachers are leaving to take up better-paying jobs – often on short-term contracts – with the dozens of local and international aid agencies operating in the refugee camps.
Some schools report a third or more of registered students are absent, while educators at several schools said at least a quarter of their teachers had left for NGO jobs.
Barkat Ullah Maruf, assistant director of the local NGO COAST Trust, worries about the long-term effects on students.
"There is a chance they will never come back" to school, Maruf said. "This is a generational loss for the communities."
The impact on local schools is one of several grievances that have driven tensions among Bangladeshis around the refugee camps. The UN-led humanitarian response plan targets local communities with student grants, school renovations, and vocational training, but critics say it hasn't been enough to offset the problems.
Some schools report a third or more of registered students are absent.
As in many parts of the globe, the pandemic has exacerbated the education divide. Bangladeshi schools have been closed nationwide since mid-March. A scheduled early October re-opening date was pushed back to the end of the month.
Hamidul Haque Chowdhury, the chairman of Ukhiya sub-district, home to the majority of the camps, said local schools were beginning to recover from the shock of the refugee influx when COVID-19 struck. The virus, he said, "has hit all the layers of education".
Student dropouts and teacher shortages
Even before the refugee arrivals and the pandemic, education indicators in Cox's Bazar lagged far behind national averages.
Primary school enrolment rates were the lowest in the country, while dropout rates – about 31 percent – were among the highest, according to World Bank figures. Poverty rates also exceed the national average.
Rohingya children have suffered as refugees: The government bars them from attending formal schools or from using the Bangladeshi curriculum. But according to aid agency figures, attendance rates in the camps' NGO-run makeshift classrooms were still higher than in local schools among the 6-11 age group.
After the 2017 influx, many schools saw their classrooms occupied for months by police and soldiers working on the aid response, or converted into storage for relief supplies.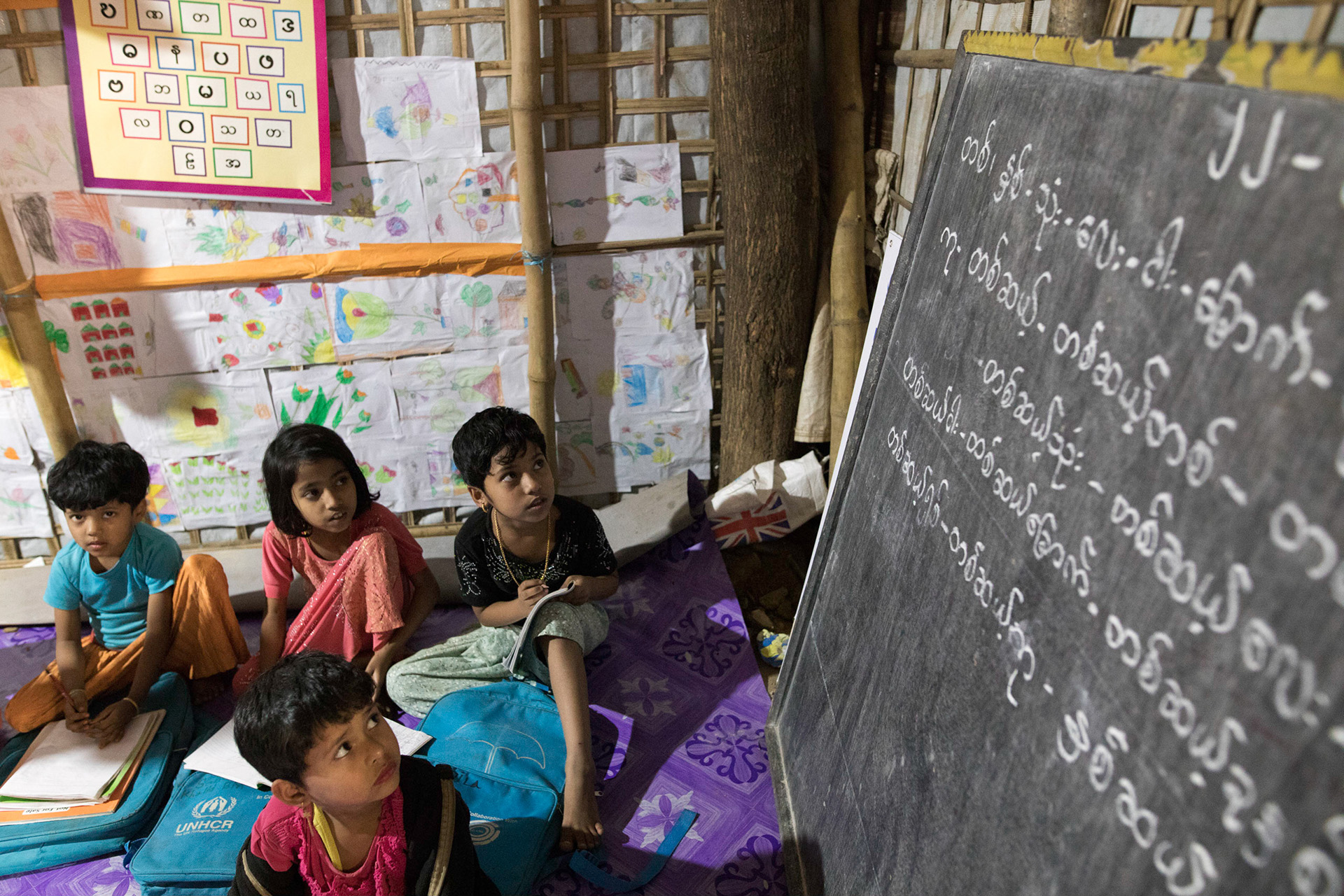 "We had to attend classes outside, standing due to the lack of benches," said Pranti Barua Trisha, a year-10 student at Kutupalong High School, which is nestled near the refugee camps.
The damage lingers even after three years. Barua is still in school, but at least six of her friends have dropped out.
Head teacher Abdul Mannan said his school's exam pass rates have been cut in half, from about 80 percent before the influx, and student dropouts and teacher shortages have worsened.
Teacher Rita Bala Dey said parents, facing rising prices and fewer jobs, often choose to pull their daughters from school first. 
About a third of the students in her class of 120 were consistently absent before the pandemic hit. And fewer and fewer plan on continuing their education after high school, instead aiming for short-term jobs in the refugee camps. "The scope for higher education is on the wane," Dey said. "Students are entering jobs after passing the secondary exam. Even class eight students (12-13 year olds) are serving as volunteers."
Read more: Higher education 'at stake'
Post-secondary education has also suffered as students look to the camps for jobs, teachers say.
Tauhidul Alam, an assistant professor of history at Ukhiya Degree College, about three kilometres from the largest camps, said exam pass rates plummeted because classes were frequently cancelled for two academic years as security forces set up on campus.
It took until early 2020 for classes to resume on a regular schedule, but test scores remained low. Alam estimates that 80 percent of the college's current students also have jobs with NGOs.
"Higher education is at stake," he said. "It will take 20 years to offset the devastation on the education sector caused by the Rohingya crisis." 
Abu Murshed Chowdhury, who heads Phals, an NGO based in Cox's Bazar, said the onus is on aid groups to ensure they aren't interrupting students' schooling
"Guardians need to be motivated about letting their children complete studies," Chowdhury said. "NGOs also have the responsibility."
But others say the camp jobs are a clear benefit to Bangladeshis, particularly when so many are struggling with poverty.
"You don't only gain human capital by taking college classes. Job experience, connections, networking are also important," said Mushfiq Mobarak, an economics professor at Yale University who has researched the Rohingya crisis. "The fact that many students are landing jobs is a cause for celebration, not concern."
Sadeqa Akter, a former student at Ukhiya Degree College, understands both sides.
She dropped out of her first-year economics programme last year, in part because her family couldn't afford the tuition.
Akter took on a UNICEF-funded child protection job with a local NGO for $300 a month – a lifeline at the time, but her contract ended in June, leaving her out of work.
Now she'd like to return to school, but her financial troubles remain: "There is no one in the family to earn," she said.
Schools also report widespread staff shortages, as teachers take up camp jobs that often pay eight times their salaries. Already packed classrooms have grown even more crowded. Dey said Kutupalong High School alone lost six teachers, leaving 18 instructors to teach 1,350 students.
Sirajul Ulum Dakhil Madrasa in Teknaf, on Cox's Bazar's southern tip, saw five of 18 teachers leave since the refugee crisis escalated in 2017. The seminary has yet to fill the vacancies.
"We're the most affected in terms of teachers' departure," said Abul Bashar Siddique, the madrasa's principal. "We couldn't find teachers even after publishing recruitment advertisements."
Finding solutions
Aid groups say they're trying to support both Rohingya and Bangaldeshi students. 
Some $51.7 million in education funding has targeted local communities since 2017, according to planning documents, out of $1.63 billion in total humanitarian funding for the entire response.
Louise Donovan, spokesperson for the UN's refugee agency, UNHCR, said some of the budget has gone to school upgrades, including new classrooms, furniture, and water and sanitation facilities.
"The renovated schools can also serve as temporary shelters during natural calamities," she said.
The agency has helped to enrol 2,700 young people in computer courses. UNICEF is issuing grants to help return girls and boys to school, and plans to begin a training course for local teachers this year, a spokesperson said.
But analysts say the problem goes deeper. In addition to rising poverty, researchers at COAST Trust say some parents are afraid to send their daughters to school because of crowded transport and traffic that has become "chaotic" since the influx. An October 2018 report by the US government department responsible for foreign aid, USAID, warned that early marriage may be rising as girls drop out of school.
"Education quality was weak before and has been further weakened by the refugee influx," the report stated.
Mushfiq Mobarak, an economics professor at Yale University who has done extensive research on the Rohingya crisis, said humanitarian groups and Bangladesh's government need to find "creative solutions". For example, he suggested a dedicated bus for female students would help keep more girls in school.
"The refugee problems are going to be difficult to solve in the long run if you lose the cooperation of the host communities," he said. 
Ajit Nandi, a coordinator with the Bangladeshi aid group BRAC, said the communities surrounding the crowded refugee camps need more support.
"Family expenses have gone up," he said. "Cox's Bazar has become very expensive."
aa/il/ag