On 5 March, the top health official in Lombardy, the region of northern Italy that had become the new global epicentre of the coronavirus outbreak, issued a plea for assistance.
"We need the best energies [to face this crisis], and NGOs' contributions can be of great help," a visibly worried Giulio Gallera told a press conference in Milan.
International NGOs more used to deployment in humanitarian hotspots on the other side of the world – including Médecins Sans Frontières, EMERGENCY, and INTERSOS – heeded the call, and began working side by side with Italian public health workers.
Rossella Miccio, president of EMERGENCY, said it was a natural decision to relocate staff from abroad to help in Italy, where, as of 30 March, more than 100,000 people were known to have contracted COVID-19, at least 11,500 of whom had died.
"What's happening in Italy is a humanitarian crisis," Miccio said in a phone interview with The New Humanitarian. "But it is also a social crisis testing our welfare system, where the most vulnerable categories are at risk of being the collateral victims of an already dire context."
It's not just in Italy that international relief organisations are stepping in to fill gaps in unusual settings. For example, the evangelical Christian humanitarian aid group Samaritan's Purse is building an emergency field hospital in New York's Central Park, while MSF announced on Monday that it had expanded its coronavirus activities to Belgium, France, Greece, Norway, Spain, and Switzerland.
Samaritan's Purse has also delivered a 68-bed field hospital to northern Italy, complete with 32 disaster relief and medical personnel who will stay for at least a month.
Building infrastructure and support
Since late February – when the first clusters of cases emerged in northern Italy – more than 8,350 Italian medical personnel have become infected with COVID-19, while at least 61 doctors have died after contracting the virus. 
Among the dead is 73-year-old Gino Fasoli, a priest and former volunteer doctor with MSF and EMERGENCY. Fasoli, who died in Brescia on 14 March, became infected with COVID-19 after coming out of retirement and volunteering at a local hospital.
Faced with unprecedented pressure on the health system, the Italian authorities appealed in late March for 300 volunteer doctors and 500 nurses to work in the hospitals worst hit by the outbreak. Almost 17,000 people ended up coming forward. These medical professionals get their travel expenses reimbursed and receive a 200-euro daily wage from the government for their services.
Subscribe to our coronavirus newsletter to stay up to date with our coverage.
International NGOs have, for the most part, focused their efforts on protecting health workers – providing them with safer infrastructure and personal protective equipment (PPE) – and filling gaps on the periphery of the crisis, such as services for migrants, the homeless, unaccompanied minors, and other vulnerable categories.
About 30 MSF health workers are deployed in hospitals in the hard-hit Lombardy towns of Codogno and Lodi. Their activities are coordinated by the Italian health ministry.
"We know what it means to go through an epidemic as a community. Consequences are not strictly connected to health, but are also social and psychological, because human relationships are limited, and fear spreads fast," Stella Egidi, an MSF doctor and coordinator working in Lombardy, told TNH in an email interview.
"Because we've worked in 70 different countries, we've seen it all, from epidemics to wars and natural disasters. And we know what it means for healthcare workers to find themselves in such difficult conditions, enduring extreme stress while trying to save as many lives as possible with limited protections."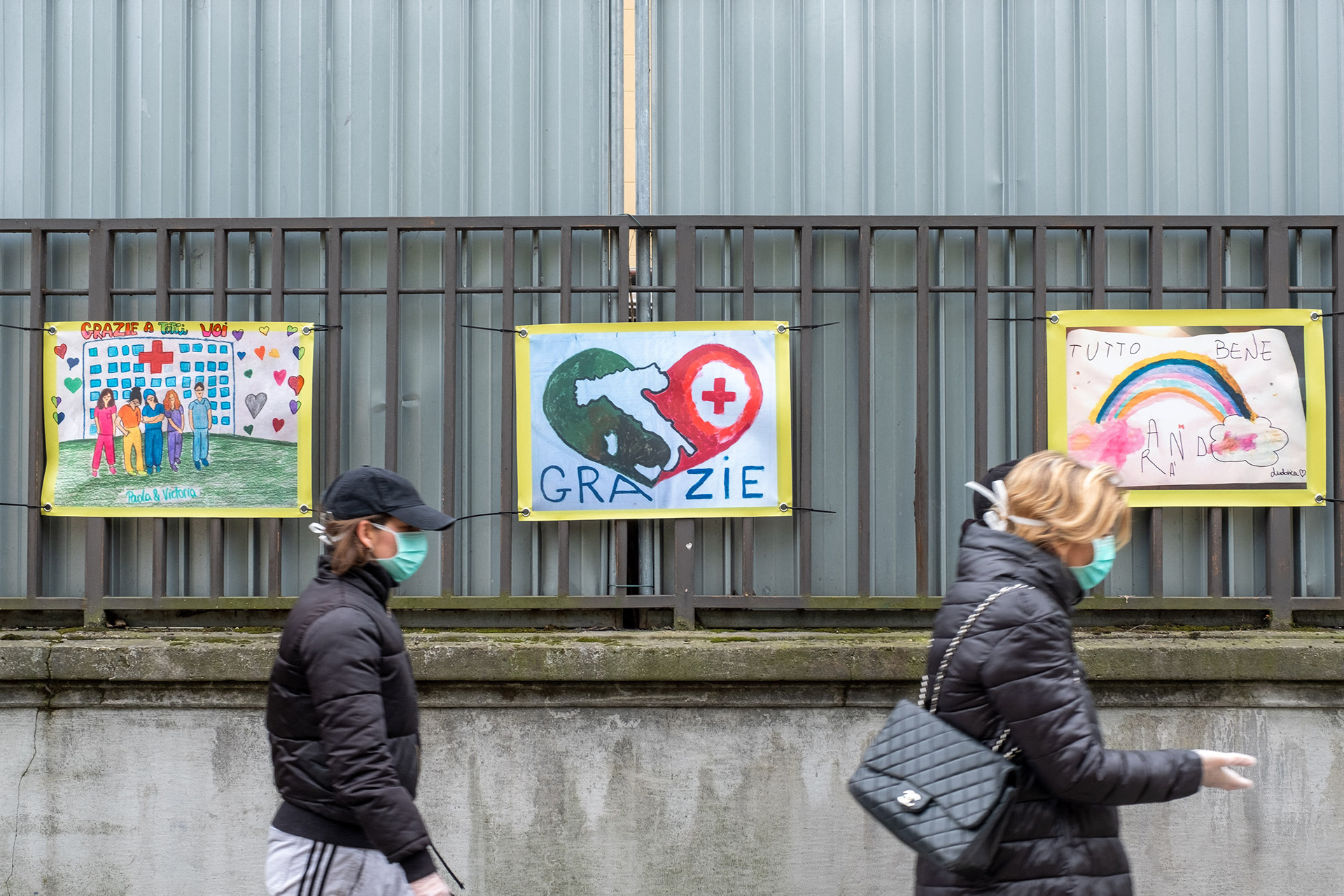 'Emotional management'
Unlike humanitarian workers in more traditional hotspots, doctors in Lombardy did not choose the front line. They unexpectedly found themselves on it. 
Mauro Betelli, an internist doctor at Bolognini hospital in Bergamo – the worst-hit province in Lombardy – sounded exhausted after a long night shift.
Speaking to TNH by phone, he said he was worried because the number of patients had exceeded the hospital's capacity and many of his colleagues were infected, leading to staff shortages.
Read more → How coronavirus hits migrants and asylum seekers in Italy
"The same Chinese scenario that required the need of creating additional hospitals is repeating itself in Italy, especially in my city," he said. "The situation is so desperate that any form of help can make a difference."
Betelli said he believed the skills of humanitarian workers with international healthcare experience in crisis situations could help Italian doctors tackle the emergency and get through the experience.
"What I'm most worried about is that this war-like setting we're experiencing will leave us with social wounds," he said. "Working in crisis areas requires great adaptability and considerable emotional management skills. The fact that we're experiencing a number of failures in [helping patients] is destroying us on the emotional level."
EMERGENCY is building a field hospital in Bergamo, in cooperation with the Alpini, the Italian mountain infantry.
The international NGO said its 20-strong team – which includes doctors who worked on the Ebola epidemic in West Africa – was focused on protecting Italian healthcare workers, who have never had to deal with anything like this before. 
"The fact that we're experiencing a number of failures in [helping patients] is destroying us on the emotional level."
"The already high-quality standards of the Italian healthcare [system] need to be supported, in order to help doctors deliver their services in better safety conditions," Miccio said. "Their experience in tackling the Ebola outbreak in Sierra Leone in 2014 can represent an added value and pass on necessary expertise." 
INTERSOS, meanwhile, is concentrating on triage screenings aimed at identifying potential COVID cases in Italy's more inaccessible areas. 
"We currently work with two mobile teams in charge of screening vulnerable migrants, especially women and minors alone, distributing face masks to those who cannot afford them and spreading contagion prevention information," Cesare Fermi, the NGO's migration unit coordinator, told TNH.
INTERSOS medical teams are deploying to largely underserved locations – like farms and fields in the Apulia region. Although the situation can be critical in urban areas like Rome, where the NGO is based, migrants working in agriculture in southern Italy represent a risk to their own community and surrounding communities, according to Fermi. 
As case numbers in southern rural regions rise, the NGO worries that a large coronavirus outbreak there could be catastrophic, so they're putting in the groundwork to try to limit the damage, setting up better water facilities and a patient referral system.
Safe information
NGOs with a range of non-medical backgrounds and skill sets have also been pitching in.
ActionAid Italy used lessons learnt during a disastrous 2016 earthquake in central Italy to put together Covid19italia.help – a digital hub to keep citizens safe and informed where users can access information, aid opportunities, and verified news. 
"Information is also a [primary need] in a pandemic, where it often becomes the key to safety," Sara Vegni, resilience projects coordinator at ActionAid Italy, told TNH. "With social media spreading more information than one can keep up with, this pandemic is turning into an 'infodemic' for ordinary citizens of all ages... The risk is that people might feel lost and make mistakes."
One of the most widespread forms of misinformation have been fake online fundraisers, pretending to be in support of the emergency.
The first UN agency to coordinate efforts with the Italian authorities and raise verified funding initiatives was UNICEF Italy, which is donating medical supplies to the government's civil protection department.
"We're used to collecting funds for the worst emergencies in the world," said Andrea Iacomini, spokesperson for UNICEF Italy. "For the first time in history, we're both the fundraisers and beneficiaries."
Local aid and volunteers
Since 9 March, outdoor activities in Italy have been restricted by the government to essential food shopping and health or work emergencies. But this hasn't prevented the Italian Red Cross from organising a volunteer programme for ordinary citizens.
"So far we have collected 26,000 applications, 1,000 of whom are medically trained personnel that will be deployed on ambulances and first aid activities," the president of the Italian Red Cross, Francesco Rocca, told TNH.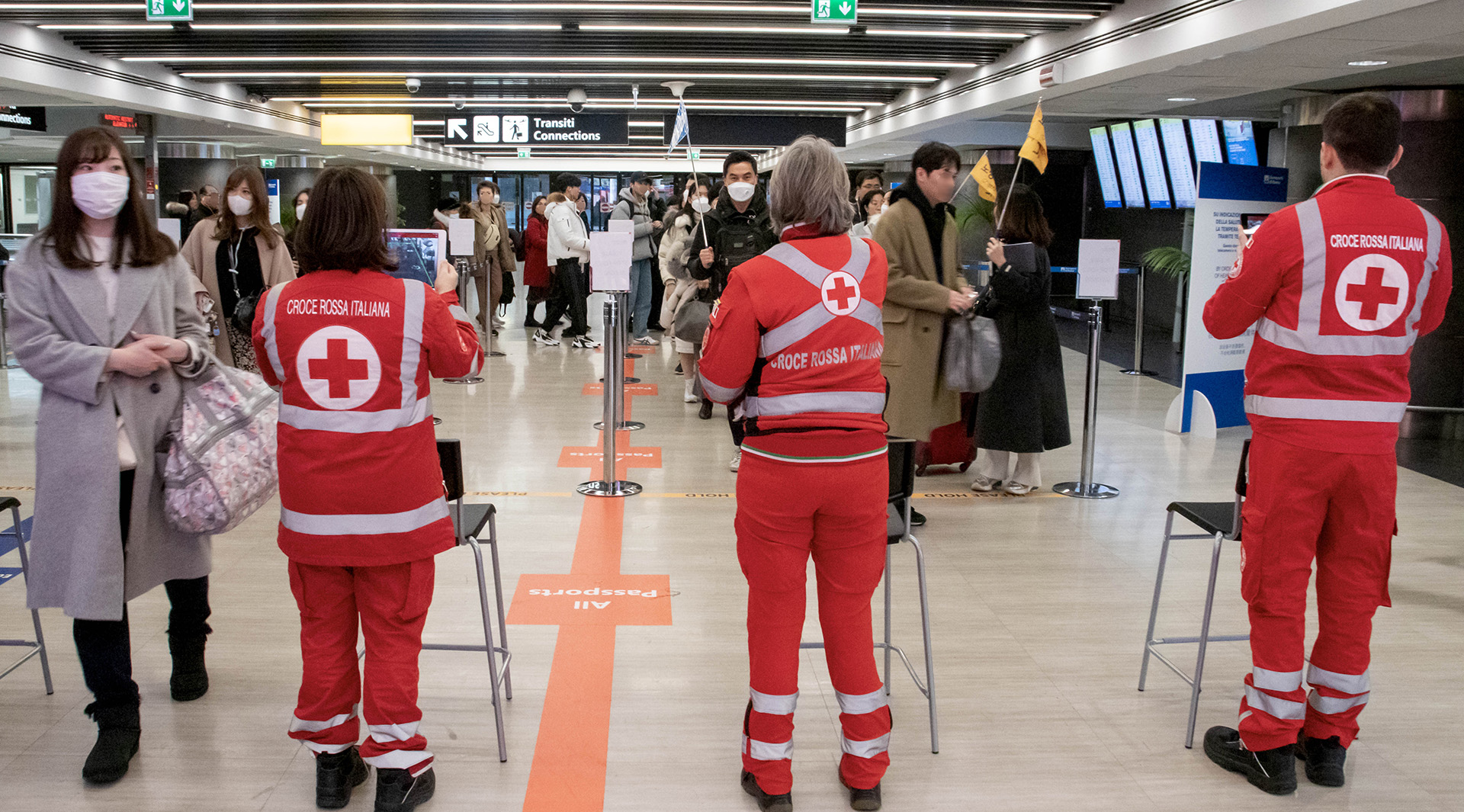 Volunteers help by running food and medicine deliveries to elderly or immuno-compromised people, and by checking the temperatures of the few passengers at airports and train stations. 
Volunteer healthcare professionals – including doctors, nurses, and clinical psychologists – are deployed to help on ambulances and with emergency assistance, as well as social care activities, as needed. All volunteers first receive online training. 
"I know people buying extra food for elderly neighbours living in the same building, or others keeping virtual company to those living quarantine in total isolation."
"We may be the only organisation offering a planned volunteering programme on a national scale. But that doesn't mean other kinds of solidarity initiatives are not happening more quietly," said Rocca. "I know people buying extra food for elderly neighbours living in the same building, or others keeping virtual company to those living quarantine in total isolation. This, or even just staying home to protect others, can be considered humanitarian actions these days."
In his 15-year volunteering experience with the Red Cross in Italy, Leonardo Del Re, a Red Cross volunteer in the city of L'Aquila, in central Italy, has witnessed many catastrophic events – from wildfires, to floods and earthquakes.
Nothing, he told TNH, had prepared him for the current scenario, delivering assistance to frightened elderly people at home. "On the psychological level, this has been the most overwhelming experience for all of us volunteers, old and new," he said. "It's a war against an invisible and insidious enemy that spares no one."
sdi/bp/ag