Along with millions of Italians, the future of tens of thousands of migrants and asylum seekers in Italy has become more uncertain as the largest and deadliest coronavirus outbreak in Europe has pushed the country to take stringent containment measures.
Since the first cluster of cases was officially declared on 21 February, almost 28,000 people in Italy had tested positive for COVID-19 by 16 March, while more than 2,150 deaths – more than 700 reported on Sunday and Monday alone – had been registered from the still-expanding pandemic.
A government decree outlining strict new quarantine measures came into force across the nation last Monday, on 9 March. Everyone in Italy has since been living under a mandatory lockdown that restricts working practices and freedom of movement. These measures are due to remain in place until at least 3 April.
In a number of different ways, the knock-on effects of trying to contain COVID-19 are also limiting operations to assist migrants and asylum seekers, themselves at risk from the virus.
For instance, all those on board two rescue ships that had picked up hundreds of migrants in the Mediterranean have been undergoing a mandatory two-week quarantine after docking at Italian ports. Integration services for migrants and asylum seekers across Italy have also been temporarily suspended or heavily reduced.
Political positions over migration have hardened too.
In Sicily, where the majority of migrants arrive, the region's president, Nello Musumeci, criticised the central government's decision to keep the ports open to migrant ships in late February, describing it as "a harsh move that didn't take into account the dignity of migrants nor the worries of Sicilians during such a health emergency".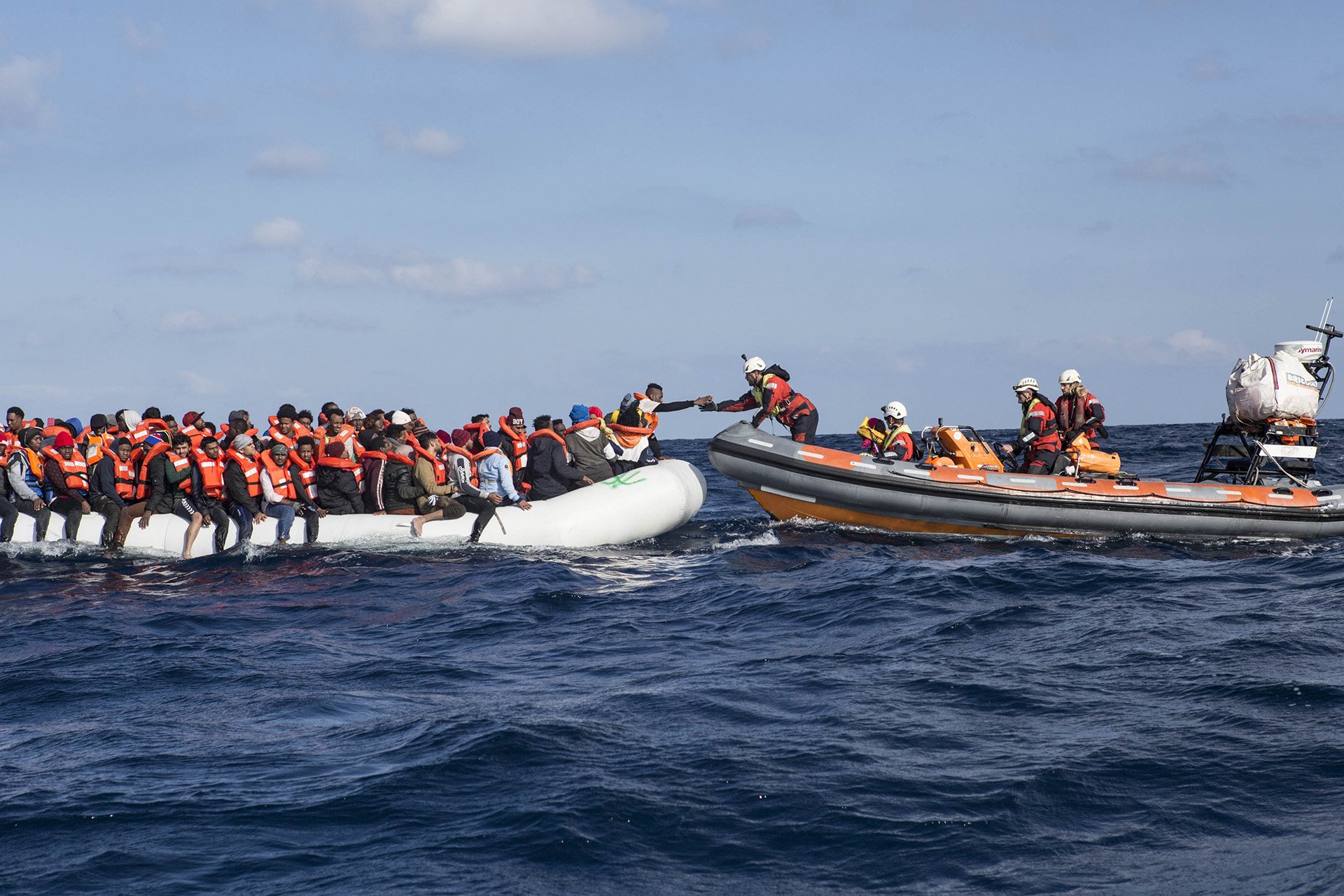 But others, like Sergio Pintaudi, former head of the resuscitation department at the Garibaldi Centro Hospital in the Sicilian port city of Catania, are keener to assist migrants and asylum seekers.
Pintaudi said the migrants who make it across the Mediterranean tend to be some of the healthiest ones, but he cautioned that detention in Libya can cripple their breathing systems, making them more vulnerable to the effects of coronavirus.
"The most common disease I've cured at hotspots is tuberculosis," Pintaudi, who served as a medical specialist at migration arrival "hotspots" on Sicily for a decade, told The New Humanitarian.
"The main issue for potentially sick migrants these days will be finding beds at hospitals, which are currently at a breaking point," he said. "The outbreak is going to impact vulnerable and marginalised categories the most, be them Italians or migrants." 
Migrants often don't know they have the same healthcare rights as Italian citizens, and some are afraid to come forward, fearing their paperwork might be checked.
"The outbreak is going to impact vulnerable and marginalised categories the most, be them Italians or migrants." 
The first case of a migrant in Italy contracting COVID-19 was reported on Monday at a reception centre in Milan. The man, who showed light symptoms only, was placed in quarantine and half of the 160 migrants in the centre were reportedly moved to a different building in the city.
There are only about 4,000 intensive care beds in Italy – some 350 in Sicily – and doctors are soon going to face the dilemma of having to give priority to those most likely to survive. For this reason, hundreds of triage tents have been placed outside hospitals across the country to pre-select those with the best chances of survival.
Migrant vessels quarantined
Just as the first large clusters of COVID-19 cases began to emerge in northern Italy, two migrant rescue ships – Ocean Viking and Sea-Watch 3 – docked at ports in eastern Sicily, on 23 and 27 February respectively. 
The more than 450 rescued migrants were immediately put into quarantine in reception centres on land, in line with the government's latest coronavirus protocols. The crew members were quarantined separately, on board their vessels.
Gennaro Giudetti, a cultural mediator on board the Sea-Watch 3 rescue ship – which docked at the port of Messina in eastern Sicily – told TNH of a common misconception among the new arrivals.
"When we told the people we rescued that they would be quarantined on land, they thought it was a measure to protect them from the virus in Italy," he said. "Instead, we believe it was because they feared that migrants could bring further contagions to Italy."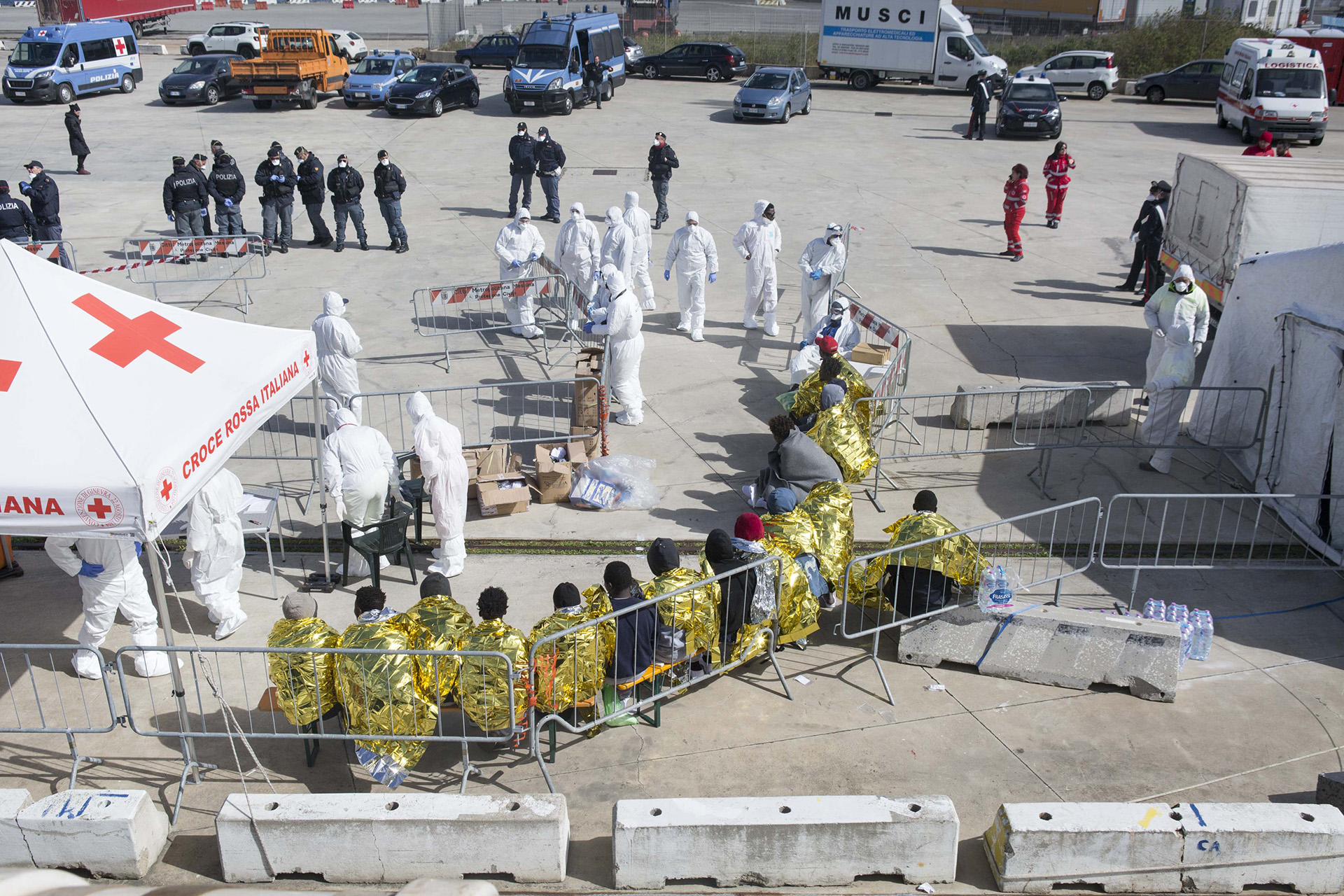 Those on board the rescue ships were the first people to be forced into quarantine on Italian soil – before the nationwide lockdown. According to Giudetti, no cases of COVID-19 had been registered aboard, and everyone's health conditions had been constantly monitored.
"It's unlikely that migrants rescued on dinghies coming from Libya… contract the virus there," he said.
The lack of an apparent logic behind the early quarantining left crew members regarding the measure as discriminatory and political. 
In a tweet, SOS Méditerranée – the aid organisation that runs the Ocean Viking with Médecins Sans Frontières – said it hoped the coronavirus outbreak wouldn't raise Italians' anxieties towards migrants and see politicians turn them into a pretext to prevent rescues.
Sea-Watch 3 and Ocean Viking, whose operations are suspended due to logistical difficulties caused by the coronavirus chaos, were the last two NGO search-and-rescue vessels in operation in the Central Mediterranean – the most popular route from Libya to Italy, where at least 10,000 migrants have drowned since 2015.
With no humanitarian rescue missions operating since 27 February in the Central Mediterranean, the risk of losing more lives at sea increases.
There is also concern that coronavirus could see more migrant vessels pushed back to Libya, which the UN's refugee agency, UNHCR, has expressly advised against due to the dangers third-country nationals face there. For example, a dinghy with 44 people aboard launched a rescue request on 28 February. After 24 hours without an answer, the boat was taken by the Libyan Coast Guard back to Libya. 
Asylum applications slowed
Due to operational and logistical difficulties caused by the pandemic, a number of legal services managed by the Italian interior ministry are now limited.
As police staff normally employed at immigration desks for bureaucratic purposes have been reassigned for emergency coronavirus-related duties, applications and renewals of residency permits for foreigners were suspended for 30 days, starting from 2 March. 
Courts will also be closed until 3 April at least, so the government has suspended interviews for refugee status determination and hearings for appeals of asylum request denials. These suspensions started on 12 March and will run until at least 25 March, with the possibility of further extensions. 
Carlotta Sami, UNHCR's spokesperson for Italy, said that the same measures that apply to Italian citizens also apply to asylum seekers or refugees, in terms of health checks and quarantining if COVID-19 symptoms are detected.
"So far, the main challenge has been the lack of information in languages other than Italian," she told TNH. "But recently we worked on disseminating the government's guidelines in the most common languages among asylum seekers, to allow them to understand and follow the right precautions."
Reduced assistance
Services for asylum seekers are also affected: employment help and legal assistance operations – those run by both the Italian state and by NGOs – have been heavily reduced, while the Italian language classes that are very popular and important for those trying to integrate have been suspended until further notice.
Simone Alterisio, migration services coordinator for Waldensian Diaconia, explained how employment and other services run by his faith-based NGO at community centres across Italy have been curtailed due to having to comply with the government's new coronavirus guidelines. 
"We now let only one [migrant or asylum seeker] into our offices at a time, which consistently reduces the number of people we can assist per day," she said. "When possible, we prefer delivering our work through phone calls."
Meanwhile, as most flights to and from Italy have been suspended, Mauro Palma, national ombudsman for the rights of the detained people, has expressed concern that the country's seven migrant repatriation centres could become health hazards. 
Palma said the 425 migrants waiting to be repatriated – whose lives have been put on hold for weeks – are confined to an area where COVID-19 health guidelines, including safe "social distancing" measures, can't be guaranteed, raising fears the virus will spread. Similar concerns have been raised about ghettos in southern Italy's agricultural fields, where vulnerable and exploited migrant workers often live in squalid conditions and with little health protection.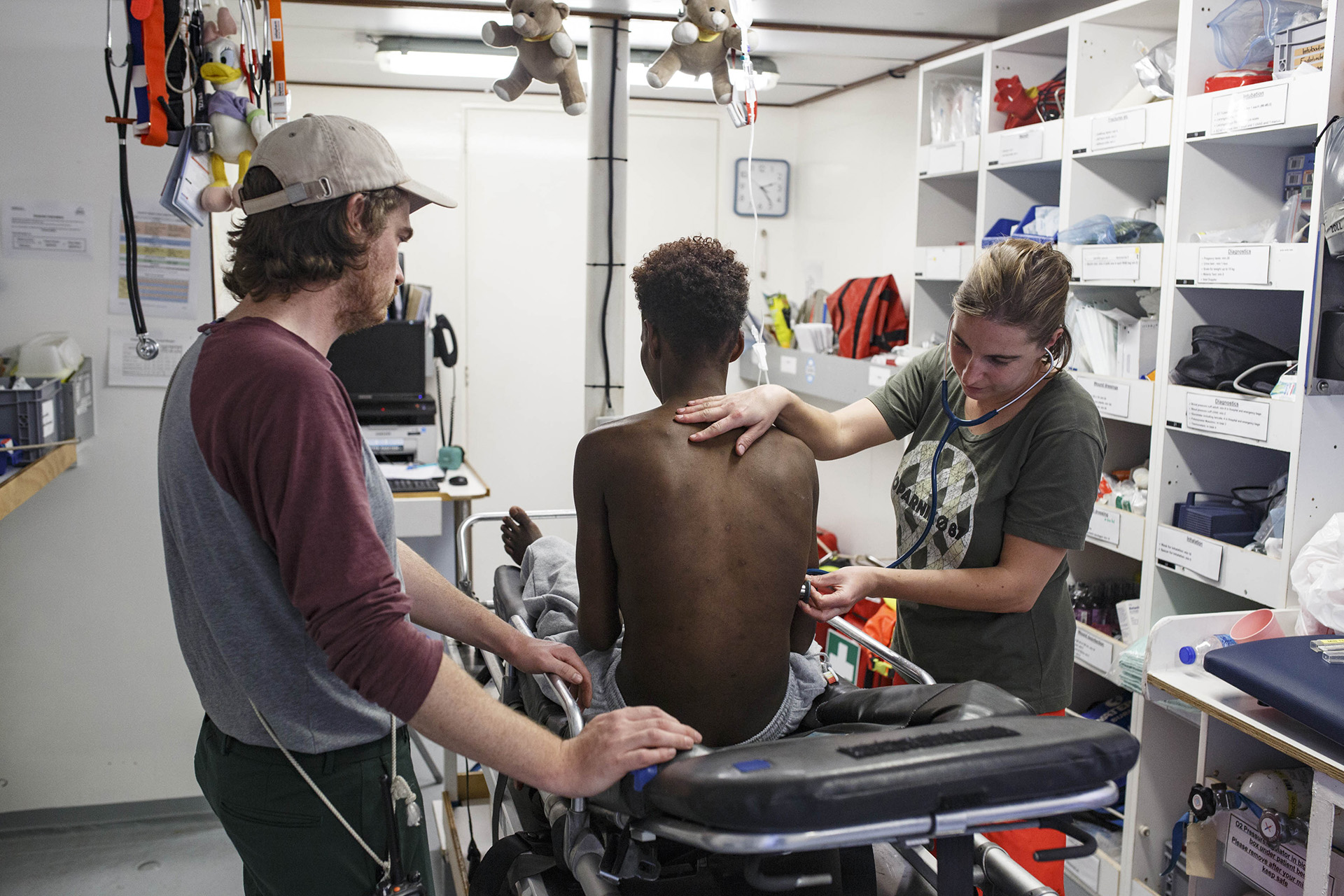 Anti-migrant politicisation 
The coronavirus epidemic has also been weaponised for political purposes by Italy's far-right League party, led by Matteo Salvini.
As Italian interior minister, from June 2018 to September 2019, Salvini cracked down on migration, introducing tough new laws and attempting to bring charges against MSF and SOS Mediterranée for rescuing migrants at sea.
On 21 February, Salvini suggested shutting the borders to migrants to protect Italians. A few days later, even though none of the COVID-19 cases in Italy had been linked to Africa and the continent only had one case (in Egypt), he told a press conference in Genoa: ''The government has underestimated the coronavirus. Allowing the migrants to land from Africa, where the presence of the virus was confirmed, is irresponsible."
In a telephone interview with TNH last week, Antonio Mazzeo, a former League candidate for the European parliament, suggested that local residents must take priority and "migration policies should take the back seat".
"It is not a matter of racism, but good sense," Mazzeo said. "This situation could lead to a collapse of national healthcare, especially in the south, which has weaker infrastructure and where most arrivals land."
However, on 5 March, the League-run council in the northern region of Lombardy – the epicentre of Italy's coronavirus outbreak – asked humanitarian NGOs to put their medical staff at the disposal of the crisis. "In an emergency, we should all set our ideological differences aside and help in any possible way," Mazzeo said.
Despite the emergency and the increased politicisation of migration issues, local media have also reported a growing empathy among some here for migrants seeking refuge in Europe. A video of Italians rushing to train stations before an enforced lockdown shows some of them saying: "We feel like refugees; we're also running."
sd/ag
Behind the headlines: How will COVID-19 impact crisis zones? | Thursday 19 March
Aid agencies are scrambling to adapt as the COVID-19 pandemic is felt throughout the world. Join Senior Editor Ben Parker as he speaks to leading experts and practitioners from across the humanitarian sector to discuss some of the most pressing issues.