Nelina Cardalis, 78, is exhausted from work even though it is only noon. She rests her body on a bag of oranges in front of the stand she runs at the makeshift public market close to where she lives in Patare, one of the biggest and most dangerous slums in Venezuela's capital, Caracas.
Despite being elderly and nearly blind, Cardalis spends her days selling used clothes and begging in order to supplement her government pension of about $3 per month. After working in a meatpacking factory her whole life, she didn't have particularly high expectations for her old age. "I always knew I would be poor," she says. "But I didn't know it would be like this."
Many elderly Venezuelans find themselves in a similar situation. The ongoing economic and humanitarian crisis in the country – once one of the richest in South America – is making it nearly impossible for them to scrape by, stay healthy, and receive care and support in their old age.
Since 2012, Venezuela's currency, the bolivar, has suffered an inflation rate of more than one million percent, and over four million people, almost 15 percent of the country's population, have fled in an exodus that began in 2015 to escape the dire economic situation and its humanitarian and political consequences.
Economic life in Caracas has stabilised a bit in the past year as many people have started using US dollars as currency in place of bolivars. But not everybody has access to dollars. Outside the capital, and for roughly half of the population that is still paid in bolivars, Venezuela's crisis continues to hit hard. The elderly – like Cardalis – are among the most vulnerable.
"Elderly people in crisis zones are completely invisible," says Natalia Rodriguez, a field researcher for HelpAge, an international humanitarian organisation focused on the needs of the elderly. "They are completely ignored. Ninety-nine percent of the [elderly Venezuelans] we spoke to received absolutely zero humanitarian assistance."
After holding out for years, an increasing number of Venezuelans over the age of 65 are now leaving the country, many following relatives who left earlier. Those who don't feel strong enough, or who do not want to leave, often have to make do without family support and are forced to depend on insufficient government programmes and aid from charitable organisations.
Three in five elderly Venezuelans report regularly going to bed hungry, and 95 percent say they don't have enough food as they struggle to survive on their meagre government pensions in a country where a monthly food basket cost around $175 as of December last year.
Dependent and isolated
While waiting for customers in the market, Cardalis holds a tiny plastic glass in her shaking hands filled with perhaps three spoonfuls of soup, her lunch for the day. Dinner will be a single corn arepa. About once a month, when she has saved up enough money, Cordalis buys a bit of chicken skin to supplement her diet.
"I don't like asking for food, but the current situation has led me to this," she states bluntly. "I worked my entire life. Now I sell my old stuff and beg."
Her family left Venezuela to work abroad, but doesn't send her money. She has no choice but to live off her insufficient pension, paid in bolivars, the little she can earn in the market, and charity.
Like many elderly Venezuelans, Cardalis relies on food provided by Local Committees for Supply and Production, a government subsidised, community-based food distribution system for poor Venezuelans known by its Spanish acronym CLAP. But the food in the boxes provided by the CLAP programme doesn't contain enough nutritional value for people to survive on, according to a 2019 report by HelpAge and its Venezuelan partner organisation Convite.
"We are beginning to see those that were left behind – those with health problems, pregnant women, the elderly. We even see people in wheelchairs."
As a result, people suffer from nutrient deficiencies that complicate existing medical conditions, weaken their immune systems, and make them lose weight. The CLAP box food is also starch heavy, which means it is unhealthy for people with diabetes or hypertension, both common diseases among the elderly, the HelpAge report stated.
To make matters worse, delivery of the CLAP boxes is unreliable. Cardalis said that only six of the 24 shipments she was supposed to receive last year actually arrived, so she leaves her home every day to try to make ends meet in the market.
Not all elderly people have that option. "Many suffer from a lack of mobility," Rodriguez, from HelpAge, says. "So we go door to door trying to find people who often find themselves dangerously isolated."
'Those that were left behind'
Traditionally, the state hasn't played a large role in caring for the elderly in Venezuela. "There is no culture of ageing; there are almost no public policies regarding this matter," says Luis Francisco Cabezas, director of Convite. "We have to think of how vulnerable our elders have become, and how we will grow old ourselves."
The task of caring for the elderly used to fall to younger family members, but many of those people are now living outside the country. "People who had resources left Venezuela when the collapse began," says Rodriguez. "They were followed over the next few years by young, able-bodied poor who left to find work."
Now, the demographics of the people leaving are shifting. "We are beginning to see those that were left behind – those with health problems, pregnant women, the elderly. We even see people in wheelchairs," says Wilfredo Canizares, director of Fundación Progresar, a human rights group based in the town of Cúcuta, Colombia along the border with Venezuela.
Across the border
Leaving doesn't necessarily solve the problems faced by the elderly in Venezuela. Guajira, a border region in Colombia north of Cúcuta, is one of the poorest areas in the country. The state suffers from a critical lack of infrastructure, high rates of extreme poverty, and a scarcity of food and medical services.
An estimated 5,000 Venezuelans enter Colombia every day, which has maintained an open border policy throughout the crisis. That movement of people has hit Guajira particularly hard. There are three functioning hospitals, each with one ambulance, in the entire state, which has a population of around 900,000 people, mostly spread throughout rural areas.
The exodus across the border has left authorities and aid organisations scrambling for resources and medicine. When they arrive, many Venezuelans find themselves living in communities of improvised housing that lack bathrooms, electricity, and potable water.
"I arrived with my grandchild," says 75-year-old Marlena Canache, who now lives near the town of Maicao close to the border. "I cried every day for two months. We slept on the floor. At least in Venezuela we had beds and a real house. Here, we can afford food, though, at least. A house is replaceable; life is not."
Canache works informally, selling black coffee with sugar in the streets of the bustling and dangerous border town.
Colombia has reinforced its health and education systems – which Venezuleans with identification cards are able to access in an attempt to cope with the flow of people across its border. But in regions like Guajira, that investment has made little difference.
Médecins Sans Frontières, HelpAge, and local authorities all report shortages of medicine for people arriving in Colombia, and elderly Venezuelans, suffering from a 63 percent disability rate, feel that shortage acutely.
Rodriguez told TNH that several people she interviewed during a fact-finding mission in February were suffering life-threatening symptoms from a lack of medicine or treatment for chronic illnesses, such as diabetes.
No good options
Back in Venezuela, medicine shortages and the collapse of the public health system are two of the main issues pushing people to leave. But for many elderly, the situation in Colombia doesn't seem like an alternative that is worth risking the tiring and sometimes dangerous journey across the increasingly violent border.
Cardalis, the women selling used clothes in the market in Caracas, has chosen to stay. She suffers from hypertension, but views a visit to the doctor as useless. "I don't have money or the strength to go to the doctor and be prescribed a medicine I won't be able to buy," she says.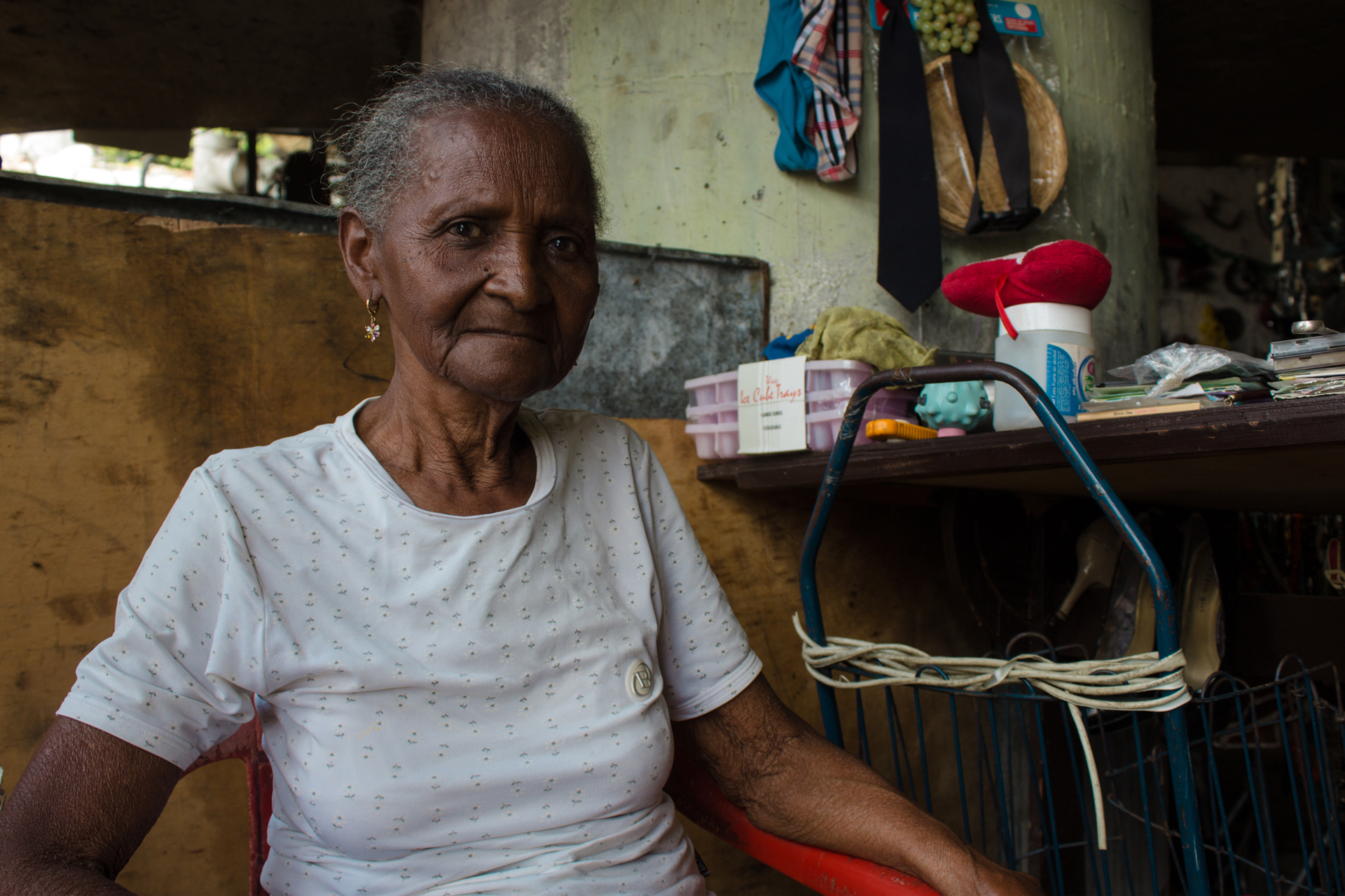 Many elderly people simply die at home due to the difficulty of accessing health services, adds Cabezas, the director of Convite.
Some organisations are trying to fill the gap, but the economic crisis has affected them as well. The Club of Revolutionary Grandparents, operating out of a large, beautiful home in the La California neighbourhood of Caracas, is one of 35 senior clubs set up in 2005 to meet the needs of the elderly in Miranda state, which covers part of the capital.
" I fear one day the help will end, with no warning or explanation."
The Club used to offer lunch, medical services, entertainment, and education to 120 people over the age of 65, but has had to scale back the services it provides as funds have dwindled. It still offers food and basic medical care, but can no longer provide people with medication.
"[Elderly people used to be] happy to come [to the Club] to play cards, dominos, and spend their day having fun," says Tibisay Mola, the Club's education coordinator. "But we have seen the situation change over the last six years. The elderly used to come here for entertainment. Now, they come out of necessity."
Struggle and resignation
Alejandrina Hernández, 89, and Mónico Rincones, who died in January at age 84 since being interviewed by TNH, were dependent on the Club's homecare programme. Unable to leave their apartment, they received two CLAP boxes and an in-home medical checkup each month.
Their son, Leo Rincones, 47, lives with them and sells fried bananas in the street. He is also dependent on CLAP boxes to supplement the meagre amount of food he can afford to buy from his earnings. Like Cardalis, he said the boxes arrive irregularly.
"It's hard to depend on the government," Leo said in January. "They aren't reliable. I fear one day the help will end, with no warning or explanation."
"Alejandrina is severely malnourished. She has dementia and spends her days looking out the window," Leo continued. "We get running water only half an hour a day, so it's hard for me to bathe her, clean her homemade diapers or the house with such little time."
"We worked all our life. We had a business; a home. We were happy," Mónico said shortly before his death. He clearly didn't expect to end up destitute and dependent in his old age. "Now, there's not much left for us. But we lived our life. It's time for someone else to live."
Additional reporting from Cúcuta, Colombia by Joshua Collins.
jc-gmr/er/ag