From murder to maternal mortality, from forced sex work to being sexually abused in prison, Venezuelan women are paying a particularly high price as the oil-rich South American country continues its long and downward spiral.
Venezuela no longer releases homicide data, but NGOs that track violence report a 50 percent increase in female homicides compared to the same time period last year – despite a rapidly shrinking overall population due to the mass exodus since 2015.
Read more → The death of a poet, and Venezuela's middle class
The Venezuelan government hasn't released data on infant or maternal mortality rate in years either, but along the Colombian border where hospitals regularly treat fleeing migrants, maternal mortality was up 80 percent in 2018 from the previous year. 
Health officials in Colombia attribute this increase to the millions of fleeing Venezuelans – many of whom often suffer from extreme medical neglect. 
Maria Borjas, 19, fled to the border city of Cúcuta, Colombia to give birth, crossing the frontier on foot when seven months pregnant.
"The hospitals in Venezuela are a death sentence," she told The New Humanitarian, citing not just a lack of medicines, but also of basic disinfectants. She fled from Merida in western Venezuela, where the electricity grid only functions three to four hours a day. 
Venezuela has the highest rate of teenage pregnancy in South America. Birth control is expensive and difficult to obtain, with some cities in the west, such as Maracaibo, lacking any stocks of contraception. This has caused pregnancies and HIV rates to skyrocket.
Those crossing the frontier do so through the largely lawless border regions of Venezuela, which are controlled by armed criminals. Reports of violence, sexual assault, forced recruitment by guerrilla groups, and disappearances are commonplace. Women and children are most at risk. 
Wilfredo Cañizares, director of Fundación Progresar, a local human rights group that provides information about the Venezuelan border to Colombian officials, journalists, and immigrants, told TNH that his organisation had received requests from family members to find 900 Venezuelans who have disappeared crossing the border near Cúcuta this year alone.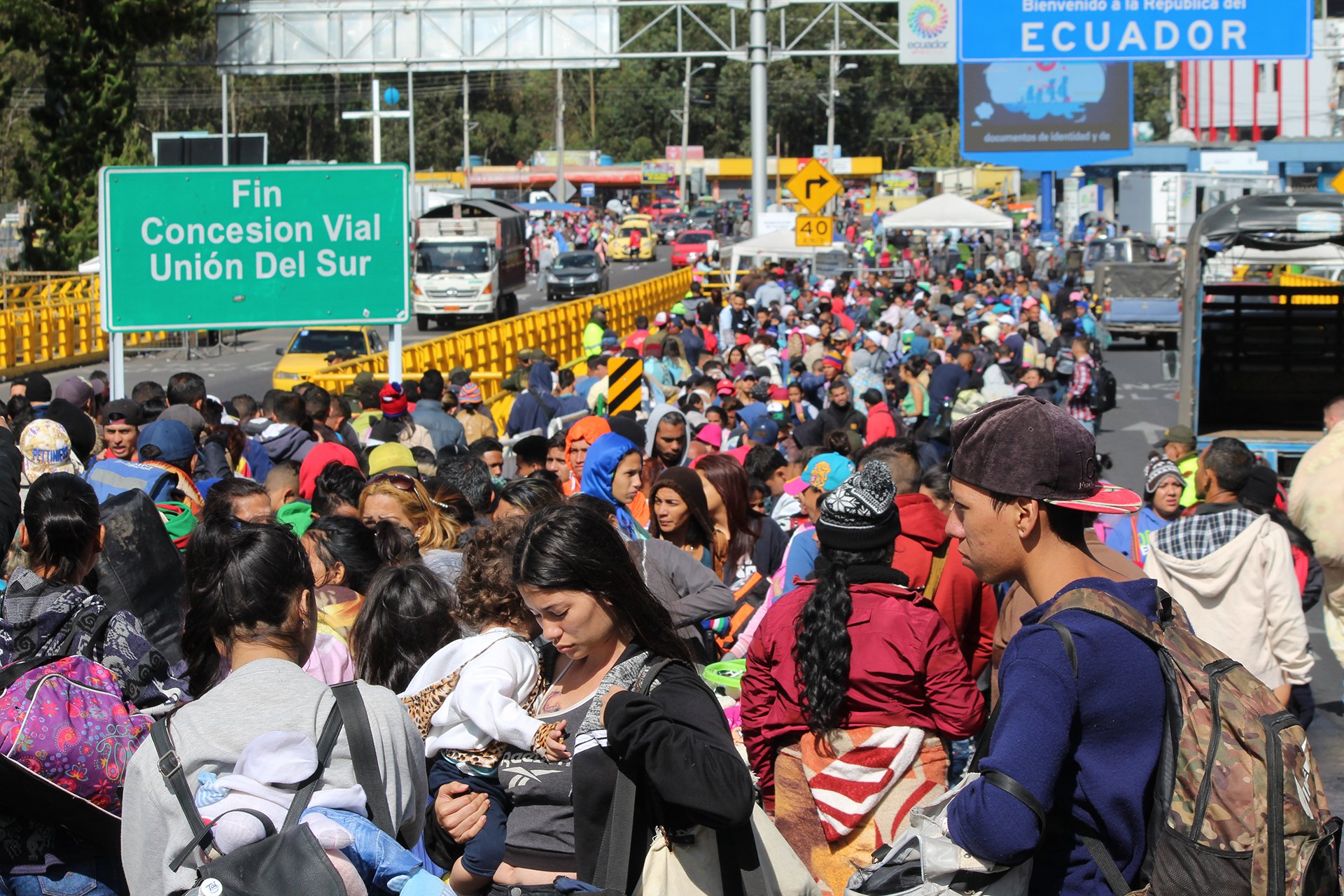 Forced into sex work
Officials estimate that more than four million people have fled Venezuela since 2015, and the flow of refugees has recently increased. Since Ecuador closed its borders to Venezuelans without visas on 25 August, Colombia is the last remaining legal refuge for the majority of those trying to start new lives. 
Venezuelans are often forced to take illegal jobs with business owners who pay them rock-bottom rates, but even those jobs are becoming more difficult to find. 
Due to stereotyping and desperation in destination countries, Venezuelan women often resort to, or are forced into, sex work to survive. 
"Women migrants are often sexualised based on cultural stereotypes that have no logical basis," said Marina Navarro, president of Amnesty International in Peru, another main destination country for Venezuelans, where tougher rules have forced immigrants underground.
Paola, 23, is a Venezuelan escort in Santa Marta, on the northern Colombian coast. 
She arrived in Colombia two years ago. At first she worked on the street, but she almost immediately experienced a severe beating at the hands of a customer. Now, she screens her clients through a website and rents a room near the tourist district.
Paola, who only wanted to give her first name, told TNH she doesn't mind her job, but is sad she hasn't seen her child since she arrived. 
She is saving money for a Venezuelan passport. Officially, a passport costs between $80-$100 from abroad, but several immigrants told TNH that bribes of an additional $200-$300 are required to ensure it actually arrives. Furthermore, since Venezuela and Colombia no longer have diplomatic ties, immigrants must return home or travel to a third country to apply.
Once Paola has a passport, she plans to send for her son, aged five, and move to Spain.
"It was very hard to overcome the sensation that at any moment I could lose everything again."
"There's too much xenophobia here," she said. "The Colombians think we're all thieves and prostitutes. So I guess I'm a stereotype. But it's not like I had a choice. If I could open a business I would. But the only job a veneca (slang for a Venezuelan-Colombian) can get here is for less than [the] minimum wage in a shop or restaurant."
Paola said she feels better now after almost two years in Colombia, but there are still details of the story she refuses to elaborate on for fear of being plunged back into depression.
"It was very hard to overcome the sensation that at any moment I could lose everything again. That someone would snatch me off the street. It made no sense, but that was my life."
Building new lives
Survival in a new country poses difficulties. It takes months of navigating a complicated process in Colombia to obtain the legal right to work and, as they wait, Venezuelan women are at elevated risk. 
"Vulnerable groups are much more likely to become victims of both violent and sexual crimes," said Wilfredo Grajales Rosas, director of IDIPRON, a government-funded organisation in the capital, Bogotá, that helps to integrate marginalised groups. "So we treat everyone as Colombian. We want to avoid that classification as 'outsider'."
In Colombia, as of the end of August, 27 Venezuelan women had already been killed violently this year – the vast majority of the cases involving sexual violence.
"Julia", whose name has been changed for this article, is one of thousands of female political prisoners who experienced grave human rights violations at the hands of the Venezuelan government. 
But she is also one of the untold number of Venezuelan women facing increased risk of violence, harassment, and xenophobia in the countries to which they have fled.
In 2017, amid brutal government repression of government protests, Julia watched security forces detain, and attack, demonstrators from her apartment window in Caracas.
She called to some of those in the streets to take refuge in her apartment. Her kindness was not rewarded. One of her neighbours called Venezuelan intelligence, who came and arrested her on "terrorism" charges.
With the help of bribes, Julia was eventually freed. She was never formally charged with a crime and now lives with her daughter in the Colombian port city of Cartagena. She has spent two years designing a line of clothing she hopes to launch soon. "Maybe one day I can return," she said. "But in the meantime, I have to build a life."
(TOP PHOTO: These young women had been robbed while travelling from Valencia, Venezuela to Ecuador.)
jc/ag