Bangladesh's sprawling Rohingya camps are home to nearly one million refugees, but Atiqur Rahman Rabbi, a Red Cross aid worker, is searching for just one.
In a dusty tent perched high above the camps, Rabbi's assistant shouts into a microphone: "People from Myanmar: if you know Abdul Jalil, please come to the mosque." The words spill down from the hillside tent to the teeming settlements below.
Abdul Jalil's family and countless others were torn apart when Myanmar's military drove more than 700,000 Rohingya into Bangladesh last year. A year later, families on both sides of the border are stepping up the search for missing relatives, and efforts to help bring them together continue.
Volunteers with the International Committee of the Red Cross, working with local Red Cross and Red Crescent societies, are trying to reunite fractured families both within Bangladesh's camps and across the border in Myanmar. The missing may be among the estimated 6,700 or more Rohingya killed last year. Or they may still be living in villages or have been imprisoned in Myanmar. They could also be "lost" in Bangladesh's vast camps.
"We tend to forget that people not only need food and water in a crisis situation; they also need information," says Odoardo Girardi, head of an ICRC family reunification programme in Cox's Bazar.
Every day, a team of 20 Red Cross volunteers scours Bangladesh's camps to track down lost relatives. They act as detectives, following leads and investigating clues. And they deliver news of loved ones' whereabouts and letters, which Red Cross colleagues have collected in Myanmar.
Rabbi, 25, oversees the field work of the Red Cross volunteers tracing refugees in the camps. On the day IRIN visited, his team is trying to deliver a letter from Abdul Jalil's family, whom Red Cross volunteers located in Myanmar.
"We tend to forget that people not only need food and water in a crisis situation; they also need information."
In front of the mosque, Rabbi chats with curious refugees who have gathered around him. Abdul Jalil has moved tents, Rabbi learns. It takes several days to finally deliver the letter.
Rabbi sees both joy and desperation as he goes about his daily work. "I have had people hug me, and I have seen people scream over the news that their loved ones were dead," he says.
Whether the news is good or bad, Rabbi is convinced his job is essential, saying: "In order to move on, it is very important for people to have certainty."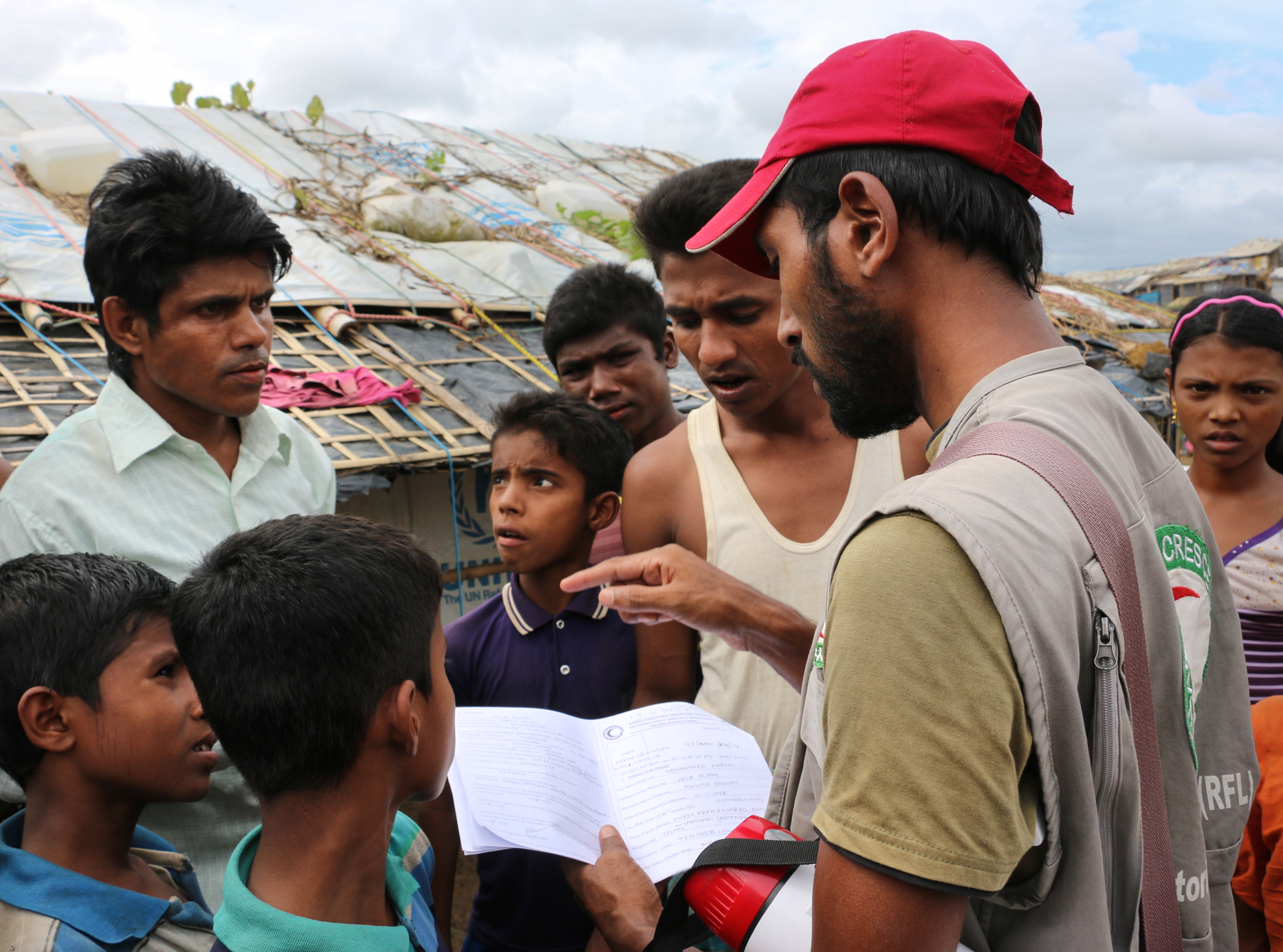 Sleuthing across borders
Once a week, the Red Cross takes on new cases in an aid distribution tent in the middle of the camps. A year after the latest Rohingya exodus, such sessions are packed with refugees desperate for information about their missing loved ones. Requests for help have increased as infrastructure improves in the camps and as more refugees hear about the programme.
Since August 2017, the ICRC says it has helped more than 9,000 families, linking refugees in Bangladesh with family members still in Myanmar, or bringing news of the fate of missing loved ones.
Most of the connections are made through phone calls. Volunteers also shuttle letters between refugees in Bangladesh and relatives imprisoned in Myanmar.
Myanmar's government allows Red Cross volunteers access to detention facilities in Rakhine State – part of the the Red Cross's family reunification work in crises around the world.
It's unclear how many Rohingya are incarcerated in Myanmar. Government and military officials there say last year's crackdown was a response to attacks on border areas by a small group of Rohingya fighters. In January, state media published a list of 1,400 men, women, and children that it claimed were members of "a terrorist group"; rights groups say such assertions were made without any judicial process or evidence.
Ahmed*, a 16-year-old living in Bangladesh's Rohingya refugee camps, hasn't seen his mother in more than a year. Now, he at least knows she's alive.
Ahmed says he saw soldiers shoot his father and arrest his mother when Myanmar's military swept through his village last August. He was also arrested, but soon released, and he and his four younger siblings rushed across the border to Bangladesh.
In February, a Red Cross volunteer tracked down Ahmed and gave him a message from his mother.
"I hope my children are healthy," the letter read. "I am praying for you. Pray for me, too."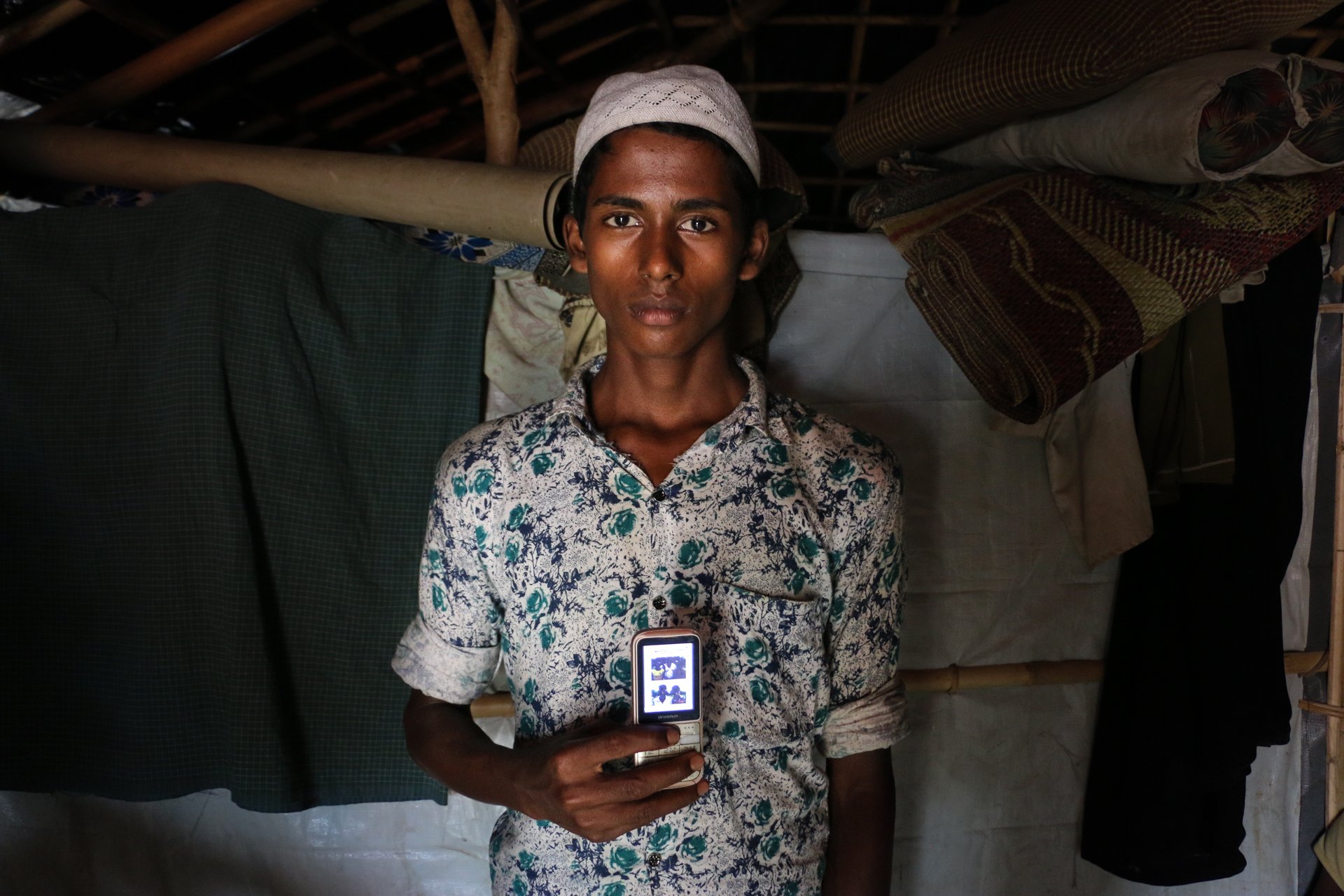 It was the first news from her in six months. "We wondered every day if our mother was well or not," Ahmed recalls.
Generations of refugees
Rohingya themselves have also struck up ad hoc efforts to bring missing families together.
Last September, during the first frantic weeks of the exodus, Kamal Hossain, 31, found a woman weeping in the camp where he lives; she had lost her daughter in the chaos of her escape from Myanmar. Kamal, a Rohingya who came to Bangladesh as a child in the 1990s, got a loudspeaker and broadcast the child's name.
Thirty minutes later, a man walked up, the missing girl by his side. "The mother fainted," Kamal recalls.
He says he announced the names of about 1,400 other "lost" Rohingya and reunited half of them with relatives. Most reunions came last September, at the height of the crisis. But Kamal keeps a list of those still missing.
"If he is alive, he will find us."
"Maybe one day it will become useful again," he says.
A year on, though, some refugees have stopped looking for their missing relatives.
Mosuda, 57, fled her village in Myanmar last August, losing track of one of her three sons in the turmoil. She says she has never heard of programmes to help find missing relatives.
The family searched for their 19-year-old son when they made it to Bangladesh. Now, Mosuda says she will have to accept whatever fate her son has met.
He could be dead, in prison in Myanmar, or somewhere else in the camps in Bangladesh, she says, adding: "If he is alive, he will find us."
(TOP PHOTO: Atiqur Rahman Rabbi and a colleague walk through Bangladesh's refugee camps in search of a missing person. The Red Cross says its programme has helped to re-connect more than 9,000 families with missing relatives. CREDIT: Verena Hölzl/IRIN)
(* Name has been changed)
vh/il/js/ag