The first heavy rainfall of this year's monsoon season has exposed new cracks in the fragile refugee camps of southern Bangladesh, which are now home to roughly 900,000 Rohingya refugees from Myanmar. A half-metre deluge over Cox's Bazar earlier this month – two thirds of the area's average precipitation for the month in only five days – wrecked homes and access roads faster than aid responders could handle.
With the heaviest monsoon season rains expected in July, aid groups and Rohingya refugees say the extensive damage in the camps is an urgent warning of the need to relocate tens of thousands still living in the most vulnerable areas.
"It's a huge wake-up call," said Caroline Gluck, spokeswoman for the UN's refugee agency, UNHCR. "Personally, I didn't expect to see as much damage at this stage as we've seen, but the amount of water has been massive."
Accompanying that water were gusts of wind that rattled the walls of bamboo and tarpaulin homes from 9-13 June. Toyeba, 60, and her husband worked frantically to block the torrential downpour from rushing inside theirs. Then the landslide hit.
"All I felt was the pain in my chest and my back," the mother of two said. Submerged to her waist in dense, wet soil, Toyeba fainted as her family and friends scrambled to dig her out.
Toyeba's neighbour, Mohammad Ibrahim, who was on slightly higher ground, said the mudslide missed his home and slammed straight into Toyeba's hut.
"We had to hack at the bamboo around her to free her," he said, explaining that the whole ordeal took roughly 40 minutes. "After a while, we didn't want to use the axe anymore because we were worried we might accidentally hurt her. We started using our hands; the mud was just so dense and heavy."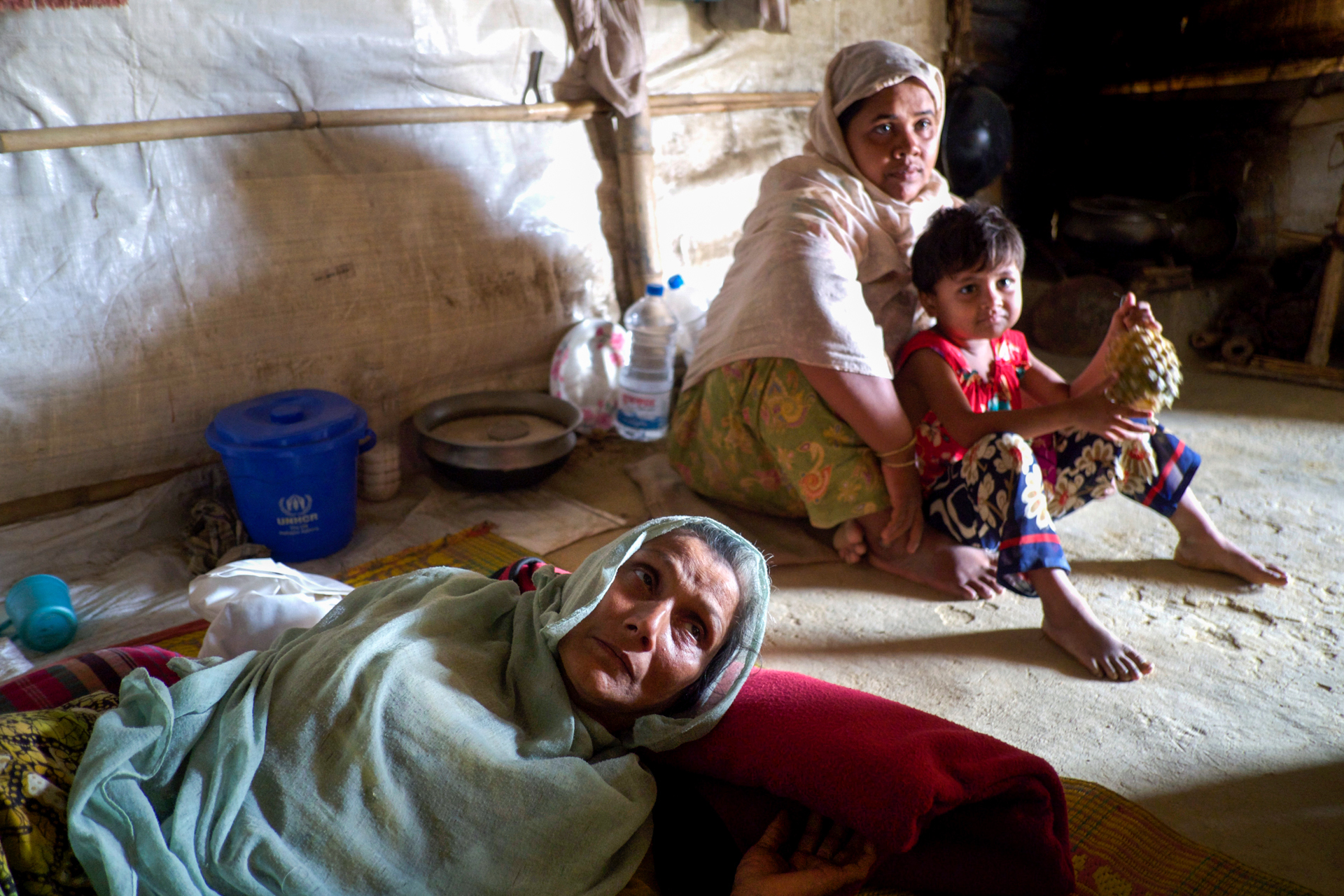 "It was the first time I've ever seen mud move like that"
For months, aid agencies and local authorities have been preparing for the destructive monsoon and cyclone season in the camps, which have sprawled over floodplains and steep hillsides since a military crackdown in Myanmar's Rakhine State last year drove more than 700,000 Rohingya into Bangladesh.
But June's heavy downpour damaged the camps faster than aid officials had anticipated. Across the refugee settlements, some of the makeshift infrastructure hurriedly put in place after last year's influx rapidly crumbled. Public latrines teetered down hills, while tiers of huts slumped dangerously on slopes.
Aid groups and local disaster management officials are training 700 Rohingya volunteers to be first responders, and are trying to relocate families in the most at-risk areas. But a shortage of safe land in the crowded camps means that many Rohingya refugees are now rebuilding their homes in the same risky areas that were battered by last week's storms.
Damage from extreme winds and flooding blocked key access roads, as did dozens of mud and landslides like the one that barrelled into Toyeba's home. Over five days, the downpours damaged more than 2,000 homes and affected more than 18,000 people, according to the Inter Sector Coordination Group, a multi-agency body that coordinates international aid efforts in the camps.
In Chakmarkul camp, home to Toyeba and 14,000 other Rohingya, UNHCR said there were 26 landslides on 10 June in just a single area. The following day, there were 17.
Toyeba's neighbour, Ibrahim, said he witnessed 20 landslides right from his house, perched precariously on a sloping hill.
"It was the first time I've ever seen mud move like that. It's very hard for me because we have never been in such a situation in Myanmar," he said. "Every time it started raining again, I felt very worried because these landslides just kept happening."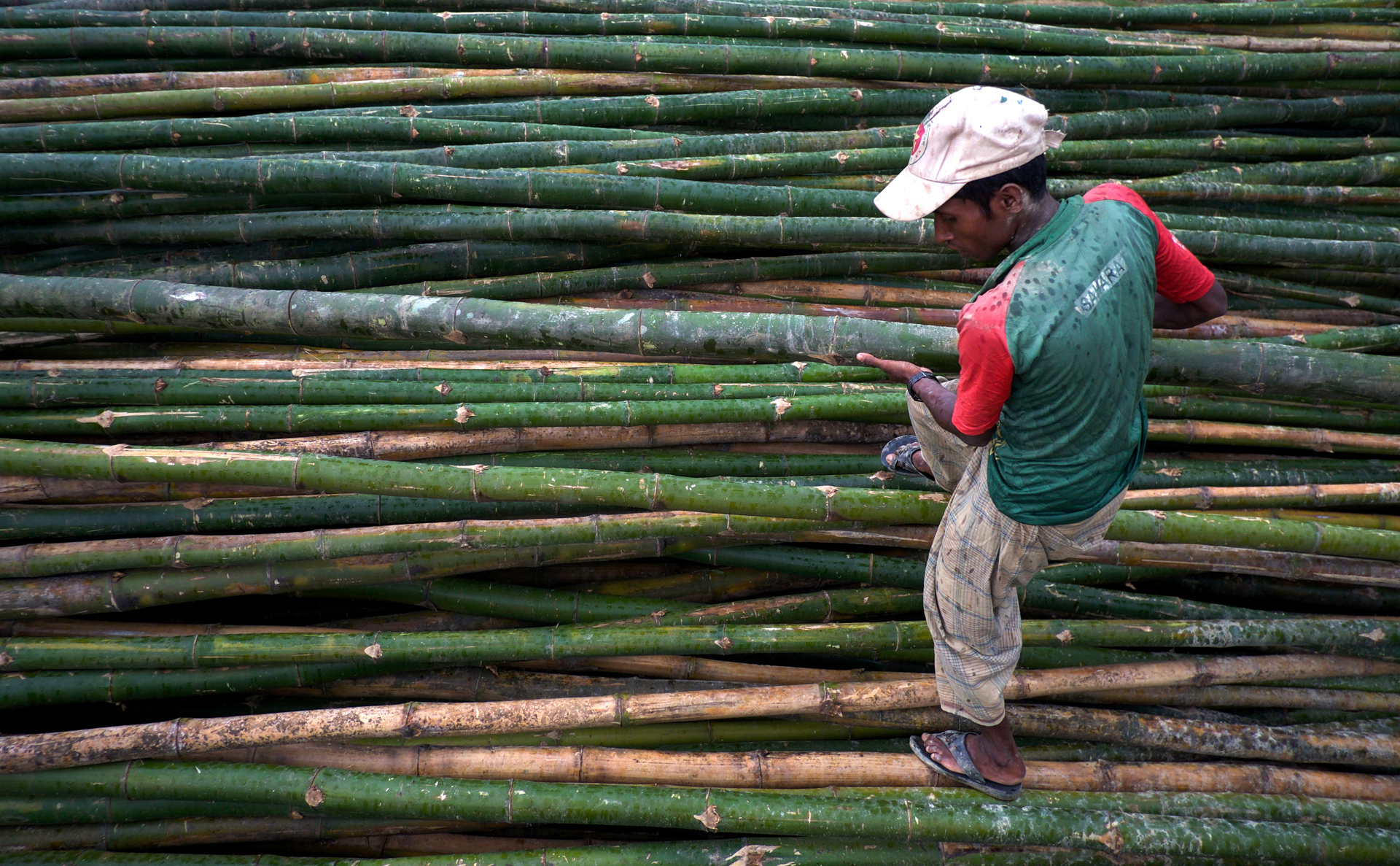 Shortage of land
The impact of the heavy rainfall was multiplied when the main access road to giant Kutupalong camp, home to more than 600,000 refugees, was damaged. This road serves as the main artery to the rest of the refugee areas, but vehicles could not pass for days as the cement culverts had collapsed from the force of the rain.
That meant that aid to the refugees had to be delivered by foot until 13 June, when the road was repaired – a daunting task even in good weather given the steep and uncertain terrain throughout the camps.
"The fact that these serious issues have emerged at such an early stage is really a lesson for us that we need to get people moved out to safer areas much more quickly," said UNHCR's Gluck.
More than 200,000 residents, about a quarter of the camps' population, are vulnerable to floods and landslides, but Gluck emphasised the urgency of relocating 41,000 people who aid agencies have identified as being in the highest-risk areas.
One such relocation site, about five hectares out of 200 hectares allocated by the Bangladesh government, was completed in May, and about 50 families were scheduled to be moved there this week, Gluck said.
The extensive damage is a warning to both aid groups and refugees themselves, said Soyedul Mostafa, a Rohingya community leader working with the Center for Social Integrity, a US-based civil society group helping to train responders in the camps.
Before the initial storm, many families in high-risk areas refused to move despite being warned repeatedly about the dangers of staying put, Mostafa explained: "They were worried that this new camp is a bit far away, and it's difficult to access markets and clinics and the food centre."
But in the week after the storm, more than 100 households from four at-risk camps have opted for relocation. "After they saw what happened on the ground and the troubles they faced, most of the people have started to agree [to move]," said Mostafa.
However, there is a shortage of space even for those willing to move. As of 10 June, more than 27,000 people in the high-risk areas were still waiting for safe land to be flattened and set up with the proper infrastructure, according to aid groups.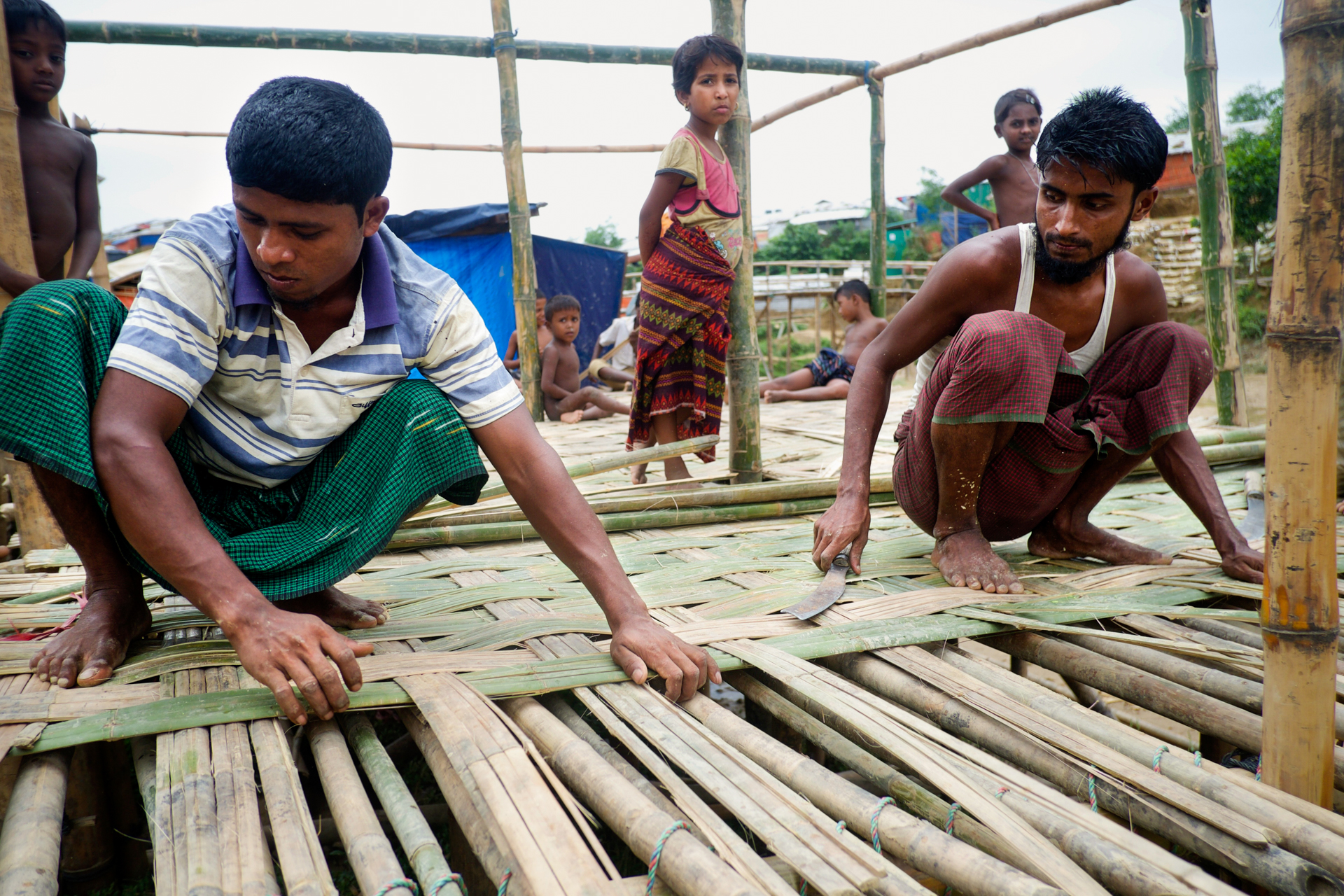 Building back better?
After last week's storms, Chakmarkul camp was a frenzy of activity as refugees rebuilt and reinforced their damaged homes.
On Friday, as the end-of-Ramadan celebrations approached, young boys attempted to weave mats out of flattened bamboo strips in the middle of a pathway. Labourers struggled under the weight of bamboo poles, ferrying them one at a time to different parts of the camp.
UNHCR says Chakmarkul is one of the most vulnerable Rohingya settlements: steep slopes form a precarious basin around a floodplain, which is filled with rickety homes built on unstable soil. A stream runs through its lowlands, and thousands of other homes creep up the surrounding hills.
The storm that sent a wall of mud barging into Toyeba's home also wiped out 68-year-old Abdul Salam's hillside hut. Now, he's building his new home in the middle of the floodplain out of 20 bamboo poles. Despite the risks, he said it's his only available option.
"I don't feel good about this place," he said. "But we still need to live in a house, so we will keep working on it."
(Additional reporting by Abu Rehan)
dhc/il/ag-js