Purged from their homes in Myanmar and barred from working in Bangladesh's sprawling refugee camps, Rohingya entrepreneurs are bending the rules to earn a living – and to salvage a taste of home.
The refugee settlements have swelled to the size of a city, after an August 2017 Myanmar military crackdown drove hundreds of thousands of Rohingya into Bangladesh from their homes across the border in Rakhine State.
More than 900,000 people now live in the camps, but Bangladesh's government does not allow refugees to legally work. The government fears a drain on the local low-income communities that surround the camps, and has frequently resisted moves that might lend an air of permanence to the refugee settlements.
As the crisis drags on, aid groups warn that the government and donors must make education and livelihoods a top priority. A lack of income, they say, risks leaving a generation of refugees dependent on aid and more vulnerable to exploitation – particularly women and girls.
But in spite of government restrictions and occasional raids and crackdowns, makeshift businesses run by entrepreneurial refugees themselves have mushroomed throughout the camps, though these businesses are largely dominated by men.
The New Humanitarian met the people behind some of these refugee-run start-ups. They run roadside stalls and bustling markets. There are pop-up cinemas and venues to watch televised football matches. There are shops that sell tailor-made dresses, the latest Top-40 hit, or bite-sized news broadcasts for a population hungry for information. And there are entertainers-for-hire who sing joyous songs at weddings – and ballads that evoke bittersweet memories of Myanmar.
"People come to my shop," says one entrepreneurial vendor selling homemade food, "because they miss home."
The media trader
"Refugees want to know what's going on"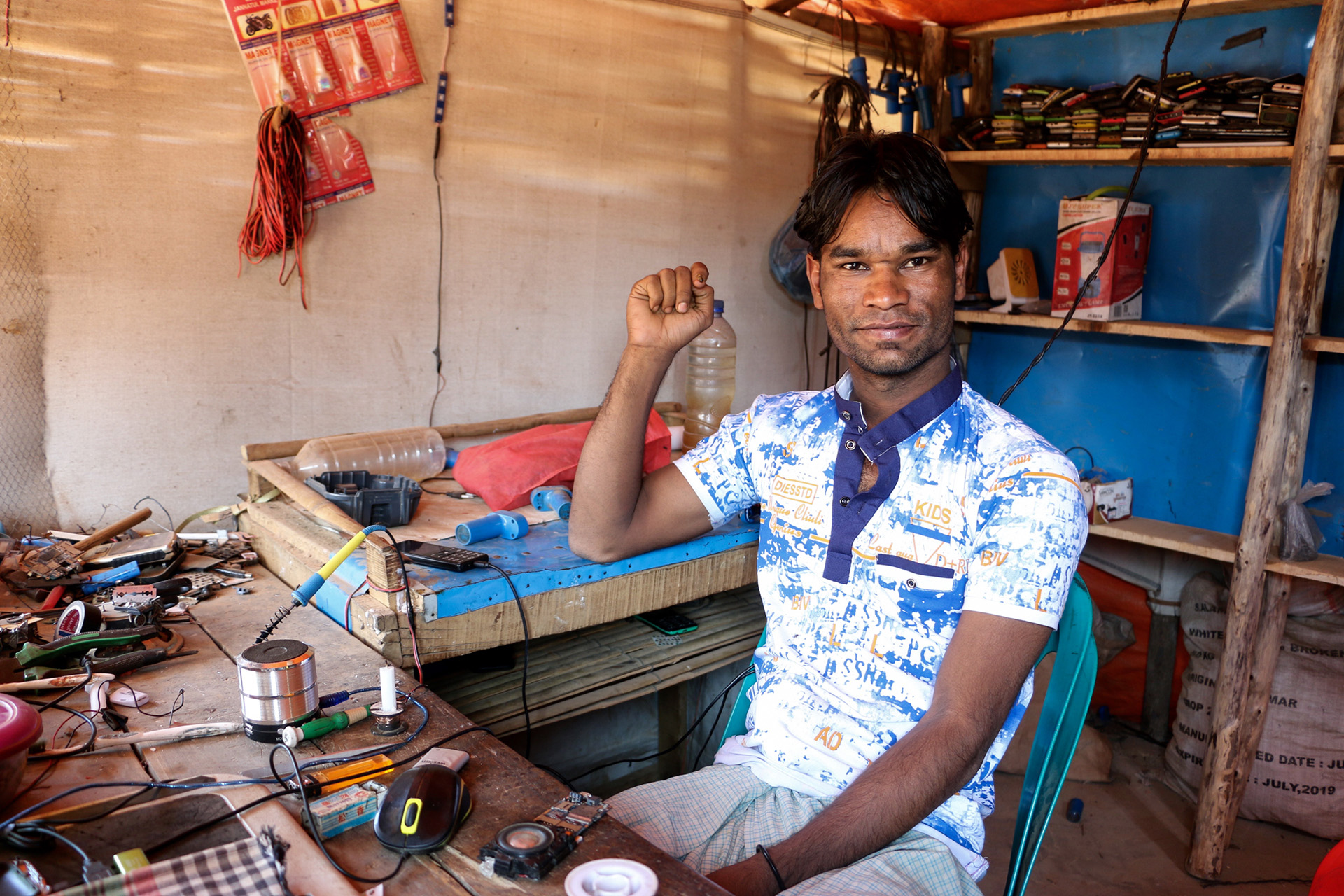 From his tiny shopfront pieced together with bamboo and sheets of corrugated iron, Sana Ullah is tuned in to the latest online entertainment trends sifting through the camps. The 22-year-old sells video clips downloaded from the internet – everything from pop music to Bollywood movies and even news – for the equivalent of five cents a piece.
The latest tune to climb his unofficial pop charts: "Baby", the 2010 song by Justin Bieber.
Ullah built his shack nine months ago, along a main artery that cuts through the giant camp. It's one of many shops and unofficial markets that sprung up as the refugee settlements grew.
Unlike the majority of Rohingya in the camps who fled the Myanmar military purge after August 2017, Ullah has lived in Bangladesh most of his life. His family arrived when he was a child, settling elsewhere before moving to the refugee settlements almost two years ago.
When he opened his shop, he dealt only in entertainment: movies and music. Now, he's also trying to fill the vast information gap, selling news clips for customers to watch on their phones from Rohingya Vision – a TV channel broadcast online on YouTube and Facebook by the Rohingya diaspora in Malaysia.
"The refugees want to know what's going on," Ullah says.
The snack-seller
"People come to my shop because they miss home"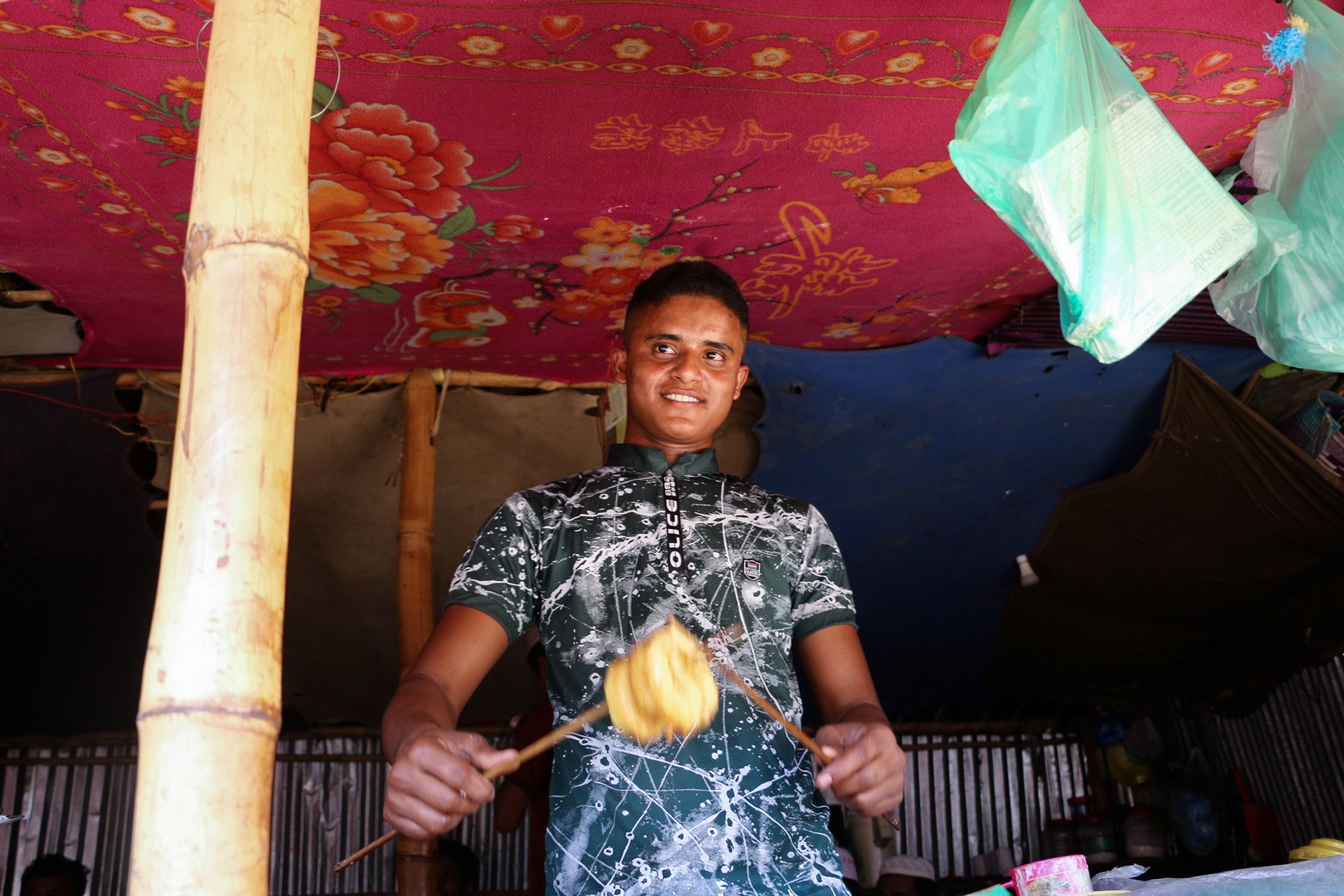 Mohammed Kaisar sells food that reminds his customers of home. The 15-year-old and his brothers opened a little cafe selling a sweet, doughy snack called rashfuri.
"My snacks taste like they do in Myanmar," Kaisar says. "People come to my shop because they miss home."
On a recent Friday, a Muslim day of rest, groups of men flocked in to the simple eatery for sweetened coffee and a bite to eat. Kaisar doesn't take his eyes off a deep black pan, where he slowly twirls rings of dough in sizzling oil.
Kaisar and his family came to the camps as part of the August 2017 influx, but his father died from illness shortly after.
In Myanmar, Kaisar's family traded vegetables. Now they're catering to the demands of refugees and aid workers who come to his bamboo shack for refreshments.
He and his brothers opened the shop with their savings – supplemented by selling NGO-provided rations. "Those without savings couldn't open shops," he says.
The investment has paid off. The family now earns about 800 taka, or roughly $9, every day – more than double what humanitarian groups and the government recommend as daily wage rates in post-disaster cash-for-work programmes. But Kaisar knows many of his customers came to Bangladesh with little more than the clothes on their backs.
"Many refugees can't afford my snacks," he says. "So I sometimes give them for free."
The seamstress
"We can talk about what happened in Myanmar"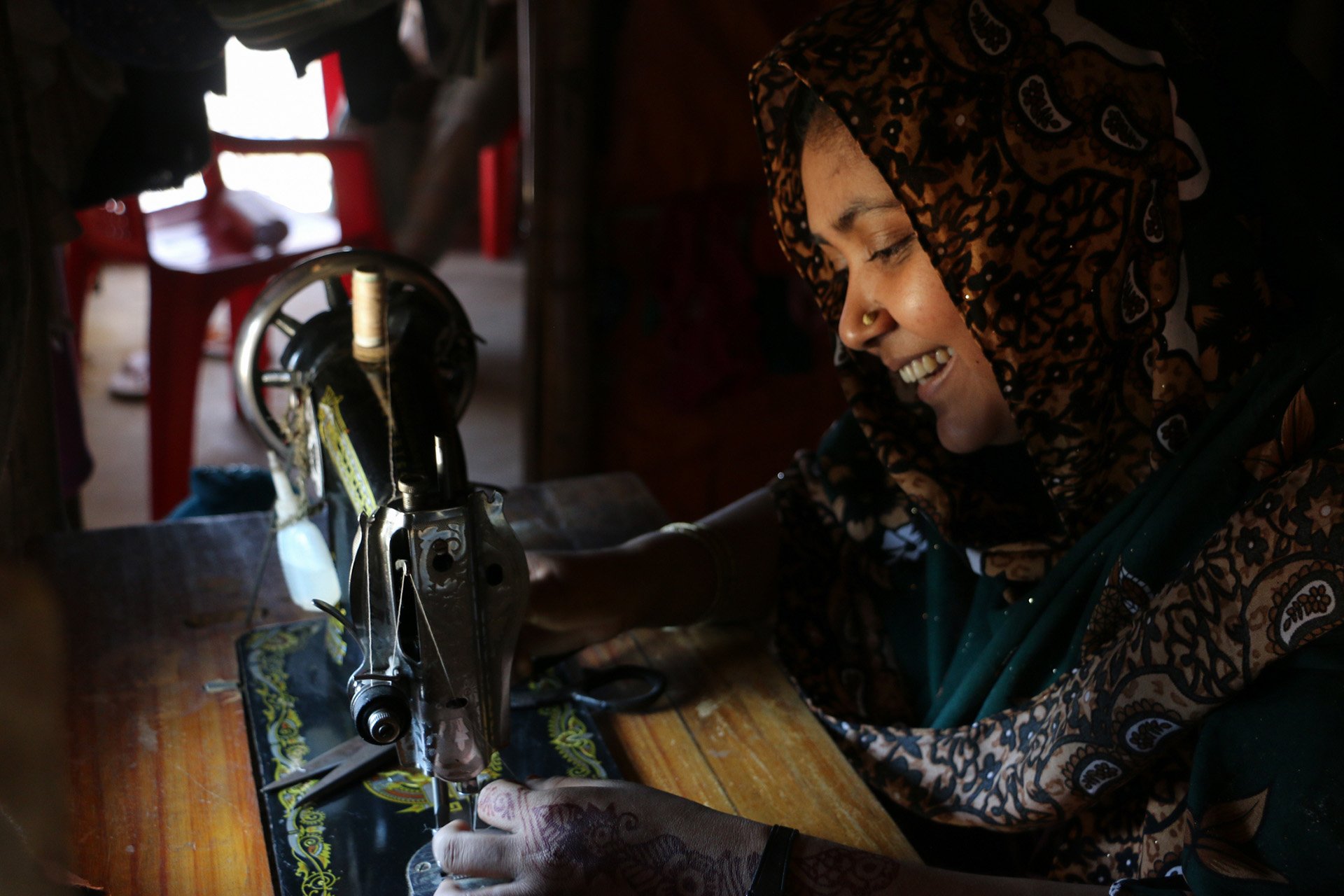 Some Rohingya entrepreneurs needed a helping hand to get their businesses off the ground. Shafiqua is one of them. The 22-year-old, who uses one name, says she escaped a massacre in her Myanmar village before finding help from a Rohingya refugee who had been in Bangladesh for years.
She later asked the more established refugee to buy her a sewing machine so that she could support herself.
"In Myanmar I made clothes because it was my passion," she says. "Now I do it to make money."
In traditional Rohingya culture, women are expected to stay home rather than work. Shafiqua's profession lets her do both – she runs her business from the bamboo and tarpaulin hut she shares with her relatives.
Her customers are refugee women, who appreciate having their measurements taken by a woman. She charges less than 60 cents for her handmade blouses and skirts. Each month, she expects to save between 300 and 500 taka – about $3 to $5. She hopes one day she'll have enough money to make ready-to-wear clothes and open a standalone shop.
Working, she says, takes her mind off the violence she escaped. Shafiqua is from Tula Toli, where rights groups say Myanmar's military carried out a "methodical massacre" that killed at least 120 people – Shafiqua's mother and husband among them.
Shafiqua also teaches a neighbour how to make clothes. It makes her feel good, she says: "When I am with her, we can talk about what happened in Myanmar."
The singer
"Crying is some sort of happiness too"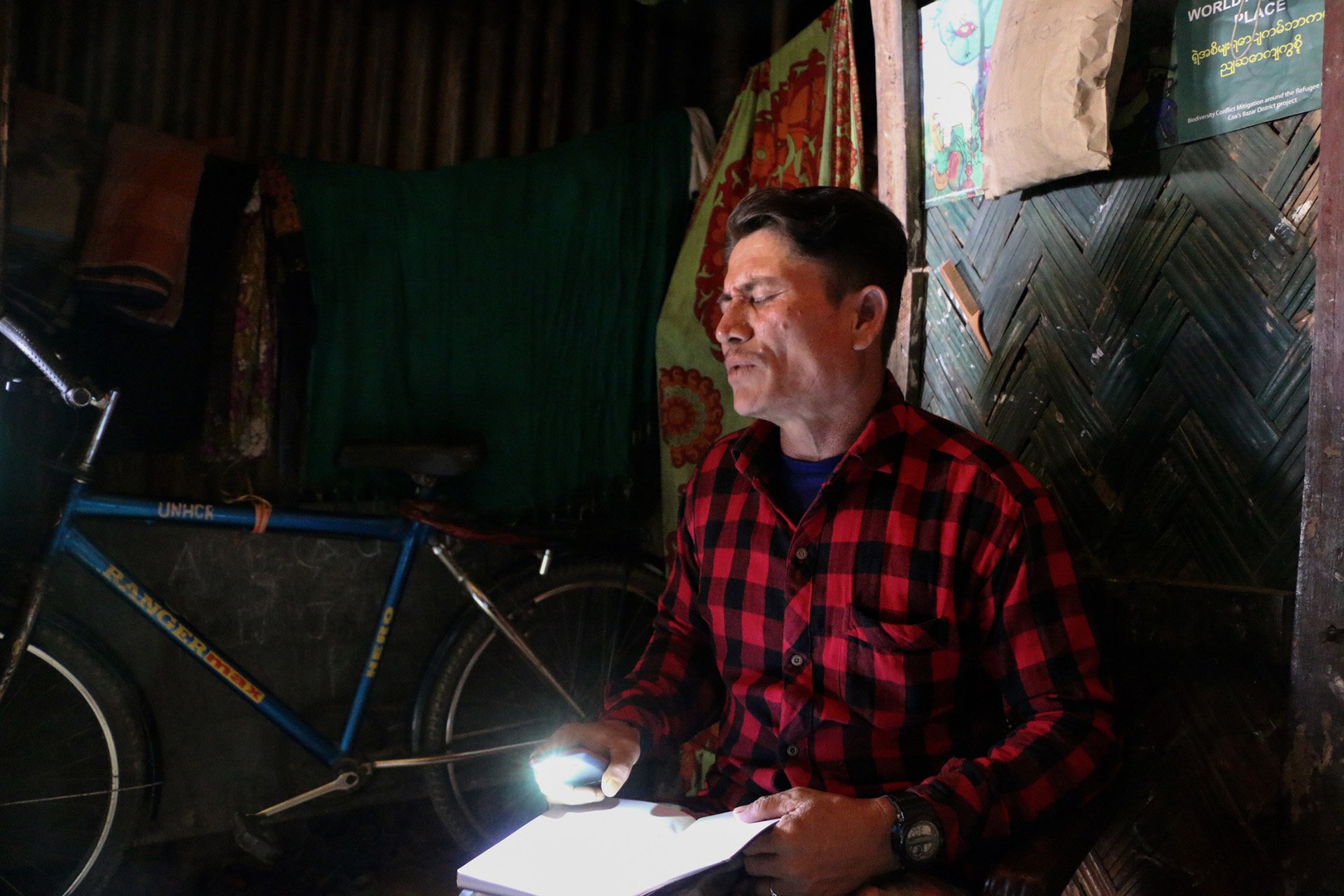 Abdul Majid aims to soothe his fellow refugees with his voice. The 49-year-old is a professional singer, paid to perform at weddings and other festivities two or three times a month.
"Yes, I am famous," he says with a smile.
Majid arrived in Bangladesh long before the last wave of refugees. For him, singing is the only way to make a living.
"What else can I do," he says. "I never had the chance to study."
Majid has been hired by some of the many aid agencies working in the camps. He says the UN's refugee agency, UNHCR, once commissioned him to write a song highlighting the dangers of child marriage.
From time to time, Bangladeshis from the surrounding communities will hire him to sing. During the national election campaign late last year, he says, politicians would ask him to perform.
But his songs aren't always celebratory. He likes to sing about better times back home in Rakhine State. "Sometimes I make people cry with my music," he says. "But crying is some sort of happiness too."
The electrician
"What can I do? I am only a refugee"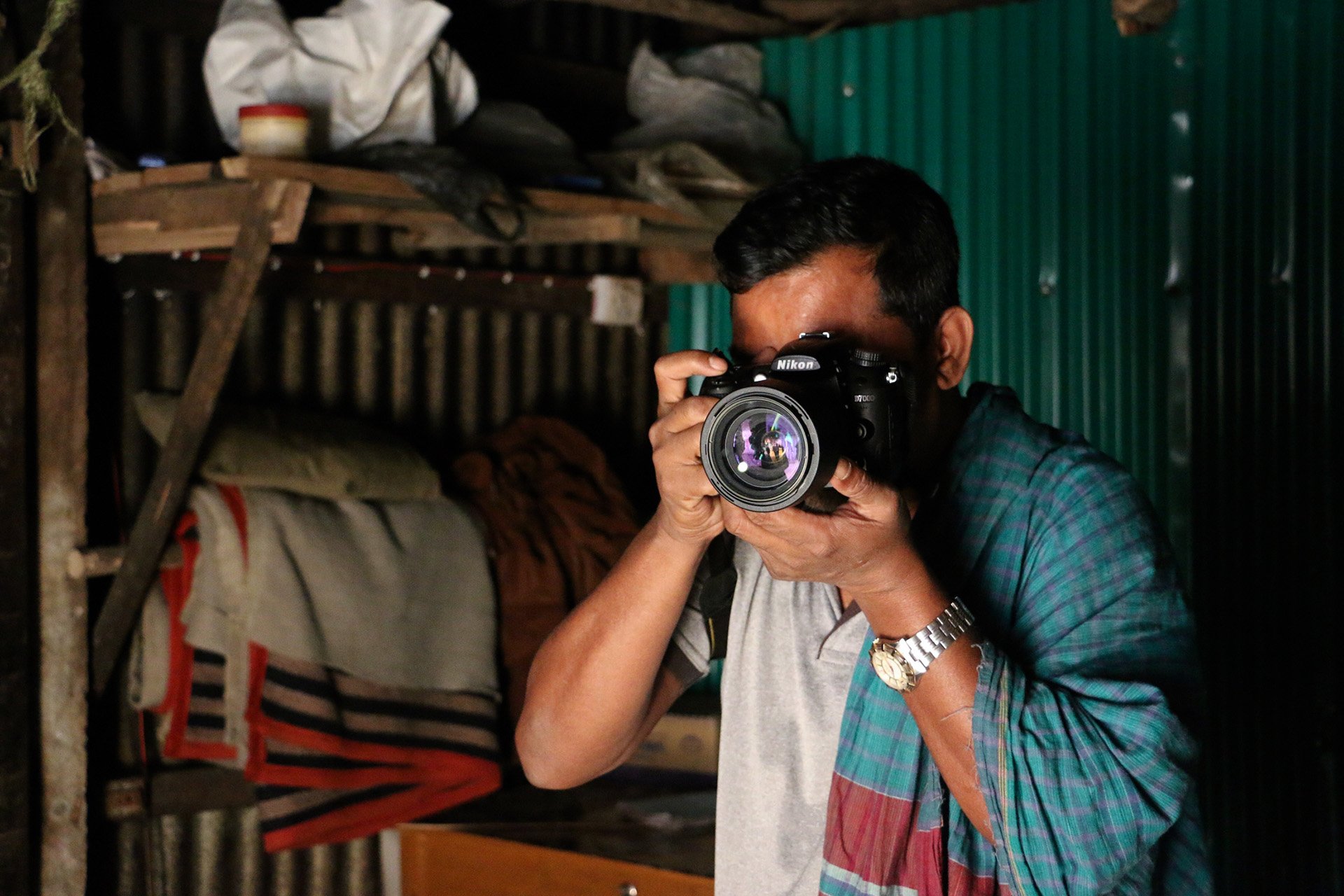 Abul Kalam is an electrician by day, but dreams of more creative pursuits in his spare time.
Kalam, 33, first came to Bangladesh as part of a previous refugee influx in 1992. Now he's an electrician specialising in setting up solar panels – a skill that has Bangladeshis turning to him for help.
He is supposed to earn about $10 for each system he installs. But often his customers short-change him when they realise he's a refugee, telling him he already receives food rations and support from aid groups.
Kalam says the monthly rations only last his family about a week, but there's little recourse for Rohingya working under the table.
"What can I do?" he says. "I am only a refugee."
When he's not installing solar panel systems, Kalam roams the camps with his camera. The Nikon D7000 was a gift from a man he calls his boss – a Dhaka-based photographer who taught him how to take photos. The pair have worked together for more than a decade documenting the Rohingya community.
Kalam says he's occasionally paid for his photography. Recently a Korean outlet published some of his photos.
But Kalam knows his camera is a luxury item in the camps. He wears a long scarf to hide it when he leaves his shelter: "I don't want trouble," he says.
The shopkeeper
"I work here for one day and have pain for two"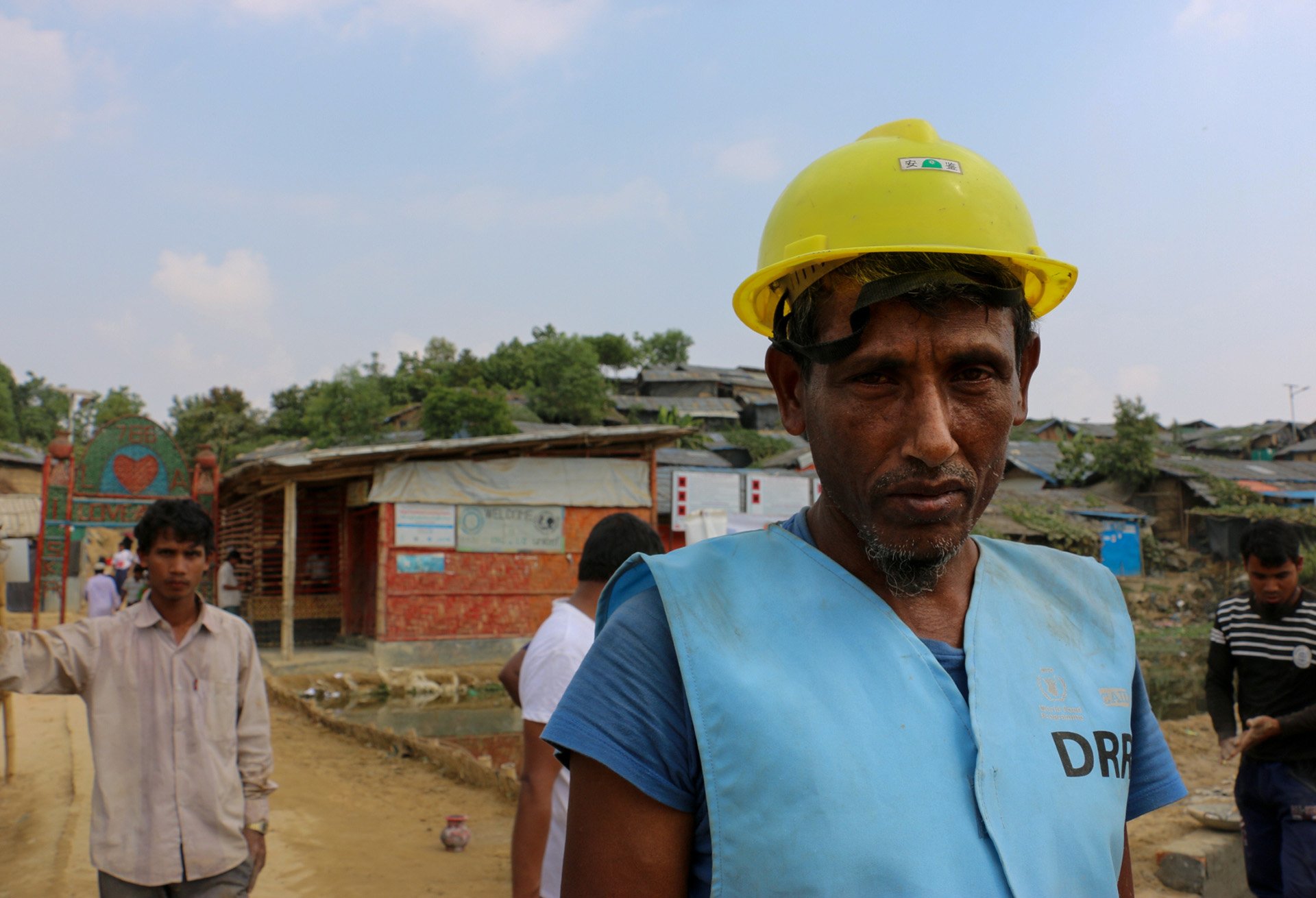 Ali Ahmed is a shopkeeper without a shop. When The New Humanitarian first met him last year, Ahmed was running his own store selling energy drinks and snacks, but he also put up with raids by Bangladesh's army.
Now, the 53-year-old is a temporary construction worker, lifting cement slabs for new drainage to buttress the porous camps against the approaching monsoon season.
"I work here for one day and have pain for two," he says.
Ahmed has closed his shop – indefinitely, he says – because he needs more reliable income to marry off his daughter. Not far from where he once had his little shop, Bangladeshis from the surrounding communities have set up a row of new snack stalls.
When TNH met with him again earlier this year, Ahmed was employed for a week as part of a World Food Programme cash-for-work scheme, which earned him about 200 to 300 taka – around $2 to $3 – each day.
He's also growing vegetables in a tiny garden plot in front of his hut, but the hot, dry weather has kept him from turning a profit.
The pop-up cinema
"We were all just sitting around not knowing what to do with our time"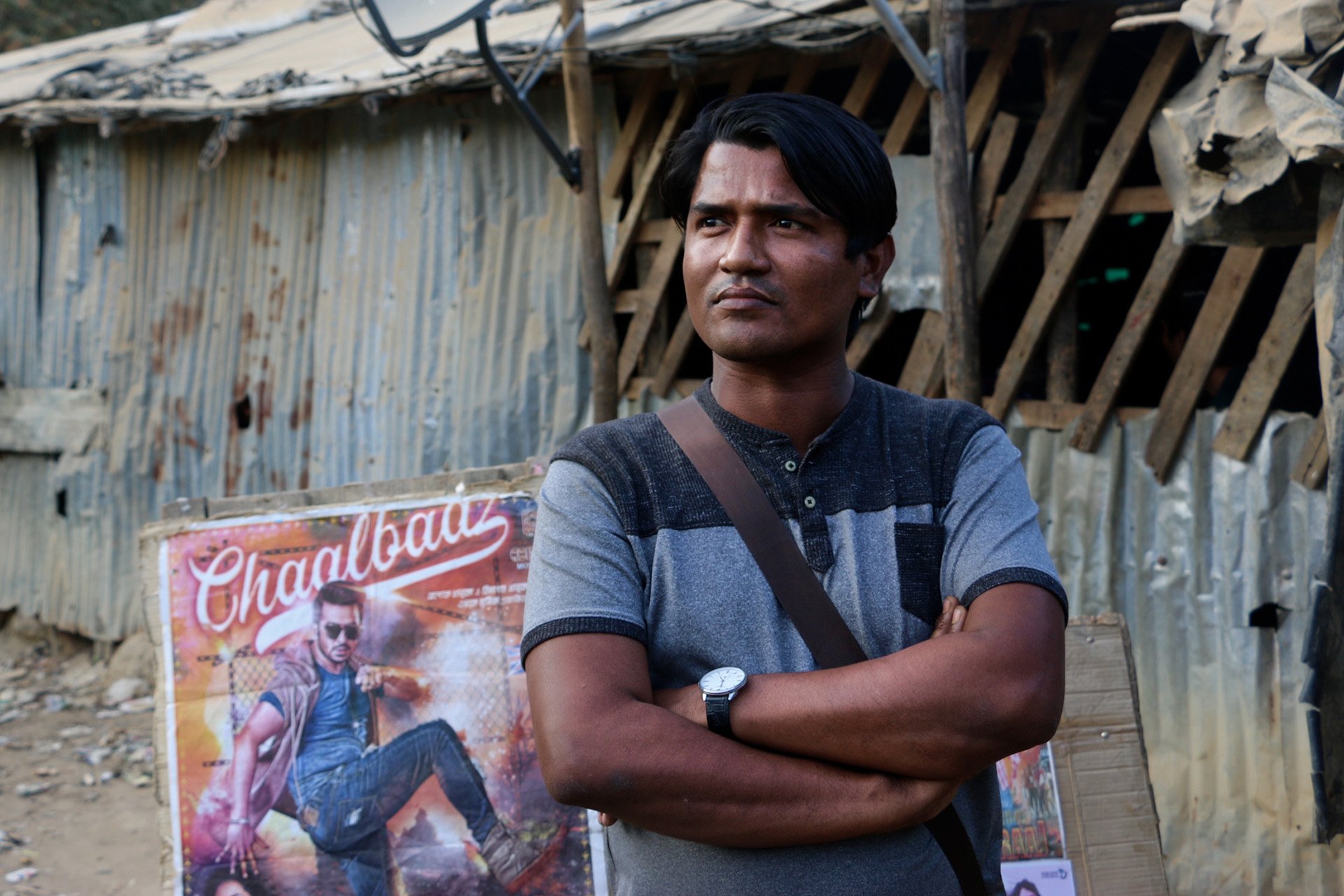 Mohammed Rashid is monetising the boredom of his fellow refugees.
The 27-year-old arrived in the camps as a teenager in 2008. Shortly after, he pulled some money together to open a pop-up cinema.
"We were all just sitting around not knowing what to do with our time," he recalls. "So I thought: Why not open a cinema?"
Today, Rashid shows five films every day – mostly Bollywood or Bangla-language films, flashing on a flat-screen TV in a shack in the middle of one of the camp's bustling markets.
People call him the "two-taka man": that's how much he charges per viewing. It's more affordable, he says, than the few other cinemas dotting the giant camps. "I am the cheapest," he says proudly.
Rashid's family arrived in Bangladesh when the Rohingya population in Bangladesh was much smaller. He says his business has seen a boost since the influx of more than 700,000 new arrivals since August 2017.
He'd like to expand his business further, but he faces a few constraints: "When the authorities come, we have to grab the screen and hide," he says.
The football fan
"We needed to set up something here to follow the matches"
Verena Hölzl/TNH
Mohammed Nur has taken his friend Rashid's business idea and carved out his own niche. The 23-year-old runs a public viewing centre where his football-mad customers can watch major sporting events on a large TV screen. He came up with the idea during last year's World Cup.
"We are not allowed to leave the camps, so we needed to set up something here to follow the matches," he says.
When the sky is grey during the rainy season and his solar panels aren't working, Nur has two big batteries to power his screen.
Nur has worked for NGOs before, but he decided to branch out on his own because refugees, he says, "are not given a fair salary".
When he broke his arm last year while playing football, a hospital inside the camps sent him away with a bag of pills.
"They told me they couldn't do more for me because they had no budget," he says.
Nur had to find his own solution. He sneaked out of the camp to seek help in a hospital in Cox's Bazar, the closest city, about 40 kilometres away. He says he spent 40,000 taka, or nearly $500, on surgery.
Without the money from his business, he doesn't know what would have happened.
"I can't tell you about refugee life," he says. "It's hell."
vh/il/ag
(TOP PHOTO: Rohingya refugees walk back to their tent during dusk at the Kutupalong refugee camp on 18 November 2018.)