For years, most Turks courteously accepted the Syrians fleeing to their country. But attitudes towards refugees appear to be hardening, and Turkish President Recep Tayyip Erdoğan has hinted the solution could lie in Afrin, the Kurdish enclave in northwestern Syria his troops have just occupied.
There is talk of infrastructure being rebuilt in Afrin, of voluntary returns, of perhaps 350,000 to 500,000 Syrians being encouraged to go back. But few refugees in Turkey are from Afrin, and it's unlikely many would want to return to an active war zone, especially if they're not Kurdish or from that region. Surveys indicate that even if the fighting ends, half of the estimated 3.8 million Syrians (3.4 million registered and up to 400,000 unregistered) in Turkey intend to stay.
They may not all have that choice.
After seven years of advocating (if not always acting on) an open-door approach for Syrians escaping the war, senior Turkish officials are increasingly speaking of returns. Elections loom in 2019, the economy is in trouble, and communal tensions are growing, especially in working-class areas where Syrian refugees and poor Turks vie for scant affordable housing and jobs.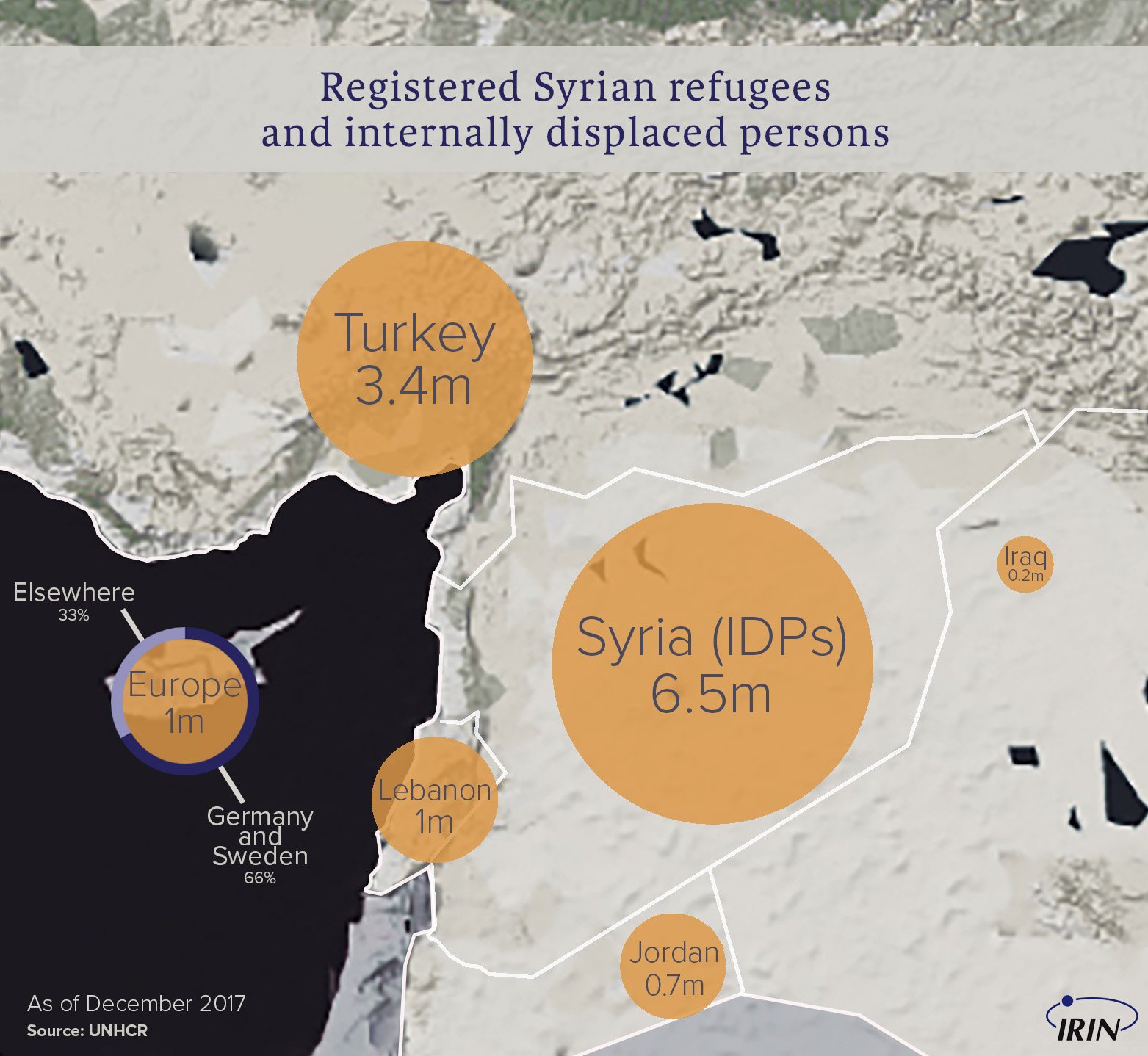 That appears to be why Turkey's military incursion into
Afrin
, initially touted as an anti-terror mission, is receiving some new spin. In a February speech, Erdoğan, who not long ago was suggesting citizenship for all Syrian refugees, said Turkey couldn't go on hosting them forever.
"We'll solve the Afrin incident, we'll solve [Syrian rebel-held] Idlib, and we would like our refugee brothers and sisters to return to their own country," he said.
It's a U-turn that matches Turkey's changing public opinion.
A recent study released by Istanbul's Bilgi University found that 86.2 percent of respondents said Syrians should be returned after the war is over. This compares with a 2014 poll that showed only 38.9 percent of Turks agreeing with the statement: "Refugees are not a concern of Turkey and they should be sent back to their country".
"This is a 180-degree change in perspective," Serkan Demirtas, the Ankara bureau chief of Turkey's Hürriyet newspaper, told IRIN. "The government has realised that the stay of Syrians in Turkey will have a political and social cost, and that's why they changed their rhetoric."
"Little Syria"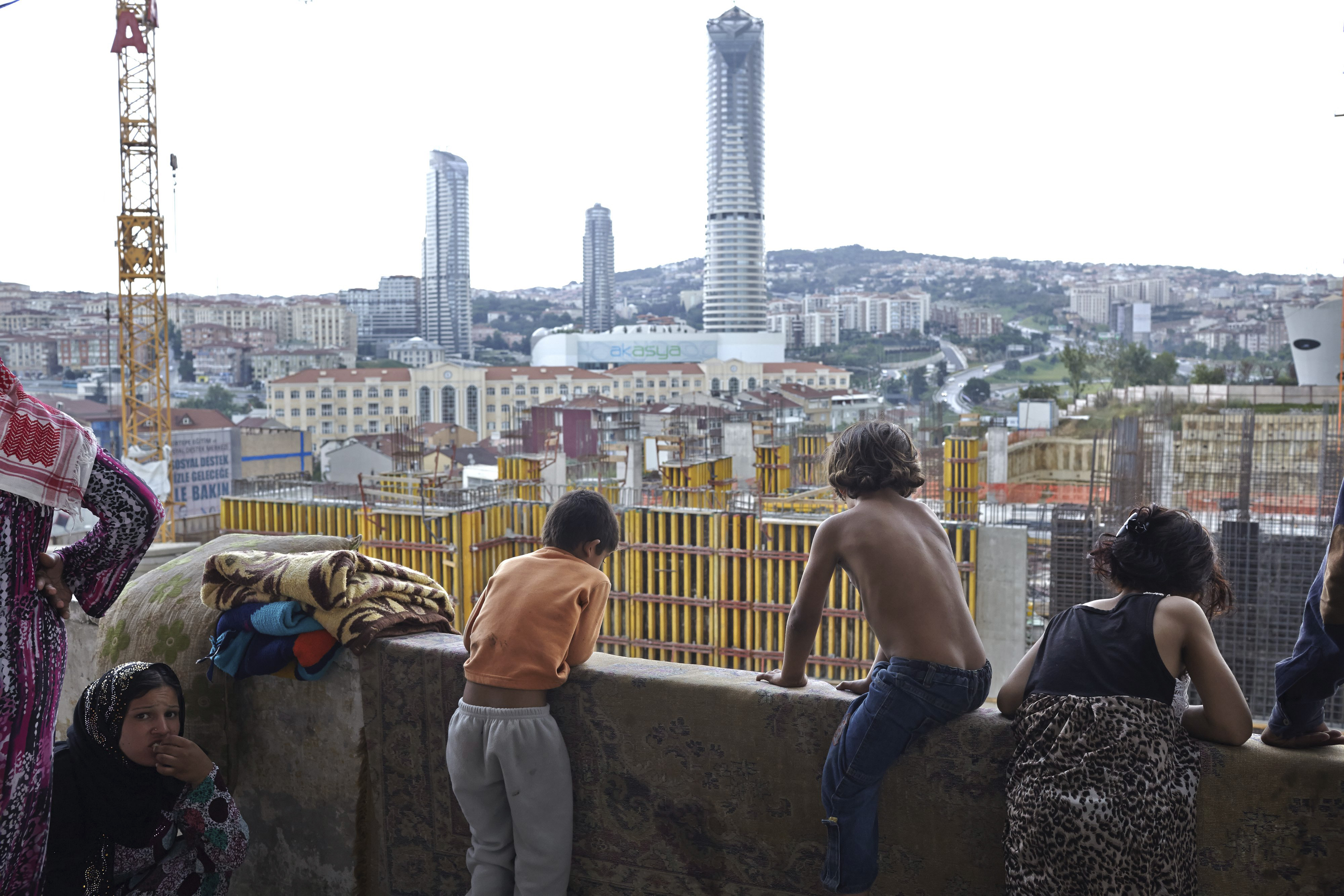 When Adem Kiraz chats to customers in his Istanbul barbershop, the presence of Syrians in his neighbourhood is a frequent subject of conversation.
The city's central Aksaray neighbourhood, where Kiraz, 42, has been cutting hair and trimming beards for 20 years, is home to many Syrian refugees. A plethora of shops and restaurants with signs in Arabic have opened there, earning the neighbourhood the nickname "Little Syria".
"I don't want Syrians to be permanent here," said Kiraz, adding that his customers and neighbours felt the same way. "The government didn't do well. Too many came. And yes, it will have an impact on my next vote."
In Aksaray, Turkish citizens had few kind things to say about Syrian refugees who had settled in their neighbourhood. Even Kiraz, who employs a Syrian in his barbershop, thought it best if all the refugees left once the war ended.
"Both good and bad people came, but the bad people are in the majority," he said. "They don't work. They just wander around. They could join the [rebel] Free Syrian Army and fight for their country."
The arrival of Syrians, he added, had lowered salaries and made life more expensive for Turkish citizens – a concern echoed by many tradesmen in the area.
"They created financial problems for us," said Mesüt, 24, a tobacco vendor who declined to give his surname. "After they came, the rents went up. They work for low salaries, so they don't have problems finding work, unlike [Turkish] people here."
Financial woes
Most Syrians in Turkey work in the informal economy, as few are able to obtain work permits despite the government's pledge to the contrary. Salaries for refugees tend to be lower, and local workers have long grumbled about Syrians undercutting their wages as a result.
But the issue has been thrown into a sharper focus over the past year as the Turkish economy has taken a nosedive, with inflation rising steeply.
Inter-communal tensions have surged: A report by the International Crisis Group, published in January, noted that the number of violent incidents between Syrians and Turkish citizens had tripled in the second half of 2017 compared to the same period the previous year.
"With these tensions, when you scratch the surface, you see that there is an economic aspect to most of them," said Berkay Mandiraci, a Crisis Group analyst who co-authored the report. "The economy hasn't been going well, unemployment is on the rise. This creates a lot of resentment."
Although Syrians contribute to Turkey's economy, many Turkish citizens see them as a drain on the country's budget. The Turkish government says it has spent $30 billion on its refugee response since 2011.
Misconceptions about refugees getting preferential treatment abound: many, for instance, are convinced that Syrians receive generous government stipends and easy access to public services.
But the majority of citizens even feel uncomfortable with the idea of equal rights for Syrians. When the Turkish government unveiled plans to fast-track up to 300,000 Syrians for citizenship in 2016, the announcement was met with outrage.
Turkey is quietly processing citizenship applications of tens of thousands of Syrians, but Mandiraci said the plan was a "breaking point" for public perception in Turkey: "It meant for many that the government isn't planning to send them back and they could stay."
The Syrian perspective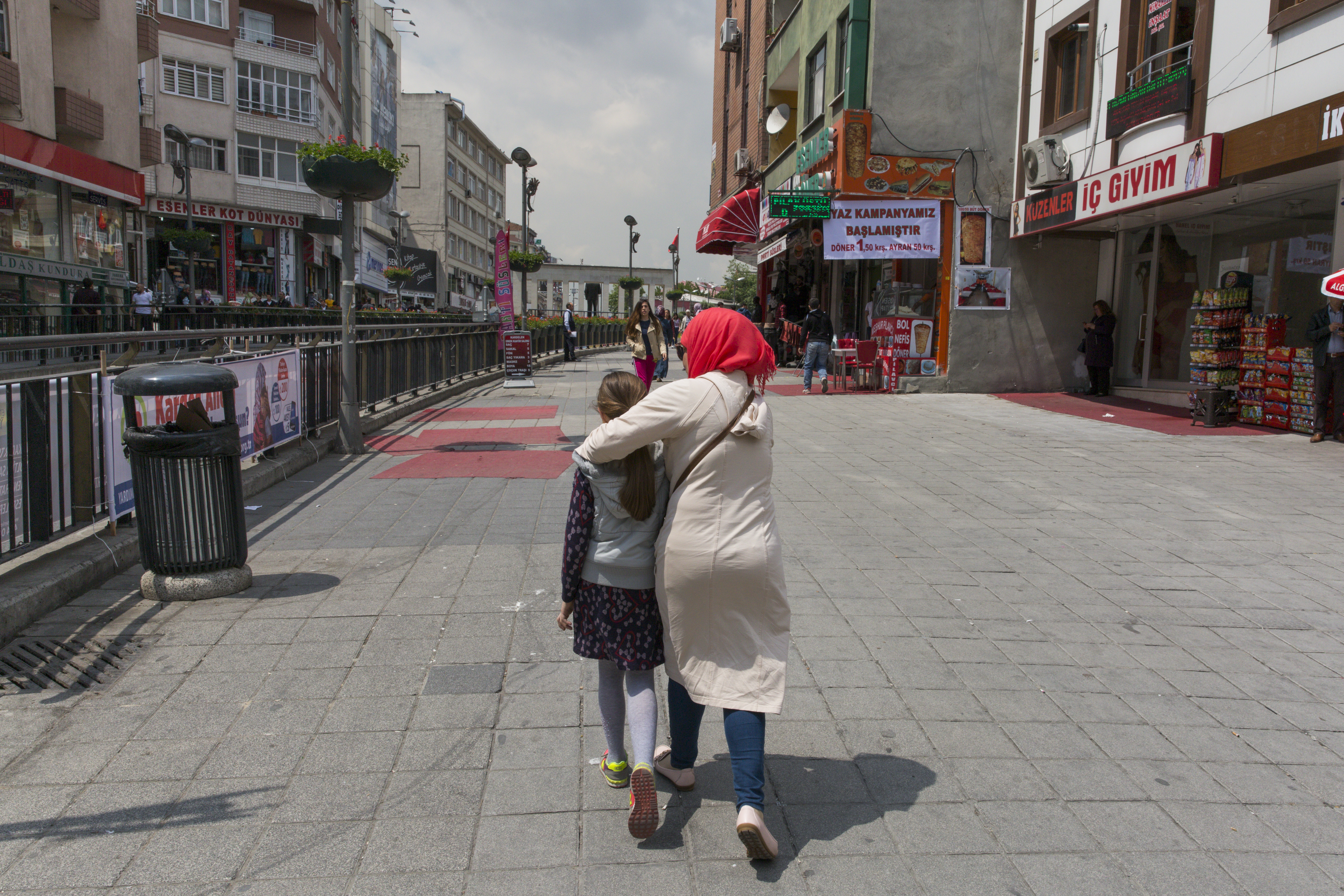 Syrians in "Little Syria" seemed well aware of the tensions, but didn't think the government would force people to return.
A short walk from Adem Kiraz's barbershop is a restaurant run by Rauf al-Masri, 38. He moved from Damascus to Istanbul two years ago and has no intention of returning any time soon.
He had heard about Turkey wanting Syrians to return, but wasn't worried. "It's just rumours, they won't send us back," he said. "Or maybe they're just talking about people in camps. Syrians who study and work, we aren't a burden for Turkey."
Down the street from al-Masri's restaurant, 39-year-old Yasar from Damascus was mixing coffee beans with ground cardamom. Outside his tiny coffee shop, both Turks and Syrians queued for their order.
"There are some people who think we Syrians get lots of things for free," he said, shouting over the rattling of the coffee grinder. "And many Turks tell me I don't pay taxes. But I do."
After more than five years in Turkey, he was thinking about settling here. "If I get citizenship, I'll stay here for sure. But if not and the situation in Syria improves, I may go back," Yasar said.
Mohammad al-Khaldi, who owns a clothing business with a shop in Aksaray, recently received an invitation for a citizenship interview with the Turkish authorities.
"Over the five years I've been here, relations between Syrians and Turks have deteriorated gradually," he said, adding that Turkish tradesmen in particular resented Syrian competition.
Nevertheless, he planned to stay. "I love Syria," he said. "But I think I have better opportunities here. This country is more open to the world. My mother and father, they want to return. But most of my colleagues, my friends, they want to get citizenship."
Elections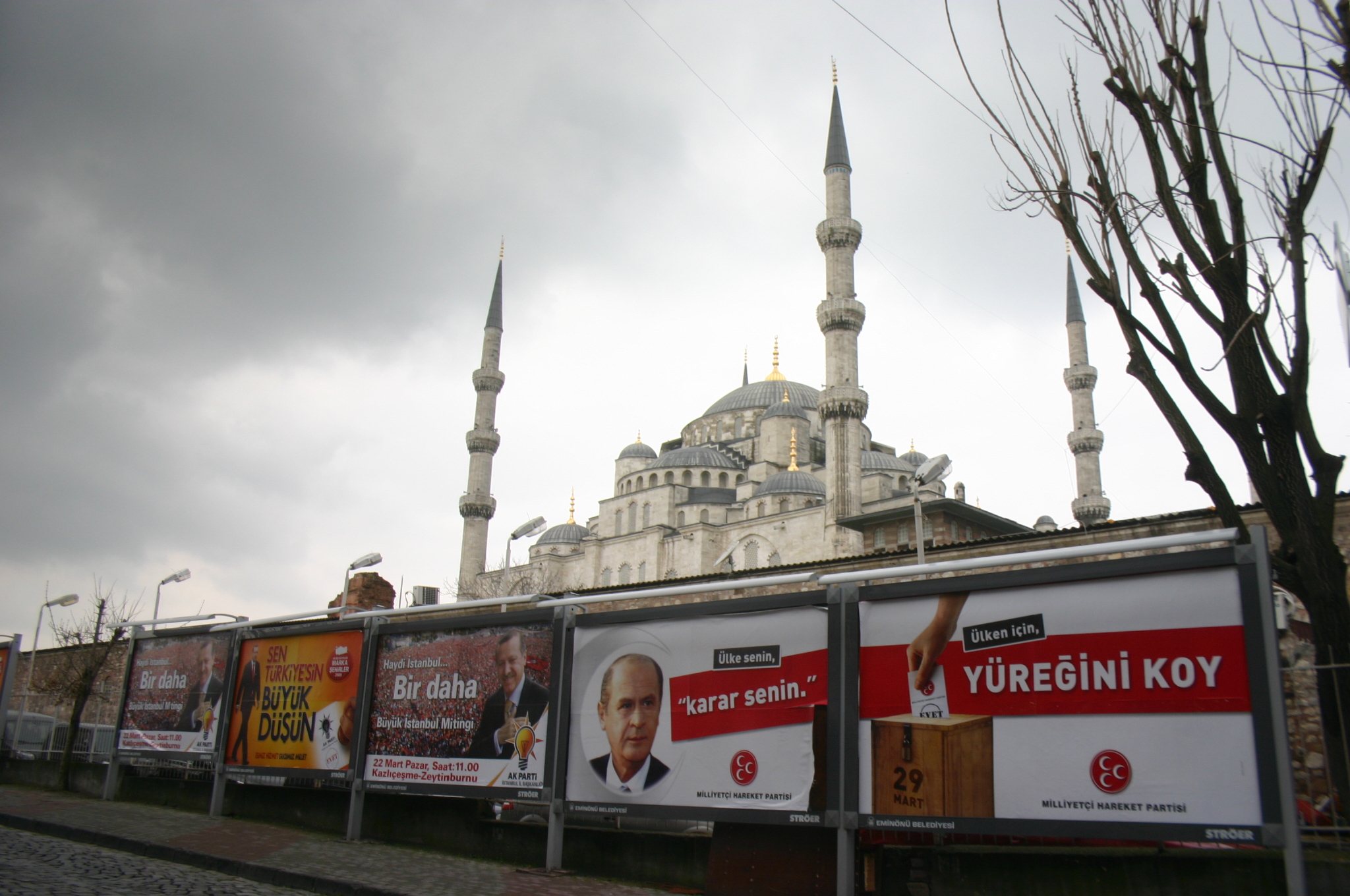 Murat Erdoğan, a migration expert at Istanbul's Turkish-German University – who shares a surname with the president but is no relation – noted that Syrians had little incentive to return even if the war ended.
"It's not possible to send them back, and they are unlikely to return," he said. "It's a fantasy."
UN High Commissioner for Refugees Filippo Grandi said earlier this month it was "very premature" to talk of returns to Syria, given the instability. That's unlikely to stop Turkish politicians from ramping up rhetoric on the issue ahead of next year's local, parliamentary, and presidential elections. Erdoğan and his government have already begun to prioritise re-election above all else, said Hürriyet's Demirtas.
"Not that many Syrians will return home by election time," he said. "But it's necessary for the government to convince the public that it is working on letting Syrians go back to their country."
There are still those in Turkey who are sympathetic to the plight of refugees, providing legal advice and delivering clothes and food to those who need it.
But they face an uphill battle. Even some Turks who view Syrians in a positive light are starting to think it may be time for them to go. Enver Yildiz, a real estate agent in Aksaray, dismissed myths that Syrians were to blame for rising rents. On the whole, he said, they were "good people" who paid their rent on time.
But he still hoped they would return to their own country soon. "Maybe the president loves them, but if you ask the majority of citizens, they do not love them," Yildiz said. "I don't want them to be permanent here. Our cultures are too different."
zw/as/ag