Four weeks ago, mountains turned to rivers and Mervin Henderson and his family lost everything. It was the night of his birthday, the 18th of September; the same night Hurricane Maria savaged the tiny Caribbean island nation of Dominica with wind speeds reaching 160 miles per hour.
Massive boulders, splintered electric poles, and upended trees clogged the huge drainage ravine above Henderson's small town of Pointe Michel. The ravine eventually overflowed, sending a flood of debris roaring down the mountainside, destroying Henderson's home along with many others. The room the Hendersons sought shelter in miraculously withstood the storm, while the rest of the home washed away brick by brick.
Once the rain and winds relented, the 49-year-old community leader and single father ventured out to assess the damage and search for neighbours missing in the mayhem. Henderson found landslides had buried much of the island's southeast. Roads were gone or cut off so he helped paddle injured survivors on canoes along the coastline to the capital, Roseau.
At least 14 people died in Pointe Michel that night, including a family of nine who lived next door to the Hendersons. The national total stands at 57 dead and 18 missing, according to the latest numbers given to IRIN by Cecil Shillingford of Dominica's Office of Disaster Management.
Almost a month later, Henderson and his six children are living crammed into his sister's apartment under an improvised tarp roof. Henderson is still at a loss, traumatised by the level of destruction and struggling to secure enough supplies for his family. "Maria wasn't a hurricane, it was a demon," he tells IRIN.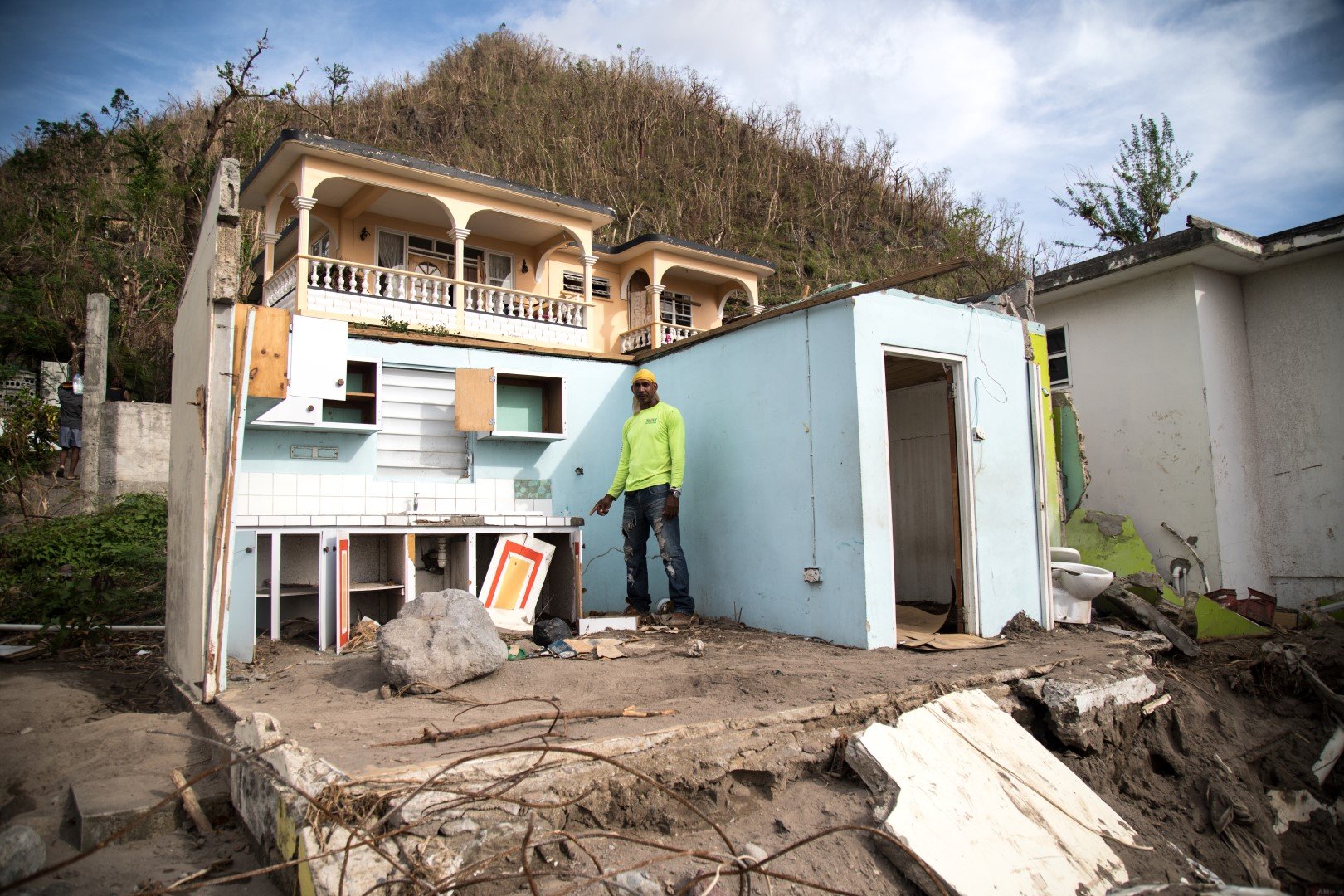 Walking on the ruins of Pointe Michel, locals cover their mouths with surgical masks but are still unable to contain coughing caused by the abrasive air. The haze of billowing smoke, from heaps of debris set aflame, is thick everywhere you go.
Time seemingly stopped when Hurricane Maria made landfall. Nearly every village and forest on the island has been damaged or destroyed. Dominica, the Nature Island, known for its abundant jungle canopy and birds of paradise, has been atomised. The financial cost is estimated at twice the country's GDP of $1 billion but the deeper sense of loss is off the spectrum.
Is the war winnable?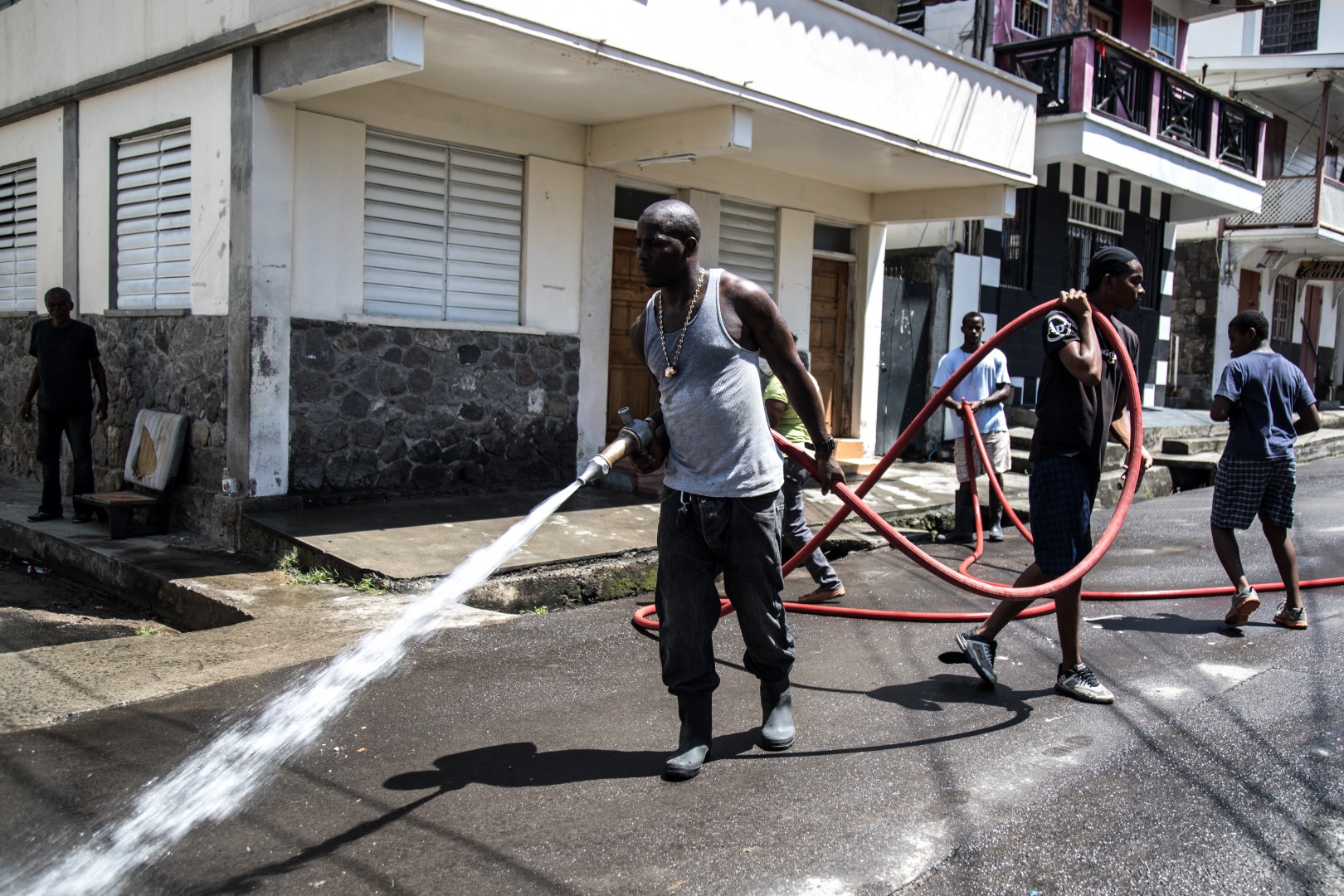 Dominica's authorities have been swift to respond to Maria but overwhelmed by the impossible scale of the task.
"We've been set back 40 years and need to focus on the short-term for now," Richmond Valentine, superintendent of Dominica's Police Force, told IRIN. "If this is a war, it's a war we have no idea how to fight."
During a recent UN mission to the island led by Secretary-General António Guterres, Dominica's Prime Minister Roosevelt Skerrit used similar language and spelt out what the real enemy was: "This is the future of all humanity if we do not respond to climate change."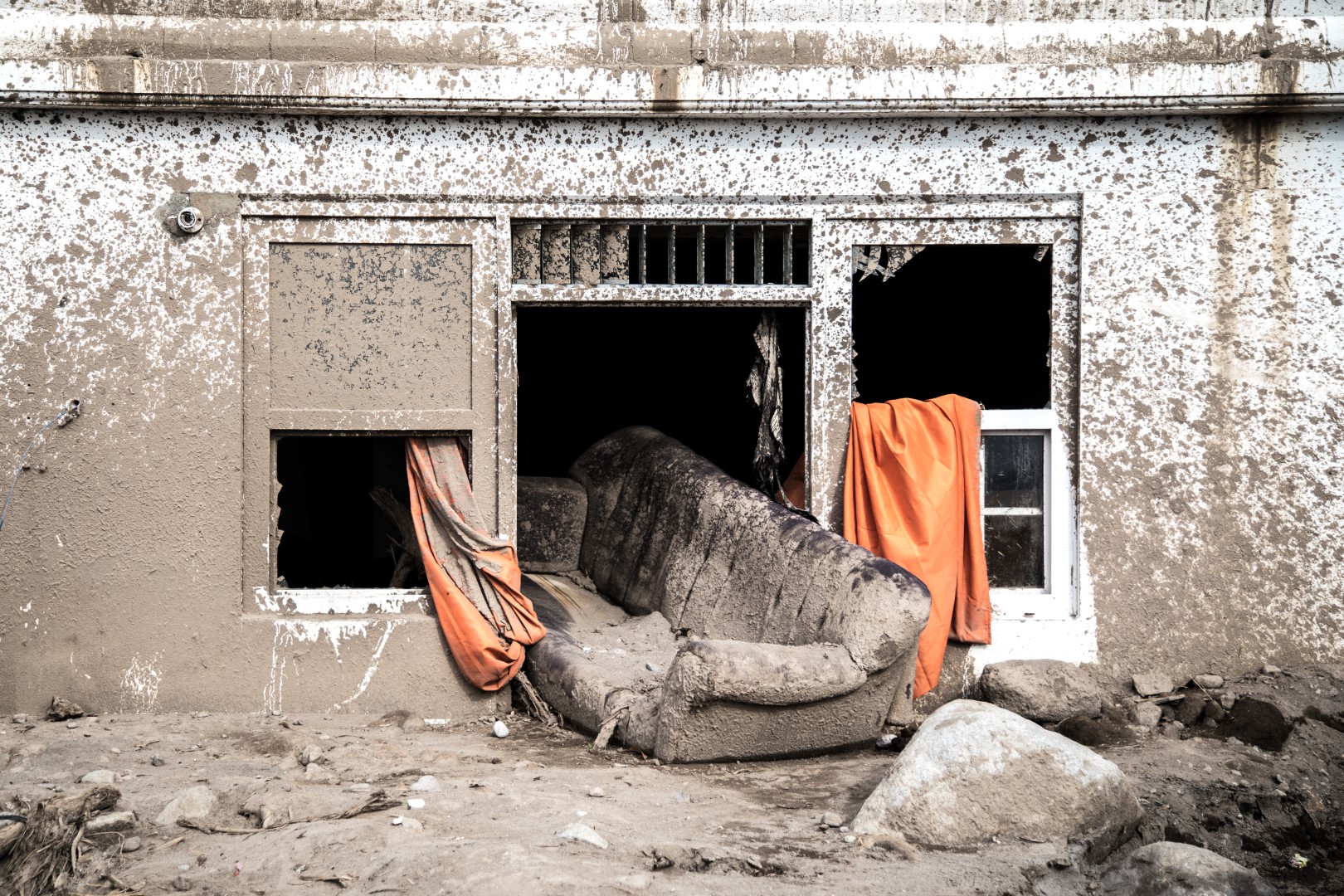 Skerrit, who lost his own roof in the disaster and needed emergency rescue as floodwaters rushed on his home, went on to ask for clemency from God. But he also made no bones about the developed world's responsibility to help, as he sees it largely to blame for the rising ocean temperatures linked to increasingly powerful storms like Maria. As he urged support, his reasoning was simple: "This is a war we did not start."
The Caribbean has been hit by more than 200 major storms in the past four decades, costing more than 12,000 lives and $20 billion in damage, according to a study by the International Monetary Fund. As their force and frequency has increased, so has the length of the hurricane season. Skerrit has made the views of the Eastern Caribbean pointedly clear by calling Dominica: "The front line of the war on climate change".
In the battered hub of government in the capital's financial centre, Director of Tourism Colin Piper describes the hurricane as a "9/11 moment" that cleaved Dominica's history into a pre-Maria and post-Maria timeline.
He says Dominica will bounce back, but believes it will take years to even get close to establishing realistic goals, including for the battered tourism infrastructure the island critically depends on. He lauds Skerrit's desire to build back better and make Dominica the world's first climate-resilient nation, but specifics for this ambitious reconstruction plan remain scarce. 
Getting on with it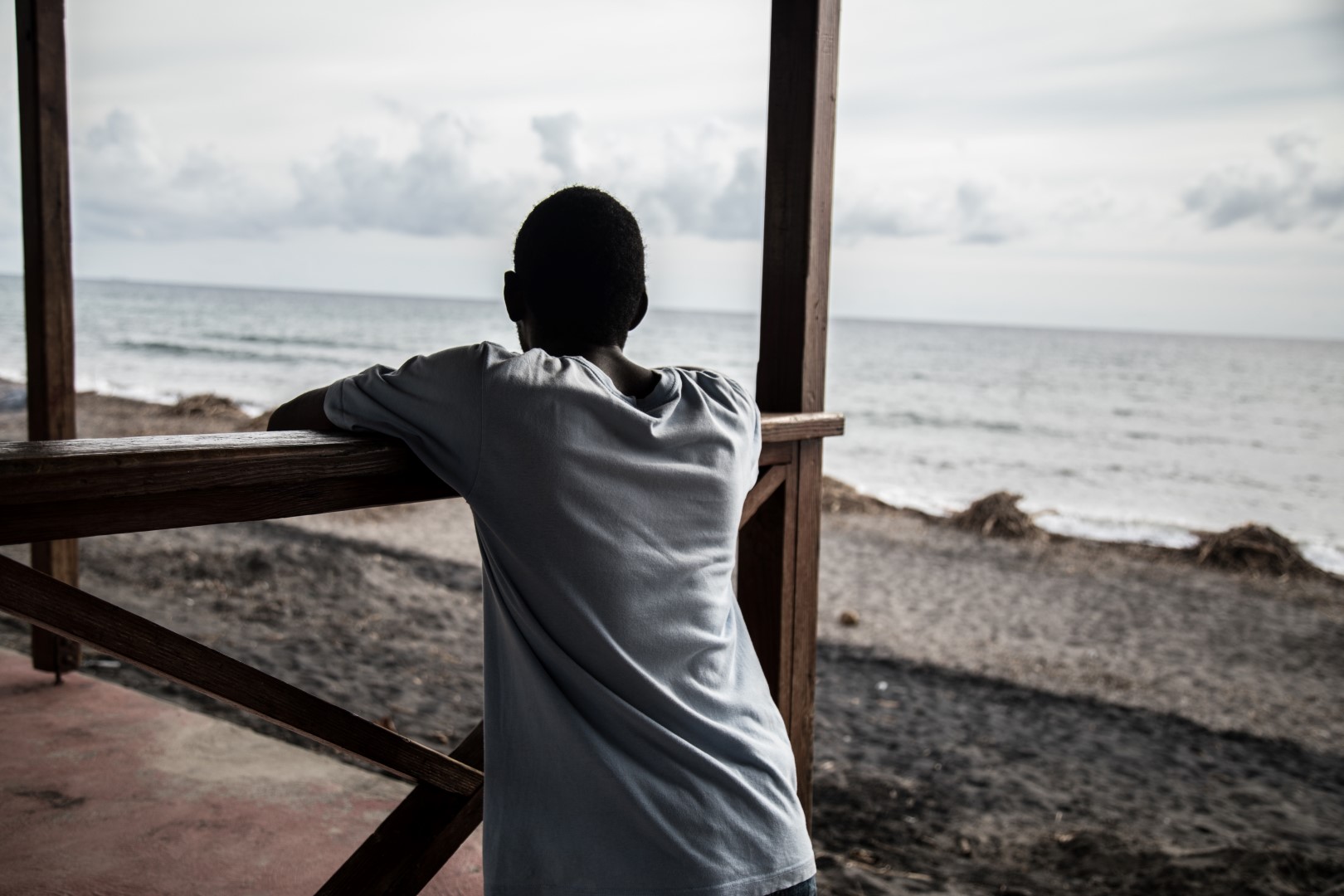 The 73,000-strong population of Dominica has been left no choice but to get on with life as best they can.
Despite the occasional spats, the community is pulling together to raise Roseau from the rubble. Neighbours are clearing their roads of debris, repairing damaged houses, and distributing aid that continues to arrive by the hour. Teams of technicians are working hard to get water, electricity, and communications up and running again.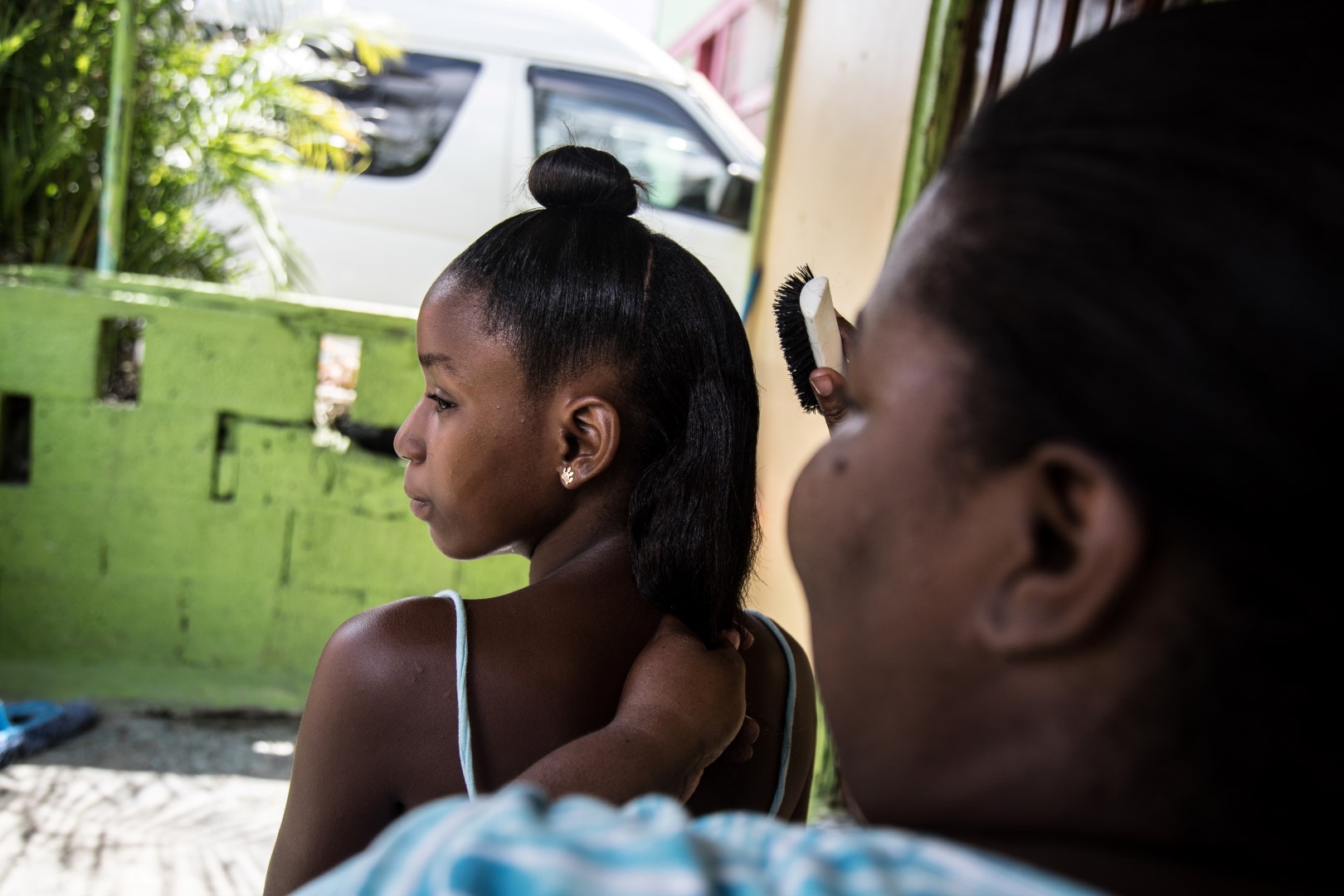 Street vendors sell root vegetables that survived the storm and fruits that have grown since. Stores are once again being stocked, while banks are resuming regular service. Some restaurants are even starting up again: Sammy's Boutique & Café has a simplified menu of tuna-stuffed sandwiches and mountain chicken stew.
Owner Samantha Robinson says she thinks local eateries can take over a market once controlled by larger, foreign businesses that cut their losses and fled the storm. The long queue assembling for lunch suggests her hunch could be right.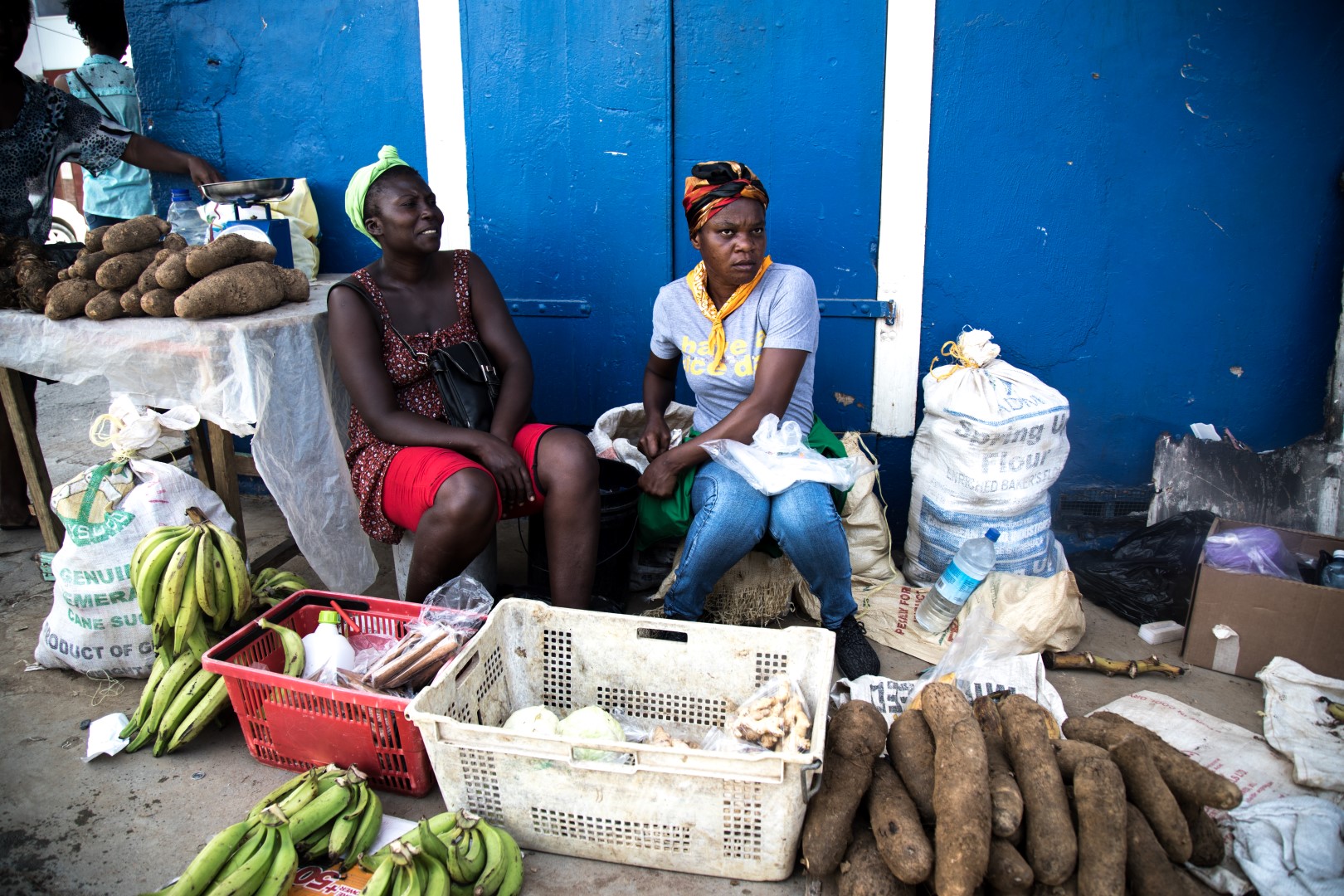 But outside the prioritised capital, people are less upbeat. Even on the west coast, where villages were spared the worst of Maria's wrath, many fear that increasingly regular superstorms pose an existential threat.

On once-popular Mero beach, IRIN finds a group of women discussing how long it will take for the restaurants and bars they worked at to reopen. The reality is: It won't be anytime soon. Tourists were evacuated and flights are still cancelled through the ongoing state of emergency. With power being prioritised for Roseau, places like Mero could go several years before tourist numbers approach pre-Maria levels.
The women's homes went undamaged by the storm, but guesthouses and hotels in the area have been obliterated. As piles of rubbish burn on the beach next to shuttered bars with collapsed decks, the women talk about moving abroad for work, at least until the tourists come back.
A way of life under threat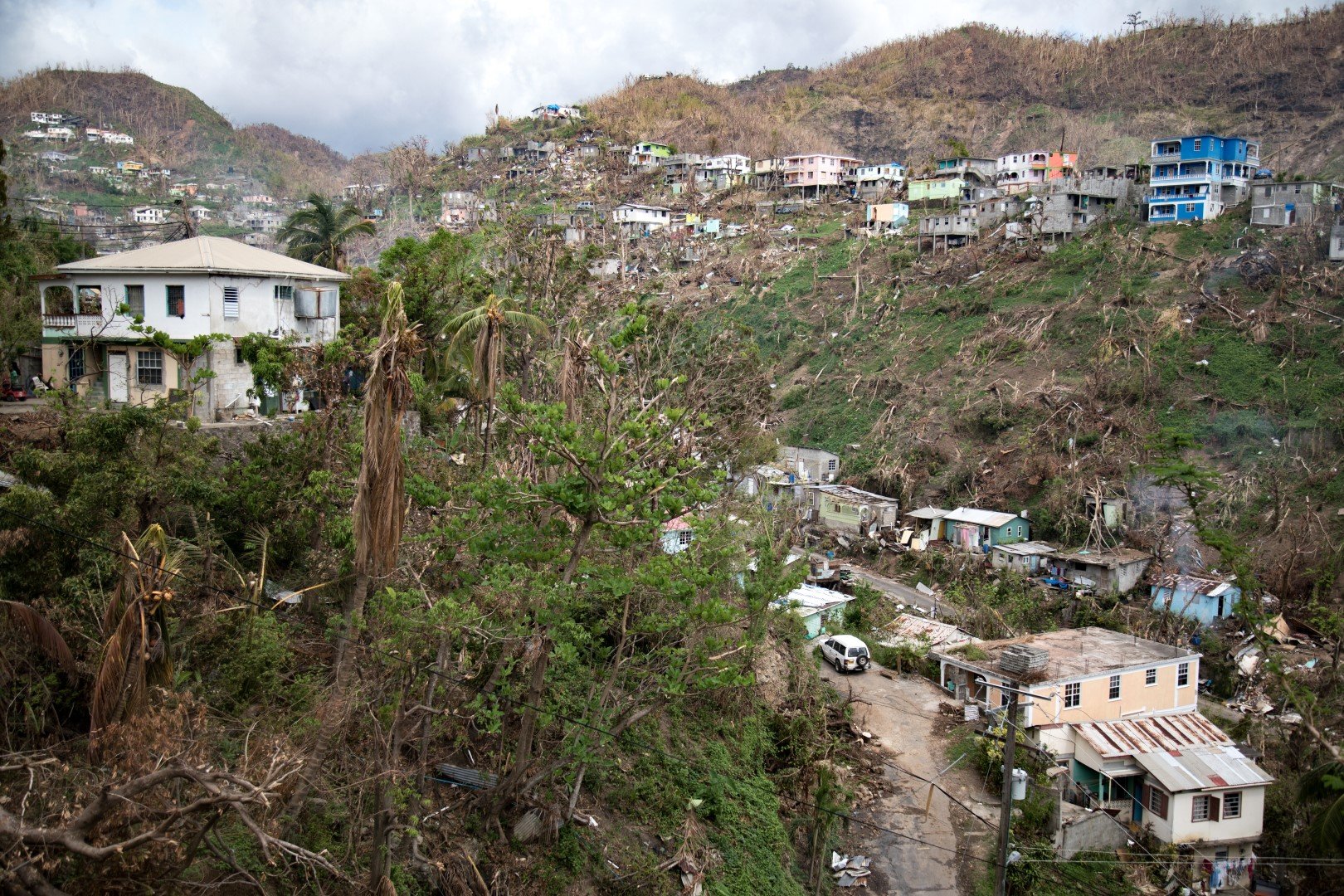 On the northern tip of the island, the Kalinago Territory is suffering too. The indigenous Carib people who live in this sparsely populated region have a reputation for toughness, earned from centuries of fighting off attempts at colonisation.
"But I'm not sure whether we'll survive climate change too," Daniel Frederick, a prominent member of the community, confesses.
His now-roofless bakery lies opposite his flattened home and houses his family of seven, who sleep in the storage room.
Frederick claims he isn't as worried as other people on the island: his clientele is loyal. Unfortunately, he reckons, the goal of restoring his bakery will be delayed until cassava crops, uprooted by Maria, regrow.
After tourism, the agriculture industry is the country's mainstay. But it has also been catastrophically set back by Maria – hundreds of Carib farming families among the worst affected.
Just down the road from the bakery, the local primary school shelters 20 of the area's infirm, elderly, and homeless. With the school garrisoned as refuge, classes have been interrupted.
The fear is that many families with children might move abroad, following a pre-storm pattern of Caribs leaving Dominica for better opportunities elsewhere. With a population of just over 3,000, the viability of the Carib is increasingly at stake.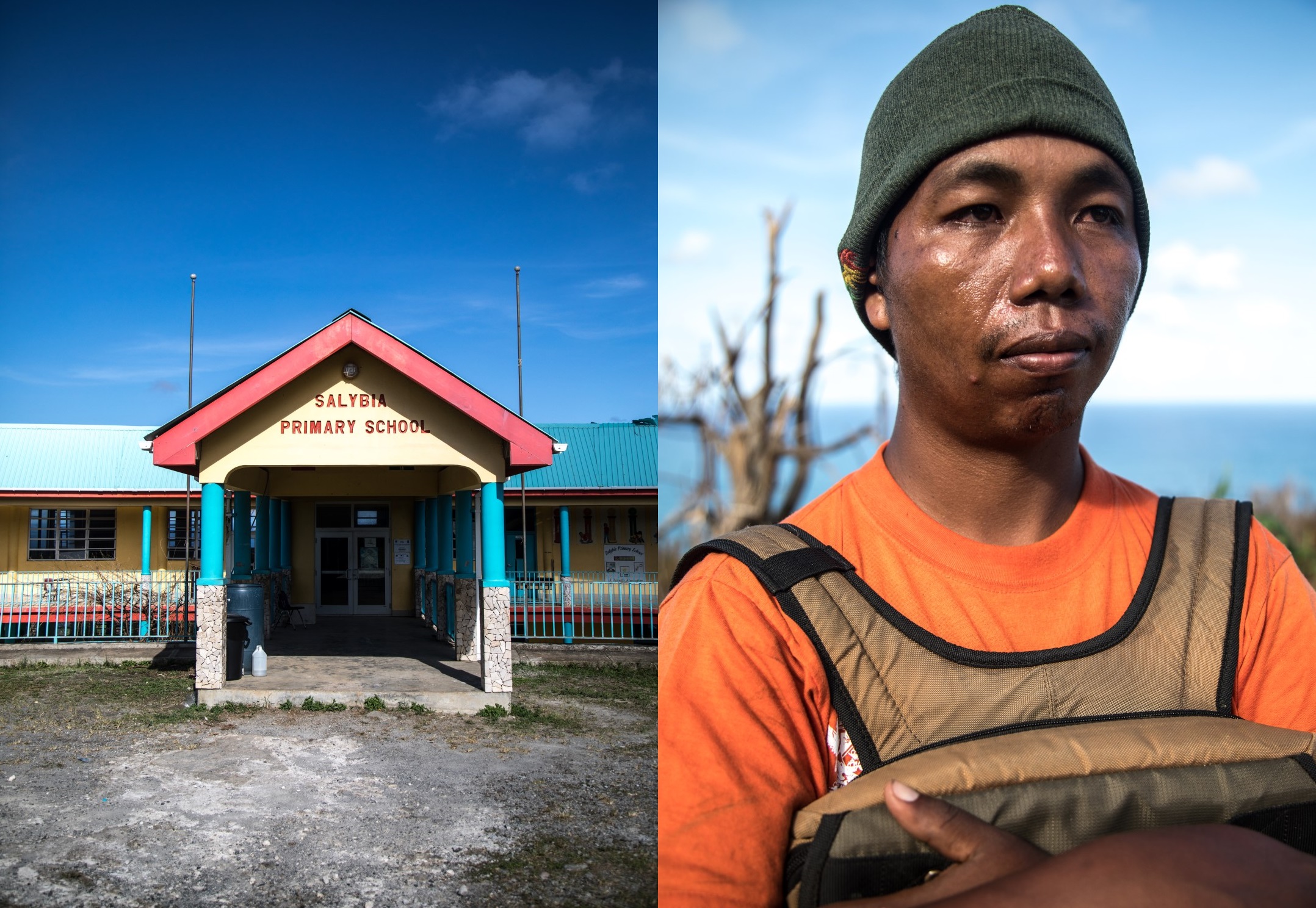 Standing guard at the school-turned-shelter on the orders of the prime minister is Carib security officer Kenny Charles. Half of his family has left for neighbouring islands as a consequence of Maria, but he isn't going anywhere. Storms be damned, he says: "I consider myself a soldier in the war on climate change, but I'm just one lowly soldier. We need all the help we can get or there won't be a Dominica left to fight for."
mbh-ta/ag