There are two lines on the edges of the Naf River: on one side, refugees in ragged clothing, waiting to cross and leave Myanmar behind; on the other, Bangladeshis ready to welcome them with water bottles, apples and biscuits.
Two men step away from the river, balancing a bamboo pole on their shoulders. An elderly woman slouches in a chair suspended from the pole. As they approach, the Bangladeshis gathered on one side reach into their pockets to capture the scene on smartphones.
"I didn't expect to see such bad things here," says Babul, a local who came to help.
Almost 400,000 Rohingya refugees have surged into Bangladesh from Myanmar's Rakhine State over the last three weeks. They come on foot, plodding for days through underbrush and dirt trails; they arrive by boat, risking the monsoon season waves along the coast, or the currents of the Naf River, which divides the two countries along Bangladesh's southern edge.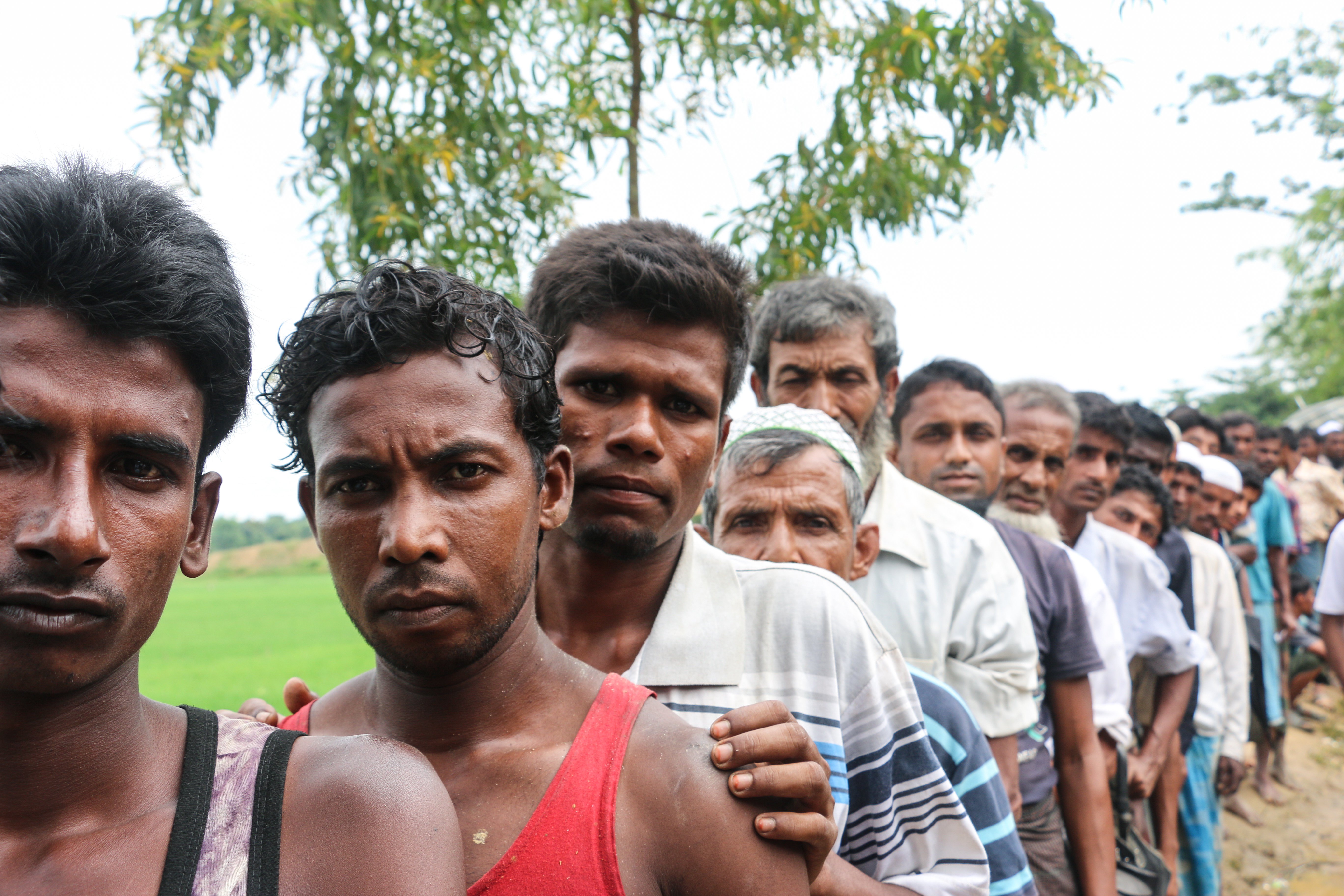 Aid groups say the influx has exhausted relief supplies and pushed existing refugee camps – filled by earlier waves of Rohingya refugees – to the breaking point. With no space left in the camps, refugees are spreading out on roadsides, or spontaneously forming new settlements in open spaces.
"It's beyond overcrowded," says Vivian Tan, a spokeswoman for the UN's refugee agency, UNHCR. "A few days ago, we thought it was at saturation point. Since then, more people have arrived. And they're still coming."
For mile after mile, refugees line the roads around the overflowing camps. Some sit on old rice bags, filled with what belongings they managed to bring with them. Luckier ones carry a solar panel, or a chicken. Others carry their elderly relatives on their backs. For now, the Rohingya are safe in Bangladesh – but they have nowhere to go.
Driven out
Rohingya have been rendered stateless in Myanmar, where they are seen as illegal immigrants from Bangladesh, particularly by ethnic Rakhine Buddhists in the western Myanmar state. The tension has triggered violent clashes in the past, but the most recent surge is the largest exodus of Rohingya refugees in decades.
On 25 August, a little-known group of Rohingya fighters, calling itself the Arakan Rohingya Salvation Army, attacked police and border posts in Rakhine State.
The ensuing crackdown by Myanmar's military has been ferocious. Refugees reaching Bangladesh tell stories of mobs torching homes, soldiers cutting down unarmed civilians, and entire villages expelled.
The UN Security Council has called for "immediate steps" to end the violence. The UN's top rights official says it could amount to a "textbook" case of ethnic cleansing.
Amnesty International says there is mounting evidence of a "mass-scale scorched-earth campaign" across northern Rakhine. The rights group matched satellite imagery, photographs, and video with dates and locations told by new arrivals to pinpoint burnt villages and what it says is irrefutable evidence of a deliberate campaign to push Rohingya out of Rakhine.
Myanmar denies targeting civilians. The government says the military is responding to "brutal acts of terrorism".
Dire needs
In a bare field near an overflowing refugee camp in Cox's Bazar, 30-year-old Anuara Begum sits under a makeshift tent – scant protection against the pouring rain.
"There is killing and beating in my village," she tells IRIN. "How will I ever be able to go back home again?"
Anuara is cradling a newborn baby in her arms. She gave birth to the girl, she says, while crouched among the trees, hiding from soldiers in a forest near her village in Rakhine. Anuara holds her newborn in the air; there is a swollen abscess on her daughter's back.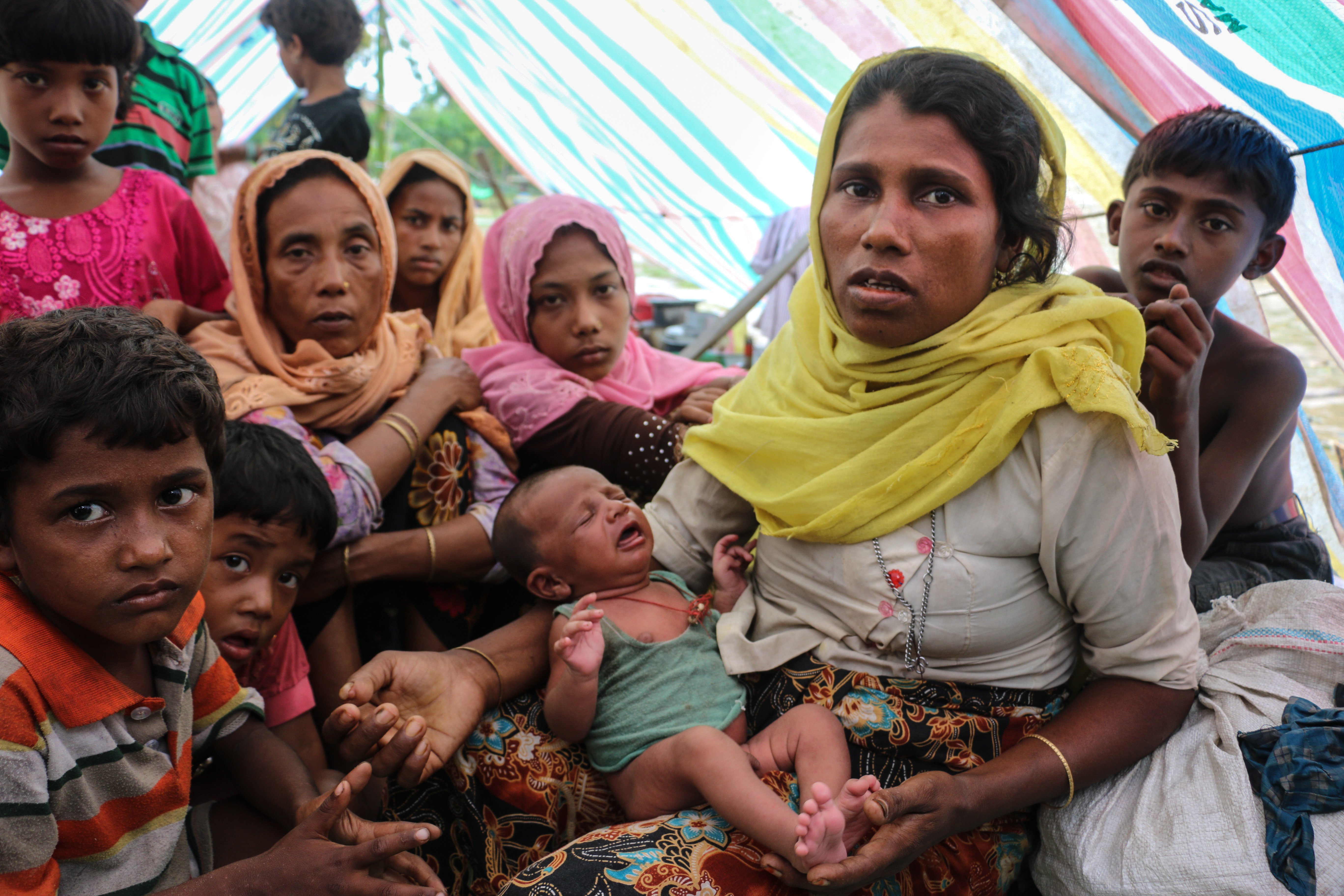 Aid groups have called for $77 million in emergency funding until the end of the year. But that was a week ago, when a preliminary response plan budgeted aid for 300,000 new arrivals. There have been 100,000 more in the last week – exhausted and hungry like Anuara, or in desperate need of medical care, like her newborn.
With aid groups overwhelmed, countless Bangladeshis from Cox's Bazar and beyond have moved in to offer help.
"We urgently need support from abroad," says Mohammed Azae, a businessman. "We are a poor country and the refugees are a big problem for us."
After deciding he must help, the 32-year-old had folded cloth around some biscuits and driven straight to the border area.
On once-pliant roads that have become perpetually gridlocked, Azae and other Bangladeshis stood on trucks and threw clothes and food to the outstretched arms of running children. Refugees wrangled over goods, some drummed against vans stuck in the chaos, begging for money. An elderly man, appearing confused or just desperate, asked for a canvas sheet.
Struggling to cope
Years of Rohingya influxes have made Bangladeshis ambivalent about their neighbours – torn between an urge to help and fear of the impacts of their sheer numbers. Now, the magnitude of the current exodus has drawn an outpouring of support.
Jashim Uddin, a local aid worker, normally helps Bangladeshis in need; today, he's assigned to work with the new refugees.
But he sees rising food prices and dwindling fish supplies at the local market. He sees Bangladeshis struggling as day labourers, and wonders how the area will cope with even more newcomers.
"The humanitarian aid is limited," he says. "The influx is not."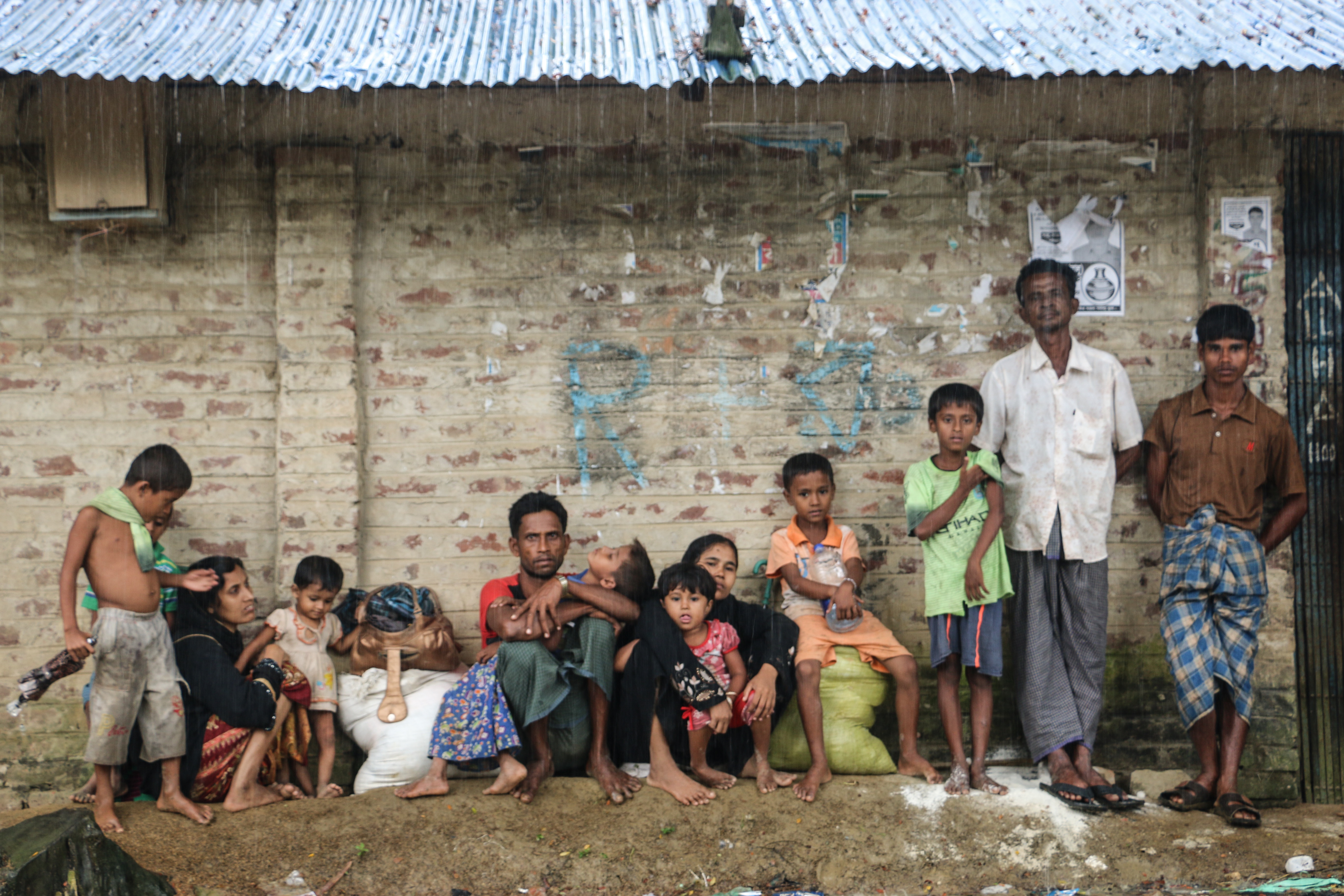 The most gravely injured of the new Rohingya arrivals are brought to hospitals further afield. The paediatric ward at Chittagong Medical College Hospital, a five-hour drive from the border, has been taking in patients.
Doctor Adnan Walid's newest patient arrived with a gunshot wound. The bullet, he says, pierced the child's torso before exiting cleanly on the other side.
The child is a six-month-old baby boy.
He survived. But a bullet and a baby? In Walid's mind, the two things just don't belong together.
"How can you suspect a baby to be a terrorist?" he asks.
(TOP PHOTO: Rohingya refugees from Rakhine State in Myanmar arrive in Bangladesh. Verena Hölzl/IRIN)
vh/il/ag