At its peak in the summer of 2016, the former Athens airport terminal at Elliniko was home to more than 3,000 refugees. A makeshift camp set up during Europe's refugee "crisis" the summer before, it is now home to fewer than 700 people, nearly all of them from Afghanistan.
Over the last few weeks, the Greek government has been trying to persuade them to leave by removing vital services. On 20 May, the NGOs providing medical care, clothing, legal advice, translation, and cleaning were withdrawn. In the days that followed, WiFi, electricity, and water services were cut off and residents were told to accept transfers elsewhere or lose support.
Most people agree Elliniko is unfit for human habitation, including Masood Qahar, a 40-year-old refugee from Kabul who has been living there since early 2016. Journalists are no longer allowed inside the camp, but Qahar showed IRIN photographs of people sleeping in the airport terminal corridors in tents or under sheets strung from the ceiling. When it rains, Qahar said, the water comes through the ceiling. He played a video of residents trying to sweep water away from their tents.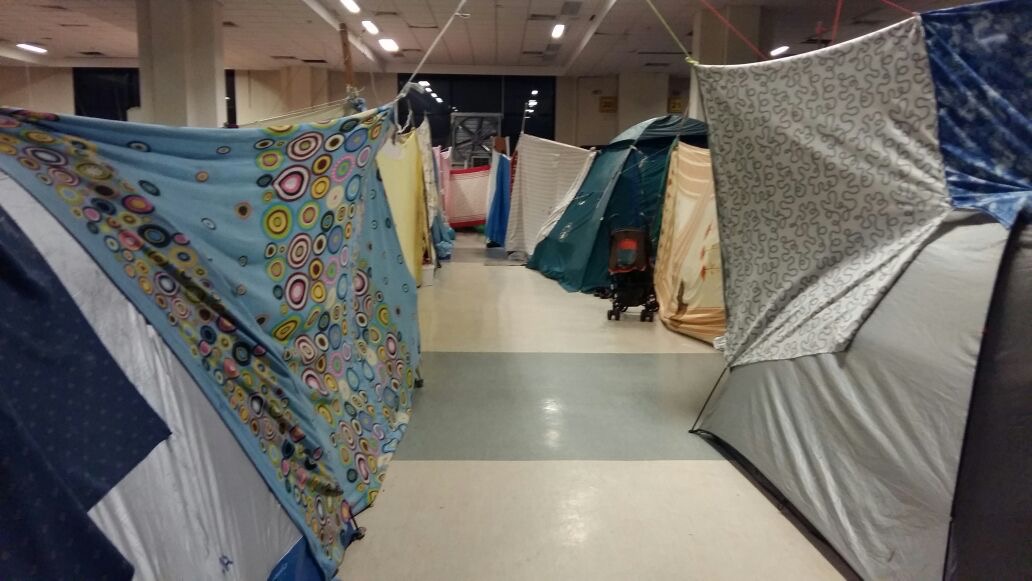 Men, women, and children live together at Elliniko with little privacy. Human rights organisations including Amnesty International have repeatedly warned that women are at risk of sexual assault. "It's not safe," Qahar said. "I've been attacked three times with knives. Once, someone brought a gun into the camp."
So why stay?
Despite this, Qahar and many of the remaining refugees are reluctant to leave on the uncertain terms they have been offered. When officials announced the closure earlier this month, they told the refugees they would be sent to a new, purpose-built camp at Thiva (Thebes), in central Greece. But the ministry of migration has not issued a formal plan for the transfer, and Qahar, for one, is suspicious. "It's a small jail," he said, showing photographs he had taken during a visit to Thiva. They show rows of shipping containers surrounded by a security fence on an industrial estate outside the town. The camp is to be managed by the International Organization for Migration, but the government has not yet specified what services will be provided.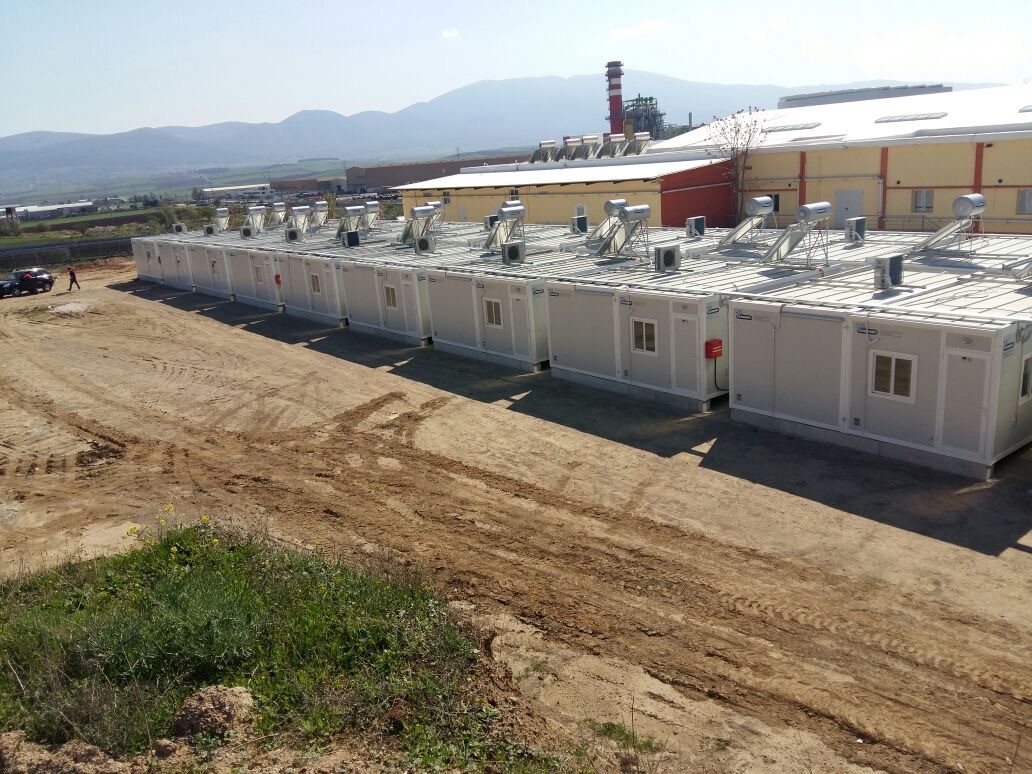 Kyriakos Giaglis, country director for the Danish Refugee Council (DRC) in Greece, which had been providing support services at Elliniko until it was asked to leave, told IRIN that his organisation is concerned about the apparent lack of consultation with the refugees. "Movement has to be well-informed, principled, and voluntary. This plan has not been properly communicated by the Greek authorities, despite our continuous requests."
Giaglis said it was unclear whether the camp at Thiva would be able to accommodate all the remaining residents at Elliniko or if adequate legal services would be provided to help refugees with their asylum claims in Greece or family reunion elsewhere in Europe. The DRC is asking that vulnerable people be moved to some of the 20,000 apartments in Athens provided by the UN's refugee agency, UNHCR. But demand is high and there aren't enough apartments to accommodate all the Elliniko refugees. According to UNHCR, around 100 people have been moved to apartments in recent weeks.
Filling the information gap are rumours. Some refugees fear forced transfer to Thiva at short notice; others are concerned by the presence of IOM at the new camp because of the agency's well-known voluntary return programmes for migrants. "They are trying to pressure people to go home," said Qahar. There is no evidence to confirm such suspicions, and in a recent statement the Greek migration ministry blamed the rumours on "constant disinformation by non-institutional actors". But a wider European trend gives Elliniko's mainly Afghan residents cause for concern.
One rule for Syrians…
Broadly, Europe's response to the refugee crisis has been to prioritise asylum for Syrians while granting protection to a dwindling proportion of Afghan asylum seekers and even deporting hundreds of them back to Kabul over the past year, despite the country's worsening security situation.
The EU-Turkey deal and the closing of the Macedonian border in early 2016 trapped up to 62,000 refugees in Greece, with Afghans the second-largest group by nationality. Unlike Syrians, they have not been eligible for relocation to other EU member states under the emergency agreement drawn up in September 2015. Similarly, while Syrians in Greece are eligible for a "fast-track" asylum application process, which can take as little as one month, Afghans and others have to wait many months. According to Yonous Muhammadi, a prominent Afghan community activist who works for the Greek Forum for Refugees, non-Syrians applying for asylum today are being given interview dates in February or March 2018, and won't receive a decision for another six to 12 months after that.
Muhammadi estimates that between 10,000 and 15,000 Afghans are still living in the camps hastily established by the Greek government in 2015 and 2016 (although the Greek asylum service says it has only received about 8,000 applications from Afghans since the start of 2015). He told IRIN that the camps where Afghans have been placed tend to be worse than those housing Syrians, with fewer amenities and services. Aside from Elliniko, he cited "horrific" conditions at sites in Malakasa and Oinofyta. The latter, for example, only received heating in December, and experienced a scabies outbreak earlier this year. Although Syrians also experience poor conditions in camps, particularly in the north of the country, many have been able to leave, while those people with less chance of receiving asylum – including Afghans, Iranians, and Pakistanis – have tended to be placed in more rudimentary camps. "All the focus is on the Syrians," Muhammadi said. "The politics follows the media. And even international NGOs follow it."
Suicides and alcohol
In the absence of reliable state or NGO support, many Afghan refugees living in or near Athens have come to rely on help from long-term members of the city's Afghan community. Muhammadi estimates there are around 2,000 settled Afghans living in Greece, most of them in Athens. There are also two community associations and a cultural centre through which "people can speak about their problems and be informed of their rights and responsibilities".
Mohammad Mirzay is a 25-year-old Greek citizen who arrived in the country as a child refugee over a decade ago. In 2015, he was employed to work as a translator for NGOs based on the Greek islands. Today, he is a community activist in Athens where he uses his language skills and knowledge of the local bureaucracy to help the newer arrivals. "We old refugees are trying to cover the gap," he told IRIN.
With limited medical care and legal services available at Elliniko, Mirzay puts residents in touch with a network of volunteer doctors and lawyers based in Athens. On other occasions, he has helped arrange burials of people who have died at the camp. Having dealt with three suicides in the past year, he points out that psychological problems and alcohol abuse have risen the longer people are stuck there.
Yet many of Elliniko's residents would rather put up with the poor conditions, and retain the support they have found through the Afghan community and volunteer networks in Athens than be moved elsewhere in Greece.
Faced with the prospect of forced removal, Qahar said some Elliniko residents have moved into the city and put up tents in parks. He predicted that others would try to leave for elsewhere in Europe via clandestine routes.
According to activists, around 70 men and unaccompanied children have already left Elliniko for the port of Patras, where they are living rough and trying to sneak onto ferries to Italy.
"We don't see a future in this country," said Qahar. "If you kept animals in this situation, they would die."
(TOP PHOTO: An Afghan family sleeping inVictoria Square, Athens shortly after Macedonia closed its border with Greece in February 2016. Kostis Ntantamis/IRIN)
dt/ks/ag