When Greece became the epicentre of Europe's debt crisis after the global banking system imploded in 2008, local volunteer groups sprung up to help alleviate the suffering. Now, with a new crisis upon the country, similar networks are coming once again to the fore – only this time they are coming to the aid of helpless foreigners.
Friday's deal between the EU and Turkey means all new arrivals to Greece must be sent back to Turkey. However, it doesn't cover the tens of thousands of refugees and migrants stranded in the country since the former Yugoslav Republic of Macedonia and other nations along the Balkan route sealed their borders to all asylum seekers earlier this month.
The government has put the number of stranded migrants at nearly 50,000, but the real figure is likely to be even higher as thousands are tucked away in private homes or in spontaneous shelters in petrol stations and parking lots.
The army has opened disused military camps at a rate of two a week for the past month, but roughly 1,000 new arrivals a day have swamped official capacity to provide housing, food and healthcare.
It is left to volunteer groups to step in and fill the gaps left by the state.
"I try not to think about the long term, because a few years from now we might find ourselves in their position," Ioanna Moraiti, an IT student in the agricultural town of Larissa in central Greece, tells IRIN. "It's our obligation as Greeks to help, each according to his means."  
Moraiti is a volunteer with Prosfero ('I offer'), a small grassroots organisation that is helping to distribute meals prepared by the Air Force to 1,000 refugees encamped next to an abandoned textile mill. The first 400 arrived by bus a fortnight ago; another 600 arrived over the weekend, having been evacuated from the island of Lesvos. Under the new EU-Turkey deal, Greece still has to evacuate some 5,500 migrants and refugees from its eastern islands.
Another Larissa-based group, Energoi Polites ('Active Citizens'), has mobilised its donor network on behalf of the refugees and now has a basement and a garage filled with clothing and blankets.  "We can't handle the donations and we're looking for [more] space," says Kostas Kedras, a leader of the group.
"We helped set up the tents people are staying in – putting wooden pallets and nylon sheeting under the tents to keep them dry, handing out clothes, blankets, sleeping bags and prams."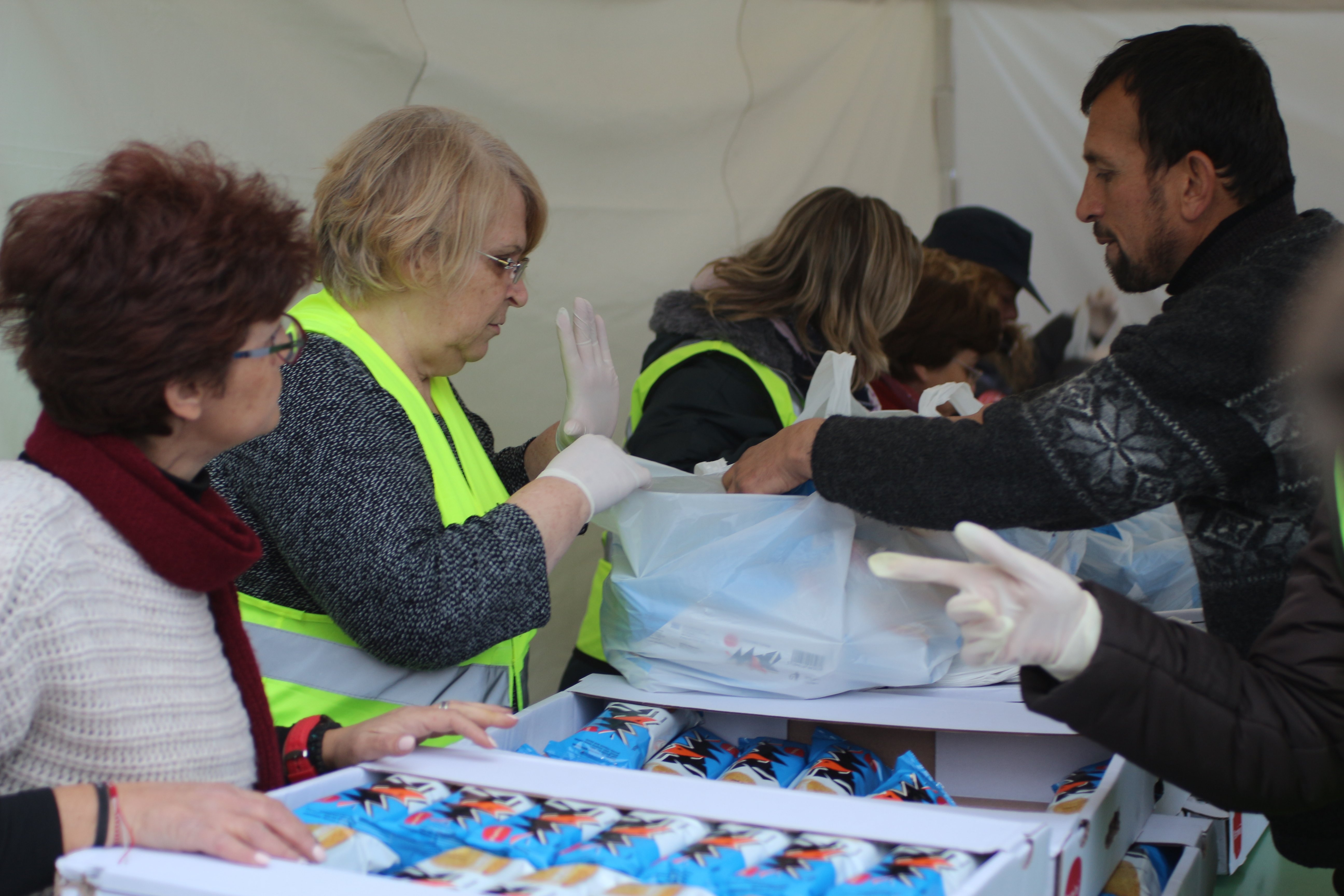 Border closures
The refugee crisis really hit home in Greece last autumn when only certain nationalities were allowed to proceed northwards. Previously, the vast majority of migrants who arrived on the Greek islands headed north as soon as possible after being transferred to the mainland by ferry. As the numbers of migrants and refugees accumulating at the border became unmanageable, police began holding back the buses at motorway service areas along the route.  
"The police officer on duty called us and said there are 350 people on the motorway, 50 of them children," remembers Ilias Tsolakidis, who founded O Topos Mou ('My Place') in the town of Katerini, in the shadow of Mount Olympus. "'I can't bear to watch it any more. They're crying, dropping at our feet and asking for food,' said the officer."
Tsolakidis and his group immediately mustered what food they could and took it to the refugees. They have remained on alert ever since. When a busload of stranded refugees went thirsty earlier this year, O Topos Mou sourced a tonne of bottled water in just 45 minutes. "We have a network and send emails out to 36,000 people," says Tsolakidis. "If just 500 people read it and 50 people respond, you've got a collection in half an hour."  
The ability of grassroots groups and volunteers to self-organise and distribute aid quickly and efficiently in their local areas has made them indispensable to government efforts to feed and shelter migrants and refugees in the weeks since the Western Balkan route has been sealed off.
They have taken over food and clothing distribution in many official camps where government and international NGOs lack sufficient manpower. At the camp in Idomeni on Greece's northern border, where 13,000 migrants and refugees are now staying, they are cleaning muddy tents and assigning them to new arrivals as well as flagging refugees in need of medical attention.
Making a difference 
The ability to mobilise local volunteer networks is what Tsolakidis refers to as a "fire hose", always at the ready to extinguish a crisis before it grows out of control. "If we put out one fire and a second one starts we will try and deal with it also," he tells IRIN. "But the burden is greater [than it was when we were helping just Greeks]. The effort has to be more fast-paced and intense. More people need to be mobilised."  
For thousands of refugees in Greece, the work of the volunteers has made a miserable situation slightly more bearable.  
"Greeks are a great people… kind, and willing to help everybody," Walid Jemu tells IRIN.
Jemu fled Syria a month ago with his pregnant wife and two small children after his seven-year-old nephew was killed by a bomb while playing in front of his home in Aleppo.
Jemu is grateful simply to be allowed to live in a tent on the concrete pavement outside a petrol station. About 1,000 others live in tents here, about 20 kilometres from the northern Greek border.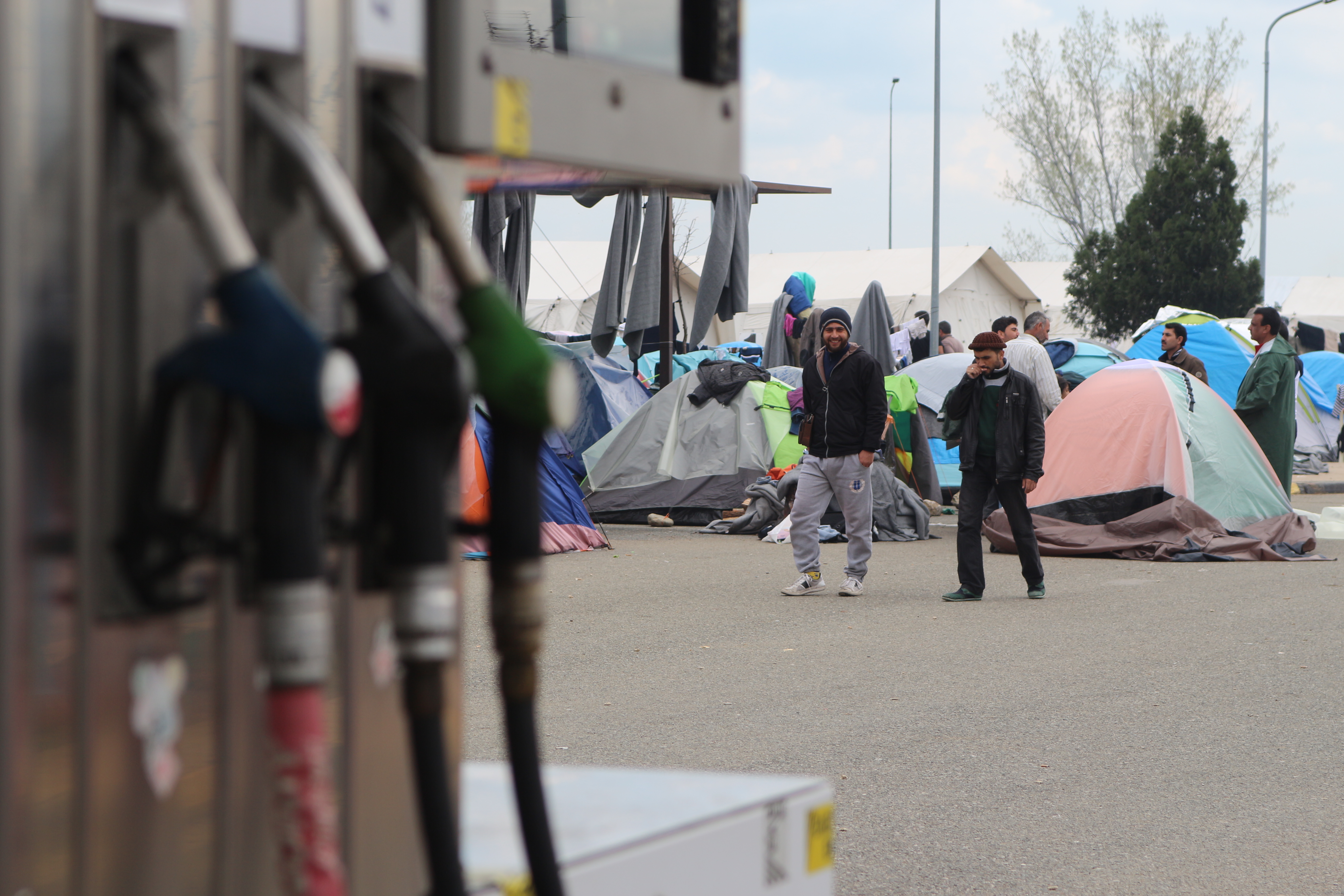 "The [Greek] government didn't give me money or anything like that, but they allowed us to come here and stay," says Jemu. "They are working with the people – the opposite of [other governments in] Croatia, Slovenia, Serbia or Macedonia."  
People from the surrounding villages bring food to the petrol station. A local family even invited Jemu to spend a week in their house "and have warmth for the children". He refused because he is still hopeful that the border will re-open and he will be allowed to continue on to Germany.  
Branching out
But Tsolakidis does not share Jemu's optimism. He believes that it's unlikely that the borders north will re-open any time soon. Despite the deal with Turkey, he reckons the numbers of migrants and refugees stranded in Greece will only continue to climb. And he has little faith in the EU scheme that was supposed to relocate 160,000 asylum seekers from Italy and Greece to other member states over two years. It has only moved 568 refugees from Greece so far.
Tsolakidis worries that donations from Greeks will eventually dry up and that help will need to come from further afield. "I believe that the people who now offer freely from their surplus will soon be unable to do so."
He has already launched successful appeals for medical supplies in France and Germany, distributing the donated medicines to Greek hospitals treating refugees. In the process, O Topos Mou is transforming itself from an organisation that distributes humanitarian aid locally to a group that is sourcing aid internationally to distribute nationally.
"We've opened a door and walked into a different room in our history," says Tsolakidis. "Some people don't want to walk in. They think things will change while they're hovering in the doorway. But time is pressing… Let's go in while there's space and time to plan something."
jp/ks/ag
SaveSave