In July 2015, Mohammed Lamin*, a 26-year-old Gambian, was pulled from a stricken smuggler's boat in the Mediterranean. On board the rescue vessel, he spoke to IRIN about his hopes that Europe would change his fortunes for the better. We also talked to his family back in Gambia about their expectations that Lamin would find work in Europe and not only repay the cost of his passage but lift them all out of poverty. Louise Hunt met up with Lamin in northern Italy to find out what actually happened.
It is a bone chilling, drizzly day in February, but Lamin is sitting on a park bench. It is one of the few places in this wealthy town where he can spend time outside his hostel without spending money he doesn't have.
All the benches around the grand circular lawns and fountains are occupied by sub-Saharan Africans. He approaches a group huddled on a neighbouring bench to get a light for his cigarette and chats with them a while. "They're my boys from the hotel," he explains.
After a short stay at a reception centre in Pozzallo, Sicily, where he disembarked from the Migrant Offshore Aid Station boat that rescued him, Lamin was registered as an asylum seeker in Milan and sent to this town near Venice (he asked that the town not be named in case his asylum application fails).
His home for now is a budget-end hotel recently converted into a hostel for asylum seekers, on the outskirts of the medieval town centre. Many similarly unusual reception centres have sprung up around Italy over the last two years as the number of asylum seekers arriving has doubled.
Dressed neatly in donated jeans and jacket, Lamin says he is one of the longest staying residents at the hostel. "Most of the people that arrived with me have been moved into apartments, but I wanted to stay."
His industrious, affable nature quickly made a good impression and he was asked to work in the hostel kitchen with a fellow Gambian who serves as chef. For this work, Lamin says he receives 35 euros a month and the possibility of future fully-paid work if he secures legal status in Italy.
"They said if I'm serious about my Italian lessons and get my documents, they want to give me a job."
Related stories:

Taking 'the back way' out - The Gambia to Italy

Since you've been gone - The families migrants leave behind

Why deportations are hard to do
In the mornings, Lamin and the other residents attend a two-hour class in basic Italian that forms part of the government's integration strategy for asylum seekers.
Afterwards, he starts work in the kitchen, helping to prepare the food and serving it to the 100-plus residents. He often works two shifts a day, even on weekends. In return, he says, his line manager "is good to me", buying him cigarettes and slipping him some extra euros. "They always say 'Lamin, go and take a break,' but I would rather work, I don't want to think too much."
His new life in Italy is not what he imagined it would be. "You cannot know until you come here," he says. "This park is full of people doing nothing; everybody is waiting for their documents. Some people regret coming here and cannot go back."
In 2015, 144,000 migrants arrived by sea to Lampedusa or Sicily, of which 8,500 were identified as Gambian, according to the International Organization for Migration. Most were fleeing grinding poverty rather than persecution or conflict, but an asylum application extends the time they can legally remain in the country. It's an option that may soon be eliminated as Italy implements the EU's hotspot system to screen out so-called economic migrants as soon as they arrive and before they have the opportunity to apply for asylum.
For those like Lamin, who managed to register as asylum seekers before the new system came into effect late last year, Italy's backlog of asylum cases means a prolonged state of limbo. While asylum seekers are normally issued with a temporary residence permit allowing them to undertake paid work two months after registering a claim, their chances of finding work are very slim.
Italy has a national unemployment rate of 11 percent and 38 percent for youths. "Even if you have a residence permit, it is very difficult to find work," attests Lamin. The language barrier is the main problem, he says, but migrants also face open hostility and complain of racism.
After everything young men like Lamin risked to reach Europe, many struggle to accept that their only reward is this bleak jobless existence.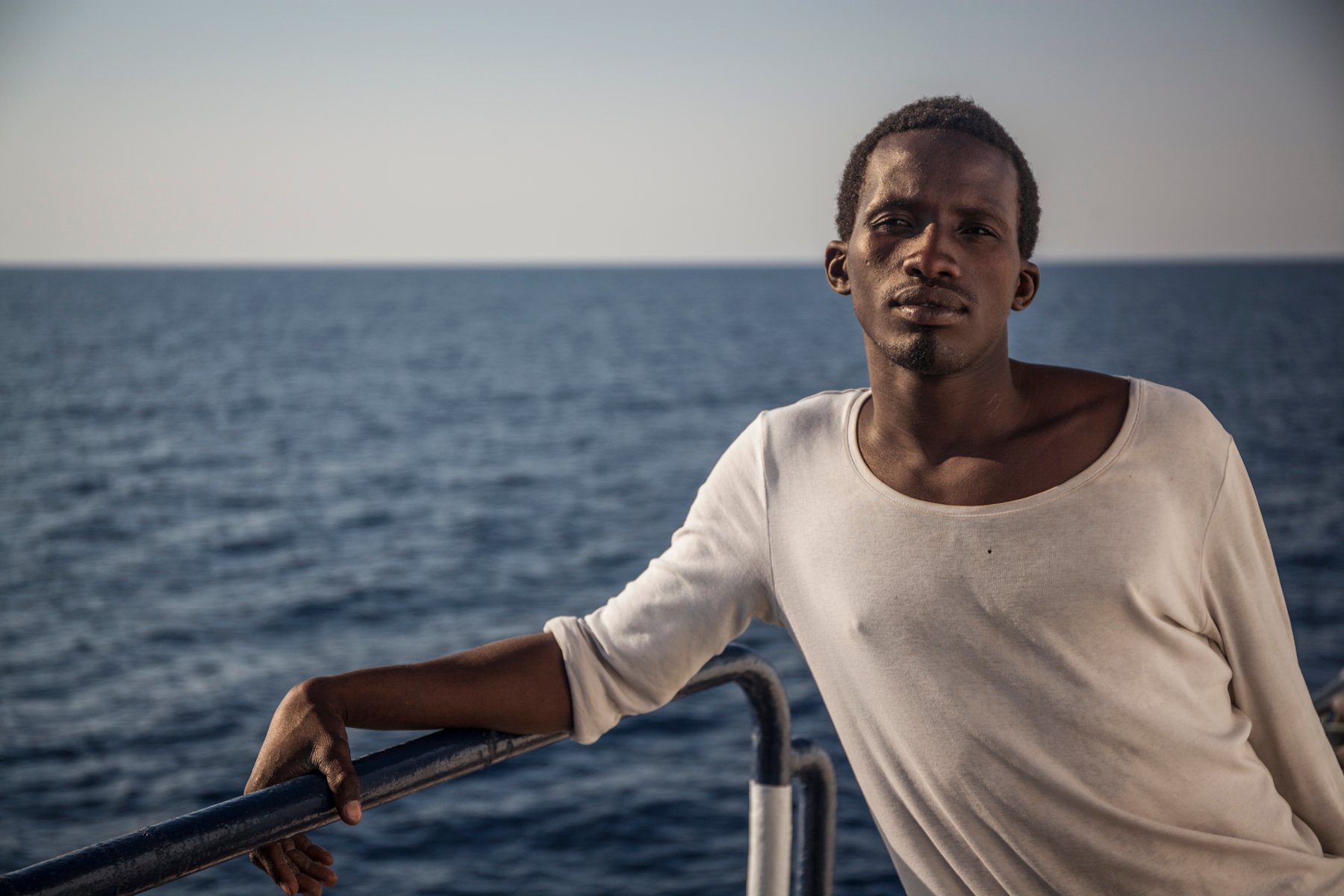 Lamin left behind a wife and baby son in Senegal, where he had been working, and a large family in Gambia. He can only afford to speak to them once a month. "If I have my documents I can work and try to go back to see my family. All I want to do is see them – I miss them so much," he says.
At first, he says, he regretted making the journey to Italy. "I wished to go back, but now I have to try to get my papers. I want to learn Italian and work here so that I can support my family."
He saves as much of his monthly 75-euro asylum seeker allowance as he can and wires it to his parents one month and his wife the next. 
"I don't want my children to have the same hardship. I want my son to have an education. So I decided, 'let me sacrifice myself for them, I have to try'."
"I don't want my children to have the same hardship. I want my son to have an education. So I decided, 'let me sacrifice myself for them, I have to try'."
Lamin is now waiting for his interview with the territorial commission for international protection – a regional panel that will either grant him refugee status (or the more temporary status of subsidiary or humanitarian protection) or reject his claim as unfounded. Negative decisions can then be appealed at the national courts. Lamin has not yet received any legal advice, but his employer, the hotel manager, has promised to help him put his case together.
By Italian law, first decisions on asylum status should be made within 35 days, but the backlog of cases means it can take up to a year, according to Valentina Fabbri, director of Rome-based social enterprise Programma Integra, which provides support to asylum seekers.     
Even after a long wait, the odds of Lamin receiving refugee status in Italy are not good. Out of 8,775 decisions on applications from Gambians made in Italy in 2015, 66 percent were rejected, according to Eurostat figures.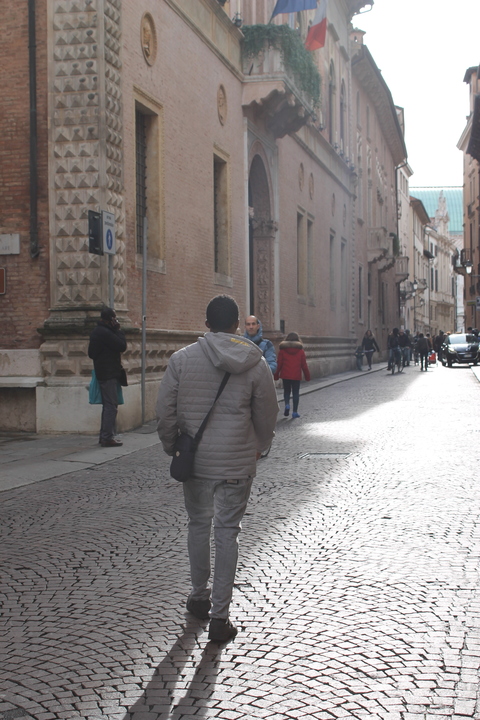 In theory, failed asylum seekers are given five days to leave the country or risk being detained and deported. But Eurostat figures show that in 2014, out of 270 Gambians ordered to leave Italy, only five were forcibly returned.
Italy is taking steps to improve its cooperation with Gambia to increase returns of failed asylum seekers (in December, Gambian authorities sent an official to help identify Gambian nationals arriving in Sicily). But most of those rejected for asylum disappear into the shadowy informal economy where they often work for low wages and in poor conditions, says Fabbri.
Walking in the drizzle, across piazzas and through cobbled streets where luxury shops gleam from ornately carved sandstone villas, Lamin, with his slight frame and borrowed umbrella, appears dwarfed and lost.
We cross the park again. "I want to pray," he says, heading for a money transfer shop. "Sometimes they let me pray here at the back." But today there are no mats available.
Sheltering from the rain in the bus station, he shakes his head when asked whether he would have made the journey, knowing what he knows now. "No, I would not have come," he says.
*Not his real name
lh/ks/ag