When Cyclone Pam bore down on Vanuatu in March, many modern buildings in the Pacific Island nation were completely destroyed. But Charlie Kalah's hut made of materials harvested from the forest was left standing.
"We were 15 of us squeezed in my Nimafiak," said Kalah, referring to the hut by its traditional name. "We made space for the elders, just held hands and some of us also prayed for collective safety."
Residents of his village of Yakel on the island of Tanna are now building and repairing traditional dwellings constructed from bamboo, palm fronds, branches and vines. The houses are credited with keeping the death toll relatively low - there were 11 fatalities - during one of the most powerful storms ever recorded in the Pacific Islands, with winds blowing at 250 kilometres per hour.
Nimafiaks are low-lying and have roofs that slope all the way to the ground, allowing the wind to pass over them. The roofs of taller, modern houses, often made of tin, are higher up and more likely to be lifted off by powerful gusts. Tin sheeting can be deadly when blown about during a heavy storm - another reason the Nimafiaks are safer in this cyclone-prone nation, which is comprised of more than 90 islands.
IRIN also visited villages on the islands of Malicula and Ambrym and found that people were using traditional methods to build storm-proof structures there, as well as tapping ancient knowledge to predict oncoming cyclones and drought.
Such practices are all the more important as the weather phenomenon El Nino begins its two-year cycle and is expected to bring an increase in the intensity and frequency of storms, as well as drought.
The government and aid groups are backing the traditional approach. The Ministry of Public Works and the International Federation of Red Cross and Red Crescent Societies (IFRC) are working together to promote the "build back better" philosophy, which in Vanuatu includes Nimafiaks.
"We can learn from traditional knowledge principles that could inform modern building and settlement practices, and even be integrated into the national building code," said Xavier Genot of IFRC.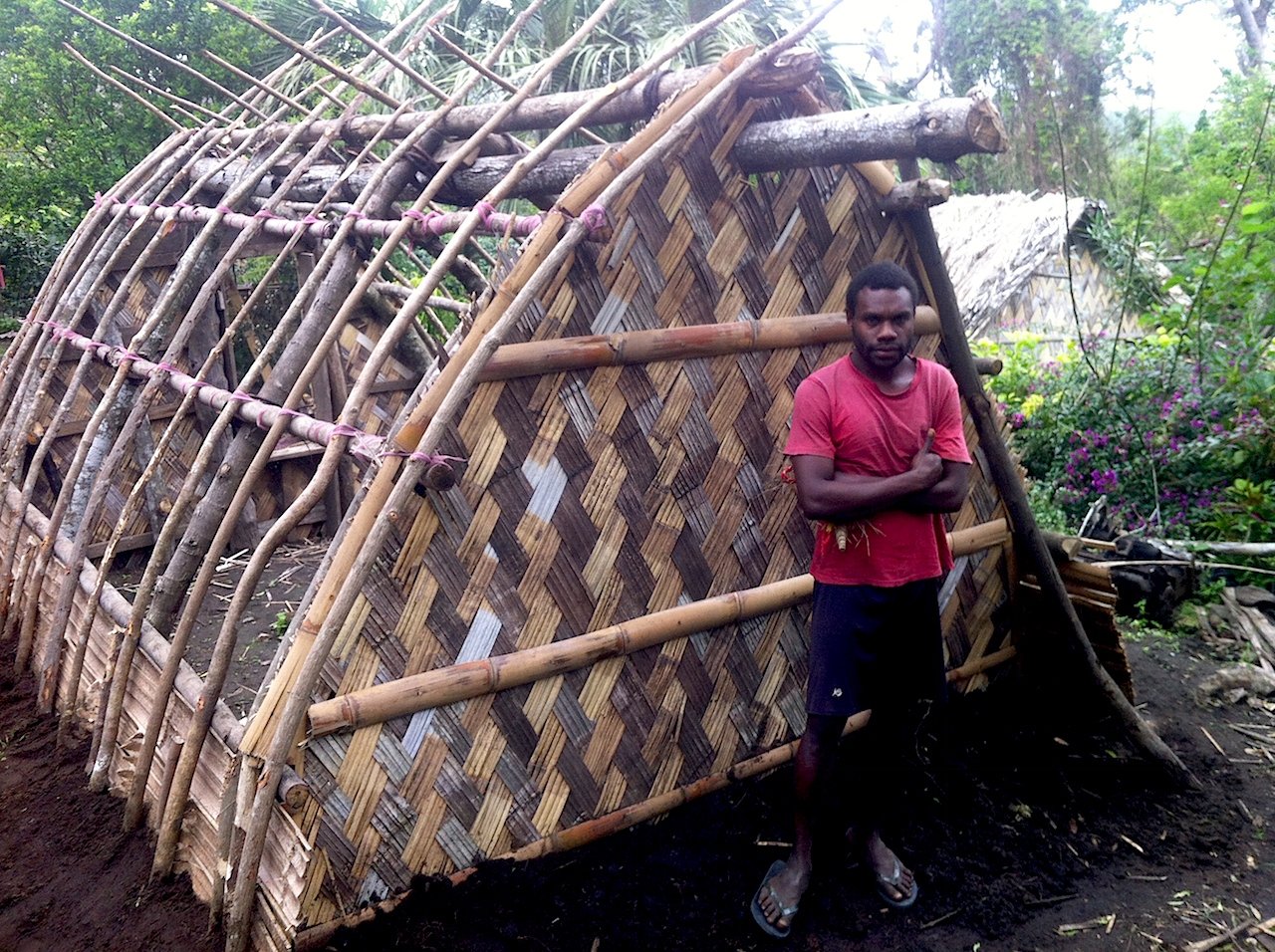 Yams, fruits and mystery birds 
The National Disaster Management Office (NDMO) is also recording observations provided to them from village chiefs that indicate the onset of storms and drought, said Philip Meto, an NDMO provincial liason officer in Vanuatu's capital of Port Vila.
Elders like 102-year-old Danny Edwin from the village of Paiap on Ambrym are reservoirs of ancient knowledge. He told IRIN how generations of indigenous islanders have learned to look for signs of oncoming cyclones. These include trees bearing unusually large amounts of fruit, and a sea-dwelling bird that appears on land only when a cyclone threatens.
"We saw it before Cyclone Pam and notified government institutions responsible for weather disaster management," said Edwin.
Meto confirmed that authorities had been warned by residents who saw the birds fly inland from the sea.
"What is mysterious is that we don't know where they sleep when they make a round from the ocean to the hills," he said. "We see them right before the cyclone and during the cyclone. Once it's over, they just disappear."
Tanna residents have also been noting a sign of oncoming drought in the roots of the island's yams - spots, which indicate the crop has not received enough water.
Meto said residents had approached the government to tell officials about the yam crop and ask for advice on how to prepare for drought.
Blending the old with the new
The government is also implementing modern methods of emergency response, such as setting up eight powerful radio antennae in the southern region of Malecula, which is most vulnerable to cyclones.
"We intend to disseminate preparedness information," Meto said. "And in the event that there is a cyclone, we intend to provide information during disaster on community needs: for example, missing family members."
But authorities here realise the importance of preserving traditional knowledge, as well as using modern technology, to respond to disasters.
Shadrack Welegtabit, director of the NDMO, told IRIN that the government and relief agencies must strike a balance between providing communities with outside assistance and supporting their traditional methods of self-reliance so they do not become overly dependent on outside help.
But Vanuatu could certainly use all the assistance it can get when it comes to emergency preparedness. The World Risk Index ranks it first among 171 countries at risk of experiencing a natural disaster.
jf/ds/ag