A half-finished two-story building in central Gaza City is one of the few places providing support to amputees, most of them civilian victims of the Israel-Palestinian conflict, as they try and come to terms with their injuries.
Ten patients were waiting to see Dr Hazem al-Shawwa, the director of the Artificial Limb and Polio Centre, when IRIN visited. Mostly young, they had been caught in the violence of Israel's 23-day assault on Gaza at the end of 2008 and beginning of 2009, and were still learning to use their new prosthetic limbs.
"We have 250 new amputees following the Israeli war to add to the 5,000 cases we had before the war," said al-Shawwa. "Some of the injured from the Gaza war are still having problems with their amputated limbs as they were not treated properly at the time due to the hectic situation; initial treatments focused on saving lives."
A new upper floor extension to the centre is under construction, reflecting the demand for its services, but a lack of funds has delayed work.
In the centre's ground-floor training room, 15-year-old Jamila al-Habbash took a firm grip on the parallel bars and shuffled forward. She lost both her legs in a missile strike by an unmanned Israeli drone as she played on the roof of her home in eastern Gaza city: her sister and cousin were killed in the blast.
Mohamed Ziada, one of five specialists at the centre, said Jamila was making good progress since her artificial legs were fitted in December, and may soon not need her crutches. He pointed out that treating teenagers was expensive as they quickly outgrow their prosthetics and need numerous re-fittings.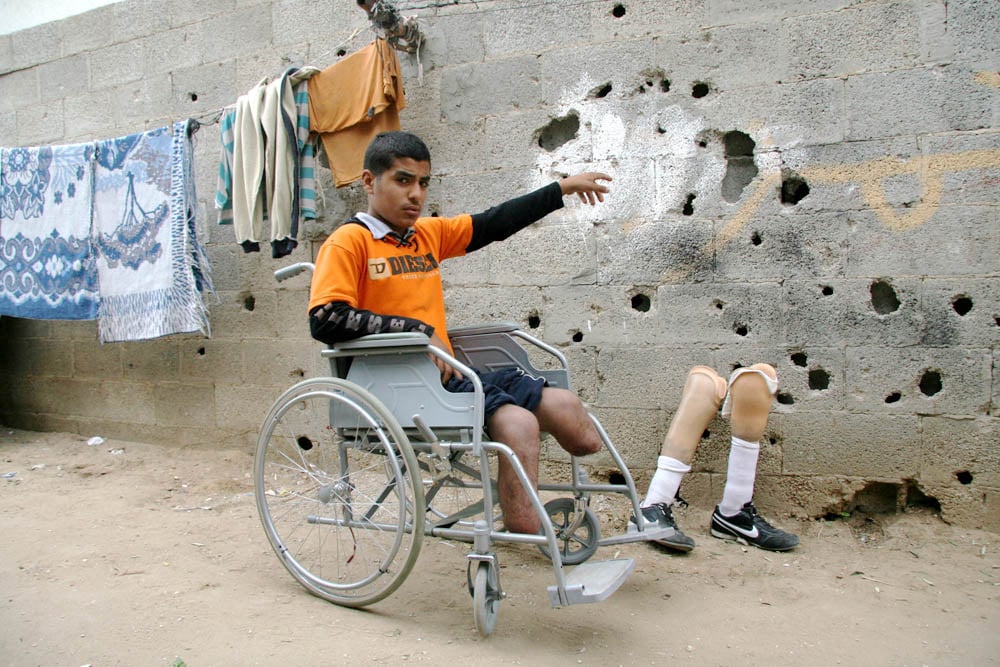 201003101147250041
Photo: Suhair Karam/IRIN
Ghassan Matter, 15, points at holes which the Israeli missiles that hit him on 5 January 2009 made. He lost his legs in the incident and uses artificial limbs now

"Worse than a nightmare"
Fifteen-year-old Ghassan Mattar also lost his legs when an Israeli missile hit his home in eastern Gaza City on 5 January 2009, an
incident documented
by the Palestinian Centre for Human Rights (PCHR). "I still can't believe I've lost my legs. It's worse than a nightmare," he told IRIN.
The only rehabilitation hospital with the capacity to treat amputee patients effectively is the al-Wafaa Rehabilitation Centre in northern Gaza. Ghassan should have been sent there directly but the hospital was hit by artillery fire during Israel's Gaza incursion, and its wards were evacuated, according to PCHR.
Ghassan was able to leave Gaza for Egypt and received six months of treatment at the Palestine Hospital in Cairo. However, back in Gaza he found his artificial legs were giving him problems as they did not fit properly so he visited the artificial limb centre and got a better fitting pair.
A below-the-knee prosthetic costs about US$800 at the centre. An above-the-knee limb is twice as much, and an arm costs $1,200. Although seemingly expensive, Ziada told IRIN it was a fraction of the cost charged in other countries.
Imports interrupted
The problem facing the centre is that a blockade of the Gaza Strip by Israel since June 2007 has interrupted imports of both prosthetic limbs - mainly from Germany - and the raw materials with which to make them.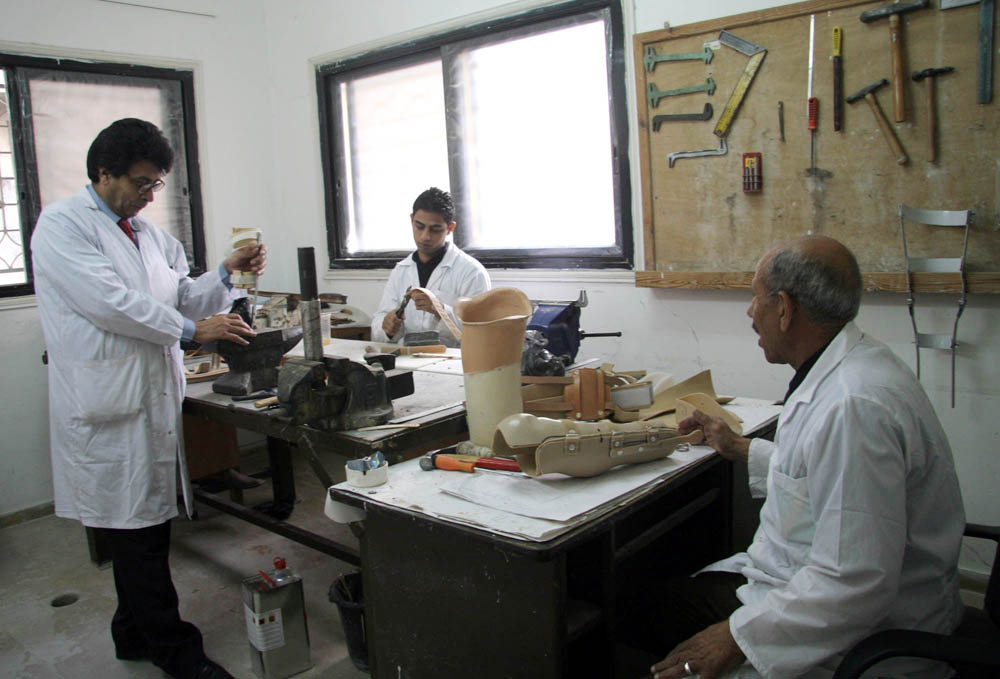 201003101155570807
Photo: Suhair Karam/IRIN
Mohammed Ziada (left), a specialist at the Artificial Limb and Polio Centre, and his colleagues make artificial limbs for amputees
"We use hundreds of different parts, plastics and materials to make prosthetic arms and legs. Without even just one of the materials, the limb cannot be made," said Ziada.
It takes about 30 hours to manufacture a limb when all the parts are available. "The Red Cross helps the centre to mediate between us and the Israelis to let materials cross, which takes about three months," Ziada added.
Prosthetics specialists from other countries who had tried to come and train Gazan doctors had been denied entry into Gaza, according to Ziada. "We need at least another five specialists because of the large number of amputees from the Gaza war."
The centre is assisted by the UN agency for Palestinian refugees (UNRWA) and NGOs Handicap International and Islamic Relief.
Israel says the aim of its 27 December 2008-18 January 2009 incursion was to destroy the military infrastructure of Hamas, the ruling party in Gaza, and to prevent the firing of rockets into Israel. According to the PCHR, 5,303 Palestinians were injured in the conflict.
sk/ed/oa/cb
---
This article was produced by IRIN News while it was part of the United Nations Office for the Coordination of Humanitarian Affairs. Please send queries on copyright or liability to the UN. For more information: https://shop.un.org/rights-permissions