After five years in prison, Prospere Kongo's only desire is to get out alive. "Here it's like, as soon as one guy dies, the next is about to drop dead," the illiterate taxi driver said. Prospere said he was caught with two accomplices when they tried to rob a Lebanese trader at gunpoint. The three men were jailed in Dimbokro, a small town in central Cote d'Ivoire. But Prospere's mates are already dead. "They contracted some kind of skin infection and died," he said. Cote d'Ivoire officially abolished the death penalty five years ago, but in most of the country's 33 jails, and especially for the weakest or poorest of the prison population, a lengthy detention can amount to a death sentence. Like many prisons in Cote d'Ivoire, the House of Detention and Correction of Dimbokro, 200 km north of the main city Abidjan, was built at the time of the West African nation's independence from France in 1960. Since then, no noticeable changes have been made to adjust to modern times, to ageing or to a rapidly expanding prison population. The Dimbokro prison hosts over 300 prisoners living exposed to relentless tropical heat in five concrete courtyards each sealed with a padlocked steel door. Nights are spent in steamy tin-roofed dormitories. Rudimentary living conditions, overpopulation and lack of state funding for penitentiary institutions are to blame for the extreme hardship of prison life in a country that stigmatises and neglects prisoners to the point that even the authorities in charge seem to prefer to forget about them. As the rich often can bribe their way out of a sentence, or at least make sure their stay will be short and relatively comfortable, it is usually the poor and destitute who end up behind bars - often serving years in custody before being tried, said Abdoulaye Keita of Save the Prisoners, a local non-governmental organisation that tries to bring attention to the fate of prisoners. "Most Ivorians don't see why they should care about convicts," Keita said. "They are considered bad people, human garbage who don't deserve the money that is being spent on them." The tall and lanky Prospere shares one shower and three toilets with 94 other men. At night, he stretches out on a mat on the cement floor, in a mouldy unlit dormitory where men sleep crammed together like sardines. Every afternoon, he is handed a cup of watery maize porridge. The women live separated from the men, and cook their own food with wedges of okra and dried banana peels. Contact with the outside world is limited to chatting with the guards or with visiting family members. There are no TVs or mobile phones, there is nothing to read or to do, there is not even enough soap to go around. "Most of all we would love to have a football, but we also need sleeping mats, bleach, soap, and a broom or a brush," the 'president' of one of the courtyards told IRIN, standing in a semi-circle of half-naked and barefoot prisoners.
Skin sores that smell bad
The prison of Dimbokro is not a dirty, squalid or disorderly place - on the contrary, prisoners respect a strict hierarchy they have set up amongst themselves and they try to keep their living quarters as clean as possible to stop diseases from spreading. However, the ringleader asked a thin man to step forward and show his back, on which blackened patches of skin spots stood out. The man then showed open sores on his bloated feet. "His sores smell really bad," the leader said. "He sleeps with us in the dormitory, but we have asked that he be moved to the sick cell." In the sick cell, some 70 men stood huddled together, many of them horribly emaciated, some of them with a skin disease that prison nurse Parfait Gouanou said was herpes. "Last year we had 25 cases of tuberculosis, and since January we have detected two," said Gouanou, the only person on duty to diagnose the sick. "I can treat things like malaria and diarrhoea, but I don't have medication for herpes and other skin diseases because there is no budget for that." Asked when was the last time a prisoner died, he looked at the calendar on his desk, thought for a while, and pointed to 30 April. Every week, prisoners in Cote d'Ivoire die from diarrhoea, malnutrition, tuberculosis and HIV/AIDS, according to Keita of Save the Prisoners, which has helped introduce a free testing programme for tuberculosis in Dimbokro jail. "The Ministry of Justice is responsible for prisoners, but in most countries the Ministry of Health puts medical staff in place to oversee health conditions," Keita said. "The problem is that our government does not work properly because of the crisis, and these ministries do not cooperate, so prisoners' health is completely neglected. They are like human garbage, anyway - nobody cares about them." Cote d'Ivoire has been split into a government-run south and a rebel-held north since insurgent army officers tried to destitute President Laurent Gbagbo in a failed coup in September 2002. Power struggles, political infighting and widespread corruption have marred the efficiency of the government of national reconciliation that was appointed in March 2003. "Prisons have no HIV/AIDS policy," Keita added. "If sex is an issue, it is really hard to discuss it with prisoners. They are so poor they usually share razor blades."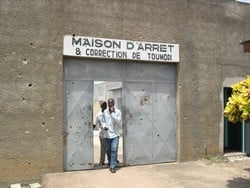 20055173
Toumodi prison
Even children are held without trial
In nearby Toumodi, a town on the main road to the official capital Yamoussoukro, convicts pass their days in similar misery. Toumodi prison manager Joseph Akre told IRIN that he had to make do with a yearly budget of 15 million CFA (US $29,000) to feed over 200 prisoners, buy medication and pay the guards. "I give them rice, manioc and a bit of maize," he said. "On special days, like Christmas, they get meat and tomato paste. That's all I can do for them." He opened a cupboard in the back of his office and pointed to stacks of little white boxes. "See, at least we have medicine to treat malaria." Suddenly, he pulled a face. "Hmm, it smells funny, there must be a dead mouse somewhere." When a person needs acute medical help the prison nurse cannot administer, Akre sends for a taxi in town to have the patient transferred to a local clinic. "Unfortunately, the taxi does not always make it in time," he said bluntly. The nurse is not a health worker, but a convicted chemist. He was taught the basics of medicine by a Spanish nun who came to Cote d'Ivoire and built roofing in several courtyards of Toumodi prison and a library for the dozen or so minors being held, most of whom are street children. During a short guided tour, it became clear that many detainees were being held without trial, in extended provisional custody. A female street vendor of unlabeled medicine had been in custody for 2 years; a 12-year-old boy was thrown in prison a year ago for smoking cannabis and had never seen his parents or a lawyer since; a Congolese man who claimed to be innocent said he had been held for murder since September 2002 without ever passing before a judge. But misery breeds solidarity, a group of prisoners whispered when one of the guards briefly stepped aside. Despite their own harrowing stories, they asked emphatically for help in the case of Ibrahim Diallo, a thin and shy Guinean charcoal vendor who was detained 18 months ago after a street fight. "He does not speak French, he is lonely and he cannot contact his wife in Guinea," said Frank Kamada, the Congolese man. "He needs help because he is losing hope, and when somebody gets depressed here, he is sliding towards death."
---
This article was produced by IRIN News while it was part of the United Nations Office for the Coordination of Humanitarian Affairs. Please send queries on copyright or liability to the UN. For more information: https://shop.un.org/rights-permissions