A warehouse in Vanuatu's capital, Port Vila, holds 10 huge shipping containers filled to the brim with discarded goods and rotting food. This is what's left of the massive piles of donations sent to the South Pacific nation in the aftermath of the most powerful storm to strike the remote island group, nearly three years ago.
In total, Vanuatu received donations that filled 77 large containers after Cyclone Pam ripped through the country in March 2015. Heartfelt offerings perhaps, but unfortunately much of it was unusable.
Anthony Baddley Tarry, who manages border operations for Vanuatu's government, remembers opening containers to find stacks of rice, flour, milk, canned goods. Half the food had already expired.
"They're trying to get rid of their stuff so they just pack them in containers and send them away to Vanuatu," Tarry said. "Most of this has been disposed of now. But it's a waste of all this assistance coming in."
It's also time-consuming and costly: these unsolicited donations can clog distribution channels and eat up valuable time when local responders are rushing to help people uprooted by a disaster.
Aid groups say donating cash is faster and more flexible, letting local authorities and disaster responders decide what's actually needed on the ground while pumping money into the economy at a critical time.
It's a message the aid sector in the Pacific Islands is trying to reinforce this year during the region's ongoing cyclone season. The season's first big storm tore through parts of Samoa, Tonga, and Fiji this week. Cyclone Gita made a direct strike on Tonga's main island, Tongatapu, home to more than 70 percent of the country's population. Authorities there are still tallying the damage, meaning that disaster responders need time to figure out what is needed – and what is not.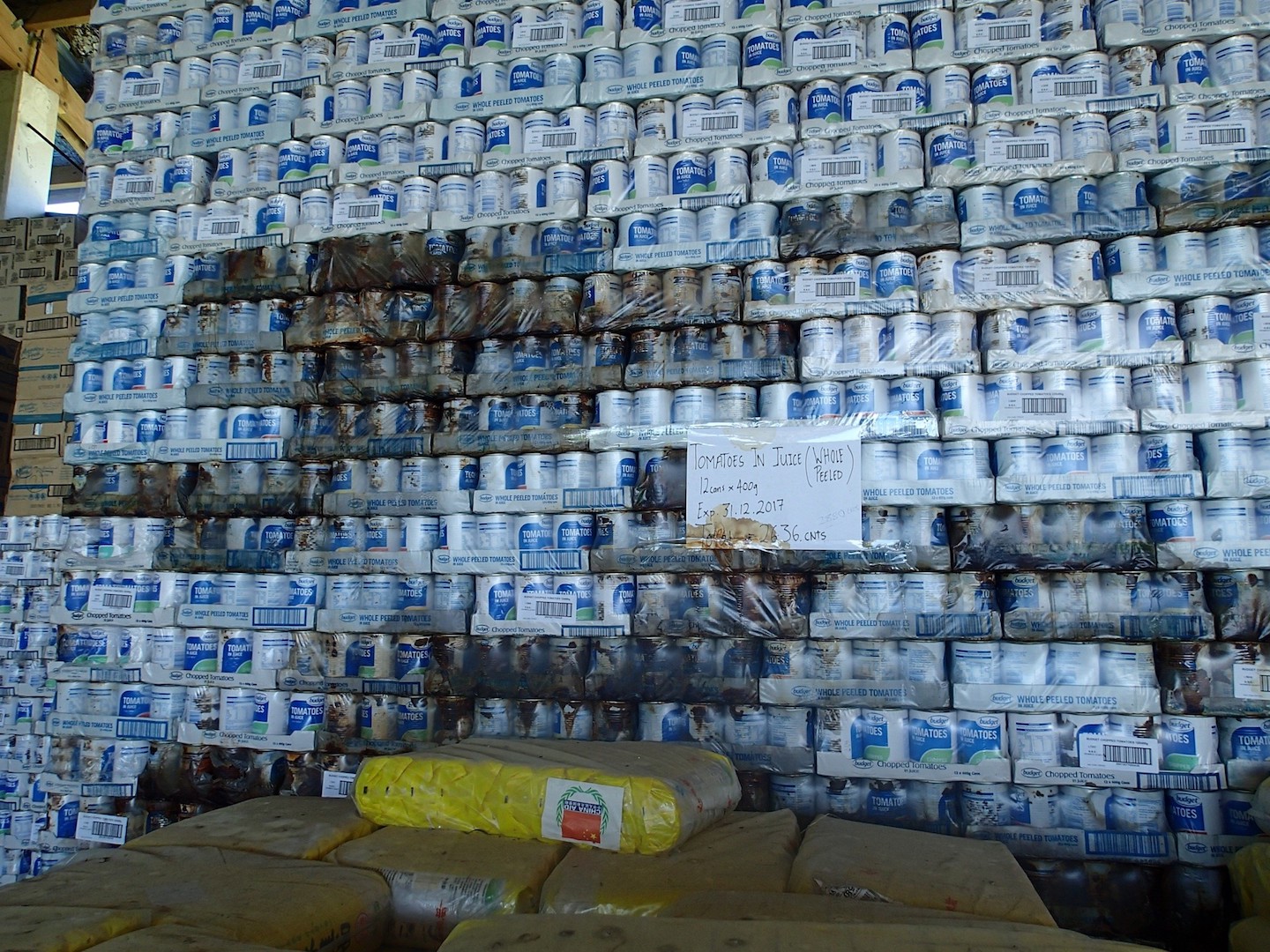 Good intentions
The problem of unsolicited donations often flies under the radar, but it's a crucial issue for disaster responders throughout the globe.
Florent Chané, the logistics coordinator for the World Food Programme based in Suva, Fiji, understands the urge to help when disasters strike.
"It's just human nature," Chané told IRIN. "You see people who are in need, so you do everything you can to help."
Chané has seen all manner of unusable donations sent in the wake of disasters. Sometimes, they border on the ridiculous: crates of high-heeled shoes, ski equipment, or heavy woollen blankets sent to subtropical countries.
But even seemingly usable items can cause problems. 
Unsolicited donations arrive unannounced, often with zero paperwork, meaning no one is expecting the shipment and no one is there to claim responsibility. Local authorities have to manually sort, classify, and repackage usable aid items, while disposing of the rest. After Cyclone Winston hit Fiji in 2016, workers there spent thousands of hours sifting through more than 130 shipping containers, according to a 2017 Australian Red Cross report.
"When you don't have enough warehouses for what is needed, and you fill the warehouses to receive all the things that are not needed, not requested, or expired or damaged, you just make the response more complicated," Chané said.
Instead, aid groups are urging the public to donate cash to their chosen charities. Giving money, they say, lets disaster responders assess the damage and spend it quickly where it's actually needed.
Sending cash is also far more efficient. Chané says the price of shipping three litres of water to Fiji from Australia, for example, would equal the cost of sourcing 9,100 litres of water on the ground – enough to meet the daily needs of 600 people.
Cash is best, but trust is key
This cyclone season, humanitarian groups across the Pacific Islands have launched a region-wide campaign to get the message out. But they face an uphill battle.
In the United States, aid authorities have been running a nearly three-decade publicity campaign to address the issue. After Hurricane Gilbert struck the Caribbean and the Gulf of Mexico in 1988, a surge in unrequested donations forced local responders to sort through clothing, expired medicine, and other non-essential goods. It was a big enough problem that USAID, the country's international aid agency, created a separate body focused almost entirely on "donations education".
In recent years, the body, called the Center for International Disaster Information or CIDI, has emphasised working with diaspora communities who may feel an added urgency to help their relatives abroad when disasters strike.
Related stories:

Aid reform in the Pacific held up by power, purse strings, and trust

Small island states call for action at climate change summit
But it's also a matter of trust: some donors insist on sending goods because they don't trust aid groups or governments to spend their money wisely.
"Communicating a 'money not goods' message during the response is not sufficient," the Australian Red Cross report notes. "The problem is not awareness, but trust."
This distrust festers when there are controversies over mismanagement of funds in the aid industry.
Chané says the sector as a whole has to address these problems, but also take steps to show how aid funds are actually spent. 
"All these agencies publish financial reports every year. There's a way of tracking how the money is used," he said. "We have to take the time to explain that, and to invite the diaspora and the communities to see how the money is going to be used."
For now, people like Tarry, the border operations official in Vanuatu, will still have to deal with the extra workload created by donations from previous disasters.
A few weeks ago, Tarry cranked open one of the 12-metre containers left over after Cyclone Pam. He saw a mountain of donated toiletries and some long-expired milk. More than half the contents, he said, would likely be destroyed.
Cyclone Gita had been projected to graze Vanuatu's southern islands this week but eventually veered further south. However, given the frequency of tropical cyclones in the South Pacific, it probably won't be too long before disaster does strike again. Tarry has a simple message for would-be donors: "There's no use sending things that have not been confirmed as needed."
(TOP PHOTO: Cyclone Gita slammed into Tonga on 12 February, striking the country's main island. Early assessments estimated that more than 4,000 homes on the island may be damaged. Jeff Schamltz/NASA)
il/ag