Every Friday, IRIN's team of specialist editors offers a round-up of humanitarian trends and developments from around the globe.
On our radar:
Syria's new crisis
Last week, IRIN's Ben Parker reported on the UN's worst-case scenario for a government offensive in southwest Syria: 200,000 people displaced with nowhere to go. As it turns out, the worst has already happened, and then some. The UN now reports that 285,000-320,000 people have fled their homes since 17 June (the day after the assault on rebel-held areas began), and other aid agencies put the number even higher. Many have run towards the border with Jordan, a country that says it can take no more refugees, where at least 15 people have reportedly died from scorpion bites, dehydration, and waterborne diseases. Others have sought safety closer to the Israel-occupied Golan Heights, another closed border, where the UN estimates as many as 70 percent of new arrivals are without shelter. With temperatures rising and fighting edging closer to Jordan, this is a humanitarian disaster in the making.
Landmines and a Bosnian bottleneck
Until this year, the local Red Cross society hadn't seen a need to appeal for extra support for migrants using Bosnia and Herzegovina as a route into the EU. Unlike Serbia, Macedonia, Croatia, Hungary, and elsewhere, there simply weren't enough people to really worry about. Suddenly, it's become a major problem. More than 5,000 people have entered during the first five months of this year – almost half in May alone (the UN recorded only 22 in May 2017) . Numbers continue to climb: authorities expect 100 new migrants each day, the majority from Pakistan, Syria, and Afghanistan. But while most new arrivals intend to push further into Europe, aid groups say migrants are finding it difficult to cross into Croatia. This means many are becoming stuck in Bosnia and Herzegovina, where they'll need food, water, and shelter. Adding to the worry is the fact that parts of Una-Sana Canton, the border area where most migrants are now bottlenecked, are still riddled with landmines from the 1990s civil war. "Even the local population is not familiar with the locations of the minefields," notes the Red Cross, which is launching an assistance operation.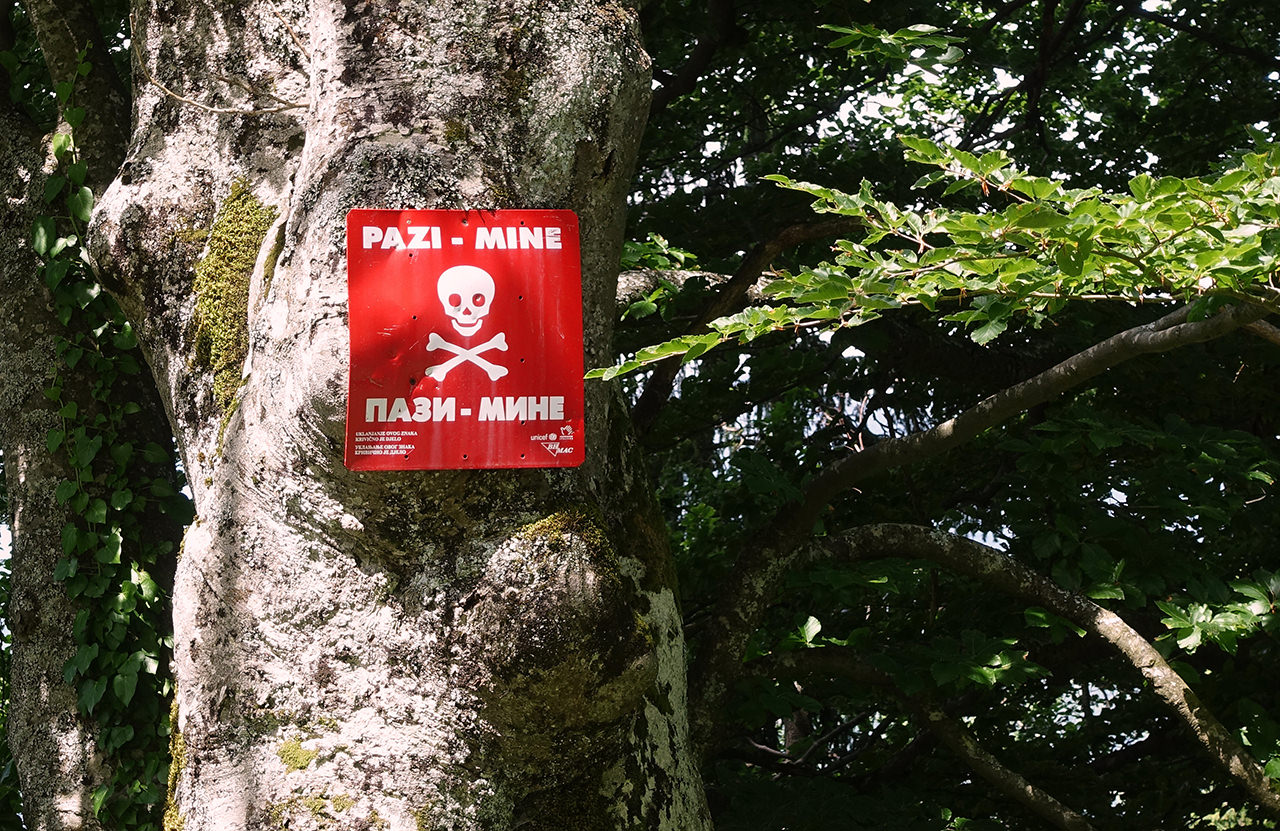 Lives in limbo on Manus
The UN's refugee agency is warning of the deteriorating mental health of refugees and asylum seekers forced onto Manus Island in Papua New Guinea as part of Australia's controversial offshore detention policies. A UNHCR monitoring visit in June examined conditions in three facilities where an estimated 580 people barred from entering Australia are still living. "Separation from family members and a deep-seated fear of being abandoned in Papua New Guinea by Australia without adequate support has contributed to an acute sense of insecurity and helplessness," UNHCR staff said in a report issued this week. UNHCR also found confusion among authorities as to who was responsible for services like mental health monitoring, and an "urgent need" for mental healthcare – a point underscored by the recent death of a Rohingya man who fellow refugees and rights groups say had a history of mental illness. In 2013, Australia instituted hardline policies that forced all asylum seekers arriving by boat to be detained on Manus Island or on the Pacific nation of Nauru. It also refuses to allow asylum seekers arriving by boat to resettle in Australia, even if their refugee claims are approved – which is the case for the majority of the more than 3,000 people forced into offshore detention since 2013. A cautionary tale perhaps for the EU? It is certainly looking to outsource and offshore its migration policies and, as our "Destination Europe" series highlights, not always with good effect.
When the cure becomes the killer
While global attention was focused on an outbreak of Ebola, 29 children in the Democratic Republic of Congo were being paralysed by a variant of the polio virus that had been circulating undetected for two years. A June case on the Ugandan border, well outside the outbreak zone, has heightened "fears that the virus will sweep across Africa," according to the journal Science. But hang on, hasn't polio been eradicated? Well, the wild polio virus has been virtually wiped out globally thanks to vaccination campaigns, but in rare instances the form used in vaccines mutates over time to become neurovirulent – meaning it can harm the nervous system. Such vaccine-derived polioviruses "have emerged as the greatest threat to polio eradication," Science warned, noting they now paralyse more people than the wild version. Weirdly, outbreaks of the serotype that's crippling children in Congo can only be stopped with the same vaccine that caused them in the first place. Congo's dilapidated health and surveillance infrastructure poses huge hurdles and increases the risk of the outbreak spreading internationally. Last month, health authorities also confirmed a new vaccine-derived polio outbreak in Morobe Province in Papua New Guinea. The country had been declared free of polio in 2000. 
Our weekend read:
"The conflict must end": Fighting threatens to drive up hunger in South Sudan's lean season
"Dire" is the UN's assessment of South Sudan's food security situation. Some 7.1 million people, more than half the population of the world's newest country, would go hungry without food aid. This time of year, the "lean season", is worse than most because food stocks from the last harvest have run out, and the next harvest is still a long way off. It is also the rainy season, so aid workers find it especially hard to reach those in need with life-saving assistance. A civil war, now in its fifth year, is the main driver of hunger because it has forced millions of people to leave their homes, fields, and jobs. President Salva Kiir and rebel leader Riek Machar signed a ceasefire last week, but it has since been repeatedly violated with each side blaming the other. Regular IRIN contributor Stefanie Glinski visited badly affected Pibor county to see the effects of acute malnutrition and chronic food insecurity for herself. The simple but telling conclusion from her depressing but important feature: unless the war ends, there is little hope of improving access to food and people will starve.
One to listen to:
Reed Brody's secret for success sounds like a pretty good recipe for IRIN too: "turning victims stories into a narrative the world can't ignore." Brody, a 64-year-old attorney from New York, could become ex-Gambian dictator's Yahya Jammeh's worst nightmare. The veteran Human Rights Watch lawyer specialises in hunting down exiled dictators and bringing them to justice. As Colin Freeman notes in this BBC podcast, things aren't quite so cushy nowadays as they were for the African dictators of old: he recalls Idi Amin entertaining the crowds with his accordion-playing at his resident Novotel in Saudi Arabia and ex-president Mengistu of Ethiopia hanging out as a regular in a Harare bar. But, a reminder, if needed, of the tenuous grasp of international justice, came last month with the overturning on appeal of the 18-year sentence of former Congolese Vice President Jean-Pierre Bemba for the atrocities committed in the Central African Republic by his militia. So what chance does Brody have of putting Jammeh in the dock to answer for those allegedly jailed and tortured during his brutal 22 years in power in The Gambia? Well, it won't be easy. As per the deal that saw him step aside in January 2017, he is now holed up in Equatorial Guinea, which never signed the statutes of the International Criminal Court. But Brody takes the long view. People said Chadian dictator Hissène Habré would never face justice. It may have taken relentless pressure from Brody and victims over 17 years but prosecute him they did, and in 2016 he was jailed for life in Senegal. The 76-year-old strongman president of Equatorial Guinea, Teodoro Obiang Nguema, is now the continent's longest-serving leader and no mug. But Brody believes there may come a time when Jammeh is the right card for him to play. "If we make enough noise, the international community will eventually pressure Obiang to hand Jammeh over," he says.
And what of life now in The Gambia. Well, it's not perfect. There's a legacy, thanks to Jammeh, of authoritarianism and weak public institutions. But at least under Adama Barrow people are free to express their grievances, and do so without fear of beating, arrest, torture, or worse. This turnaround in the country's democratic fortunes has also had an effect on an exodus that made Gambians Europe's second-largest diaspora (per capita). But as reporter Louise Hunt and photographer Jason Florio found for a story IRIN will publish soon, a group of young migrant returnees is trying to counter the "take the back way out" narrative that has fuelled emigration for a generation. Touring the country, explaining the horrific experiences in Libya, they are urging communities to support young people more and encourage them to stay home and build a new and better Gambia. Nice to see IRIN reporting on something positive for a change. Exactly!
(TOP PHOTO: Banner from 2006 presidential campaign of ex-Gambian dictator Yahya Jammeh. CREDIT: Tommy Miles/Flickr)
as/il/am/ag