Rising prices, government mismanagement, dietary habits, and an over-reliance on imported food staples and fertiliser have left half of Peruvians struggling to feed themselves, the Food and Agriculture Organization has warned. 
A recent report by the UN agency put the Andean country in top position in South America in terms of food insecurity, at levels never seen before.
Peru has been left reeling from the COVID-19 pandemic. It suffered the world's highest mortality rate – more than 0.65 percent of its population has died from the virus – while lockdowns drove up unemployment. The poverty rate in 2021 stood at 25.9 percent. Pre-pandemic, it was 20 percent, according to Peru's national statistics institute. 
Now, the Andean nation – classed by the World Bank as an upper middle-income country – is facing the double shock of a post-pandemic downturn and imported inflation, driven by the war in Ukraine. Staples like wheat, rice, and cooking oil have more than doubled in price, while imported chemical fertilisers cost up to four times what they did a year ago. 
As a result, a growing number of Peruvians are resorting to soup kitchens, known as ollas comunes. In June 2022, the Ministry of Development and Social Inclusion passed a decree recognising them as social organisations and guaranteeing their financing, underlining the critical role they now play in feeding the population.   
The number of soup kitchens registered with Lima's municipal government has risen sixfold in the last two years – from 377 at the outset of the pandemic in July 2020 to more than 2,500 today.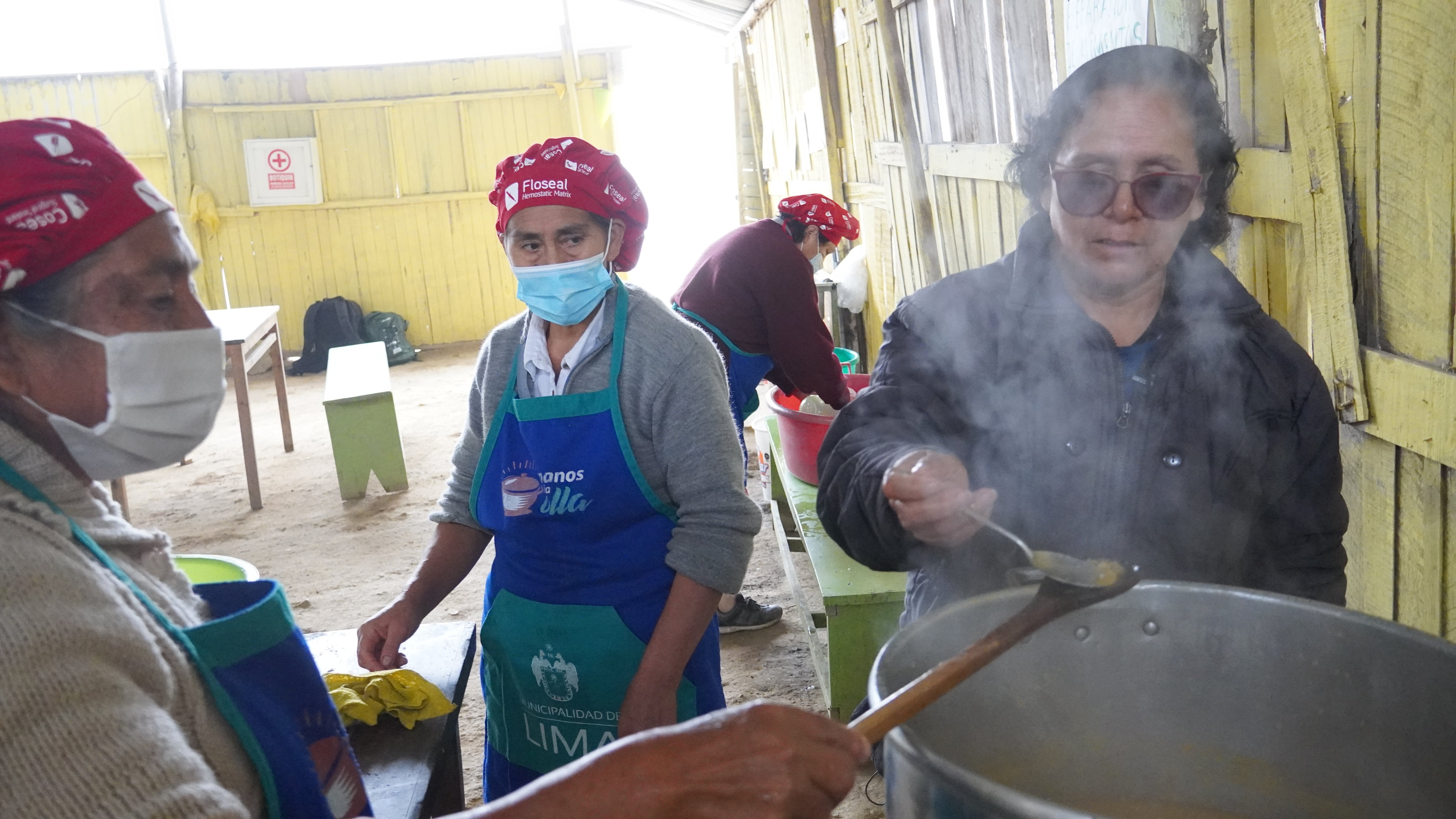 While some received local government assistance, many began with no support, like La Granja in Alto Retamal – a dusty, fog-shrouded hillside in Villa María del Triunfo, one of the capital's main shantytowns.
"This began due to the economic factor in the pandemic," recalled Pablo Condori, 69, its organiser. "Everything was shut. There were no shops. So we collected food between ourselves.
"It was only supposed to be for a while, but [the pandemic ended and] we realised that we still needed it," he told The New Humanitarian. 
The sea fog had not lifted by lunchtime on an August afternoon when locals arrived at the wooden shack for a hot dish of stewed wheat and rice served with salad and a drink made from fresh apples.
Price hikes of food and cooking gas have tripled the cost of a meal. At the start of the pandemic, it was just one Peruvian sol ($0.26). Now, it's three soles ($0.78).
Meat or fish are only served a couple of times a week, said Jessyca Laguna, 67, another La Granja organiser.
"Everything is so much more expensive," said Laguna, stirring a pot of steaming rice. "A sack of rice that used to cost $20 to $25 now costs $43 to $45 depending on the brand and quality. Potato prices have gone up too," she added. The kitchen workers, including Laguna, are all women in their 60s, unable to find other work and looking to help neighbours with health problems – among them a former builder who suffered a stroke. 
"There are many health and financial needs here, so we carry on with this soup kitchen," said Laguna. 
Reliance on imports, and bad dietary habits
Peru is where the potato was first cultivated, after being domesticated some 7,000 years ago on the shores of Lake Titicaca. The country's rich biodiversity and culture have given it world-renowned gastronomy and turned its coastal capital, Lima, into a fine dining hub. 
It faces huge challenges now. While it's a top exporter of cranberries, peppers, grapes, and asparagus, it's also a net importer of wheat, soy, fertiliser, and energy, making it particularly vulnerable to global inflation and the economic fallout of the Russian invasion of Ukraine.
In August, the annual inflation rate in Peru stood at 8.41 percent, on a par with the soaring regional average. The FAO says more than half of Peru's 33.4 million population are now food insecure – meaning "​​they lack regular access to enough safe and nutritious food for normal growth and development and an active and healthy life". This compares to less than a quarter before the pandemic.   
The UN agency also warned of rising malnutrition and other issues such as anaemia and obesity, as more than half of the country can't afford a healthy diet, which on average costs $3.28 per person per day – beyond the reach of many households.
"The day they do not work is the day they do not eat."
"We have all the elements for a perfect storm," Enrique Román, FAO's assistant representative in Peru, told The New Humanitarian, listing climate change and the economic shocks caused by the pandemic and the Russian invasion of Ukraine as the main drivers.
Román said Peru also had two particular vulnerabilities: extremely high informal employment – more than 70 percent of the workforce have no job stability or social security; and high transport costs across the Andes and the Amazon rainforest to bring produce to market.    
"For many street vendors," he said, "the day they do not work is the day they do not eat."
Despite being a food producer, Peru is also overly reliant on imported staples, Román explained. For example, chickens – the main source of protein for Peruvians – are mostly fed with imported yellow maize.
As a result, the price of chicken has doubled. At the market in Mala, an agricultural town about 80 kilometres south of Lima, Lucia Rivas, 36, said trade is even worse now than during the pandemic and she is struggling to support her two children. She used to do a roaring trade in chickens, earning about 25 cents a kilo. Now, she barely makes a profit of $10 a day.  
"We need to re-educate people how to eat."
"Before, I sold between 40 or 50 chickens a day, up to 60, and now I'm selling between 20 and 30. You can do the maths!", she said.
The FAO has warned that the situation leaves no alternative for many Peruvians but to consume more ultra-processed foods. These are cheaper but they're also higher in sugar, salt, and saturated fats that are harmful to health.
"Dietary habits are very difficult to change," said Román. "We need to re-educate [people] how to eat, so people choose nutritious foods over ultra-processed foods. The private sector and policymakers can help so that nutritious foods can be the cheapest, not the most expensive, as they are currently in Peru."
In a July 2022 report, the World Food Programme estimated that even before the pandemic, in 2019, the consequences of malnutrition were costing the country $10.5 billion, equivalent to 4.6 percent of GDP. These costs were associated with healthcare, poor school performance, and low productivity – about two thirds ($6.56 billion) were attributable to infant malnutrition and one third ($3.89 billion) to the health impacts of excess weight and obesity.  
Thinking outside the box
"A healthy diet is unaffordable for many people," Sarah Laughton, Peru's WFP representative, told The New Humanitarian. "The problem is prices, not availability."
Laughton urged policymakers to organise the country's emergency response system to cover not just natural disasters – Peru is the earthquake and flood-prone – but also problems of food distribution and direct health assistance.
"Peru has room for more social protection," Laughton said. "There's a need to institutionalise policy approaches to hunger and be systematic."
The national food supply problem isn't going away as the spiralling cost of imported fertilisers – mainly from Russia – is likely to impact food production next year.  
"Due to the price rises, people are planting just a third of the crop," Segundo Cruz, 64, a small-scale farmer in Mala, told The New Humanitarian. "It won't be enough to supply the markets, and the [food] prices will go up even more."
"There's a need to institutionalise policy approaches to hunger and be systematic."
The government has subsidised seabird excrement, guano de las islas, to fill the shortfall for Peru's 2.4 million small- and medium-scale farmers, around half of whom used imported urea and other fertilisers, according to an agriculture ministry survey earlier this year.
But there's not enough organic guano, sold at 50 soles ($12.6) for a 50-kilo sack, to meet the demand. After three failed international tenders to buy urea over the last year, the handling of the shortage by the government of President Pedro Castillo has been widely criticised, particularly as the second bid revealed irregularities, leading to the dismissal of nine officials and the director of the agency in charge of tenders. 
Prices for a 50-kilo sack of urea have tripled from around $20 to $65, as imports into Peru have fallen by 58 percent compared to the average of the last seven years, figures from the agriculture ministry showed.
Eduardo Zegarra, an economist specialising in rural development, said the shortage and sky-high price of fertiliser could reduce yields by 30 to 40 percent. The problem of Peru's overreliance on imported grain and fuel predates the current administration, with successive governments having neglected domestic food production at the expense of agri-exports, he added.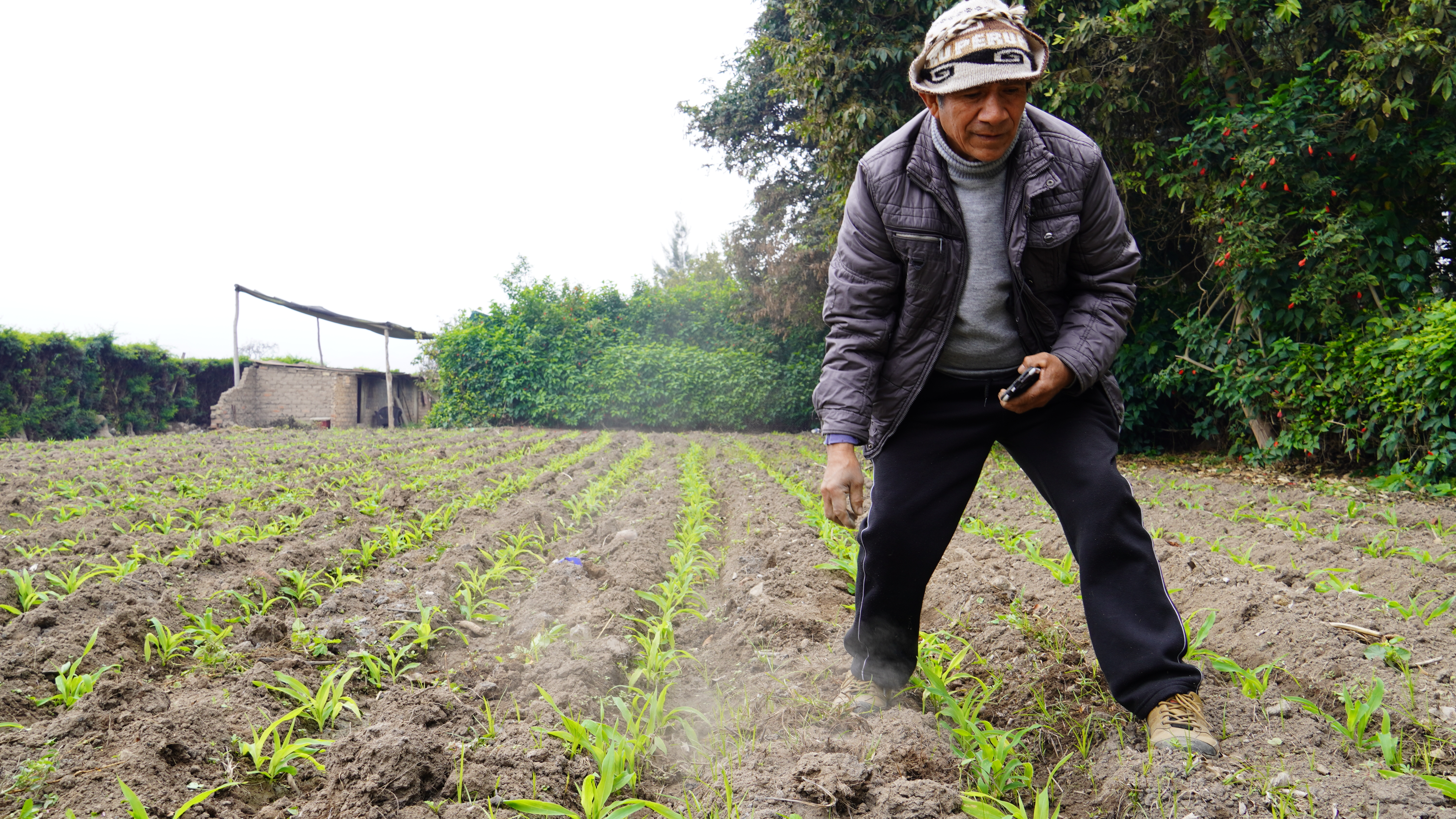 Climate change is throwing further uncertainty into the mix. Peru is home to 70 percent of the world's tropical glaciers, but they are melting rapidly, with serious, long-term consequences for food production as well as driving up the risks of deadly flood disasters.
In addition, land use and forestry is the main source of climate-warming greenhouse gas emissions in Peru. The government has been unable to reverse the Andean nation's high rates of deforestation, for which small-scale agriculture, commercial plantations, and illegal mining have all been blamed, and which accelerated during the pandemic.
It doesn't help that Castillo, the country's first president from a working class rural background, is battling corruption allegations amid political turmoil. Hunger, meanwhile, is stalking not only those in the rural areas but increasingly the urban poor.   
"Prices will continue to be high," said Laughton. "We have a problem today and a problem for tomorrow."
Edited by Paula Dupraz-Dobias.