The secessionist crisis in Cameroon's western region is deepening, with the government promising to crack down hard after anglophone militants shot dead four soldiers and two policemen last week.
The soldiers were killed in an ambush on a military convoy outside the town of Mamfe on 29 November in Cameroon's anglophone South West Region. The policemen were killed the following night in the nearby town of Eyoumojock.
The secessionist Ambazonia Defense Forces, the armed wing of the Ambazonia Governing Council, claimed responsibility for the attacks.
Ambazonia is the name anglophone separatists have given to the homeland they hope to carve out of western Cameroon in this majority French-speaking country.
The shootings bring to 10 the number of security forces killed since last month.
Promising action, Defence Minister Joseph Beti Assomo said on Saturday that "measures will be taken immediately" to "eradicate this inconvenient situation", without elaborating further.
State radio was blunter. "[President] Paul Biya has declared war on these terrorists who seek secession," it announced.
Widening war
There are now fears of the start of a far more serious conflict that could drive a surge of additional refugees into neigbouring Nigeria, where Cameroon's government says some of the militants are sheltering.
What began last year with civil society-led demonstrations over the alleged marginalisation of the regions of North West and South West Cameroon now risks spinning out of control.
The initial demand was for a return to a pre-1971 federal system of government and greater autonomy for the anglophone region. But a heavy-handed response by the security forces has generated support for what was initially a fringe secessionist movement.
Over the past year security forces have shot dead several civilian demonstrators and carried out mass arrests.
In a major confrontation on 1 October, at least 17 people were killed and 50 wounded as the blue and white flag of the self-styled Republic of Ambazonia was hoisted in towns across the North West and South West regions to mark a symbolic break from Cameroon.
Anglophone parliamentarians have tried to raise the issue of human rights violations and the region's underlying concerns of underdevelopment.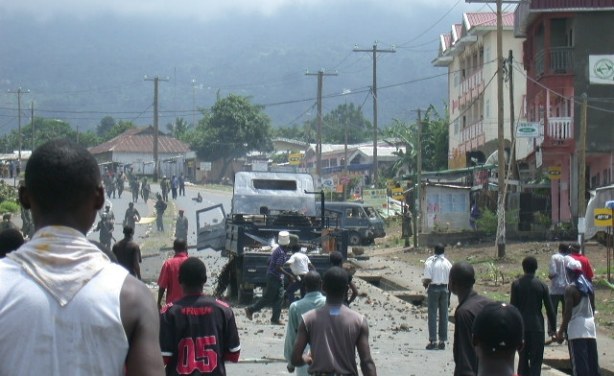 In chaotic scenes in parliament on 23 November, the main opposition party threatened to halt further business in the house until the 'anglophone crisis' was tabled for debate, amid chants of "How many people Paul Biya will kill?"
There have been widespread calls for dialogue, to which the United Nations has added its voice. But there appears little appetite for talks on either side.
"How can we maintain dialogue with an interlocutor whose only ideology is the partition of a state that is legitimate and recognized as such by all international bodies?" Cameroon's communications minister Issa Tchiroma said last week.
The government had earlier sent emissaries from the ruling CPDM party who hail from the English-speaking regions to try and broker talks, but they received a hostile reception.
Militancy is running high in what activists refer to as "Southern Cameroon", a historical nod to the territory administered by the British after World War I, which voted to unify with French-speaking Cameroon in 1961.
A civil disobedience campaign includes a weekly "ghost town" shutdown of all businesses, which at times has been violently enforced. Schools have also been ordered closed, and those that do open risk being firebombed.
Patience tested
But the opposition is split over the use of armed violence. The hard-line leader of the Ambazonia Defence Forces, Lucas Cho Ayaba, argues that resorting to insurgency is a legitimate response to the abuses committed by the Cameroonian security forces.
"They have shot and killed hundreds of unarmed civilians on the streets and in their homes, maimed hundreds, raped ladies on university campuses, buried some in mass graves, and abducted thousands," Ayaba told IRIN by telephone from his home in the United Kingdom.
Abaya's figures could not be independently confirmed.
"We must defend ourselves pre-emptively and reactively," said Ayaba, who also heads the Ambazonia Governing Council. It will be "block-by-block, neighbourhood-by-neighbourhood, village-by-village, city-by-city."
Akwanga Ebenezer leads the Southern Cameroons Defence Forces from exile in the United States. He has promoted secession since the 1990s and argues that the time for dialogue has now definitively passed.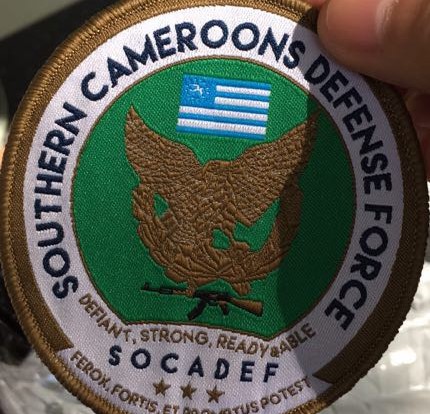 "We are just waiting to strike and let the world hear from us," he told IRIN.
He is critical of the more cautious approach adopted by the Southern Cameroons Ambazonia Consortium United Front (SCACUF), a coalition of opposition groups, dubbed the "interim government", which is yet to publicly support armed action.
The head of SCACUF, Julius Sessekou Ayuk Tabe, argues that it is too early to turn to war, but "all options are now available for us to use in our restoration [of Ambazonia] quest", he warned.
To try and contain the spreading rebellion, the security forces have introduced night-time curfews, roadblocks and raids. Farm tools have been confiscated and traditional single-shot hunting rifles banned.
The government says it has so far arrested 22 armed activists, some trying to cross the border into Nigeria.
Residents in a string of villages in the Manyu region, where the security forces were ambushed, were on Friday ordered to leave their homes or risk being treated as "accomplices or perpetrators" of seperatist violence.
More refugees
Manyu was the focus of a military crackdown after the 1 October protests, with civilians shot dead in army raids that sent 20,000 people fleeing into Nigeria's Cross River State.
A new military campaign is likely to create yet more anger and bitterness.
Among the Cameroonians IRIN spoke to in Calabar last week, the capital of Cross River State, all supported the idea of secession.
"I think every English-speaking Cameroonian wants an independent country and nothing else. We are not ready to back down," said businessman Olembe Olembe, whose children are now studying in Nigeria after he withdrew them from school in Limbe, in the South West Region.
"English speakers are treated as slaves in their own country. We are saying 'enough is enough'. We don't want to be Cameroonians anymore," he added.
"When we were calm and diplomatic, they saw us as fools and were not ready to listen to us," said Emmanuel Bisong, a trader who shuttles between Limbe and Calabar. "Now that we have risen up, they are seeing our seriousness."
Additional reporting by Philip Obaji in Calabar
ms-po-/oa/am
TOP PHOTO: Cameroon soldiers on a training exerecise - file photo. By US Army/Wikimedia