The Gambia's new president, Adama Barrow, received a hero's welcome when he returned to Banjul after his makeshift inauguration in neighbouring Senegal at the end of January.
Tens of thousands of well-wishers came out to rejoice at the democratic victory that ended more than two decades of rule by autocrat Yahya Jammeh.
Barrow and his coalition government are riding high on a wave of popularity. But they have major challenges ahead in reforming a country that effectively has to be rebuilt from scratch within a self-imposed three-year term.
If the honeymoon period is to last, their first test is to prove to the nation that "New Gambia" really is a different country.
Great expectations
"We have got to start on the right footing," said Sait Matty Jaw, a Gambian PhD student who went into exile in Norway after being arrested and imprisoned in 2014 for his human rights work. "Everything under Jammeh's regime was tailor-made to suit his interests, so for us to move forward, the government has to show it is different from the former regime."
After 22 years of not being allowed to criticise the government, Gambians – especially the younger generation of educated professionals that played a major role in pushing for political change – are already scrutinising the new administration.
For some, Barrow's cabinet announcements last week carried disappointing echoes of the old ways of appointing: entitlement over merit.
Out of the 11 filled posts (there are seven remaining), each of the seven parties that form the coalition got a major post, while Barrow's United Democratic Party got three. One blog suggested he had chosen a "cabinet that attempts to reward and preserve the coalition that brought him to power".
"The potential for patronage is still there," noted Jeggan Grey-Johnson, a Gambian who works for the Open Society Initiative of Southern Africa and hopes to play an active role in the reform process.
"Barrow doesn't (yet) have the experience and gravitas as a politician, and those surrounding him have 10 times the amount of authority, so he will have to defer to their competing interests."
The cabinet is old (the average age is above 60) and predominantly male, and that demographic has also come in for criticism.
"They may have the wisdom, but they lack the dynamism required to deal with the modern challenges of the Gambian youth population," argued Salieu Taal, a lawyer and founder of the #GambiaHasDecided opposition umbrella movement.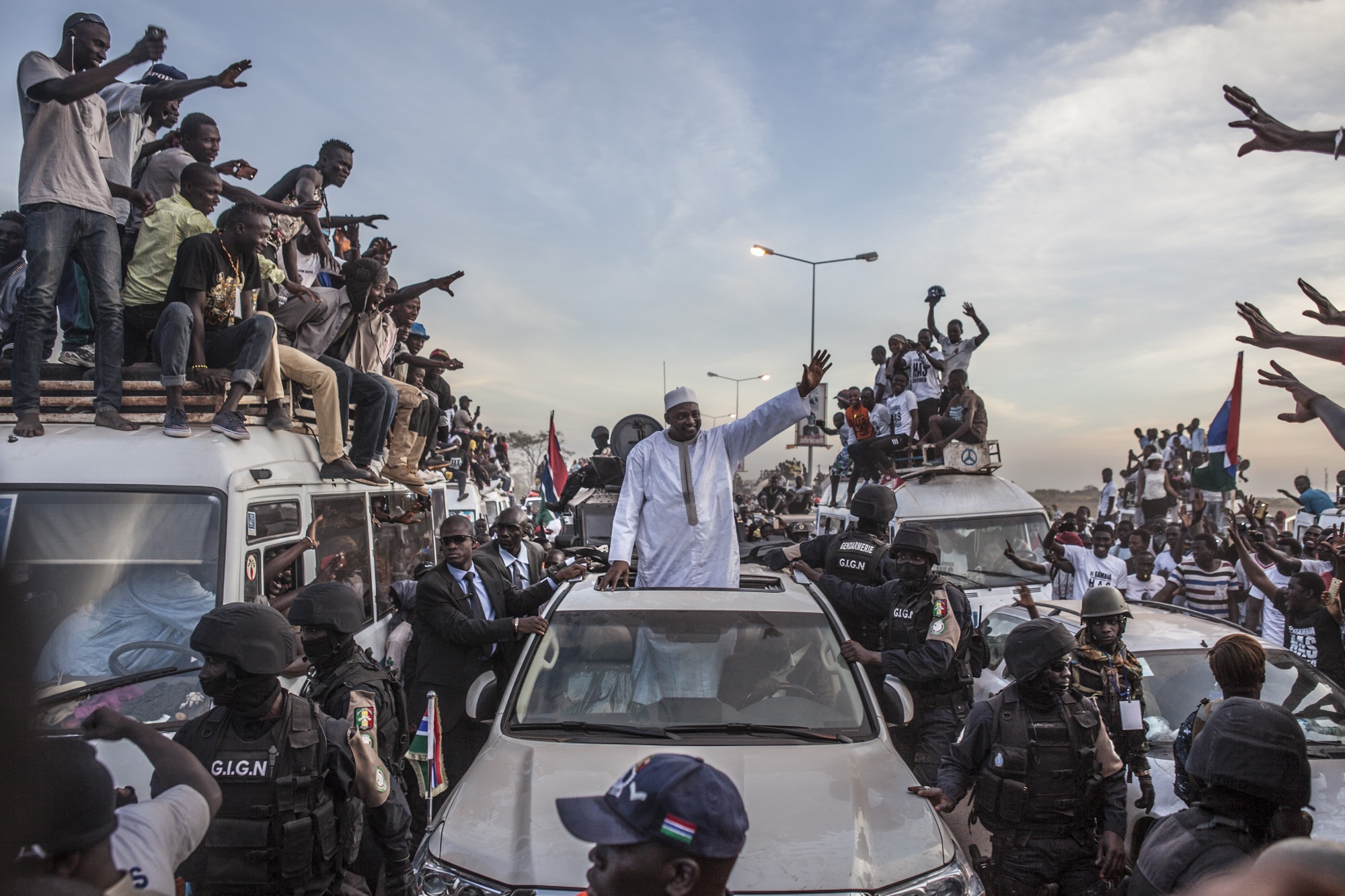 Youth power
It is the younger generation that has been the driving force behind political change, voting in unprecedented numbers in the 2016 election. It is no surprise they want to make sure their voices are heard and represented in government after decades of repression.
Last week, youth groups staged the country's first peaceful demonstration without worry of harassment by the authorities. Around 1,000 youths protested outside the National Assembly, calling for all members of parliament that supported Jammeh's motion for a state of emergency to resign.
The National Youth Council is also launching the Not2Young2Run campaign to encourage and support young people in contesting for parliament in the National Assembly elections in April.
The coalition government has already made clear it is a transitional administration with the primary goal of righting the wrongs perpetrated under Jammeh.
Speaking before he was appointed as foreign minister, Ousainou Darboe, a former opposition leader, acknowledged that three years was too short a time to repair all the damage, but said "the foundations will have been laid".
So far, the government has not shared any kind of roadmap for what it specifically aims to achieve, and it runs the risk of failing to manage expectations.
"The government needs to identify the magnitude of the challenge and where to prioritise its interventions," said Grey-Johnson. "People need to be reassured that the coalition understands the challenges and to communicate there is a plan in place and how they're going to go about it."
Economic crisis
The economy is in dire straits. The Gambia's poverty rate is 50 percent and its debt repayment rate is 100 percent of GDP, according to Grey-Johnson. "So, whatever we make goes straight out of the country," he said. "Gambia is insolvent. We are broke."
Add to this the thousands of tourists during the December election crisis that went home in the middle of the season, the hotels that are only half booked, and the reality is "unemployment is about to shoot up", Grey-Thompson added.
It is unlikely the rate of youth unemployment can be tackled anytime soon. And this is the most urgent employment problem the government faces, with thousands of youths attempting the illegal "backway" Mediterranean route to Europe.
"The backway trend is only going to be addressed if there are policies to attract the young people to come back and fulfil their dreams," Employment Minister Isatou Touray told IRIN.
That means "finding jobs and addressing the human rights situation, and having freedom of movement so that they can help themselves under this regime".
Donors on board
The coalition is already making good on its promise of improving international relations and encouraging long-term business investment, development, and, ultimately, job creation.
In its first weeks, ministers have met with officials from several donor countries, including China. There have been talks with the World Bank, the African Development Bank, and the International Monetary Fund, as well as the signing of the first World Bank-funded project to promote child and maternal health.
A decision by the European Union to reinstate its 33-million-euro development fund, frozen from 2015/16 over human rights concerns, is also a welcome move.
Abdul Aziz Bensouda, secretary general of the Gambia Bar Association, believes that establishing a truth and reconciliation commission will also be an important part of the reform process – a step towards healing after decades of human rights abuses and embezzlement under Jammeh.
"We need a commission of inquiry to investigate the crimes over the years, to allow civil society to decide what to do with them," he said.
Momodou Sabally, a former minister who was imprisoned twice by Jammeh, agrees on the need for a truth and reconciliation process, but sounds a note of caution.
"I know there's a lot of anger and zeal for vengeance, but we should be careful," he said. "So many people have served in Jammeh's regime; some of the victims now have been villains too in this long stretch of time."
If not handled properly, "the government won't be able to do any work," said Sabally. "They'll be having to deal with these things piecemeal until their time is up. So, it's important to address this in as mature a manner as possible."
The young, in particular, are in a rush to create New Gambia, but how much real change can be achieved in just three years under a coalition government? For Bensouda, simply "righting the wrongs and democratising the country" would be a start.
lh/oa/ag