The UN's refugee agency may become complicit in a violation of international law if it restarts a programme in March that assists Pakistan in forcing Afghan refugees over the border into their war-torn homeland.
UNHCR says its repatriation programme, which included cash grants for returnees, has been 
put on pause
 from 1 November until 1 March. Pakistan has set a deadline of the end of March for all Afghan refugees to leave the country before it starts deporting them. 
About 538,100 Afghans have already returned this year, according to the UN's emergency aid coordination body, 
OCHA
. Most of those have crossed the border since late June, when Pakistan announced its deadline and security forces stepped up a campaign of intimidation and harassment. Even though the war has been getting worse in Afghanistan – with record numbers of 
civilians killed, injured and displaced
 – many decided to leave rather than face increasing hostility and extortion by members of the Pakistani police and military. 
"Like all other states, Pakistan is prohibited from refouling – that is, forcibly returning – registered refugees in any manner whatsoever to their home country, and has therefore committed mass refoulement," said Gerry Simpson of Human Rights Watch.
Simpson has just completed a research trip to the region and the rights group will soon release its findings, including one that may raise alarm bells within UNHCR.
"If UNHCR resumes its cash grant on 1 March while Pakistan maintains its 31 March deportation deadline for registered refugees – or extends it by just a few months – then UNHCR will become complicit in mass refoulement," he told IRIN. "That's because registered refugees will feel they have no choice but to take UN money to go home 'voluntarily' before Pakistan kicks them out with nothing."
UNHCR declined to respond to the allegation directly, but emailed this statement in response: "The return of registered Afghan refugees from Pakistan is a repatriation in less than ideal circumstances and is the result of a number of factors. The Afghans we see daily deciding to return are making extremely difficult decisions and UNHCR is doing everything  we can to assist them. We continue to speak up for the rights of Afghan refugees while they are in Pakistan and to intervene on their behalf."
Duniya Aslam Khan, a spokeswoman for UNHCR in Pakistan, said that the agency will use the winter period to raise funds to continue its repatriation programme, including providing cash to returnees. She said UNHCR had dispersed $125 million in cash payments in three months.
"During the peak days, five to six thousand refugees were going back to Afghanistan and the UNHCR was giving around $2.2 million in cash per day on average," Khan told IRIN. "We have to sustain this amount to keep the repatriation process going, and for this we are going to appeal the donors."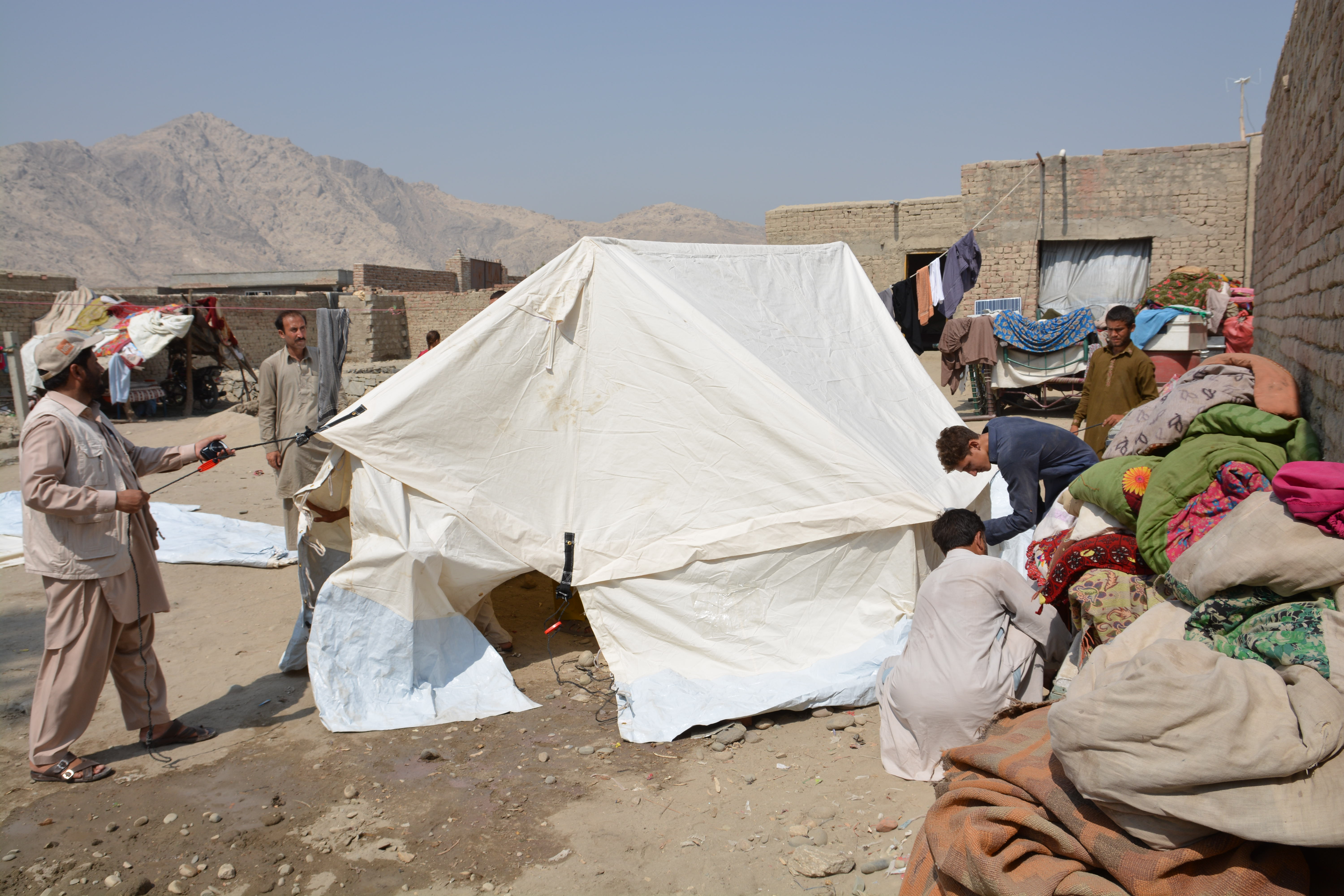 Under pressure
There is no doubt that Afghans crossed the border en masse over the past few months under pressure from Pakistani authorities. The $400 given to individuals by UNHCR may have provided extra incentive, and it was critical in helping them settle as best they could in a country embroiled in conflict. But the argument that Afghans are making a choice to leave Pakistan will become thinner and thinner as the deportation deadline gets closer.
"UNHCR is now on clear notice that Pakistan's abuses are driving out record numbers of Afghans," said Simpson. "Resuming crucial cash support to Afghans in early March 2017 will undoubtedly assist Pakistan's aim of forcing out further refugees as the 31 March deportation deadline looms."
The terrible conditions Afghans are returning to and the hostile environment they are leaving in Pakistan are well documented by rights groups as well as the UN itself. 
For example, a 30 September OCHA 
report
 noted that a surge of returnees was "spurred by increasing incidents of detention, forced evictions, police raids and harassment".
"Many families were forced to leave quickly with little time to properly sell assets, and are often arriving with few possessions," said the report.
The International Organization for Migration, which is a "UN-related" body, 
warned
 earlier in September: "Unprecedented numbers of Afghans are fleeing increased incidents of violence, arbitrary arrest, detention and other forms of harassment."
Pakistani officials deny issuing any orders to security forces to crack down on refugees.
"Pakistan is neither violating any international law nor forcing Afghan refugees to return to their country," Aqdas Shaukat, a spokesman for the Ministry of States and Frontier Regions, told IRIN. "We have also issued directives to provincial governments asking them not to harass or force any Afghan refugee to leave Pakistan."
For Simpson, the evidence stands for itself.
"You don't need a government to admit it's forcing people out to conclude that it's forcing people out," he said.
Temporary reprieve 
Pakistan appears to have temporarily called off its officially-denied-yet-quite-obvious campaign of intimidation against Afghan refugees.
"The repatriation of the Afghan refugees has been suspended from November to February next year following a formal request from the Afghan government, UNHCR, and some opposition political parties," Abdul Qadir Baloch, the Minister for States and Frontier Regions, told IRIN.
Returns data from UNHCR and IOM correspond to the minister's conciliatory tone.
For registered refugees, returns spiked at 145,955 in October and fell to 26,303 during the first week of November. But while the repatriation programme was halted on 1 November, UNHCR is still processing people who were already scheduled to return.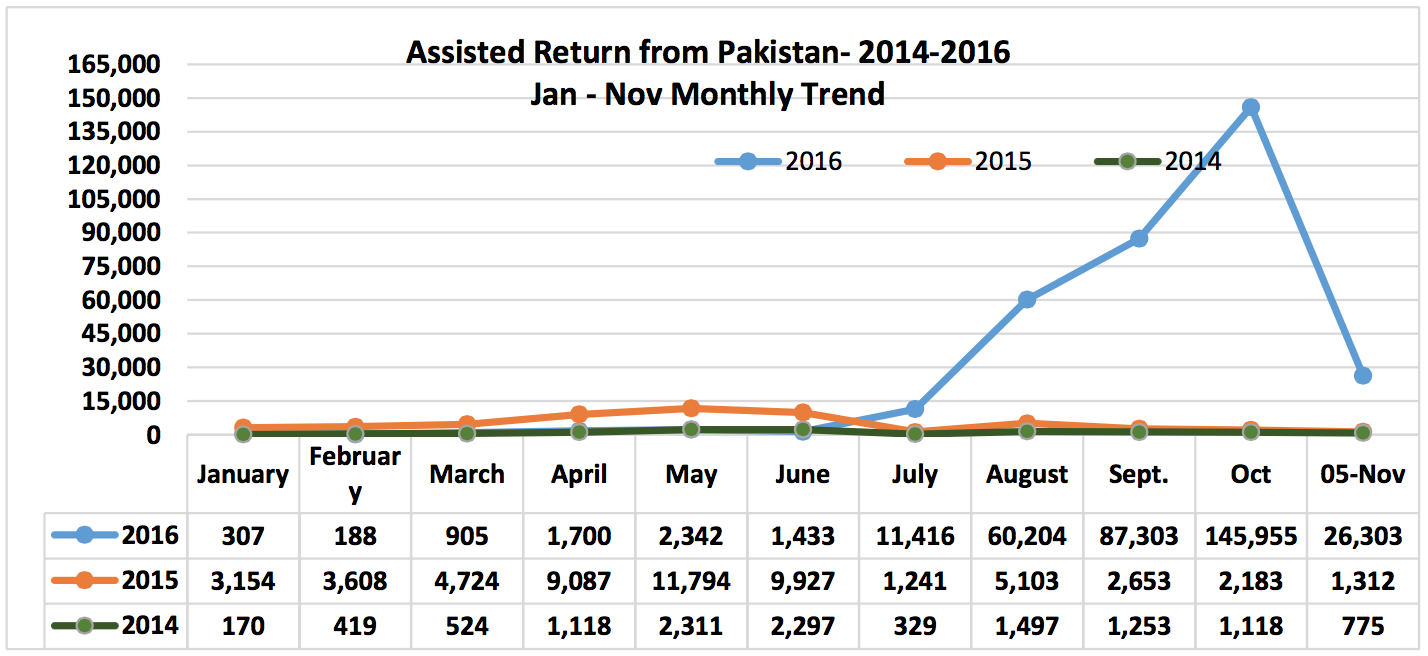 The situation for unregistered refugees is a bit different. Of the approximately 2.4 million Afghans who fled to Pakistan during decades of war at home, about one million are "undocumented". This is largely because Pakistan stopped registering refugees in 2007, so those arriving afterwards would not have received a "Proof of Residency" card. Others may have had the cards, but were unable to get them extended, which Pakistan frequently requires.
Undocumented refugees are ineligible for cash grants from UNHCR, are more vulnerable to abuse by state authorities, and are under even more pressure to leave. Data provided by IOM shows that 10,844 undocumented Afghans crossed the border between 29 September and 5 November, an 18.6 percent increase over the previous week. However, deportations fell by 91 percent – a huge reduction, which suggests that a directive was issued to police.
Uncertain future
Afghans in Pakistan have learned to live with the psychological stress of the government's capricious policies. Pakistan has issued deadlines before, and then extended them. But the sheer number of Afghans who have left over the past few months, coupled with the intimidation campaign by security agencies, suggests that this time the threat is more serious. 
The flow of refugees across the border is likely to be reduced to a trickle now that winter has set in and UNHCR has suspended its repatriation programme. But anxiety will only grow amongst Afghans in Pakistan as March approaches and they wonder if the government will carry through on its threat to deport them.
jf/as/ag
(TOP PHOTO: Mehnaz,10, with her family. They recently returned to Afghanistan from Pakistan, which is pressuring Afghan refugees to leave. CREDIT: Tiril Skartein/NRC)