South Sudan may finally, perhaps, be on the road to peace. Rebel leader Riek Machar is expected in the capital, Juba, next week in the final step towards a government of national unity that seeks to end the fighting and glue together a country torn apart by more than two years of civil war.
But tensions still remain high.
Since the peace agreement was signed in August, the international community has tried to re-unite President Salva Kiir and Machar in a joint administration. It has been a saga of missed deadlines and disagreements that appeared to have no end in sight, calling into question the seriousness of both sides to implement a peace deal.
The arrival today in Juba of deputy rebel chief Alfred Ladu Gore and a 60-strong delegation to take charge of an advance guard of opposition SPLA-IO troops signals progress. But in what is hopefully not a sign of things to come, one of Gore's first statements was to condemn the arrest of 16 of his supporters who were organising a welcome.
Since South Sudan's civil war broke out in December 2013, tens of thousands have been killed, 2.3 million displaced, with both sides accused of committing war crimes.
Machar's planned return to Juba on 18 April from his HQ in the eastern town of Pagak could be a crucial step. But it will only be the start of the process. Both sides will have to address a range of issues that could plunge the country back into conflict.
IRIN explores the most contentious points:
28 states
The number of states in South Sudan, the most divisive issue between the government and SPLA-IO, will be decided by a National Boundary Commission. That mechanism itself is controversial.
Increasing the number of states from 10 to 28, decreed by Kiir in October, alters the political balance in South Sudan and upsets the accord's delicately struck power-sharing provisions.
Read more:

Fuelled by corruption, South Sudan war enters third year
Kiir said the move was geared towards greater representation, but his critics see it as a land-grab on behalf of his Dinka ethnic group. The announcement stalled the implementation of the peace agreement as SPLA-IO said negotiations had been predicated on the original 10 states.
Crucial details around the adjudicating boundary commission remain unaddressed. It's unclear how the commission is to be structured, and if it would decide or merely recommend the number of states. The distinction could be critical.
"What really matters is the issue of borders between states, counties, and communities," said William Ezekiel, the advance team spokesman for SPLA-IO. "[The concern is the] areas that belong to a specific ethnic group, but get annexed to another group that are favored by the government. To be explicit, the creation of 28 states was meant to support and enhance and give resources and power to the Dinka."
The border issue is most contentious in places with shared ownership like Malakal, where officials from the Shilluk community have warned they will fight if perceived gerrymandering deprives them of their traditional land.
"In Malakal, the capital city of Upper Nile, all of a sudden the whole city and the surrounding [area] were handed over to the Dinka Padang, which is contrary to tribal and colonial boundaries," said Ezekiel.
The government counters that Machar himself had advocated the need for more states.
Military integration
The Transitional Government of National Unity, which will serve as a temporary administration for 30 months, is unlikely to stop the fighting in South Sudan, where a proliferation of militia complicates the picture.
Both sides continue to accuse each other of conducting attacks, making the integration of SPLA-IO fighters into the South Sudanese army a potential flashpoint. SPLA-IO is a largely Nuer force, and the government army predominantly Dinka. Although the origins of the conflict were political, it was a clash between the Dinka and Nuer elements within the presidential guard in Juba that triggered the start of the civil war.
"The first thing to be done [by the unity government] is to implement the security arrangement immediately," said Antipas Nyok De Kucha, secretary for political affairs of the ruling SPLM.
General James Koang, in charge of integration of the SPLA-IO troops, said that details of the unification of the army have not yet been decided and will be negotiated in an upcoming meeting between military leaders from both sides. 
It is clearly an urgent issue. On Tuesday, US State Department Deputy Spokesman Mark Toner alleged the government had "destroyed a declared opposition cantonment site at Numatina in Wau County" and followed a "surge of SPLA troops and military equipment into the area."
The SPLA-IO has also accused the government of attacking sites in Western Equatoria and Western Bahr el Ghazal where it says its troops are supposed to assemble. The government's response is to deny there are legitimate SPLA-IO forces in those regions.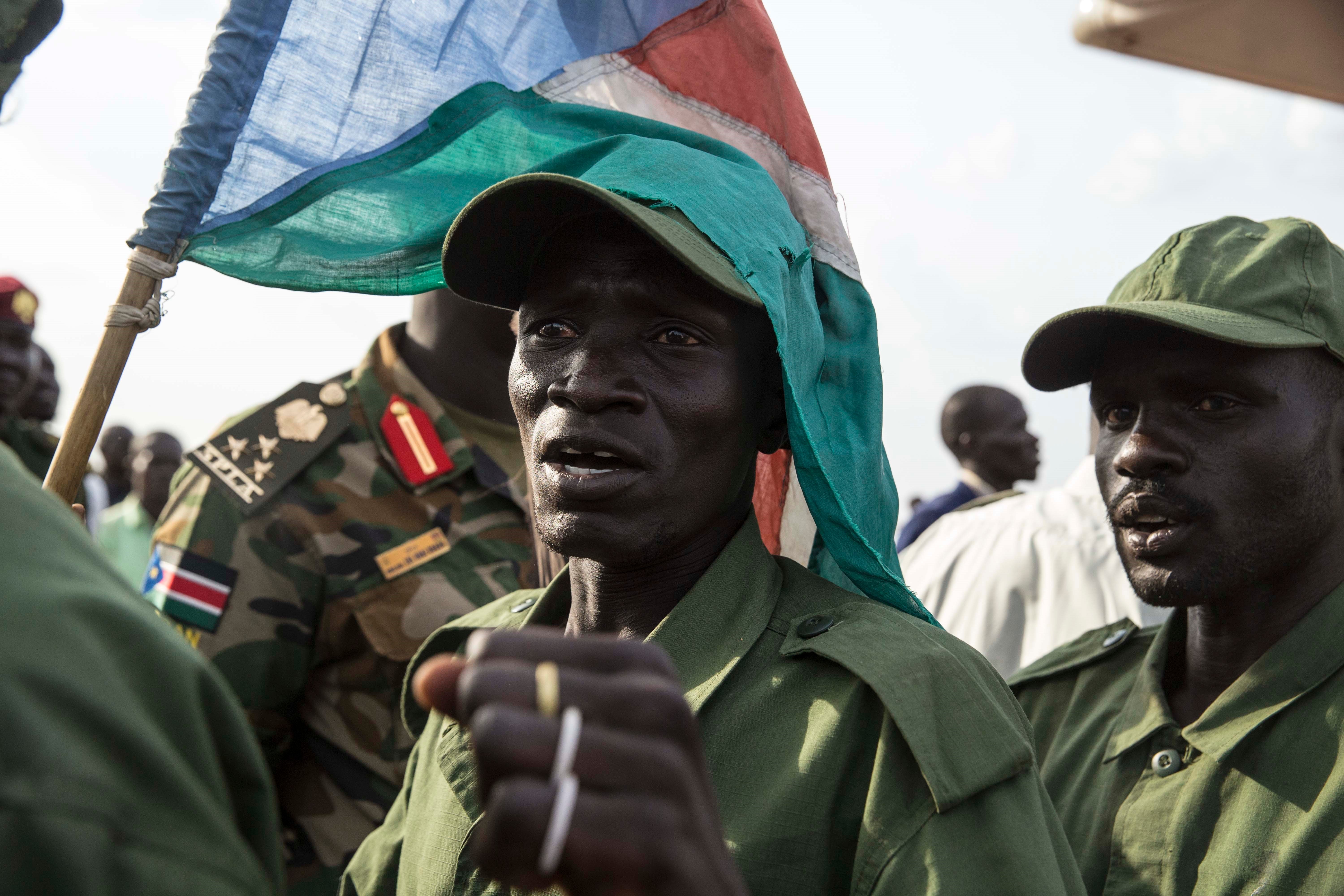 "If there were any military operations conducted [in Western Bahr el Ghazal], then they must have been conducted against bandits and highway robbers," said SPLA spokesman, Brigadier General Lul Ruaki Koang.
Both parties have agreed to a verification process in the cantonment areas in Western Bahr el Ghazal and Western Equatoria, to be overseen by a Ceasefire and Transitional Security Arrangements Monitoring Mechanism, made up of international observers.
Economy
The unity government needs to immediately negotiate a loan from international lenders to keep the economy afloat, experts say. Inflation in South Sudan was more than 200 percent in February and the country is in the grip of a fuel shortage.
"One of the first priorities this government will need to tackle is clearly the economy of South Sudan as a state, but also for communities suffering inflation, soaring prices of commodities and lack of access to markets where goods are exchanged and traded," UN Mission in South Sudan spokeswoman Ariane Quentier told a press briefing.
The government may resort to paying government workers through barter. Finance Minister David Deng Athorbei gave an example of paying public workers by having communities provide services for them.
South Sudan isn't eligible for IMF or World Bank funding until a unity government is formed, according to interviews with Western diplomats. But even then, financial relief is not certain. Donors are wary to lend money to South Sudan without significant financial oversight — the envoys said the IMF and World Bank are likely to attach stringent loan conditions.
Permanent constitution
A political conflict over the country's first permanent constitution looms.
The transitional government will have 18 months to agree to a permanent constitution, drafted by a commission made up of the SPLA, opposition, and civil society organisations.
The plan to create a constitution "wasn't so carefully considered," said David Deng, director of research of the South Sudan Law Society. "You can see from the various passages, it's as though people were just throwing things in there on their wish-list without clearly thinking it through."
Asking both sides to put down their weapons and become partners in crafting the foundational document will coincide with the period when political parties are mobilising for presidential elections.
There is "a lot of incentive to play games with the constitution, to entrench the powers of the political elite," said Deng.
He pointed out that the process – like the peace deal itself – may not be as inclusive as was hoped.
jl/oa/ag