In spite of the searing heat, Shams-ur-Rahman sits for hours each morning watching a sea of Afghan men and a handful of women cross the Abrisham bridge. All have seen their quest for a better life in Iran cut short after being arrested for illegal entry. All are being deported back to the Afghan border city of Zaranj. Thousands return each day, but there's only one Shams hopes to see: his five-year-old son.
In early March, Shams was caught by Iranian border guards as he entered the country to try to find work. In the confusion, he was separated from his child. 
"I don't know the whereabouts of my son," a distraught Shams told The New Humanitarian weeks later in Zaranj. 
Shams explained how he had paid 21,000 afghanis ($245) to a trafficker to transport him along the dangerous people-smuggling route that passes via Pakistan. On the night of his crossing, he and several hundred others were piled into cars and driven across the border. But the car he was travelling in got into an accident. When the police arrived, they detained him.
"For five days, I was in jail. They beat me, and then they deported me. We don't have any other options. Who likes to be beaten, humiliated, or killed? But it's difficult to cover the cost of a family here," Shams said, referring to working life in Afghanistan.
Since the United States and its allies withdrew troops last year and the Taliban seized control of the country, Afghanistan has been in freefall.
In addition to the devastating humanitarian situation, Afghans face a worsening economic crisis, with poverty and unemployment rising, in part because of international sanctions. Between July 2021 and March 2022, the number of those suffering acute hunger rose from 14 million to 23 million, according to the UN's emergency aid coordination body, OCHA. More than 80 percent of the population faces debt, while 95 percent of people are eating insufficiently. 
---
---
This, in turn, is driving many to undertake the perilous journeys via Pakistan – across hundreds of miles of merciless desert, mountainous terrain, and dry riverbeds – in search of better opportunities. Though Afghans have always moved across the border for seasonal work, and precise figures are difficult to come by, it's clear the number has been rising since the Taliban took control last August.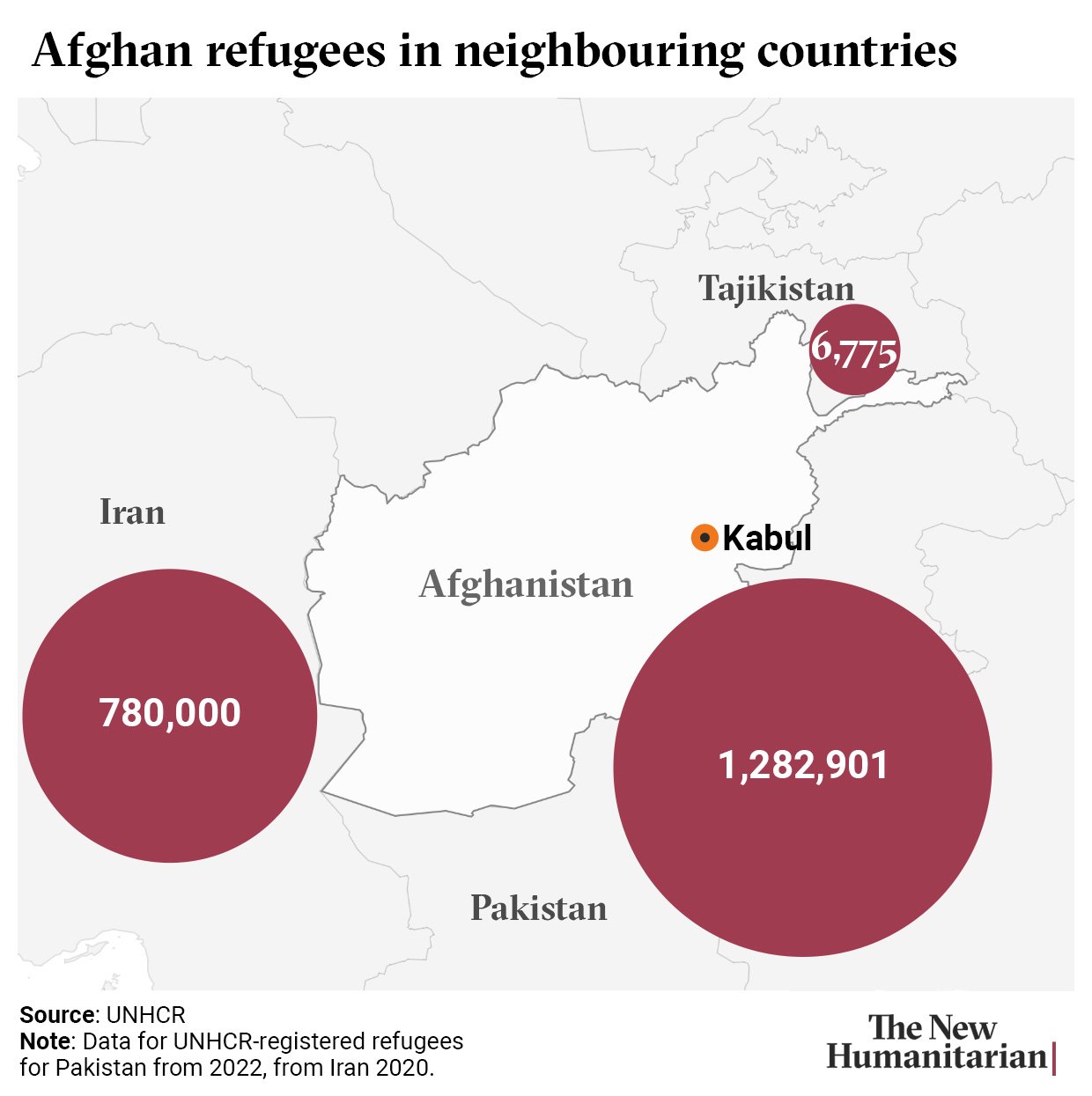 "We have noticed [an] increase in the arrivals of Afghans since [the] Taliban takeover, but most haven't been able to get their international protection needs verified," said Duniya Aslam Khan, a spokesperson in Iran for the UN's refugee agency, UNHCR. 
Iranian government figures show that 4,000-5,000 Afghans are now entering the country each day, Khan added in her written response, noting: "We expect most do so irregularly without the adequate documentation because of their urgent need to flee." 
In recent years, Iran – its own economy flagging amid long-term Western sanctions – has taken a hardline stance against Afghans trying to enter the country illicitly. Border forces often respond violently when arresting and deporting undocumented migrants. According to Afghanistan's Ministry of Refugees and Repatriations, over 6,000 Afghan refugees are deported from Iran every day.
Risky crossing
Videos showing Afghan migrants and asylum seekers being abused by Iranian police, border guards, and even civilians have regularly emerged on social media and become a source of tension: Protests broke out last month at the Iranian embassy in the Afghan capital, Kabul.
Even a legal visa doesn't guarantee a safe stay in Iran. Yousuf, 34, paid more than 100 euros to get a visa for Iran, only to be arrested by police while sitting in a park in the Iranian capital, Tehran. They then placed him in a crowded and filthy detention camp.
Speaking to The New Humanitarian in Zaranj, Yousuf, who – for security reasons – shared only his first name, said he knew of detention centres throughout Iran "where even kids are imprisoned, and when they ask for food, Iranian soldiers beat them".
Clutching a backpack in his right hand and his passport in his left, Yousuf said he was released only after he paid one million Iranian toman ($408) as a bribe. He lost all his savings in the first bid to go to Iran. Like many, though, he said he would try again to cross the border. Only, this time he will do it illegally.
Read more → Afghanistan's crises, by the numbers
Due to strict border controls, "most Afghans enter Iran in an irregular manner through unofficial channels", noted UNHCR's Khan. "Many rely on smugglers or traffickers to leave Afghanistan and reported being exposed to serious protection risks, including extortion of funds from their relatives while on the journey, beatings, and other violence."
Aware of the risks, those crossing told The New Humanitarian they had few other options. 
Nasir, 15, and his friend Pervaiz, 16, were caught in early March by Iranian border guards, who cursed at them and quickly sent them back over the border.
Nasir said his family was facing significant financial challenges since the change in government and had gone into deep debt, leaving him little choice but to try to cross over again: "I won't go home, and will try going to Iran again in the next few days." 
Noor Mohammad, a farmer from Badghis, said drought – coupled with shrinking work opportunities and higher inflation over the past year – had forced him to take the treacherous journey. 
"Because of American sanctions, the dollar price has increased, the economy crashed and now we don't find any work opportunities here," said the farmer, who The New Humanitarian also met in Zaranj as he prepared to leave for the border. 
"Whoever comes into government in Afghanistan, they all work for their own benefit," said Mohammad. "They don't care about the common public. Either the previous government or the present government, they are working in their own interests."
While he understood the dangers of illegally entering Iran, Mohammad said he'll take the chance: "If I can cross, then I will. If not, then not."
A circuitous route
Anyone trying to pass illegally to Iran must go through Baluch market. A 15-minute drive from the Abrisham bridge, it's one of the main hubs where each morning thousands of Afghan migrants gather to board the trucks that will transport them to near the border. Here, young boys selling everything from medicine to energy drinks jostle for space with smugglers bargaining with customers.
Though Iran lies just over the bridge, crossing illegally requires a long journey to avoid detection. Every day, hundreds of Toyota Hilux pick-up trucks, each carrying at least 18-20 migrants, set off from the market. The trip to the more-porous Pakistan-Iran border takes 8 to 9 hours and costs 700 afghanis ($8). That doesn't include the money paid to the smugglers, who use some of it to bribe Pakistani border guards to look the other way.
Once at the border, migrants are handed over to Pakistani Baluchi smugglers. They spend a night or two hiding in makeshift houses before the long, perilous journey by foot to Iran begins. Travelling caravans of immigrants can range anywhere from 300 to 2,000 people, mostly walking at night, according to Shams. There are five or six traffickers involved in the whole operation. 
Apart from the abuse they face in custody, there are reports of migrants being robbed en route in Pakistan and killed by Iranian border guards. On a recent visit to Zaranj, this reporter saw five coffins being repatriated across the Abrisham bridge. A relative of one of the dead men said he had been shot by Iranian border guards.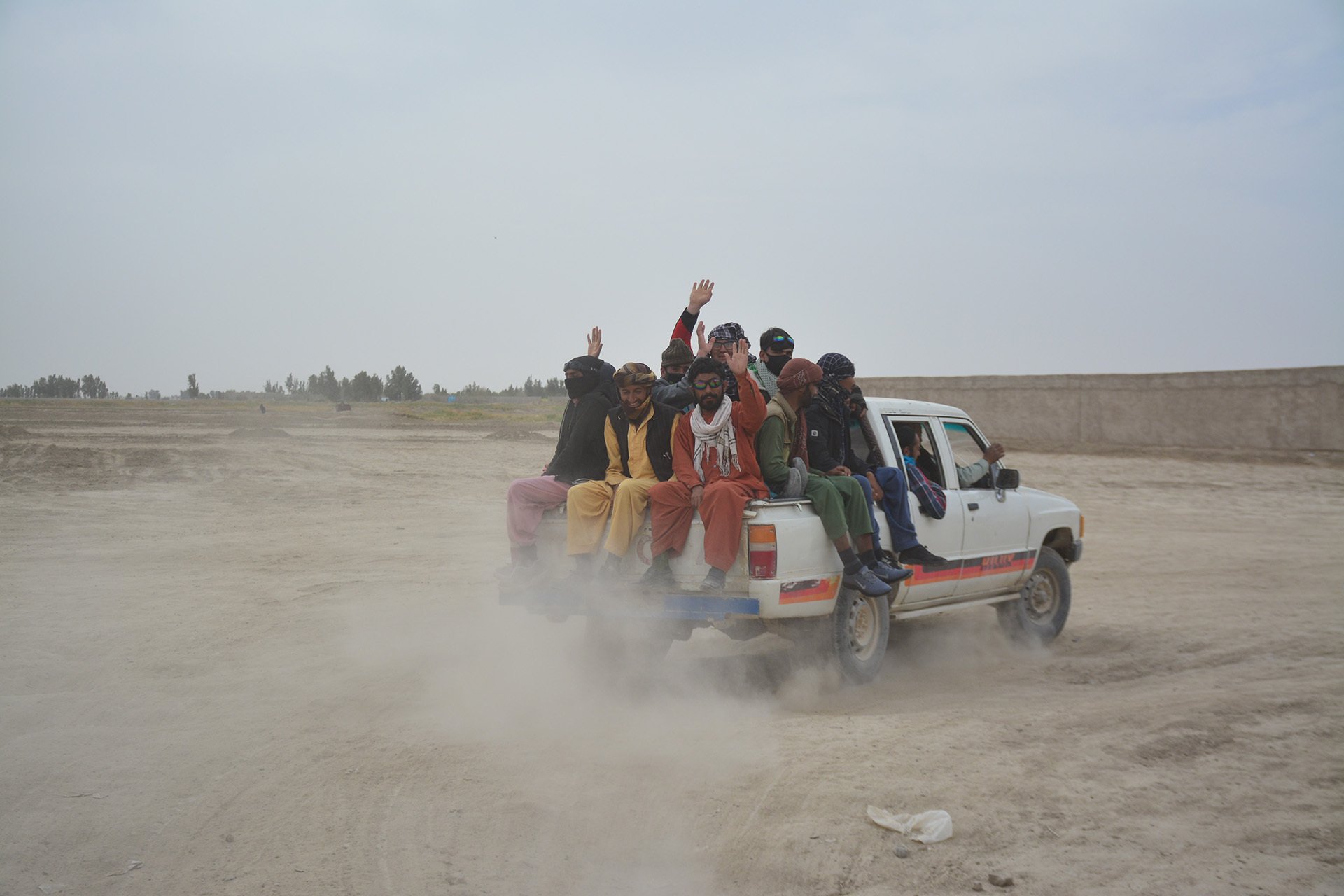 Once in Iran, most take jobs in farming and construction, barely making enough to survive and living in constant fear of deportation. Still, many believe there's little alternative.
Yar Mohammad drives dozens in his pick-up from the Baluch market to the Pakistani border daily. He said it's not the allure of Iran or Europe that is pushing thousands of Afghans to risk their lives, simply their empty bellies. 
"For 20 years, Americans and Europeans trained our doctors and engineers. But then they took them all last year. They don't want Afghanistan to develop," he said.
Mohammad used a marriage metaphor to express his hope that the Taliban takeover will lead to stability and the country will soon emerge from its current crisis. "When you get married, for the first few months, you face challenges with your spouse, finding a home, [settling] expenses etc.," he said. "So this government is new and has its own challenges, which will get better."
But many Afghans simply can't afford to wait. 
Nearby, a 14-year-old from Nangarhar province who asked to be identified by the pseudonym Bashir for security reasons, was trying to reach Iran for the first time, along with a group of people from his village. The latest economic hits had pushed him into the decision, to take responsibility for his eight-member family despite his young age.
"Poverty was always there," he said. "But with the change in regime, it has increased."
Bashir hoped to earn some money in Iran, and later to continue as far as Europe to try to earn more.
Asked if he wasn't afraid of being beaten and deported, he replied: "It's all about fate. Let's see what happens." With that, he jumped into the back of a truck that sped away, leaving behind only a cloud of dust. Like Shams, looking for his son at the Abrisham bridge, the future is unknown.
Edited by Abby Seiff.