Martha Alarcon strokes the head of a young Venezuelan woman in tears who is hungry and exhausted from walking the highway in scorching heat.
This is nothing new for Alarcon. Owner of a small roadside snack stall, the 55-year-old Colombian has been helping Venezuelans trying to escape their country's economic collapse for more than two years – providing food, drink, and a place to sleep on the outskirts of the overrun border town of Cúcuta.
Recent days have seen an unusually high influx of migrants, and Alarcon's resources are scarce. Up to 200 migrants can pass by her stall each day on their long walks up into the high Andes, and beyond to Ecuador and Peru.
"Sometimes there are too many," she says. "But I at least give them a piece of bread and some juice."
The Simón Bolívar International Bridge into Cúcuta is the main point of entry from Venezuela into Colombia. It sees around 40,000 Venezuelans crossing per day to seek respite from the immiseration in their homeland.
According to aid groups and local people, last week saw an upsurge in arrivals as the situation in Venezuela spiralled further out of control, amid mass street protests calling for President Nicolás Maduro to step aside.
Read more: Hope rises in Venezuela's hunger-driven political crisis
Since last week, more than 30 countries have recognised opposition leader Juan Guaidó as Venezuela's interim president, including the United States, Canada, several EU countries, and Colombia, while 15 others – including China and Russia – continue to support Maduro. Eleven regional countries have also issued a statement urging the Venezuelan military to back Guaidó and calling for the urgent delivery of humanitarian aid.
"Sometimes there are too many, but I at least give them a piece of bread and some juice."
Maduro is blamed by many for his country's predicament, accused of widespread human rights abuses as he clamps down on dissent, and criticised for refusing to acknowledge the extent of the humanitarian crisis and accept international assistance.
Cash seen as most helpful
In December, the UN estimated that another two million Venezuelans could leave the country in 2019, bringing the total since 2015 up to 5.3 million.
International aid for Venezuelans has been slow to arrive, even for those who have fled, putting a strain on Colombia, as well as other neighbouring countries. The International Rescue Committee, one of several large aid organisations responding to the crisis, has deemed the response "critically underfunded".
A UN appeal was made for an injection of $738 million this year to help Venezuela's neighbours cope with the influx. The Regional Refugee and Migrant Response Plan allocates $315 million to Colombia, $117 million to Ecuador, $106 million to Peru, and $56 million to Brazil – the countries that have borne the brunt of the exodus. The appeal has received less than $5 million in funding so far, according to UN data.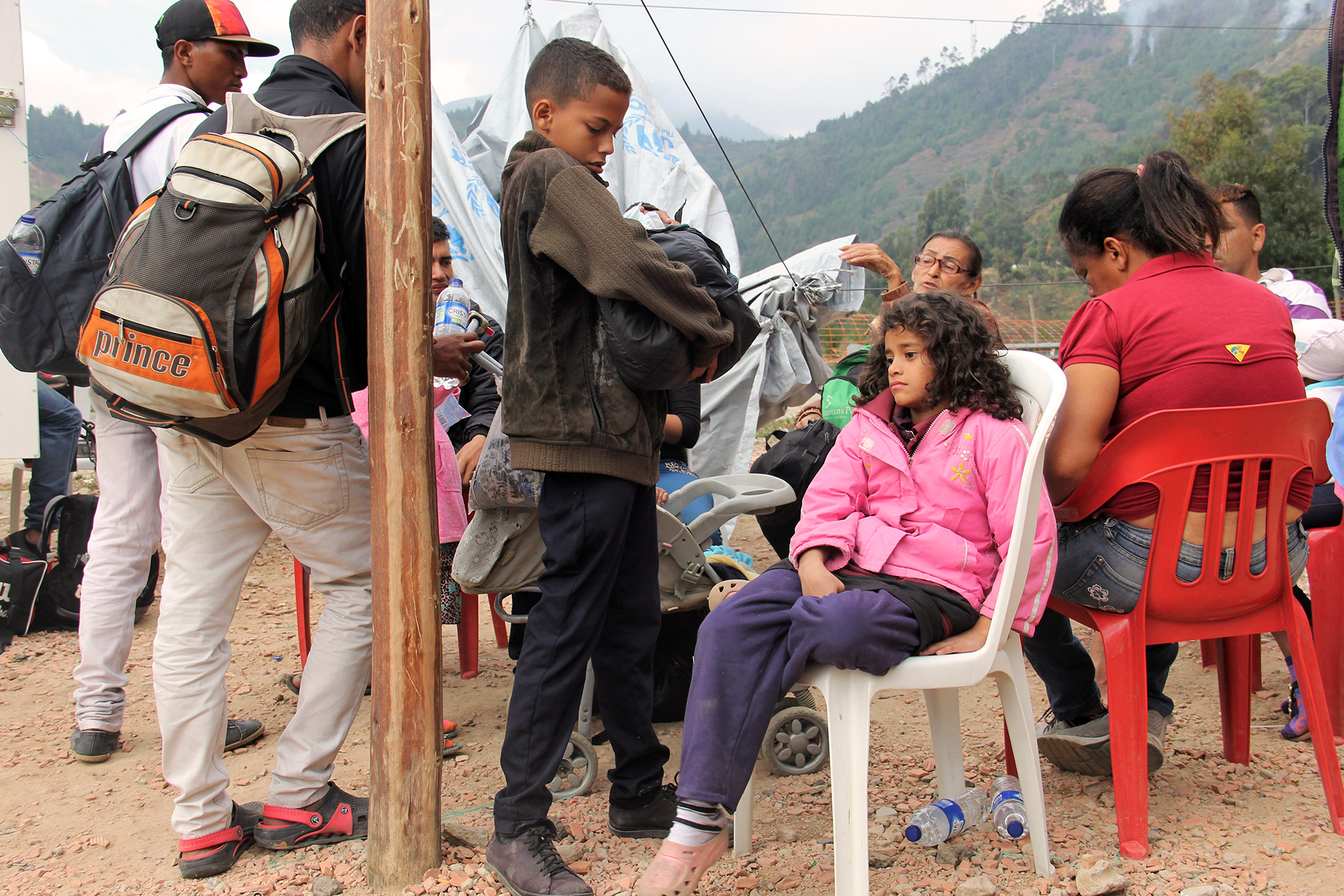 In Colombia, the IRC says it is concentrating on providing cash aid to Venezuelans, which best serves their most common problems: food, rent, healthcare, shelter, medicine, and joblessness.
"A recent IRC assessment found that the top six needs reported by Venezuelans in Colombia could all be met with access to cash, which is why the IRC has prioritised giving Venezuelans money so they are able to buy what they need most," says Marianne Menjivar, IRC country director in Colombia.
In emergency situations where there are healthy markets, it is common practice to meet a range of basic humanitarian needs by providing cash allowances. Recipients can then buy what they need.
Menjivar said her team used to see predominantly men coming in search of work to send money home, but that over the past months the trend has changed to include more families and children crossing in increasingly deep states of desperation.
"I couldn't be there anymore"
Venezuela's once-buoyant socialist economic system has failed since the collapse of world oil prices in 2014, with inflation soaring to almost two million percent.  Millions of Venezuelans have been driven to neighbouring countries due to the lack of food, medicine, and security in the country.
Read more: Hunger and survival in Venezuela
Many cross into the arid city of Cúcuta to buy basic food and medicine that is unavailable in Venezuela and then return, while others use it as their first port of call as they migrate elsewhere in Colombia or to other nearby countries.
"IRC teams are seeing children who are suffering from malnutrition or have diseases that were previously eradicated in the country," says Menjivar. "Venezuelans are increasingly desperate to find stability, reunite with family or just find a way to buy food."
Hanging from the walls and ceiling of Alarcon's stall are thousands of handwritten notes. Some are scribbled on worthless Venezuelan money, lamenting their sad fates as many have left their families behind.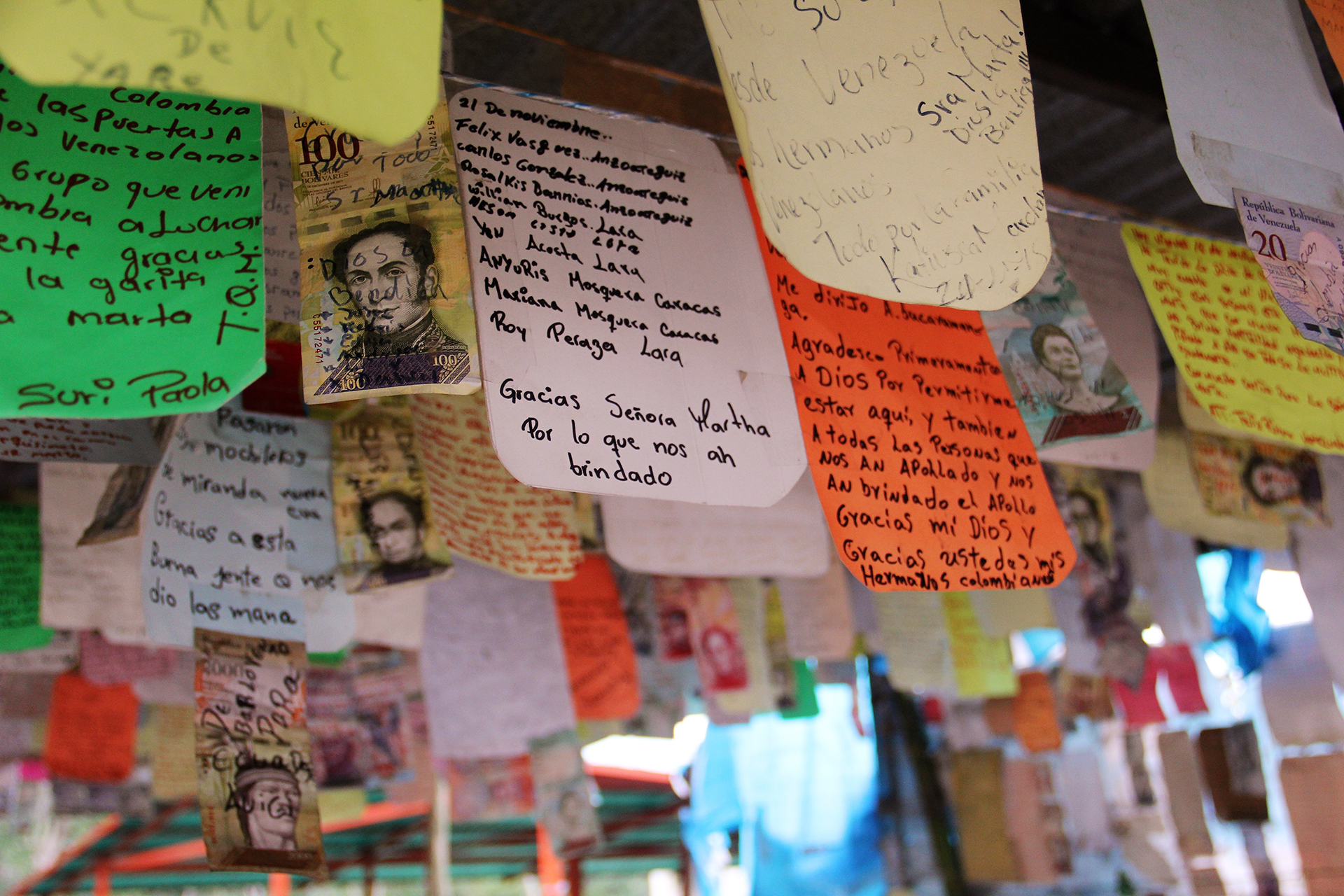 Edwar Espina, 29, choked up when he spoke about his troubled homeland in Martha's shelter. A former paramedic from Yaracuy state, he is migrating with his childhood friend, with just a tattered backpack to his name.
The pair slept for five days on the streets of Cúcuta before continuing on, like so many others, on foot in the sweltering heat. Their destination – the Colombian capital, Bogotá – is more than 550 kilometres away.
"I couldn't be there anymore," Espina says of his homeland. "I asked 'why am I here? I'm wasting my youth!'." Espina doesn't know where they will sleep the night, probably on the side of the road.
Heading on
From the scorching heat of Cúcuta, some migrants head to Pamplona, a frigid mountain town some 80 kilometres away. From there, they make their way across Colombia's vast wetlands, trying to reach larger cities like Bucaramanga, or on to Peru or Ecuador, in search of job opportunities.
The journey to Pamplona can take a whole day on the windy roads, and many carry small suitcases and even wheel prams along the difficult trek, which reaches an elevation of 2,343 metres. Migrants arrive exhausted, dehydrated, and then have to face cold nighttime temperatures in the city.
At the top of the hill upon entry to Pamplona are two small refuges, run by locals. One was set up by 52-year-old Douglas Cabeza, who lives in a hut with his 83-year-old mother and several dogs.
"People arrive ill," he says. "They have swollen feet, there are pregnant women, babies without diapers, and people with stomach problems."
Cabeza says he recently quit his job as a shoe mender so he could do this voluntary work full-time.
The service he offers is basic, but without it migrants would have nothing upon arrival. He says the only real help he has received has come from the Norwegian Refugee Council, and that other local aid is scarce.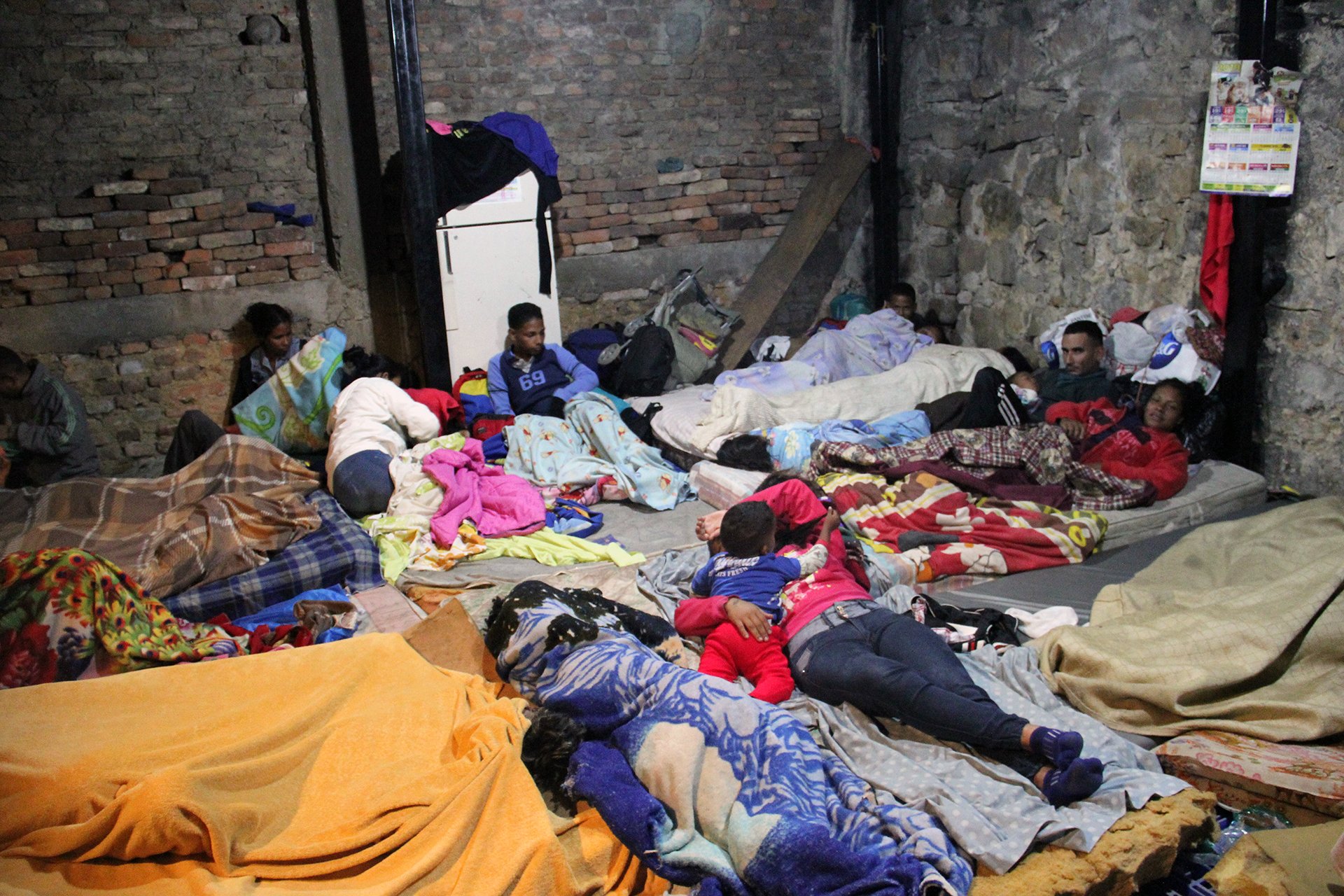 Thanks to the NRC, he was able to go from taking in 15 people, when he began, to having space for over 120, offering them basic showers and sleeping areas.
At the back of his house, he has constructed a series of unstable makeshift bridges with logs that lead to a foliage-filled jungle of small campsites, six in total, with foam beds and plastic sheets propped up with sticks for migrants to sleep under. There is no electricity or water.
"There's nothing at all"
Almost 1.5 million Venezuelans have settled in Colombia since 2016. This number is increasing daily and, as the Colombian government tries to keep its doors open, services are becoming overstretched.
At the Cúcuta border, some Venezuelans cross each day simply to buy food, others to eat at soup kitchens.
Men offer to buy Venezuelan women's long hair for the wig business, and vendors have started doing a good trade in selling contraband medication, including even basic drugs like paracetamol (acetaminophen) that are now almost impossible for Venezuelans to obtain in their homeland.
The lack of doctors and medical care in Venezuela has also meant many come across for treatment for the day.
"There's nothing at all. No doctors, nothing," says Kelma Mendoza, 31, sitting outside a Red Cross medical centre at the border. She travelled for two hours by bus with her four-month-old baby boy to get his first injections.
Mendoza plans to return, to whatever happens next in Venezuela. But most will continue on, pursuing their dreams of a better life across the Simón Bolívar bridge, but discovering some harsh realities in Colombia: a lack of aid, resources, and jobs.
sg/ag