Packing winds of up to 185mph, Irma has been one of the most powerful Atlantic hurricanes on record. It caused widespread destruction as it churned across the Caribbean, affecting millions of people in its path and obliterating most of the housing on several small islands. While more than six million people were ordered to evacuate in the mainland United States, Irma has been catastrophic for the people of the Caribbean and is estimated to be the costliest storm ever to hit the region. Cuba was the latest to get a severe battering, before Irma turned north on Sunday and struck Florida.
Check back for updates, links and curated news and imagery. Contact us at [email protected].
11 September
BLOG IS WRAPPED UP BUT KEEP FOLLOWING IRIN FOR IN-DEPTH COVERAGE:
With Irma weakened to a tropical storm and Hurricane Jose no longer an immediate threat to land out in the Atlantic, it's time for us to close down our live blog. Thanks for checking it out and please come back to www.irinnews.org or follow us @irinnews for in-depth coverage of the response and recovery efforts as the Caribbean rebuilds after one of the most expensive and destructive hurricanes ever.
See the lightning in Hurricane #Irma in this #GOES16 lightning mapper imagery from 9/8. See more Irma loops @ https://t.co/1oNaGe1dLN pic.twitter.com/fqC7mqvw0Q

— NOAA Satellites (@NOAASatellites) September 11, 2017
CUBA TOLL:
State media has belatedly confirmed 10 Irma-related deaths in Cuba, including several who didn't heed evacuation warnings.
...
THE RESPONSE EFFORT:
Accused initially of responding too slowly to Hurricane Irma, the British government has announced a £32 million aid package and sent around 500 troops to Anguilla, Turks and Caicos, and the British Virgin Islands, as well as several aircraft and ships providing emergency shelter kits, relief specialists, rations, and clean water. The French government sent 200 personnel for security and rescue to Guadeloupe to coordinate efforts to badly hit Saint-Martin and St. Barts. It has also increased its military presence to 2,200 troops, amid widespread reports of looting. The Dutch authorities have deployed 265 military personnel and that number is expected to double in the next days, with 90 police officers coming in from nearby Curacao to help maintain order in Sint Maarten.
The Caribbean Disaster Emergency Management Agency, known as CDEMA, was set up for these kinds of events and is coordinating a massive response effort that involves the main UN agencies and hundreds of smaller international and local NGOs. The UN's emergency aid coordination body, OCHA, has deployed the United Nations Disaster Assessment and Coordination team to Barbados, while UNICEF had pre-positioned itself there to distribute drinking water, emergency kits, food, and medicine. Others mobilising include USAID/OFDA, ECHO, DFID, and Global Affairs Canada. Most efforts are currently focused on immediate needs – rations, drinking water, emergency shelters.
...
COUNTING THE COST:
The good news is that Hurricane Irma has weakened as it barrels into northern Florida, with winds now only up to 75mph. The record-breaking hurricane is forecast to weaken further and be downgraded to a tropical storm in the coming hours. The bad news is that the cost has been enormous: at least 30 people killed, hundreds injured, thousands of homes destroyed, and for some Caribbean islands near-total destruction that will take years to recover from:
Video: St Martin Island on long road to recovery after Hurricane Irma (Al Jazeera videos) https://t.co/xeq6nu2Cfm

— Global Crisis 2.0 (@GlobalCrisis20) September 11, 2017
...
FLORIDA DAMAGE:
As Hurricane Irma begins to lose its steam, having been downgraded to a category one storm with maxiumum sustained winds of 85mph, the extent of the damage in southern Florida will become clear with daybreak. At least four US mainland deaths were reported as Irma tore down power lines, knocking out the light to more than three million people, although most would have fled inland long ago. Communities along the west coast of Florida were badly flooded as Irma made landfall near Naples/Fort Myers and headed on up the coast, wreaking havoc also in the Tampa Pay, St. Petersburg area, but it was the Florida Keys that bore the brunt of the storm earlier and where the damage is likely to be most severe. Two giant cranes left dangling dangerously on the Miami skyline were a reminder of the reach of the giant storm. Disaster risk and insurance experts are struggling to grapple with the enormous economic cost of Irma, one putting it as high as $300 billion.
Here are the Key Messages for #Irma advisory 49 pic.twitter.com/H4K1oWih9q

— NHC Atlantic Ops (@NHC_Atlantic) September 11, 2017
...
IRMA DOWN TO CATEGORY TWO:
Shortly after making landfall for the first time on the US mainland near Naples in southwest Florida, Hurricane Irma has been dowgraded to a category two storm (with sustained maximum winds of up to 110mph), according to the latest update from the US National Hurricane Center.
...
THE CUBAN FACTOR:
With most of the media attention on Florida, it's easy to forget Cuba just suffered a severe battering from Irma when she had category 5 winds above 160mph. The images from Havana are dramatic, with people wading chest-deep through streets turned to rivers, others taking to boats. But the damage outside the capital, in the provinces of Camaguey, Matanzas, Villa Clara, and Sancti Spiritus, is reportedly even worse, with hundreds of houses destroyed and thousands displaced. Cuba is credited by some as being a leading country in hurricane preparedness. "What can we learn from this small island nation?" asks Branko Marcetic in this compelling article. And not only is Cuba looking after it's own; it has also dispatched hundreds of physicians to the worst-hit parts of the Caribbean. But this policy of medical internationalism is nothing new, as this IRIN commentary from shortly after the death of Fidel Castro in November last year illustrates.
Cubans, in a flooded Havana, begin to assess the damage caused by #HurricaneIrma pic.twitter.com/JIj5mBG2ZX

— AFP news agency (@AFP) September 10, 2017
10 September
IRMA WEAKENS:
Irma has been downgraded to a category 3 storm with maximum sustained winds of 120mph (down from 130mph), according to the latest update from the US National Hurricane Center. Water is rushing out of coastal Naples and Tampa Bay areas ahead of an expected storm surge of 10 feet (three metres) or more.
Water levels beginning to rise in Naples. Will rise rapidly in Marco Island & Naples after passage of eye. MOVE AWAY FROM THE WATER. #IRMA pic.twitter.com/zXgsBooDYA

— NHC Atlantic Ops (@NHC_Atlantic) September 10, 2017
...
NAPLES IN THE CROSSHAIRS:
After much speculation about where Irma would make landfall in the mainland US (Miami? Tampa?), latest forecasts suggest the Naples/Fort Myers area on southwest coast might take the biggest initial hit. Further north, in Tampa, there was time even to evacuate the flamingos.
A flamingo flock at @BuschGardens is led to shelter in advance of #Irma pic.twitter.com/t0Ny8ECKdX

— Donie O'Sullivan (@donie) September 10, 2017
...
CARIBBEAN DEVASTATION:
Even as it's Florida turn to bear the brunt of Hurricane Irma, it's important to remember that the streets of Havana in Cuba have been turned into canals, that Puerto Rico was hit very hard, that Haiti and the Dominican Republic suffered bad floods, and that the worst devastation was visited upon the Turks and Caicos, the US and British Virgin Islands, Anguilla, Barbuda, Saint-Martin/Sint Maarten, and Saint-Barthélemy. Proper aid will take weeks to find thousands of people in these places and it will be many months before some parts of these islands are habitable again.
This video footage shot from a drone shows the devastation on the island of Tortola, British Virgin Islands, from Hurricane #Irma pic.twitter.com/4yQgpiyFjJ

— CNN (@CNN) September 10, 2017
...
IRMA MAKES FLORIDA LANDFALL:
Irma has made landfall in the lower Florida Keys as a category 4 hurricane, with a gust above 100mph recorded: update from NHC. More than one million homes are reported to be without power and multiple tornado warnings have been issued. A second landfall was expected later Sunday in southwest Florida, with an earlier NHC advisory confirming that Irma was still a category 4 storm, packing sustained maximum winds of 130mph.
...
Time-lapse video of daybreak in Fort Lauderdale, September 10, 2017.
Live stream: https://t.co/31Z0QwOrbs#irma Courtesy: Phillip Shaver. pic.twitter.com/vJVcQGLEtf

— CBS4 Miami (@CBSMiami) September 10, 2017
...
BARBUDA: Damage estimates from satellite imagery confirm a heavy toll on Barbuda. UN analysts estimate 89% of structures are damaged in Codrington town. 

...
ST PETERSBURG AND TAMPA IN THE FIRING LINE AS IRMA STRENGTHENS AGAIN:
As 6.5 million Floridians are told to evacuate, forecasters predict that the eye of Hurricane Irma, strengthening to a category 4 storm again with sustained winds of up to 130mph, will make landfall on Sunday afternoon/evening somewhere in the Tampa Bay area. Coastal towns like St. Petersburg, and Tampa itself, have not been hit by a major hurricane for almost a century. The Florida Keys were already getting an early battering.
***EVERYONE IN THE FLORIDA KEYS***

***IT IS TIME TO HUNKER DOWN***

***THE WORST WINDS ARE YET TO COME***#Irma #FLkeys #flwx pic.twitter.com/lmHTcRv68l

— NWS Key West (@NWSKeyWest) September 10, 2017
9 September
JOSE FORECAST TO SPARE ISLANDS DEVASTATED BY IRMA:
The latest update from the US National Hurricane Center predicts that Jose will tonight move northwest away from the devastated eastern Caribbean territories of Saint-Martin, Sint Maarten, and Saint-Barthélemy. Tropical storm warnings are still in effect but hurricane warnings and watches have been lifted. Hurricane Jose, which is still a category 4 storm with sustained winds of up to 145mph, is forecast to turn away from the Caribbean and start weakening on Sunday. Local TV in the nearby nation of Antigua and Barbuda, which had evacuated an entire island rendered almost uninhabitable by Irma in case of a hit from Jose, said the population there had breathed a "collective sigh of relief".
Hurricane #Jose will thankfully miss #Antigua and #Barbuda. Max sustained winds are at 145 MPH. Moving NW at 14 MPH. #GOES16 pic.twitter.com/8z1cDNRccA

— NASA SPoRT (@NASA_SPoRT) September 9, 2017
...
SPARE A THOUGHT FOR HAITI:
The received wisdom is that Haiti was spared a major hit from Hurricane Irma. This may be true, but try telling that to farmers in the north of the poorest country in the western hemisphere who have yet again seen their lives turned upside town. Jacqueline Charles has this important story for the Miami Herald.
Champs d'eau, Fort-Liberté, #Haiti #Irma pic.twitter.com/GKNI60fZH9

— Amélie Baron (@Ameliebaron) September 8, 2017
...
IRMA WEAKENS TO CATEGORY 3:
The latest update from the US National Hurricane Center says Irma has weakened to a category 3 storm with maximum sustained winds around 125mph. However, it does warn that Irma is expected to strengthen between leaving Cuba and hitting Florida on Sunday. Jose was still a major threat in the eastern Caribbean, a category 4 storm with winds up to 145mph that was expected to buffet and drench the devastated territories of Saint-Martin, Sint Maarten, and Saint-Barthélemy. Hurricane warnings have been issued for all three.​
Hurricane #Irma seen this hour by the #GOES16 ABI Day Cloud Convection RGB. Currently has 125 mph winds - @NHC_Atlantic pic.twitter.com/xdeiGr1Bze

— NASA SPoRT (@NASA_SPoRT) September 9, 2017
...
TOLL REVEALED IN BRITISH VIRGIN ISLANDS:
Irma claimed at least five lives in the British Virgin Islands, taking the overall toll to 27. The breakdown is as follows: Anguilla (British territory): one; Antigua and Barbuda (independent state): one; Barbados (independent state): one; British Virgin Islands (British territory): five; Puerto Rico (US territory): three; Saint-Martin and Saint-Barthélemy​ (French territories): 10; Sint Maarten (Dutch territory): two; US Virgin Islands (US territory): four.
...
CUBA WEAKENS IRMA:
A little better news for Floridians as Cuba takes some of the sting out of Hurricane Irma, but the latest NHC update warns that further strengthening is still possible as the storm churns over the warm coastal waters on its approach to the US mainland.
"The interaction with the terrain of Cuba has weakened the hurricane a little," the update says. "Maximum sustained winds have decreased to near 130 mph (215 km/h) with higher gusts, but Irma remains a category 4 hurricane on the Saffir-Simpson Hurricane Wind Scale. Irma is forecast to restrengthen once it moves away from Cuba, and Irma is expected to remain a powerful hurricane as it approaches Florida."
There is more positive news too for the eastern Caribbean, where Hurricane Jose has weakened slightly and is forecast to take a more northerly trajectory. The hurricane warning for Antigua and Barbuda has been downgraded to a tropical storm warning. However, a hurricane warning remains in place for Saint-Martin, Sint Maarten, and Saint-Barthélemy, according to the NHC advisory.
...
Hurricane Irma back to a Category 5 storm as it sweeps into Cuba and continues a path toward Florida https://t.co/arsyhfAYBd pic.twitter.com/raqzogW1f9

— Los Angeles Times (@latimes) September 9, 2017
...
TOLL AND DAMAGE UPDATE:
As Florida awaited its fate, Cuba took a heavy battering as Irma tore down trees and power lines. Futher east there was still little news from the Turks and Caicos, a British archipelago that took a direct hit from Irma on Friday. The damage is all too clear in the British and US Virgin Islands and the hardest hit of the Leeward Islands: Anguilla, Barbuda, Saint-Martin/Sint Maarten, and Saint-Barthélemy. Barbuda has been completely evacuated ahead of the arrival of Hurricane Jose, which is also due to hit Saint-Martin/Sint Maarten an island shared by France and the Netherlands. The island, along with neighbouring St. Barts, has already been decimated by Irma with more than half the homes said to be uninhabitable. "There is a sense of dread … utility poles are down everywhere. There is no power and no public water and it appears it may take a long time to restore," Xaverius van der Hoek, who lives in Dutch-administered Sint Maarten, told CNN.
Four deaths reported on Friday in the British Virgin Islands are yet to be corroborated, leaving the toll at 23, with two more dead confirmed in Saint-Martin and one more, a teenage surfer, in Barbados. The breakdown is as follows: Anguilla (British territory): one; Antigua and Barbuda (independent state): one; Barbados (independent state): one Puerto Rico (US territory): three; Saint-Martin (French territory): eleven; Sint Maarten (Dutch territory): two; US Virgin Islands (US territory): four.
...
8AM ADVISORY: Hurricane #Irma weakens further to a low-end category 4 storm with winds at 130 mph. Expect it to restrengthen, however. pic.twitter.com/6q4G9XDmaX

— HurricaneTracker App (@hurrtrackerapp) September 9, 2017
...
LATEST IRMA DEVELOPMENTS:
The Bahamas escaped the worst but the storm strengthened again with sustained winds of 165mph as it made landfall on northeastern Cuba.
Irma was the first Category 5 storm to hit Cuba in almost a century, and as communications went down there were fears of flash floods and storm surges in populated areas.
Irma weakened again to Category 4 shortly after making landfall in Cuba and was forecast to turn northwest and strike the Florida Keys on Sunday before heading northwards up the state of Florida. Six million people have been ordered to evacuate from Florida and Georgia.
Back in the far eastern Caribbean, Hurricane Jose is poised to hit the already devastated Leeward Islands, packing winds of 150mph: NHC update.
Almost the entire 1,000-strong population of Barbuda has been evacuated in advance of Jose, ferried off to the bettter resourced and higher-lying sister island of Antigua.
...
UNOSAT MAPPING SHOWING DAMAGE ASSESSMENT IN SOUTHERN PART OF ANGUILLA ISLAND: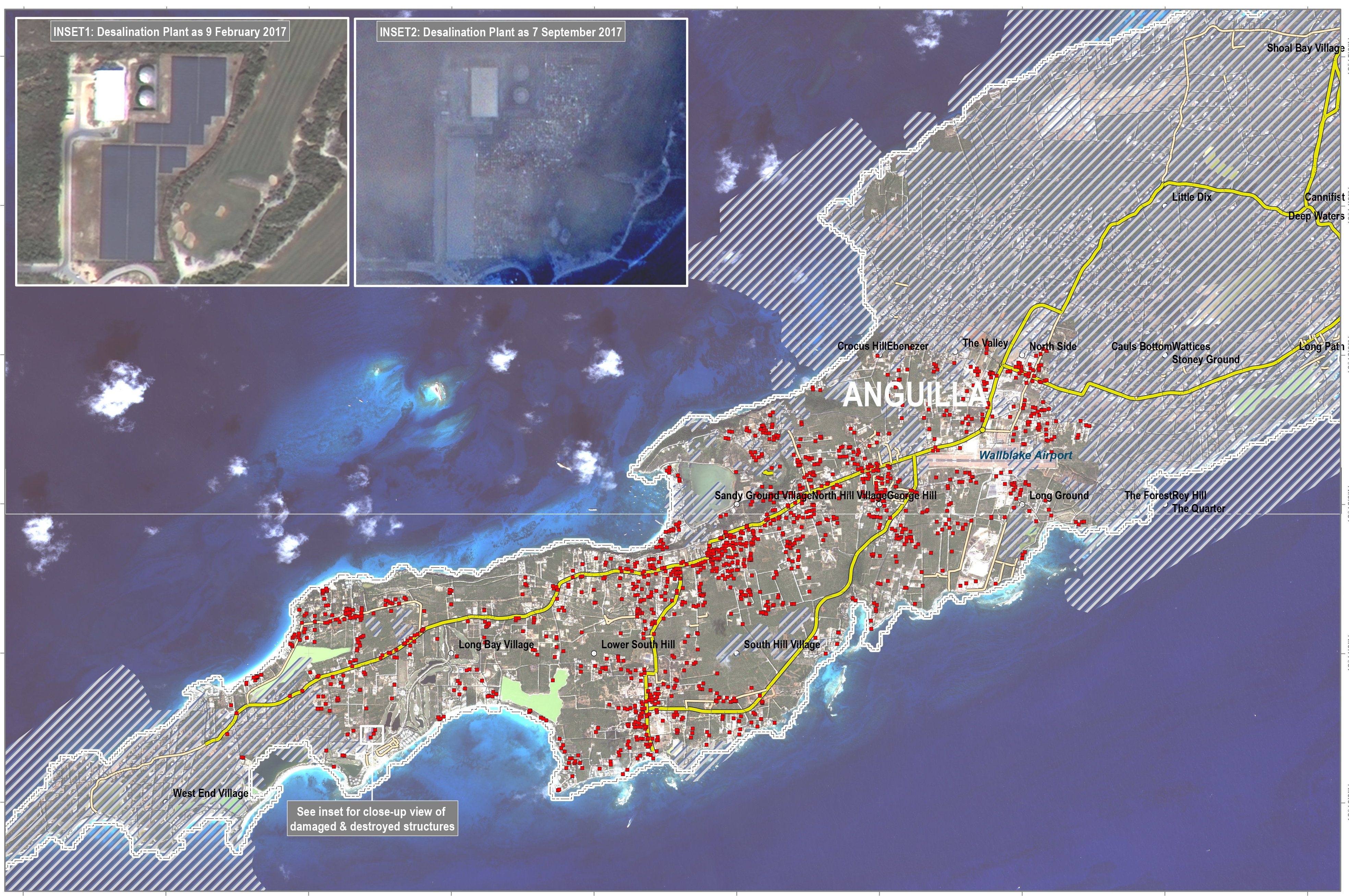 8 September
TOLL BREAKDOWN:
As the Dutch authorities announce two deaths and more than 40 injured in Sint-Maarten, here's a breakdown of the 24 fatalities so far:
Anguilla (British territory): one; Antigua and Barbuda (independent state): one; British Virgin Islands (British territory): four; Puerto Rico (US territory): three; Saint-Martin (French territory): nine + seven missing; Sint Maarten (Dutch territory): two; US Virgin Islands (US territory): four
...
US READIES FOR BIG HIT:
The storm hurtling towards Florida could do even more damage than Hurricane Andrew in 1992 and cost the state as much as $125 billion, according to disaster risk experts. Heavy wind and rain is expected to batter the Florida Keys from late Saturday, with Hurricane Irma forecast to make landfall somewhere in densely populated south Florida on Sunday morning. Although its maximum sustained winds have dropped from 185 to 155 mph, Irma might still strengthen over the warmer coastal waters prior to landfall and is strong enough anyway to wreak widespread destruction, especially in coastal areas and populous urban centres. Florida Governor Rick Scott has urged residents inland, while mandatory evacuations have been ordered for 1.4 million residents of Florida and neighbouring Georgia. Many of the six million residents of south Florida are hunkering down, but others are fleeing on traffic-clogged roads or taking to the skies in a sweeping evacuation that could be one of the largest in US history. Some 7,000 people have volunteered to help, but Scott is calling for 10,000 more. The Red Cross and other relief agencies have set up operations as Florida awaits...
...
Hurricane Irma strengthens slightly with sustained max winds of 155mph as it hits Bahamas, Cuba: NHC update
...
COSTLIEST CARIBBEAN HURRICANE EVER:
Experts from the Center for Disaster Management and Risk Reduction Technology's Forensic Disaster Analysis Group estimate Hurricane Irma has already cost the region at least $10 billion, making it the Caribbean's costliest storm of all time.
...
For a detailed island by island breakdown of damage, needs, and humanitarian response, take a look at this situation report from the UN's emergency aid coordination body, OCHA.
...
NHC graphic shows Jose taking different path from Irma but eastern Caribbean still at risk
...
FATALITIES CONFIRMED IN BRITISH VIRGIN ISLANDS:
The Caribbean Disaster Emergency Management Agency has confirmed four deaths in the British Virgin Islands, while the Dutch PM announced one fatality on Sint-Maarten, taking the overall toll to at least 23. In its latest situation report, CDEMA also said hundreds of people had been evacuated from Barbuda ahead of the arrival of Hurricane Jose, but suggested ferries wouldn't be running much longer with sea conditions worsening.
...
More potentially disastrous news for those in the Caribbean made homeless by Irma as Jose strengthens further to Category 4 storm with 150mph winds: NHC update
...
This NASA image shows Jose (right) churning westwards on a similar trajectory to Irma (left)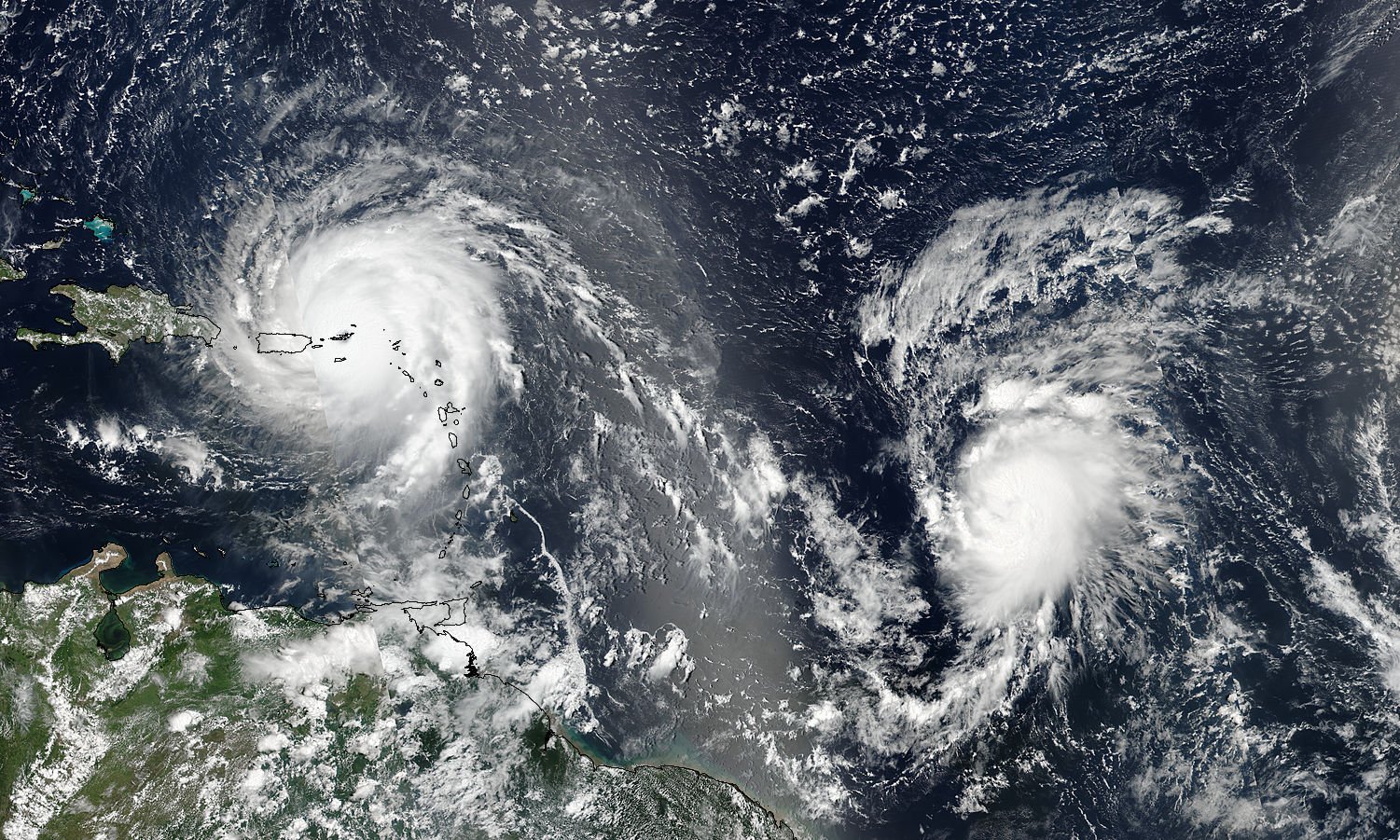 ...
Saint-Martin damage map from LiveStormChasers:
...
Irma has weakened a little further to 150mph max sustained winds but remains on course to strike the Bahamas, Cuba, and then Florida: NHC update
...
FULL SCALE OF DISASTER ON SAINT-MARTIN REVEALED:
France's Interior Minister Gerard Collomb has said nine people are dead and a further seven are missing on the French territory of Saint-Martin. Another 112 people there have been injured and some 60 percent of homes rendered uninhabitable. France's response in the eastern Caribbean is being coordinated out of Guadeloupe, where 200 troops, doctors, and rescuers have been flown in to assist in the aid effort. For more, read the full report from the French international news agency AFP. The full extent of the damage on the Dutch side of the same island, Sint-Maarten, is still unclear but the prime minister of the Netherlands, Mark Rutte, has said the airport there is accessiible for military aircraft.
...
...
IRMA WEAKENS:
Hurricane Irma has been downgraded to a Category 4 storm with maximum sustained winds of 155mph but is still described as "extrememy dangerous" and on course to do serious damage in the Bahamas and Florida, according to the latest update from the US government's National Hurricane Center.
The head of the Bahamas emergency management agency, Captain Stephen Russell, told the BBC he was concerned that hundreds of people had refused evacuation orders on remote islands in the archipelago directly in Irma's path. These include Great Inagua (population 913); Mayaguana (277); Acklins (population 428); Crooked Islands (population 350); and Ragged Island (population 72).
...
7 September
DAMAGE, TOLL UPDATE:
The toll from Irma has risen to at least 14 with four deaths confirmed in the US Virgin Islands, the count in the French dependency of Saint-Martin rising to five, three deaths in Puerto Rico, and one each in Anguilla and Barbuda. Dozens of injuries have also been reported, several of them serious.
The news from the Dominican Republic and Haiti appears better. Irma only skirted past the northern coast of Hispaniola, the island they share, and, although there is widespread flooding and thousands of people have been displaced, the only initial reports of casualties were two injuries from a falling tree. There was no immediate word from Britain's remote Turks and Caicos archipelago, which took a direct hit from Irma's 175mph winds further to the north. The storm surge was expected to see waves of up to six meters (20 feet) swamp low-lying areas.
The prime minister of the Netherlands has said the storm-damaged airport is ready for military use in the Dutch territory of Sint-Maarten, where he described the looting situation as "serious", according to the international news agency AFP.
...
LEEWARD ISLANDS READY FOR SECOND HIT AS JOSE STRENGTHENS:
Following a similar path to Irma is Jose, now a major Category 3 storm, which has strenghtened further according to the latest NHC update with sustained winds of 125mph. Hurricane watches have been issued for Anguilla, Antigua, Barbuda, Saint-Martin, Sint-Maarten, and St. Barts. Known collectively as the Leeward Islands, this part of the eastern Caribbean was bearing the full force of Hurricane Irma only 48 hours ago and many of the residents are homeless after up to 95 percent of there buildings were destroyed or badly damaged.
...
Hurricane #Irma (left) and #Jose (right). Jose has its sights set on the #LeewardIslands, which were ravaged by Irma a few days ago. #GOES16 pic.twitter.com/SSYIAK7Vg8

— NASA SPoRT (@NASA_SPoRT) September 7, 2017
...
Hurricane and storm surge warnings issued for South Florida and the Florida Keys: NHC update
...
UPDATE ON HAITI, TURKS AND CAICOS:
Vulnerable Haiti has escaped a direct hit from Irma, but heavy winds and rain were still reported across much of the country with some flooding in northern areas. Caution is still urged in what is the poorest country in the western hemisphere – one ravaged by deforestation and natural disasters that is prone to deadly floods and landslides. Haiti has endured terrible misfortune in recent years: Hurricane Matthew caused awful coastal flooding in October 2016 that left hundreds dead, while a catastrophic earthquake in 2010 killed hundreds of thousands, many of them beneath the rubble of the flattened capital, Port-au-Prince.
To the north of Haiti, and at the other end of the development spectrum, the Turks and Caicos islands, a luxury tourist destination with a population of about 35,000, faced the full wrath of the hurricane. As Irma plowed right into the islands, officials in the extremely low-lying and remote British archipelago rushed to evacuate everyone to the highest ground available and into emergency shelters. With forecasts of sustained 175mph winds and a storm surge of five-six metres set to swamp all the low-lying areas, the omens are not good.
...
...
Following in Irma's wake, Hurricane Jose becomes the third major Category 3 storm of the season with sustained winds of 120mph: NHC update
...
FRANCE REDUCES TOLL BY FOUR:
Some better news from France as Prime Minister Edouard Philippe says no one died in St Barts after all and the toll on Saint-Martin was only four. Earlier, officials had put the total fatalities for the two islands at eight. Philippe did say another 50 people had been injured in the two Caribbean dependencies, two seriously.
...
According to experts, Hurricane Irma has overtaken Typhoon Haiyan (2013) as the most consistently powerful global storm on record
#Irma had winds of 185 mph for 37 hr, the longest a TC was that strong anywhere around globe in satellite era (since 1966). Irma now 175 mph pic.twitter.com/VkLaakwmhN

— Philip Klotzbach (@philklotzbach) September 7, 2017
...
...
New estimates of affected populations from UNOSAT.
...
Irma weakens slightly to 175mph sustained winds but takes direct aim at Turks and Caicos: NHC update
...
VIRGIN ISLANDS/PUERTO RICO UPDATE:
The Puerto Rican governor's office has confirmed three deaths in the US territory, according to the BBC, taking the overall toll from Irma to 13. More than one million people are without power and it could take up to six months to restore it in certain areas due to the island's fragile power grid (see earlier updates below).
The news isn't good either from the British and US Virgin Islands, although there was no immediate word on casualties. Videos of Tortola in BVI show scenes of utter carnage with buildings levelled in every direction and piles of debris everywhere. For an update on the situation in USVI, where Saint Thomas and Saint John were reportedly hardest hit, watch Governor Kenneth Mapp below. The governor, meanwhile, is in hot water with the National Rifle Association after authorising the National Guard to confiscate privately owned guns and ammunition to prevent criminals taking advantage of the disaster.
...
The International Federation of the Red Cross estimates 1.2 million people have been "battered" by Hurricane Irma so far.
...
WAITING IT OUT ON THE BEACH IN TURKS AND CAICOS:
Many islands in the Caribbean are obviously popular tourist destinations, not least the Turks and Caicos, a British archipelago of 40 low-lying coral islands southeast of the Bahamas. According to the latest bulletin from the US National Hurricane Center, these remote islands are set for a direct hit from Irma this evening. Particularly worrisome are the facts that the storm is currently slowing, meaning its impacts will be felt for a longer period, and that the NHC is predicting a storm surge of 15-20 feet (five-six metres). Most of the Turks and Caicos islands have little high ground, putting the archipelago's estimated 35,000 population at grave risk. Tourists are trapped too, some having tried desperately to get a flight out only to be told they have to stay. This CBC News report chronicles all the drama facing an Ottawa couple stranded in a luxury resort on the most populous island of Providenciales. "Right now, it's beautiful. We just surrendered to the circumstances," says Taras Klymyshyn, one half of the couple. "After the grieving and after the fact that they said it is what it is and we're facing Irma here in our rooms, we went to the beach because there's nothing really we can do."
...
In more eye-popping imagery, here's a 3D image of the inside of Irma, which is up to 16 km tall:
...
PUERTO RICO UPDATE:
First light brings first news of Hurricane Irma's impact in Puerto Rico. There was one reported fatality but it appears the island, the Caribbean's fourth most populous country (after Haiti, the Dominican Republic, and Cuba), has been spared the worst, with well-organised evacuations from low-lying areas having paid off. That said, more than one million people are still affected and under blackout conditions as the storm has torn down power lines and trees and submerged coastal communities. A CNN correspondent tweeted that more than 56,000 Puerto Ricans are without water. For more on the expected months-long delay in getting power back to certain areas, check out this NPR report, which features AP's reporter in San Juan, Dánica Coto. And for deeper analysis of the woes at the Electric Power Authority and underlying poverty and economic problems, this perspective from local investigative journalist Carla Minet for the Washington Post is worth a read.
...
The Pacific Disaster Center has updated their impact advisory. The Turks and Caicos appear to be facing a direct hit. The northern side of Haiti and the Dominican Republic are also facing significant impacts over the next day or two.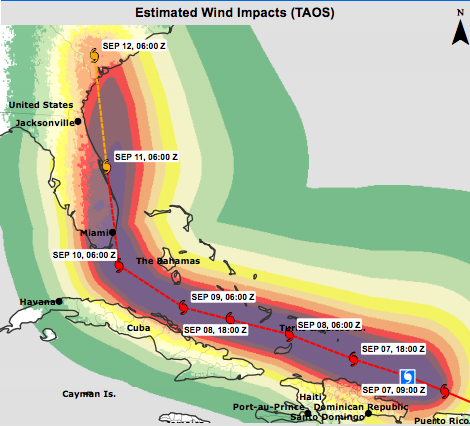 ...
TOLL/DAMAGE UPDATE:
The extent of the loss of life and disastrous damage from Hurricane Irma in the eastern Caribbean is becoming clearer. The small French territories of Saint-Martin and Saint-Barthélemy, the tiny island of Barbuda, and the British overseas territory of Anguilla have been worst hit, according to preliminary reports. French Interior Minister Gerard Collomb has confirmed eight deaths, six on St-Martin and two on St. Barts. More than 20 injuries were confirmed there too, and French officials are warning the toll could rise as search and rescue operations continue. St-Martin official Daniel Gibb told Radio Caribbean International: "I have sick people to evacuate, I have a population to evacuate because I don't know where I can shelter them." He said "95 percent" of the island had been destroyed. There were similar scenes of utter devastation on Barbuda, where a two-year-old boy died and Prime Minister Gaston Browne declared a "national disaster" after Irma rendered an estimated 60 percent of the island's 1,600 population homeless. A 10th death has been reported on Anguilla, where much of the island's key infrastructure was destroyed and the British government is facing accusations of a lacklustre response.
...
#Haiti: 2.2 millions vivent ds les régions les + susceptibles d'être touchées par l'#OuraganIRMA #Irma - + d'info : https://t.co/lAtWo4qnEN pic.twitter.com/K2gUgn9PeA

— OCHA en français (@UNOCHA_fr) September 7, 2017
...
...
HURRICANE IRMA HEADS FOR HISPANIOLA, AFTER LEAVING PUERTO RICO WITHOUT POWER
...
Eye of Category 5 Hurricane Irma Continues Passing Just North Of Puerto Rico: latest NHC update
...
#GOES16 Geostationary Lightning Mapper is detecting copious amounts of lightning in #Irma's eye, evidence of a strong hurricane. pic.twitter.com/pwGfYHebTF

— NASA SPoRT (@NASA_SPoRT) September 7, 2017
6 September
UPDATE – BARBUDA FATALITY CONFIRMED:
Back in Antigua after surveying the damage in cut-off Barbuda, Prime Minister Gaston Browne has confirmed one infant fatality from Hurricane Irma and said that a "search and rescue operation" is underway in case of more casualties. Fleshing out an earlier statement that 90 percent of buildings had been "decimated", Browne told local ABS Television/Radio that an estimated 60 percent of the 1,600-strong Barbudan populaton could now be regarded as "homeless".
"What I saw was heart-wrenching, I mean absolutely devastating," Browne said. The prime minister also acknowledged a league of difference between the 185mph winds that demolished much of Barbuda and the 135mph battering Antigua endured, even though the islands aren't that far apart. "What is instructive is that a diference of 30-50 miles involving a hurricane can make a major difference," he said, putting the cost of reconstruction on Barbuda alone at $150 million.
Watch Browne's ABS interview in full below:
...
NOT SINCE 1893
After the US government's National Hurricane Center confirms both Katia (in the Gulf of Mexico) and Jose (in the Atlantic) have strengthened to hurricanes, expert Philip Klotzbach says 2017 has earned the unenviable distinction of tied as the busiest Atlantic hurricane season on record.
6 Atlantic hurricanes have formed since Aug 7 - tied with 1893 for most hurricane formations on record between 8/7-9/6. #Irma #Jose #Katia pic.twitter.com/0qooUbQLr7

— Philip Klotzbach (@philklotzbach) September 6, 2017
Check out the latest NHC update, which adds hurricane warnings for Bahamas and puts Turks and Caicos islands in Irma's direct path.
...
NATIONAL DISASTER DECLARED IN BARBUDA:
After a 14-hour anxious wait for news, Antigua and Barbuda's prime minister has declared a "national disaster" and confirmed that more than 90 percent of homes and structures on Barbuda have been destroyed or badly damaged. The island suffered a direct hit from Hurricane Irma and nothing had been heard from anyone there since 2am local time when all communications were knocked out. After touring the island by helicopter to survey the damage, Browne said preliminary reports that Barbuda had been largely spared were "completely inaccurate" and told local ABS radio: "We have a national disaster on our hands." The prime minister made no audible statement on fatalities on the crackly satellite telephone line but the radio station said there were unconfirmed reports of at least one death. More to follow. (see update above)
...
FIRST DEATHS REPORTED:
At least two people have died and at least another two are seriously injured because of Hurricane Irma hitting the French Caribbean territories of Saint Barthélemy and Saint-Martin, France's overseas ministry has confirmed, according to the international news agency AFP.
Irma: "Au moins deux morts et deux blessés graves" à St Barth et St Martin, selon le ministère de l'Outre-mer #AFP

— Agence France-Presse (@afpfr) September 6, 2017
...
FEARS OVER BARBUDA:
Despite an initial missive from Antigua and Barbuda's prime minister suggesting all might be fine, there has apparently been no word at all from the small island of Barbuda and its 1,200-1,600 inhabitants since it took the first hit from Irma in the early hours of Wednesday. Browne was reportedly planning to take a military helicopter and visit the island to find out what has really happened as soon as he was given the all-clear: fingers crossed. (see update above)
So this is what Barbuda got in terms of winds up until the instrument broke at 2:24 am - at least 118 mph gusting to 154 mph pic.twitter.com/0aN4cpoLMC

— Antigua Met Service (@anumetservice) September 6, 2017
...
FLORIDA PREPARES:
As Hurricane Irma looks increasingly likely to veer north later this week and pummel the east coast of south Florida, hundreds of thousands of residents are streaming out of low-lying areas to safer territory inland. A state of emergency has been declared for the entire state and mandatory evacuation has so far been declared in Monroe County, home to the Florida Keys, with evacuations underway of all tourists and residents there. A total of 5,000 personnel from Naval Air Station Key West and their families have also been evacuated.
Schools in South and Central Florida are closed Thursday and Friday and many are being prepared as shelters to accommodate tens of thousands of people. There is a mad dash for food, water, gas and plywood supplies at local retailers, many which have run out. People are queuing for hours for gas and other provisions. There are also long lines outside banks as people try to draw money. Tolls have been suspended as people take to their cars to get away from coastal areas likely to be hardest hit. Others are battening down, putting plywood on their windows, filling sandbags to shore up water, dumping potential missiles like outdoor furniture into their pools, and making emergency plans for their pets.
A total of 7,000 national guard members are gearing for duty Friday and large numbers of high water vehicles, helicopters, boats and generators are on standby. Search and rescue teams, just home after devastating Hurricane Harvey, are getting ready to be deployed again. A total of 30,000 national guard troops have been identified for possible deployment. The damage from a Category 5 storm hitting land would destroy many framed houses in low-lying areas like downtown Miami and power could be lost for weeks or months. Meanwhile, the Federal Emergency Management Agency (FEMA), gutted by Hurricane Harvey disaster relief, is down to its last $1 billion and is set to run out by Friday. Observers say Congress will have to act quickly to unlock additional funds. Already, Congress needs to agree to additional $8 billion for Hurricane Harvey clean up efforts and FEMA is currently restricting its spending to critical, life-saving activities in what is only the beginning of the hurricane season. If Irma hits the US as a Category 5 storm, it will only be the fourth to do so in recorded history.
...
Don't Fall For This Fake Viral Video Of Hurricane Irma
...
The International Space Station's external cameras captured a dramatic view of Hurricane Irma as it moved across the Atlantic Ocean Sept. 5. pic.twitter.com/mc61pt2G8O

— Intl. Space Station (@Space_Station) September 5, 2017
...
#HurricaneIrma is taking out websites now. https://t.co/Eg4sejPnA8

— IRIN News (@irinnews) September 6, 2017
...
An early warning notice tweeted out by Haiti's civil protection agency:
Alèt 1, vijilans wouj : ouragan Irma ka lakòz gwo van, gwo lapli ak vag disèt wotè sitou sou kòt Nò peyi d Ayiti. https://t.co/pqMk0laD9g pic.twitter.com/Muj7UwJxWc

— Pwoteksyon sivil (@Pwoteksyonsivil) September 6, 2017
...
British and US Virgin Islands poised for major hit from Irma: latest NHC update.
...
INITIAL DAMAGE REPORTS:
Irma has created carnage in several of the Leeward Islands, downing power lines, causing blackouts, silencing communications, destroying and tearing the roofs off buildings, and submerging many coastal areas, but no fatalities have yet been reported. The worst of the damage so far appears to have been in Barbuda, St. Barthélemy, and St. Martin, while Guadeloupe, Antigua, and St. Kitts and Nevis have avoided the worst, according to preliminary media reports. Forecasts suggest Irma's powerful eyewall will pass in the coming hours just to the north of the Puerto Rican capital San Juan, where residents are hunkering down and a state of emergency was declared as early as Monday.
...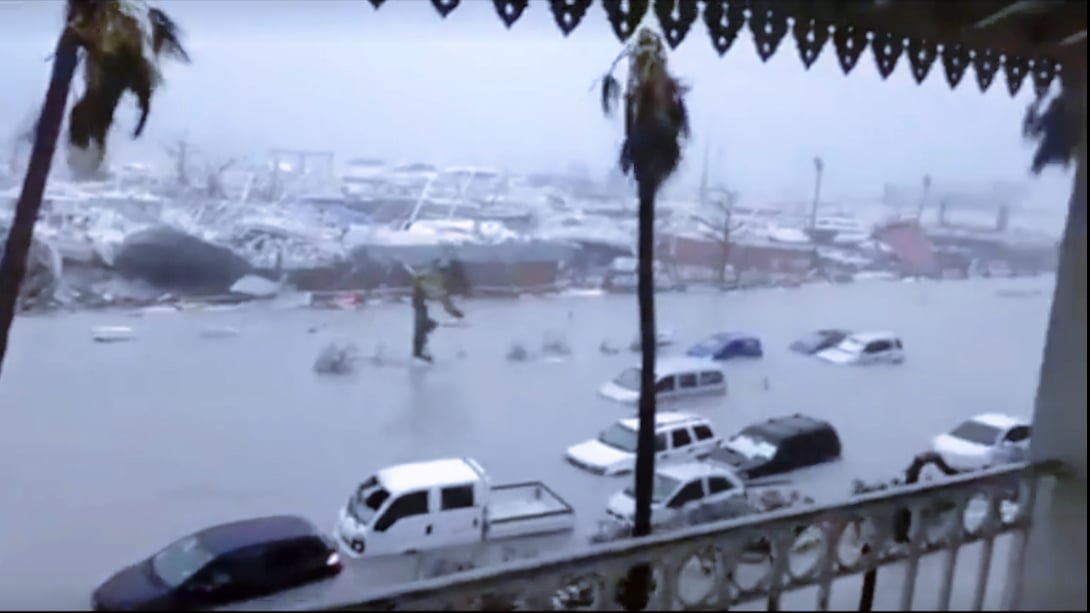 ...
Video from yesterday's flight in CAT 5 #Irma on #NOAA42. https://t.co/iofV4p56DE has the latest advisories. Credit Rob Mitchell/NOAA pic.twitter.com/IygcNgIbJN

— NOAAHurricaneHunters (@NOAA_HurrHunter) September 6, 2017
...
#LIVE footage of #HurricaneIrma destroying https://t.co/TUjTdYPyRR in #StMaarten We will #rebuild! @sxmtweets pic.twitter.com/j2IoIGFSuH

— PTZtv (@PTZtv) September 6, 2017
...
...
HAITI RISK?
As Irma leaves the Leeward Islands and takes aim at Puerto Rico, next in line will be the island of Hispaniola, which is divided between the Dominican Republic and Haiti. Although they could still escape the strongest of Irma's winds, less powerful Hurricane Matthew in early October showed how storms of such magnitude can wreak havoc in countries prone to flood and landslide disasters. Winds of up to 145mph devastated parts of southern Haiti, leaving hundreds dead and up to 90 percent of homes destroyed. After that disaster, IRIN asked Haiti expert Jonathan Katz how it could have been better prepared. Here's that interview again.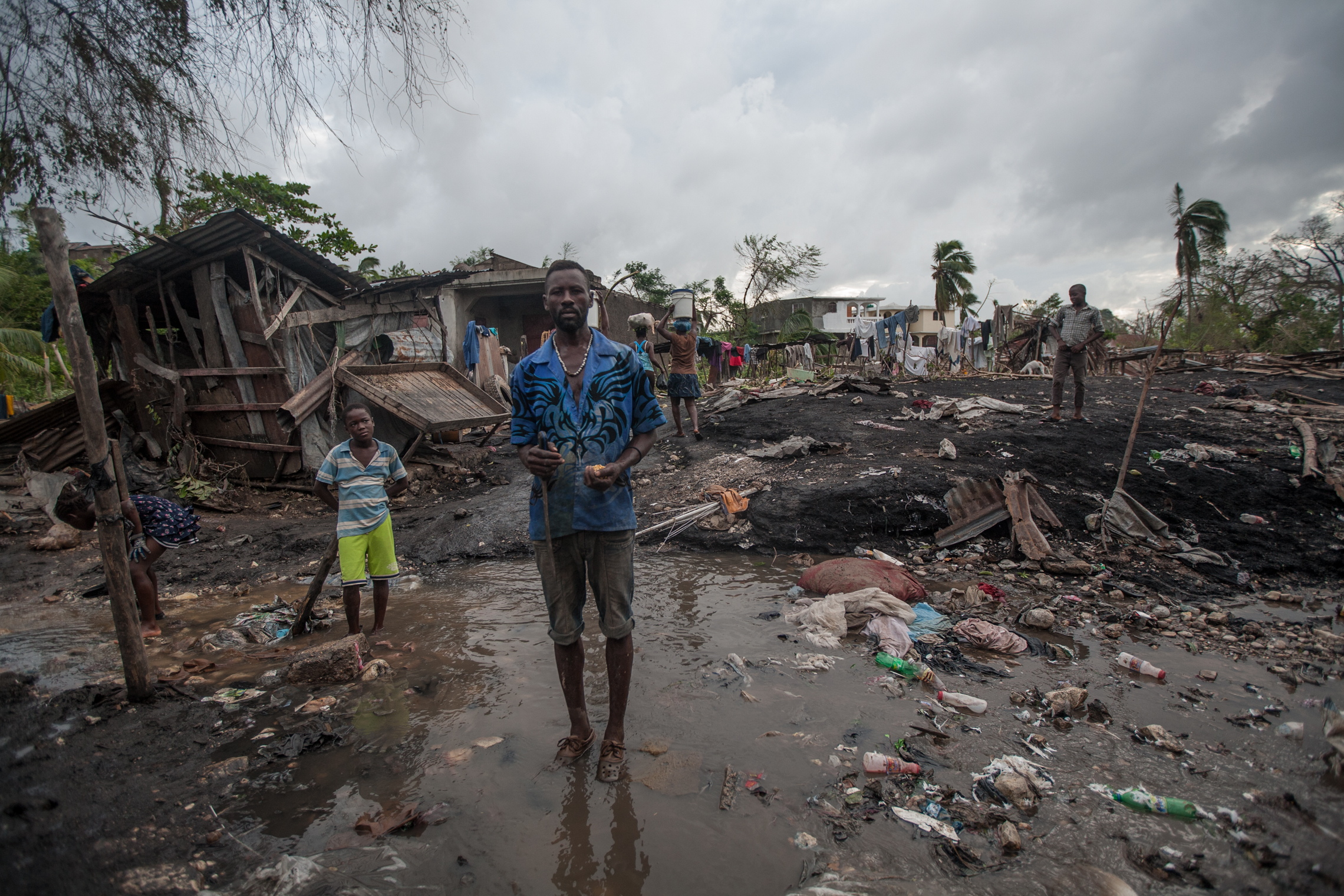 ...
Latest daily update from the EC's emergency department, ECHO.
...
Early photos of damage in Antigua.
...
⚠St-Martin et St-Barthélémy sont actuellement au cœur de l'ouragan #Irma, avec le passage de l'œil du #cyclone ▶ https://t.co/2qQnReB4b8 pic.twitter.com/J7sRRyELb4

— Météo-France (@meteofrance) September 6, 2017
...
...
Link: ReliefWeb is tracking Irma's impact against a list of 16 countries and territories
...
How much damage do Category 5 winds do compared to Category 1 winds? There's a visualization for that (and it's not pretty) pic.twitter.com/GaO3jbp2QE

— Brian L Kahn (@blkahn) September 5, 2017
...
A detailed list of locations likely affected by storm surge from GDACS.
...
How the forecast has evolved:
This the evolution of #Irma's forecast over the past few days including the latest @NHC_Atlantic update, which ends just off Florida coast pic.twitter.com/s2s15TjU8g

— Brian L Kahn (@blkahn) September 6, 2017
5 September
Disaster teams deploy: IRIN has learned that the UK's aid ministry DFID has sent staff to Barbados to prepare. We understand USAID/OFDA teams are deploying to Haiti and the Dominican Republic.
...
Get a good look at Hurricane #Irma's eye with this visible imagery from #GOES16! For the latest info on Irma, go to https://t.co/cSGOfrM0lG pic.twitter.com/q4Q5UtPlIP

— NOAA Satellites (@NOAASatellites) September 5, 2017
SaveSave
SaveSaveSaveSave
SaveSave
SaveSave
SaveSave
SaveSave
SaveSave
SaveSave