Raquel Díaz spends most of her time waiting in long lines outside supermarkets in Venezuela's chaotic capital city, Caracas. The unemployed, 32-year-old single mother is constantly trying to find something to feed her six children. "We used to find food after hours waiting in line, but not anymore," she said.
Like many other Venezuelans, if Díaz does manage to find food these days, she then struggles to pay for it: prices have soared. Her son Brayan, 14, suffers from malnutrition and sometimes misses school for weeks at a time. "He is too skinny," said Díaz, as she drops him off at class. "He is now having problems learning new things. Here in Venezuela, this is happening everywhere. No one can study on an empty stomach."
Former president Hugo Chávez, who died in 2013, used the country's oil wealth to lift millions of Venezuelans out of poverty with generous social programmes and subsidised food. But low oil prices have contributed to the empty supermarket shelves as the government has been forced to slash imports.
Venezuela rarely publishes economic data, but Henkel García, a financial analyst and director of Econométrica, a centre for economic studies, predicts that inflation will reach 700 percent by the end of 2016 (it is already estimated to have reached nearly 500 percent). "Whatever food we find in stores will cost more than today," he said.
Poverty rates have risen sharply from around 30 percent before the oil price crash in 2014, with one 2015 study by ENCOVI, an academic group that studies the country's quality of life, calculating that a staggering 81 percent of Venezuelans were living in poverty last year. The situation has only deteriorated further in 2016.
Household fridges often contain only water and families have to decide when to eat their one meal of the day, and who gets to eat.
Margarita Lorenzo, a 56-year-old living with her two grandchildren, says the situation is the worst she can remember. "We are now all the same; we all have the same economic problems. Supermarkets are closed because there is no food." 
Who is to blame?
Antonio Ecarri, a professor and opposition leader, known for his work with poor communities in Caracas, said the reasons why hunger is now common in most families can be traced back to Chávez's policies. "For us, the imposition of an economic model that destroyed national production through expropriations [of local companies] and made us dependent on the state, which had only one source to finance itself – oil – has condemned us to what we are living today."
Chávez's successor, President Nicolas Maduro, has continued to blame the current crisis on an "economic war" being waged by the United States and other foreign powers to provoke a backlash against the government's socialist policies. The president´s popularity had dropped to 15 percent by April of this year and the opposition is pushing for a recall referendum before the end of the year, which would make a change in the administration possible. If Maduro manages to hang on until 2017, he will be allowed to appoint a vice-president to succeed him.
Hunger is leading to social unrest, which the government is struggling to contain. In the month of May, 52 lootings of shops were reported by the Venezuelan Observatory of Social Conflict. Out of 641 protests, 172 were because of food. At least three people have died in the lootings and nearly 100 have been wounded.
The government has rejected offers of humanitarian assistance from the United States, Brazil and NGOs and refused to seek out international financing from multilateral agencies that would allow it to resume imports of food and medicines. However, a meeting between Maduro and US under-secretary of state, Thomas Shannon, last week could open the way for Venezuela to request help from the international community.
Urgent health problems
At the J.M. De los Ríos, a paediatric hospital, Doctor Ingrid Soto is worried about the numbers of children suffering from malnutrition. "We find that 58 percent of severe malnutrition [cases] are in patients under the age of two," she told IRIN.
Health facilities grappling with dwindling supplies of medicines and equipment are not immune to the food shortages. At Hospital Clínico Universitario in Caracas, one of the largest in the country and a national referral facility, a worker who declined to be named said patients received one piece of bread or a banana "and sometimes that is the only thing they are going to eat in an entire day".
According to a study by CENDAS-FVM, a federation of professors dedicated to social investigations, by April Venezuelans had to be earning 16 times the minimum wage in order to afford the cost of basic groceries needed to sustain a family. For Díaz, this is simply "impossible". Not only is she struggling to feed her children, but also to afford diapers for her two-year-old. "I have to use cloth diapers that I can´t wash because I don´t have any soap or water at my house," she said. "We are suffering."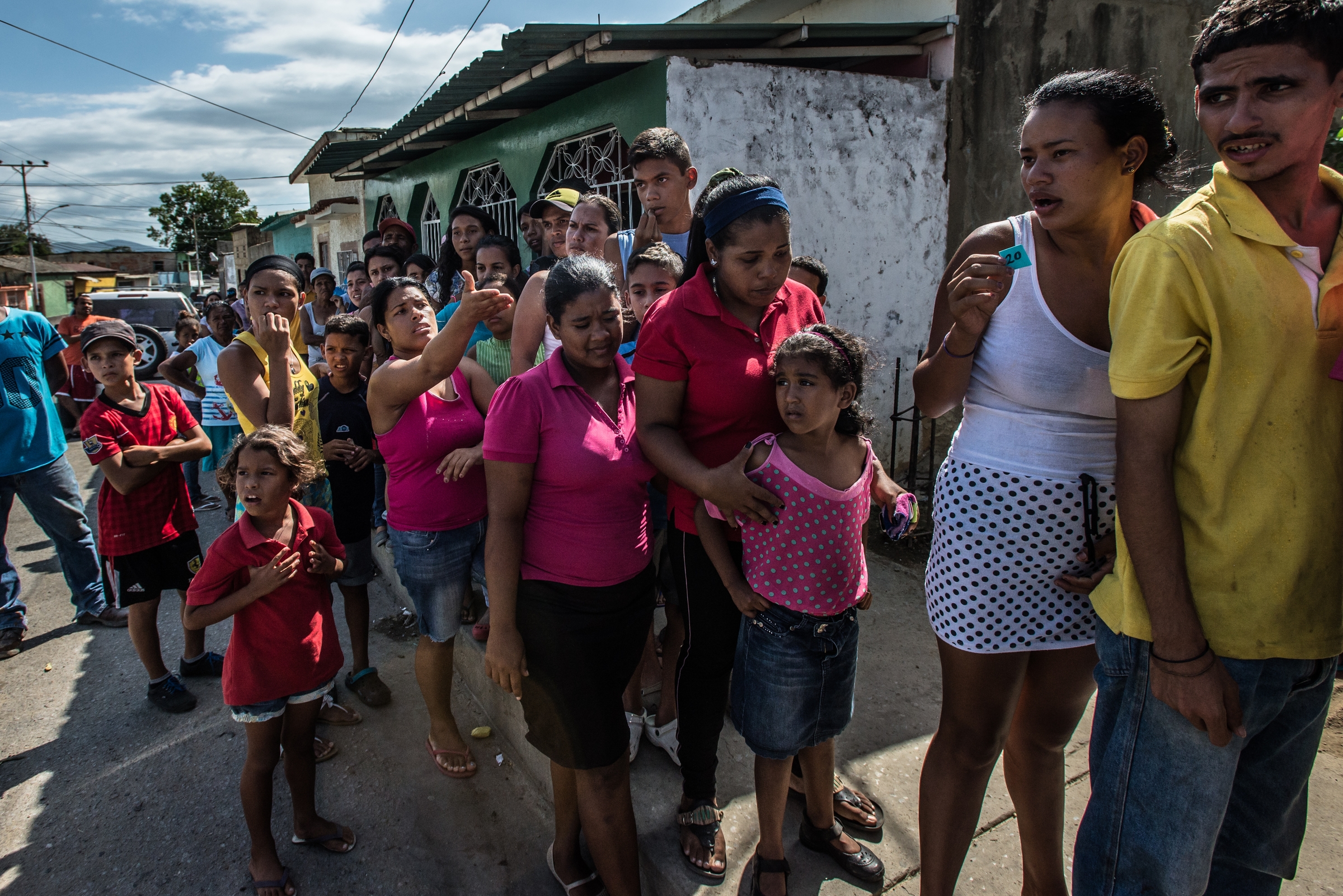 Adding to the humanitarian crisis is a severe water shortage – the result of several years of drought that has also hit hydropower facilities and contributed to rolling blackouts. Some houses in Caracas receive only 30 minutes of water a day. In the rest of the country, households often go without running water for days or even weeks. Yomar Tebo, a local leader in the coastal state of Vargas, said people in his area have been forced to make do with river water, which has led to an outbreak of scabies cases.
Venezuela's political and economic crisis has left young people like Brayan with an uncertain future. His mother is thinking about sending him and her mother to the United States, where two relatives are already living in Miami. "He is my son. I know I will miss him, but I think I have no option."
As the bell rings, Díaz takes Brayan's hand and walks him to the classroom, past a canteen where Lissete Araque, 45, prepares small snacks to give to children that come to school with empty stomachs. "This never happened before. I´ve been working here for more than 20 years and I have never seen anything like this," Araque said. "It´s hard to see a hungry child."
See also: Economic crisis hits young mothers in Venezuela
avh/ks/ag