A 20 June massacre at a prison in Támara in the outskirts of the capital, Tegucigalpa, and a gang-related shooting that claimed 13 lives in the northern town of Choloma a few days later brought rare international media attention to gang violence in Honduras. 
Fritz Pinnow was the first reporter allowed to enter the women's penitentiary in Támara after the killings. For The New Humanitarian, he interviewed several inmates and the military police now running the institution, before documenting broader challenges for aid workers trying to respond to gang violence around the country.
Viena Sánchez, a survivor of the clashes between the Barrio 18 and the MS-13 – two of the main Maras (gangs) in Central America – that left 48 inmates dead, said tensions between the rival criminal groups had been building within the prison for years.
"This was a bomb ready to explode," Viena Sánchez told The New Humanitarian. "When it did, we were caught in the middle."
Inés Del Carmen Cuadra de Zablah set up an NGO to help women prisoners called Fundación Solidaridad that provides them with basics like food, soap, toilet paper, and bedsheets. The group also teaches inmates to cook, and basic skills to help them find work after release so they don't fall back into the hands of the gangs for survival. 
"The people and the military do not see the inmates as humans, so there is no support for them. Many do not have access to sanitation, mattresses, or other basic goods, even food sometimes. So we try to fill this vacuum and try to humanise life in the prison," said Cuadra de Zablah. "We try to provide a refuge and a future for these women to do something with their life afterwards."
A decade ago, the homicide rate in Honduras was above 85 per 100,000 people. In 2012, the country's second city of San Pedro Sula was dubbed the "murder capital" of the world. There has been a slow but steady decline in crime since, but the homicide rate remains at nearly 36 per 100,000 people – one of highest in the world – and the population of 10.3 million still faces war-like levels of violence on a daily basis.
The presence of the Maras drives many Hondurans to flee to other areas of the country or migrate abroad. Those who stay must learn ways to cope, while the aid organisations trying to help them face formidable hurdles.
Health and aid workers told The New Humanitarian that recurring conflicts between gangs overload the public health system, and that the control of the Maras over entire urban spaces halts the provision of basic services as well as access to work opportunities. The complete absence of government assistance in many neighbourhoods is also overburdening aid organisations, forcing them to adapt to shifting criminal dynamics in urban settings they're often not accustomed to working in. 
"We have a special code for firearm or gang-related emergencies, and when there is one our first action is planning how to navigate the area," said Alex Martínez, a 50-year-old volunteer paramedic with the Honduran Red Cross. "Before operating in the field, we have to go through significant training to prepare in case we are assaulted, abducted, or attacked."
Joaquim Guinart, project manager of Médecins Sans Frontières (MSF) in San Pedro Sula, told The New Humanitarian that gang members sometimes enter neighbourhoods wearing MSF vests to scout the area – taking advantage of the organisation's acceptance among residents.
"If we engage with urban communities controlled by gangs, we have to be very clear about our humanitarian mission in order not to be misinterpreted and considered a threat within their territory," he said.
'The best help we can receive here is the opportunity to stay busy'
Sánchez (above in the picture), 38, was imprisoned for murdering her aunt – a crime that was not related to gang violence. She has been in the penitentiary since 2007 and says material goods aren't always what inmates most need from humanitarian organisations, whereas workshops or skill-building programmes can be lifesavers.
"The best help we can receive here is the opportunity to stay busy, because a busy mind doesn't miss anything," said Sánchez.
Colonel Rayna Almendares, head of the military police detachment that took over Támara´s penitentiary after the massacre, said the living conditions in the prison are dire.
"We still lack a massive amount of basic goods, such as sanitary products," she told The New Humanitarian. "But all we have received from the outside is medicine and classes in human rights, which is not what we need at this time. We have only slowly been able to take full control of the prison, and we lack resources." 
Opinions about the military police taking over security vary within the prison.
"I am glad the military has taken over," said Sánchez. "Before, weapons, drugs, and phones were smuggled in," she added, explaining how gang members could continue their operations within the prison and arm themselves extensively.
Other inmates, however, miss some of the freedoms they had before the massacre.
"Now they take our phones away and have halted all communication," said Abdeely Salgado, an inmate the military police said was affiliated with Barrio 18. "Many could not tell their families that they survived. Some inmates are ill or have psychological problems which cannot be addressed due to the [increased security measures since the massacre]."
The failed promise of demilitarisation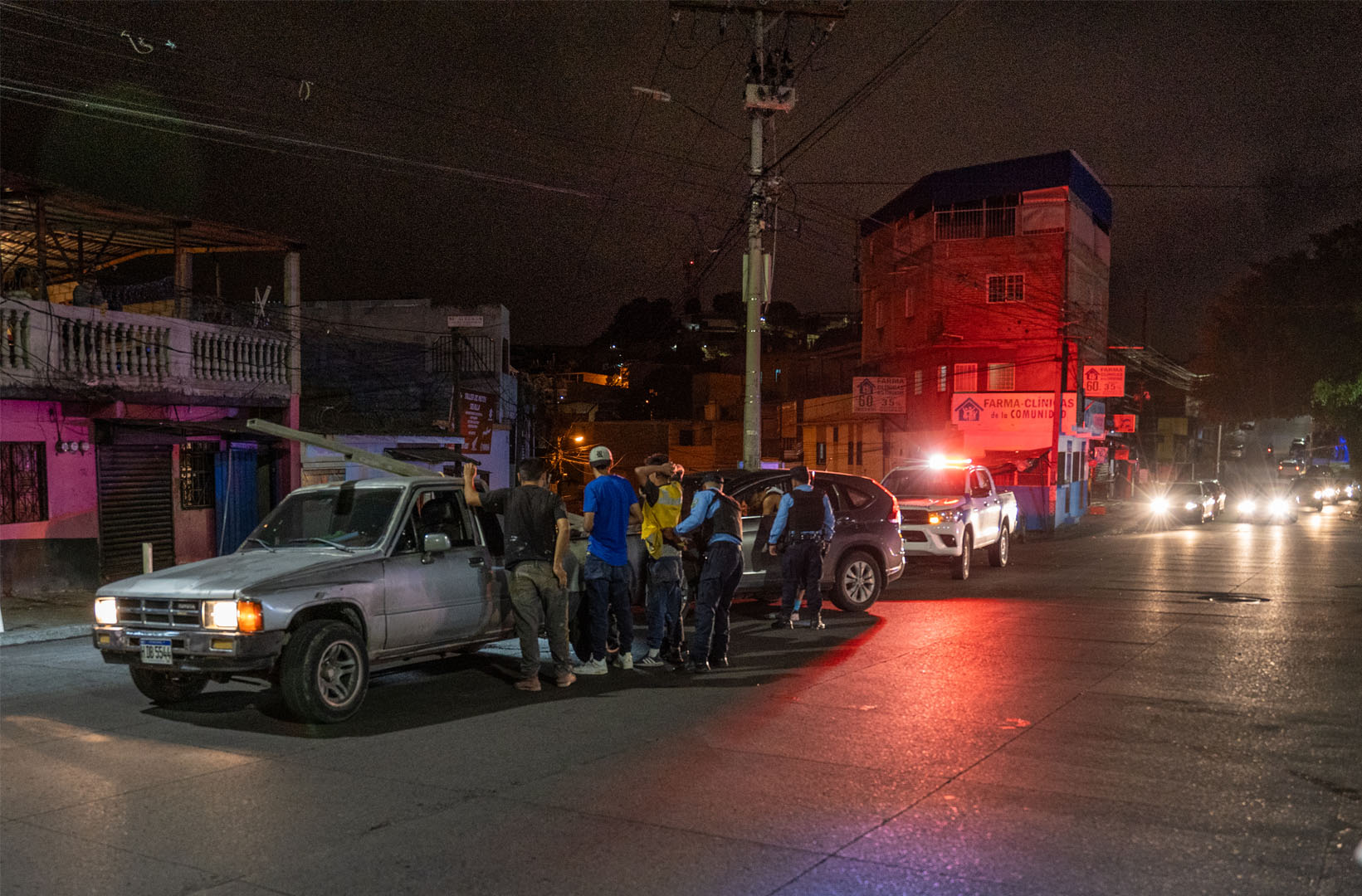 During her campaign before entering office in January 2022, President Xiomara Castro said she would demilitarise the country and "send the soldiers from the streets back to their barracks", but after the June massacre she adopted tough-on-crime measures, including the deployment of the military police in all prisons and military-enforced curfews. These have proven to lower crime rates, but can have a paralysing effect on communities, removing the economic dynamism of many businesses and pushing more people into poverty.
The police use "stop and search" operations (above) on the main streets entering gang-controlled barrios or neighbourhoods. Such operations allow them to inspect all vehicles and passengers without probable cause. Introduced during the violent crackdowns that marked the previous administration of president Juan Orlando Hernández, they remain an integral part of the current state of emergency response.
'Sometimes gang members enter to finish the job'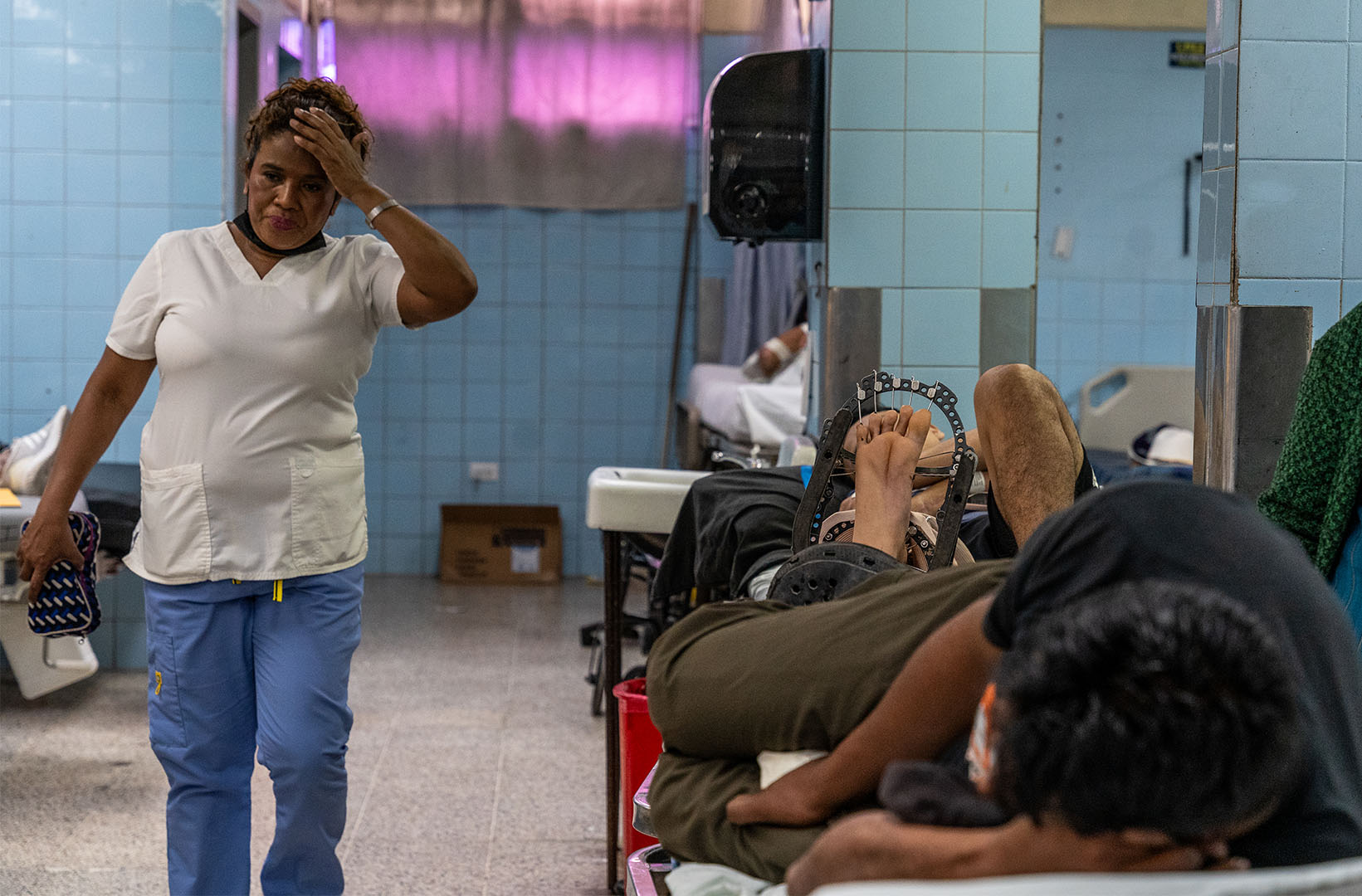 Reina Blucha, a 44-year-old nurse, finishes up her morning shift in the emergency department of Hospital Escuela, the main public medical facility that receives most of the casualties of gang violence in Tegucigalpa.
"The hospital can become a battleground for the gangs as there is no space which they will not creep in," she told The New Humanitarian. "Sometimes gang members enter to 'finish the job', or come to supervise the emergency treatment we provide to their wounded compañeros, threatening staff and waving weapons around."
Blucha, who has worked at Hospital Escuela for 10 years, often has to treat wounded gang members. 
"[Their compañeros] check the syringes and ask about the medicine I administer to be sure I am not making a mistake or trying to kill the patient," she said. "Every day, we fear the Maras. It's paralysing.
Although her strategy is to avoid gang members whenever possible, Blucha told The New Humanitarian she has thought many times about escaping to the United States. 
'NGO's are the only ones helping us'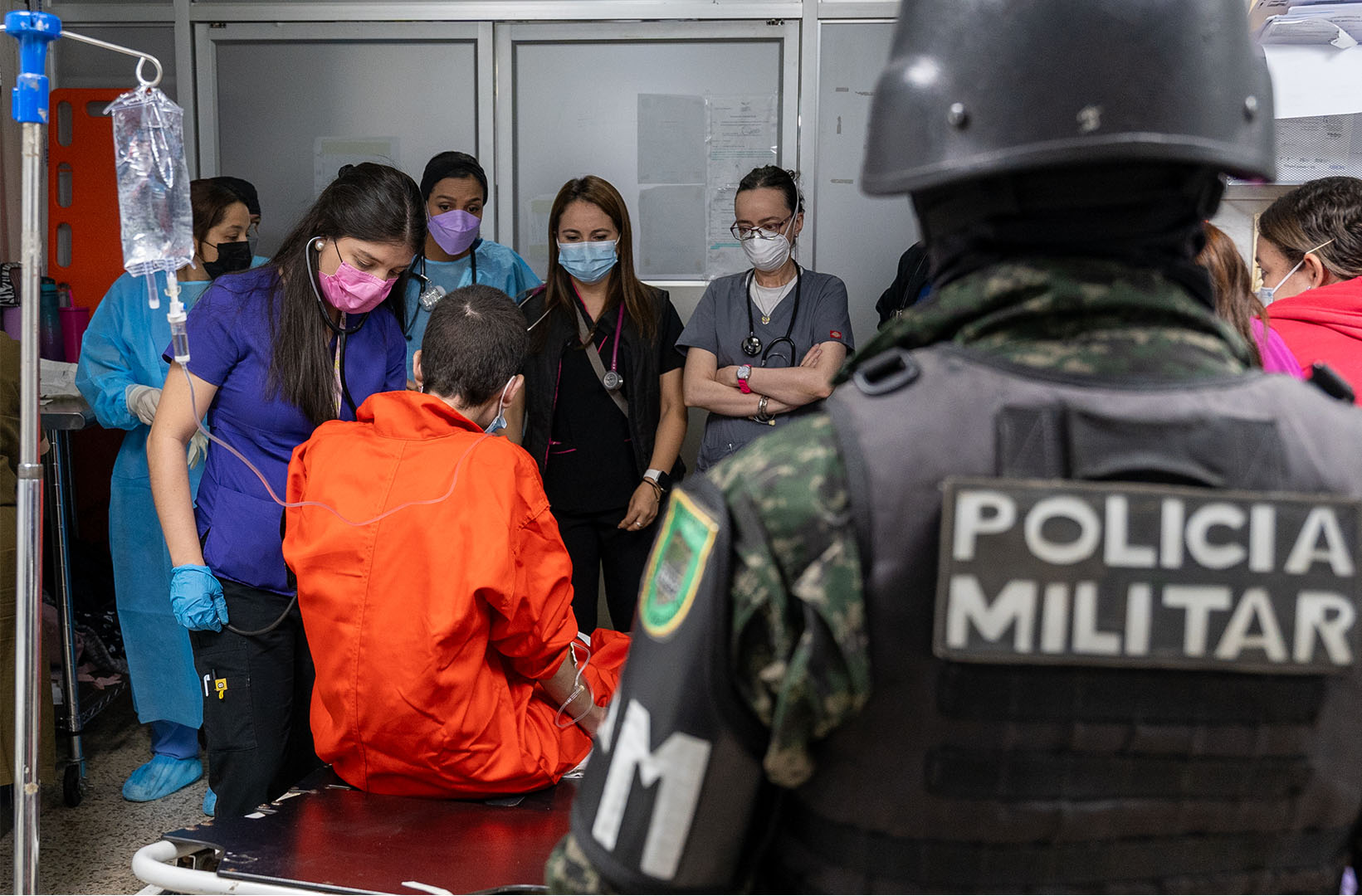 Emerson Díaz, 21, a member of Barrio 18, was admitted to the emergency room after being shot recently by the military police in prison. 
"He fired at us first and we responded," one of the two police officers guarding him told The New Humanitarian. 
Díaz, who confirmed the order of events, said the prisons in Honduras are overcrowded, and that inmates are being mistreated and left without food or mattresses for long periods of time.
"We really need help," he said. "NGO's are the only ones helping us and treating us with a little bit of human dignity."
Attending patients on a hospital floor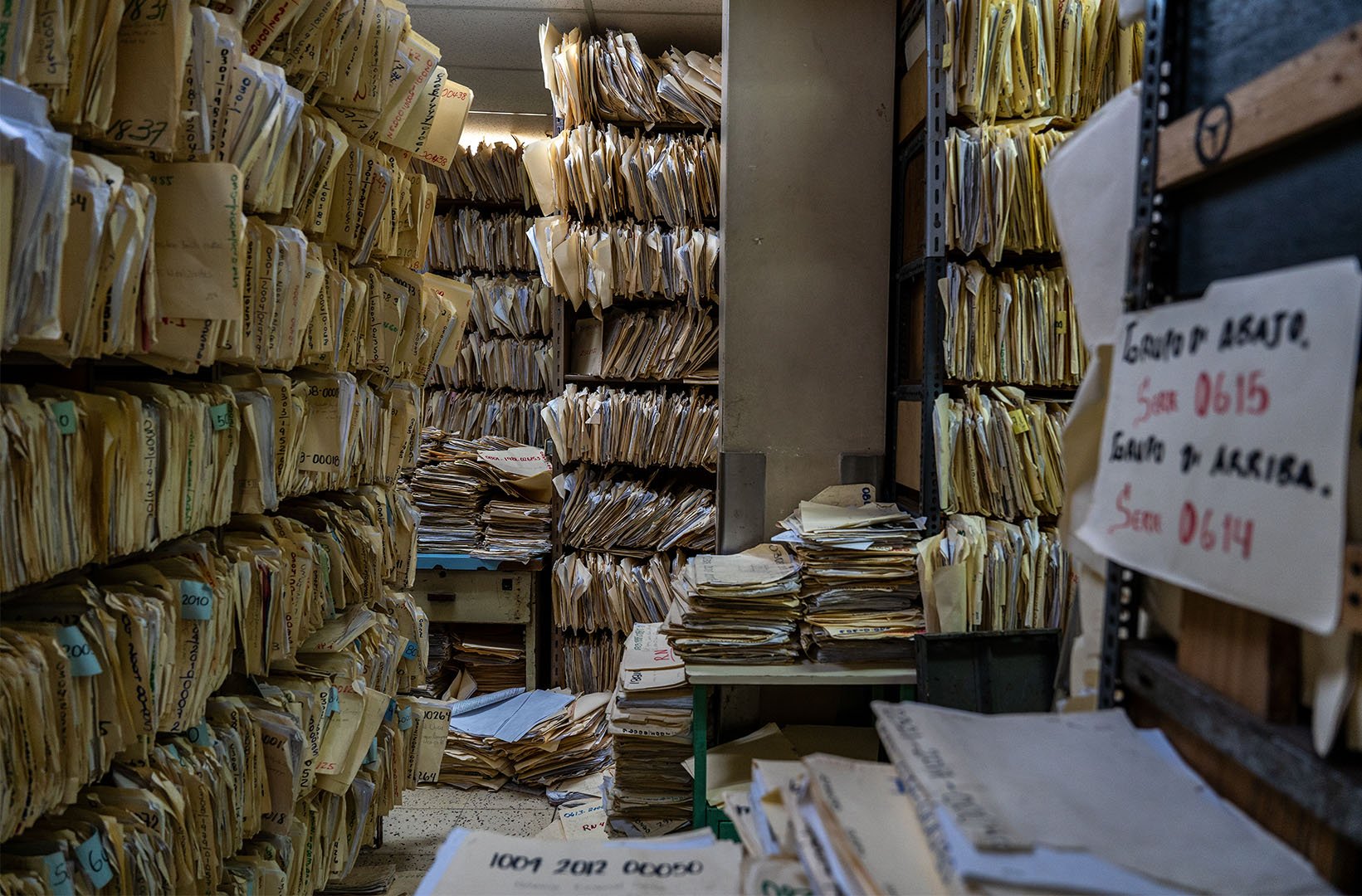 The massive influx of patients and the outdated paper-based administration system has left Hospital Escuela practically incapable of admitting new patients. 
"We wanted to go on strike to get additional space for the documents, but in a hospital lives are at stake," an administration assistant at the facility told The New Humanitarian, speaking anonymously due to security concerns.
The already overwhelmed public health system in Honduras was further weakened by the COVID-19 pandemic. In mid-August, health workers publicly complained about Hospital Escuela's precarious situation. Nurses were forced to assist patients on the floor due to the lack of stretchers, and a hospital spokesperson said there were shortages of medicines and medical supplies.
"We are extremely understaffed, and lack a lot of equipment to fight the extreme amount of emergencies we see every day," Blucha, the nurse, told The New Humanitarian.
'We need to request permission to go through'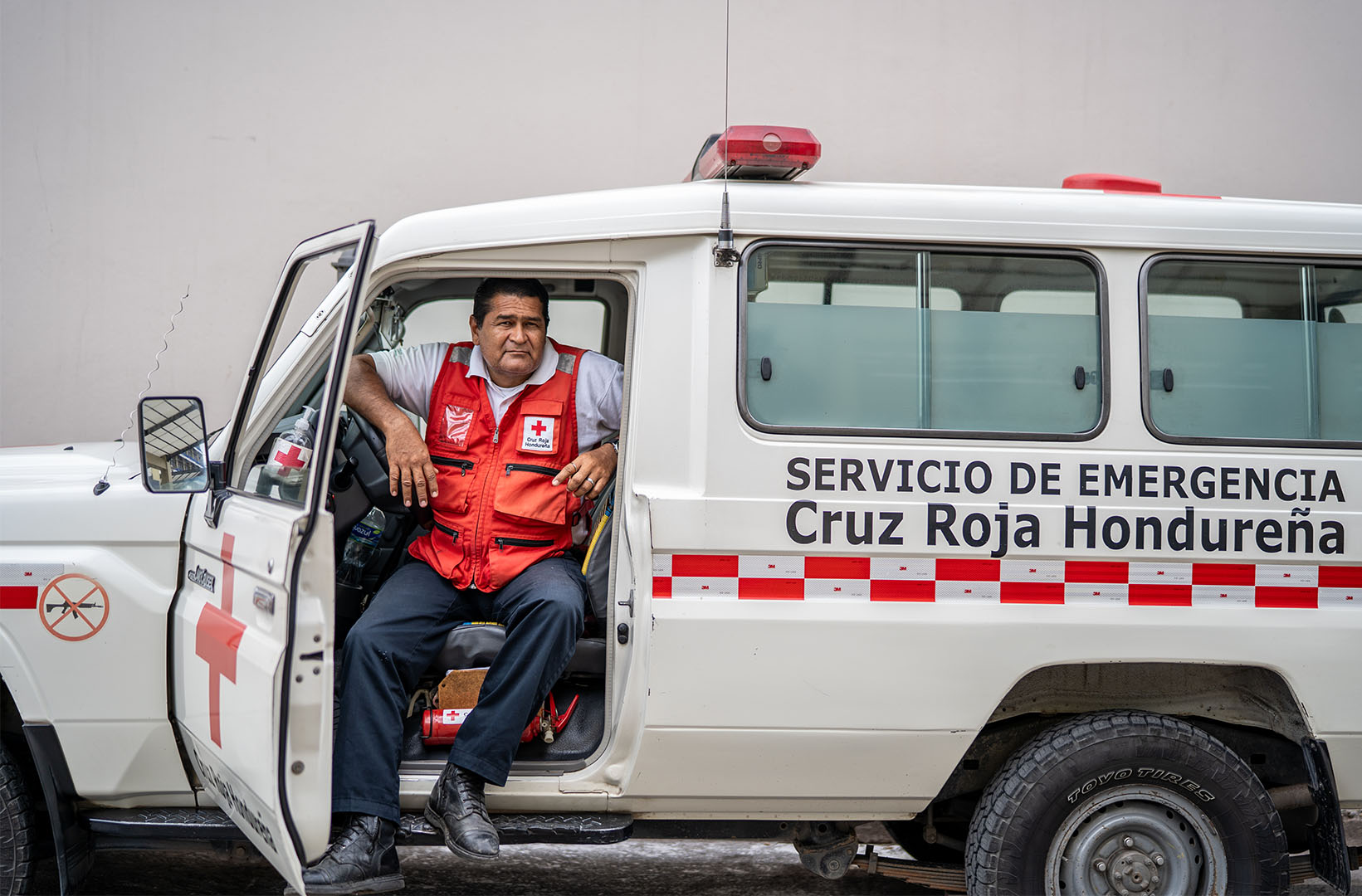 Martínez (above), who has worked for 27 years for the Honduran Red Cross, said navigating the streets of Tegucigalpa to reach patients has become increasingly difficult.
"Though our status in Honduras specifically regarding neutrality, impartiality, and humanity has allowed us to cross between gang territories, there is always a risk," he told The New Humanitarian. "Some gangs have established roadblocks within their territories, so if we operate in these neighbourhoods, we need to request permission to go through. The police will not even enter these spaces."
Martínez has experienced the threat of gang violence himself – after he treated a patient without realising he had been injured in a gang-related shooting. "I feared for two weeks to be the target of reprisal attacks from the opposing gang because I had saved the life of 'the enemy'," he explained.
Some of Martínez's colleagues have had gangs stop their ambulance and take the patient away or even kill him. "It is not uncommon," he said.
'We recruit the same way gangs do'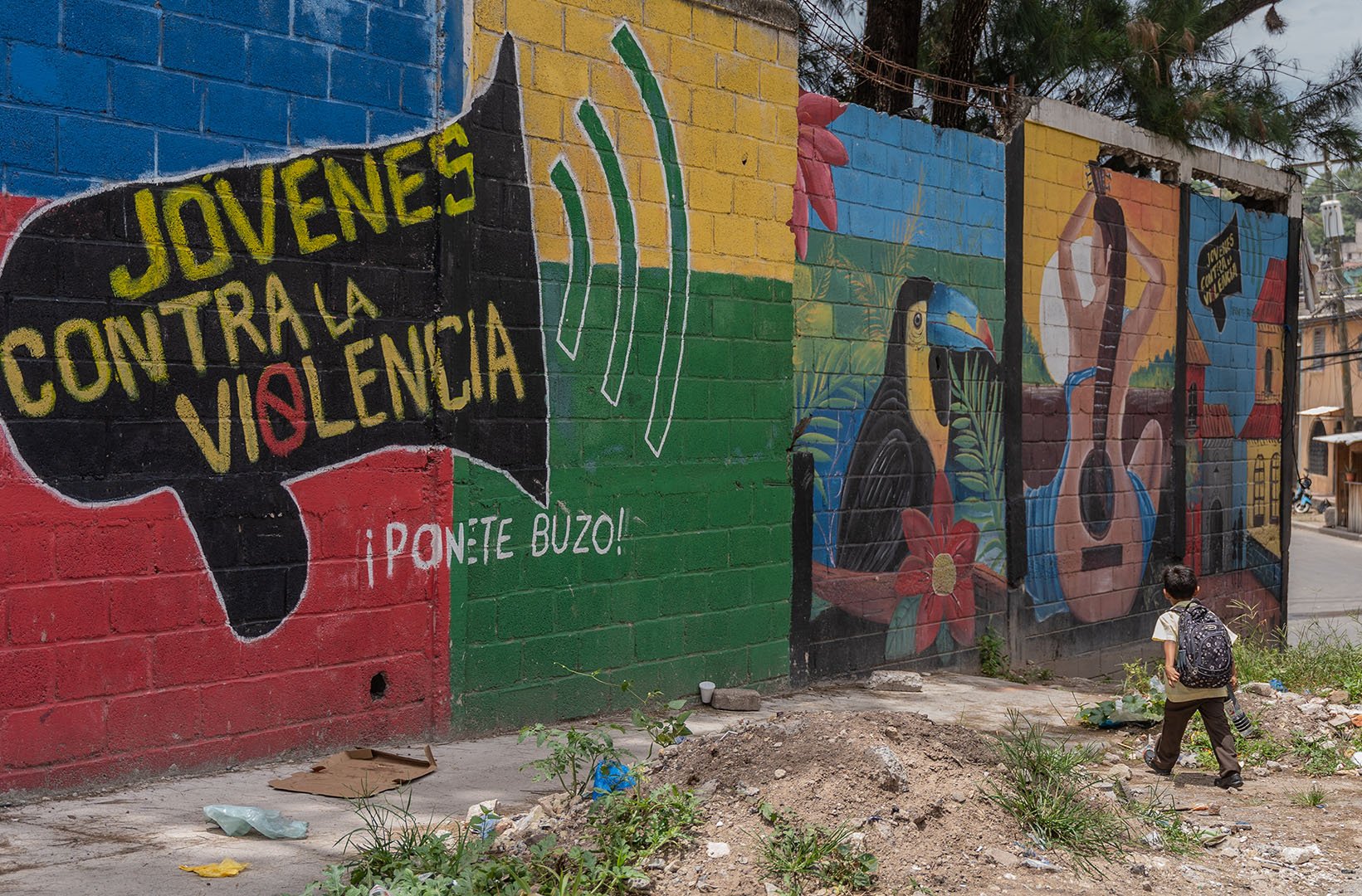 Jóvenes contra la Violencia (Youth against Violence) started in 2011 as a local initiative in the city of Comayagüela, near the capital, to provide skills training to young people in gang-controlled neighbourhoods and keep them from joining the Maras. 
In these neighbourhoods, the absence of state funding for schools and the lack of job opportunities are two of the main factors drawing young people to gangs. 
"We recruit the same way gangs do," said Santiago Ávila, who began working with Jóvenes contra la Violencia after his brother was murdered by gang members in 2011. 
"The first thing they do is provide young people with a feeling of belonging, a family. We do the same, but also give them education to pursue a career."
Ávila said the gang leaders know them in the neighbourhoods where they work and even give it their tacit approval. "They support our initiative because many want a better future for their kids," he said.
The mural above is part of Decorando mi barrio (Decorating my neighbourhood), a programme aimed at painting over gangs´ graffiti. This one is on the walls of a school deep within MS-13 territory.
Jóvenes contra la Violencia has grown rapidly, spreading its operations nationwide in 2013 with offices in San Pedro Sula and nearby Choloma and El Progreso, as well as in the Caribbean port-city of La Ceiba.
The toll of normalised violence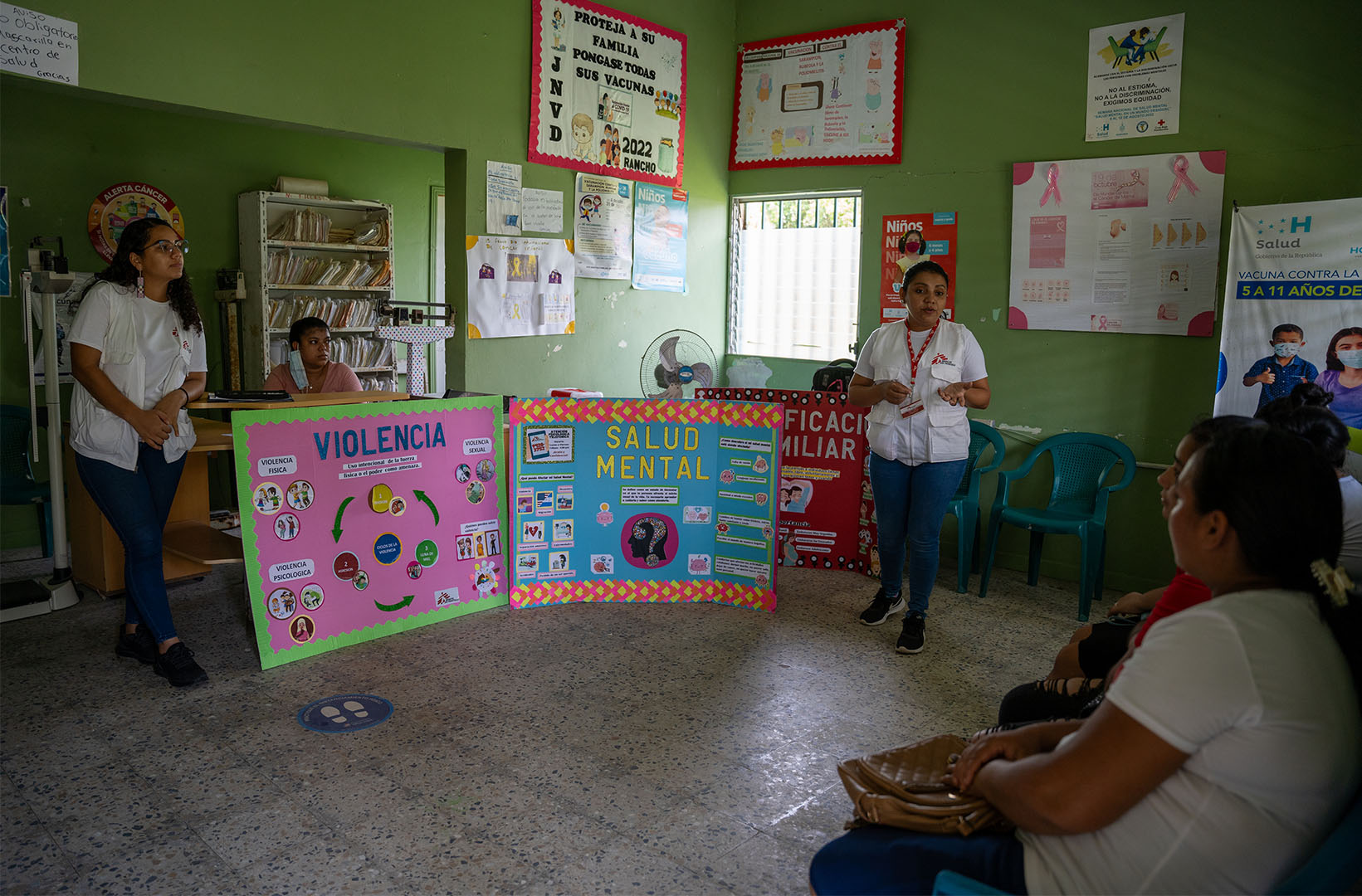 Permanent exposure to violence has led Hondurans to normalise it at many levels of society, according to Migdonia Ayestas, director of the Observatory of Violence in Honduras. One of the effects is rampant gender-based violence: The country had the highest femicide rate in the world in 2021.
According to data gathered by Ayestas, 50% of the sexually assaulted women and girls in Honduras are between 10 and 14 years old, and 95% of the femicides committed in the country go unpunished. Ayestas told The New Humanitarian that to tackle such an ingrained structural problem, aid organisations need to focus their work more on the dynamics occurring at the family level.
MSF is one of the organisations trying to tackle GBV and runs programmes in Honduras that aim to improve mental healthcare and reduce social stigma for victims.
In the picture above, taken in El Rancho, a village near San Pedro Sula, members of an MSF field team – including trained psychologists and community health educators – are leading an interactive workshop with community members on violence and mental health. The activity, which takes place every 2-to-3 weeks, is then followed by individual health consultations with an MSF doctor and nurse.
"I too often must explain that what some women consider 'small things' – such as their husband pulling their hair or beating them – is not normal," Natalia Zuniga, a field psychologist for MSF (who is not in the picture), told The New Humanitarian.
The New Humanitarian used transportation provided by Médecins Sans Frontières (MSF), Jóvenes contra la violencia, and Fundación Solidaridad.
Edited by Daniela Mohor.