Hipólito Rivas was aware that his battles to protect the land could end up getting him killed. 
Over the course of the decade he spent running the agricultural cooperative he founded, he had lost numerous friends to shadowy paramilitaries reportedly connected to land-grabbing palm oil corporations in the rural Honduran region where he farmed.
In January 2023, the threats against the 46-year-old farmer intensified: his name appeared on a hitlist, there were intimidating phone calls, men with AK-47s fired rounds off over his house at night. But he refused to stop his struggle, or to leave his community.
Then, on 12 February, gunmen shooting from a car executed Rivas and his son while they were riding a motorbike on the edge of their palm plantation.
"Now that they've killed my dad and brother, they're threatening even more people," Ibeth Rivas, Hipólito Rivas' daughter, told The New Humanitarian outside their home in Panamá. "They're going to kill more people."
"It was very sad," said a resident from a neighbouring town who attended the funeral and asked to remain anonymous. "There was a lot of grief in the family, the community, the farm workers organisation. They felt indignation, impotence, and completely defenceless before an armed group that had them surrounded."
Rivas and his son were murdered in the Aguán Valley, in the coastal and agricultural department of Colón in northern Honduras. According to Insight Crime, the country had the highest homicide rate last year in Central America and the second highest in all of Latin America – second only to Venezuela.
"People are affected by a triple emergency – violence from drug corridors, droughts and the storms, and the pandemic."
Since a military coup ousted president Manuel "Mel" Zelaya in 2009, Honduras has weathered several waves of violence linked to corruption, battles over land and resources, and drug trafficking. In 2013, the Honduran city of San Pedro Sula earned the unenviable rating of the world's most violent place outside a declared war zone. 
In the past year, the violence has escalated and expanded to new areas of the country, displacing more people and putting additional duress on an already strained humanitarian response.
"People are affected by a triple emergency – violence from drug corridors, droughts and the storms, and the pandemic," said Maria José Alexander, emergency coordinator at the Catholic Relief Services aid agency. "We have to choose among the vulnerable, to choose the most vulnerable [to help]." 
More and more Hondurans are heading north, hoping to reach safety in the United States. But those who flee – the Rivas family plans to join them – are often stranded on the US southern border, facing humanitarian challenges as President Joe Biden's administration implements new policies to limit asylum claims.
Read more: How the US-Mexico border became an unrelenting humanitarian crisis
According to the UN's refugee agency, UNHCR, an "unprecedented flow" of people transited through Honduras and left the country heading north in 2022. Hondurans represented the largest nationality requesting asylum in Mexico in 2022, and from January to September of last year more than 72,000 were deported from the United States and Mexico, according to Human Rights Watch.
Violence going rural
The violence in Honduras has historically been concentrated in urban areas, where gangs assert control, but these days an increasing number of killings are taking place in the countryside. 
Colón has long been known for its conflicts over control of land and water between a drug-connected elite and local campesinos, or farm workers. According to statistics from the National Police Secretariat (SEPOL), it had the highest homicide rate in the country for 2022, with nearly 63 murders per 100,000 people, and at least 224 murders by the end of the year, versus 159 in 2020.
The murders have been attributed to expanding criminal networks, rising extortion rackets, and executions of suspected criminals at the hands of self-styled death squads.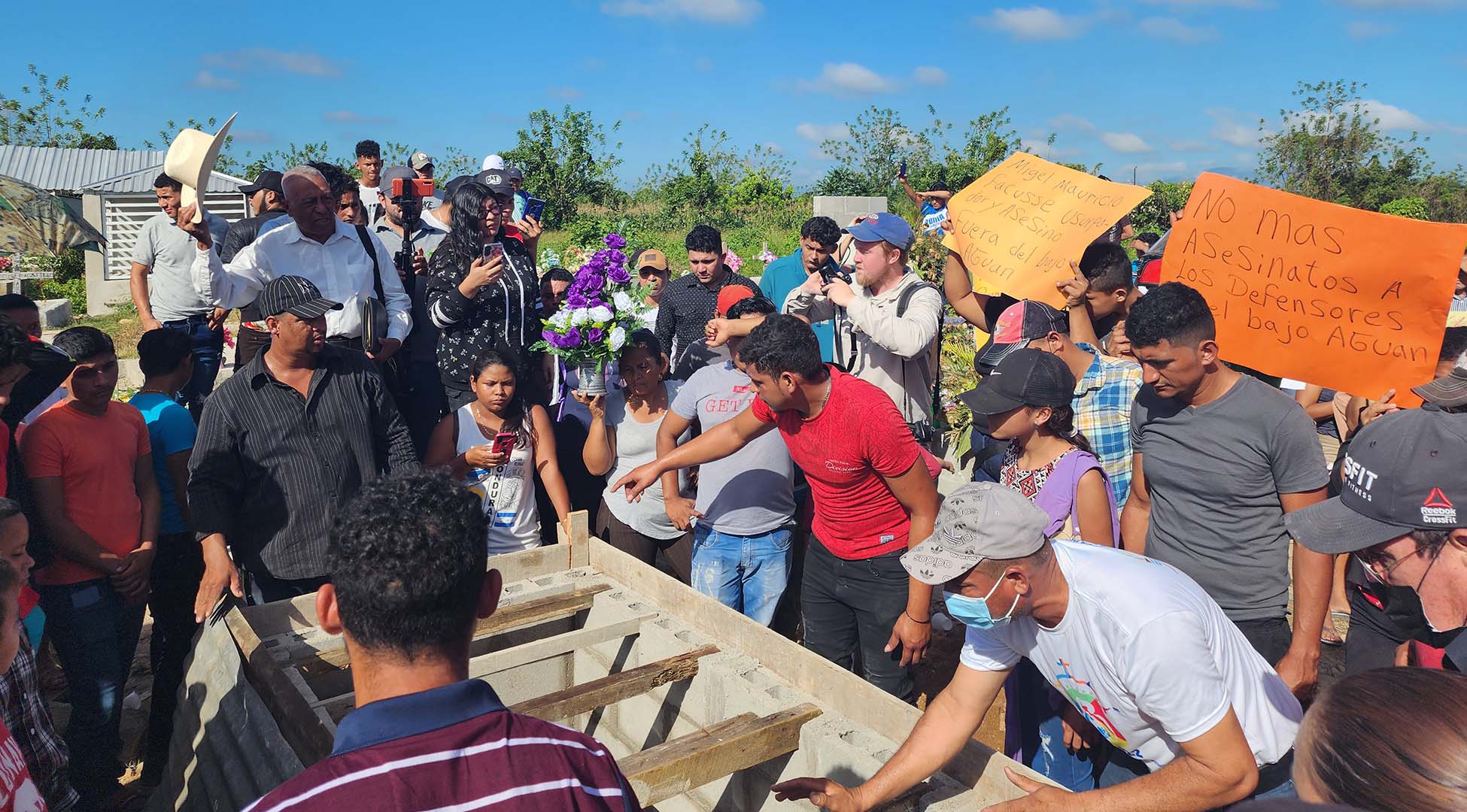 Residents in Panamá, the small town four miles from Tocoa, Colón's main urban centre, where the Rivas family lived, told The New Humanitarian the police are not investigating the murders of Rivas and his son.
This is not unusual, experts say. Honduran police are accused of manipulating the forms in which homicides are registered to create a false sense of security, as well as of failing to investigate the vast majority of murders, a 2020 article published in the NACLA Report on The Americas reported. A 2022 survey noted that seven out of ten Hondurans distrust the police.
Neither the public prosecutor's office in the capital, Tegucigalpa, nor the local Tocoa police authorities responded to The New Humanitarian's requests for comment. 
'Surrounded by violence'
Experts attribute the recent carnage partly to the reshuffling of criminal networks in the wake of the July 2022 extradition of former president Juan Orlando Hernández to the United States on charges of drug and weapons trafficking, and since the election of ostensibly left-leaning president Xiomara Castro, who took office in January 2022.
"We know that the organised criminal structures that existed prior to January [2022] didn't just disappear," said George Redmond, the Honduras director of the Irish aid organisation Trócaire, 
"There has to be a new restructuring of relationships between the authorities and organised criminal groups like drug traffickers," Redmond, who visited Colón last April, told The New Humanitarian.
A longtime resident of Colón and land rights activist, who spoke to The New Humanitarian anonymously, said there are now six paramilitary groups fighting for control and carrying out targeted killings in a region of the Aguán Valley known as the Margen Izquierda (Left Bank). 
By late March, the frequent shootouts in the region had led to temporary closures of schools in Rigores, a town in Margen Izquierda. Across the country, children are increasingly deprived of proper schooling. According to the UN, 46% of displaced students suspended their education or couldn't return to class because of gang violence.
"You've got armed groups doing the rounds," said Redmond, adding that groups like the one terrorising Panamá divide communities, buying off young men with the allure of drugs and guns, and sowing paranoia and distrust through killings and intimidation. 
"You're surrounded by violence from within and from without," he said.
Abandoned by the government
Since the murder of Rivas and his son, their relatives have received no support from the government or outside organisations. They are now planning to leave – part of an ongoing crisis of internal displacement, triggered by multiple factors, including the rising violence, natural disasters, and economic stagnation. Authorities are at a loss for how to respond.
"While [Honduran authorities have] acknowledged that the country has a problem with internal displacement due to violence, neither the government nor the international NGOs who are present in the country are able to offer any real solutions to the internally displaced," said Dr. Amelia Frank-Vitale, a postdoctoral research associate at Princeton University who has specialised on Honduras and migration.
Some 3.2 million people in Honduras are in need of assistance, many of them requiring protection and food, but only about 44% of the humanitarian needs in 2022 received funding.
"Families that NRC is assisting with relocation, support, and protection in Honduras told me how armed gangs used violence to take their land and property, and threatened to recruit their children. This forced them to flee their homes and ended their livelihoods and their children's education," Jan Egeland, the head of the Norwegian Refugee Council aid group, said in a statement after a visit last month.
"Women had survived horrific violence at home, including rape and other sexual violence. A woman was murdered every 28 hours last year in Honduras," Egeland added. "Without increased attention and support for this crisis, nothing will change."
In December, the "Law of Prevention, Attention to, and Protection of Internally Displaced People" was passed in the Honduran Congress, creating a legal framework for attending to internally displaced people. Implementation of the law is uncertain, and the Castro administration is facing other challenges. 
"Neither the government nor the international NGOs who are present in the country are able to offer any real solutions to the internally displaced."
After her election, Castro promised a "refounding" for the country. She said she would demilitarise the country's security forces, which are linked to drug traffickers and gangs, including MS-13, one of the most dangerous in Central America.
But after a series of massacres last year, she agreed to keep the military police on the streets. She recently announced she would deploy other militarised police units to fight criminal groups and drug traffickers. Although her so-called "mano dura" (iron fist) crime policy remains popular, many Hondurans have grown frustrated over the lack of results.
"I think we were mistaken," said Medarda Rivas, Hipólito's sister. "I thought… [the Castro government] would help us as campesinos, but there isn't a single thing they've done for us."
Many residents in rural places like the Aguán Valley say they feel abandoned. 
The Honduran government is supposed to protect people facing death threats through the National Protection Mechanism, which allows a person facing repeated deaths to call for police protection. But that programme failed Rivas, said Esmilda Rodas, one of his friends, and the widow of Juan Manual Moncada, another campesino who was murdered in Panamá in 2021. 
"[My husband] would always call the police, to say 'this is happening, you should be here,'" said Rodas. "They never came; the only times they did, they'd leave soon. They never protected them." 
Edited by Daniela Mohor and Tom Brady.