Weeks of torrential rain have caused severe flooding in Central African Republic's capital, Bangui, leaving tens of thousands of people homeless in a city of one million that is still recovering from years of conflict.
The Oubangui River burst its banks mid-October, plunging large parts of Bangui underwater and causing seven deaths and 25 injuries, the Red Cross said. Other provinces of the country have also been affected.
Heavy rainfall and flooding – driven by a weather phenomenon called the Indian Ocean Dipole – have hit several East African countries since July. In South Sudan, flooding has affected close to a million people, while more than 300,000 people have been temporarily displaced in Somalia.
Photographer and journalist Adrienne Surprenant has been on the ground in Bangui taking stock of the destruction and speaking to people affected. She found mud-brick homes in ruins and raw sewage mixed with stagnant, trash-strewn stormwater running through the city, where some people now travel around on wooden fishing boats.
"It's a disaster for a country that was fighting to develop," said Antoine Mbaobogo, president of the Central African Red Cross. "People are displaced, infrastructure is destroyed… manioc fields are lost."
Virginie Baikoa, CAR's minister in charge of humanitarian action, told The New Humanitarian that three or four shelter sites would be established to host flood victims in the coming days and weeks.
"The government has been working since the very beginning of this situation," Baikoa said. Women and children have been "put in a safe place", and food and non-food items are being distributed, she added.
But flood victims complained to TNH of a lack of organisation and support. Many were still sleeping near their destroyed neighbourhoods, under fragile tarpaulins that offered little protection from the ongoing rains – or from snakes and mosquitoes. Water-borne diseases could soon spread.
"We will not have aid from the government," said a sceptical Stanislas Begia, who had been sleeping outside with his wife and eight children for a week. "No support will get to us if it goes through the government's hands."
Bangui has been periodically rocked by violence since 2013, when the mostly Muslim Séléka rebel alliance overthrew the government of François Bozizé, triggering reprisals from the mostly Christian and animist anti-balaka. Both groups have since splintered into smaller factions.
A February peace deal was signed by rebel officials and the government but key provisions have been slow to get going and violence is now rising in the provinces, where rebels still retain almost blanket control.
Read more → Briefing: In Central African Republic, rebels fight on as peace deal falters
More than 600,000 Central Africans remain exiled in poorly funded refugee camps – most in Cameroon, Chad, and the Democratic Republic of Congo – while 580,000 more are internally displaced across CAR.
Flooded streets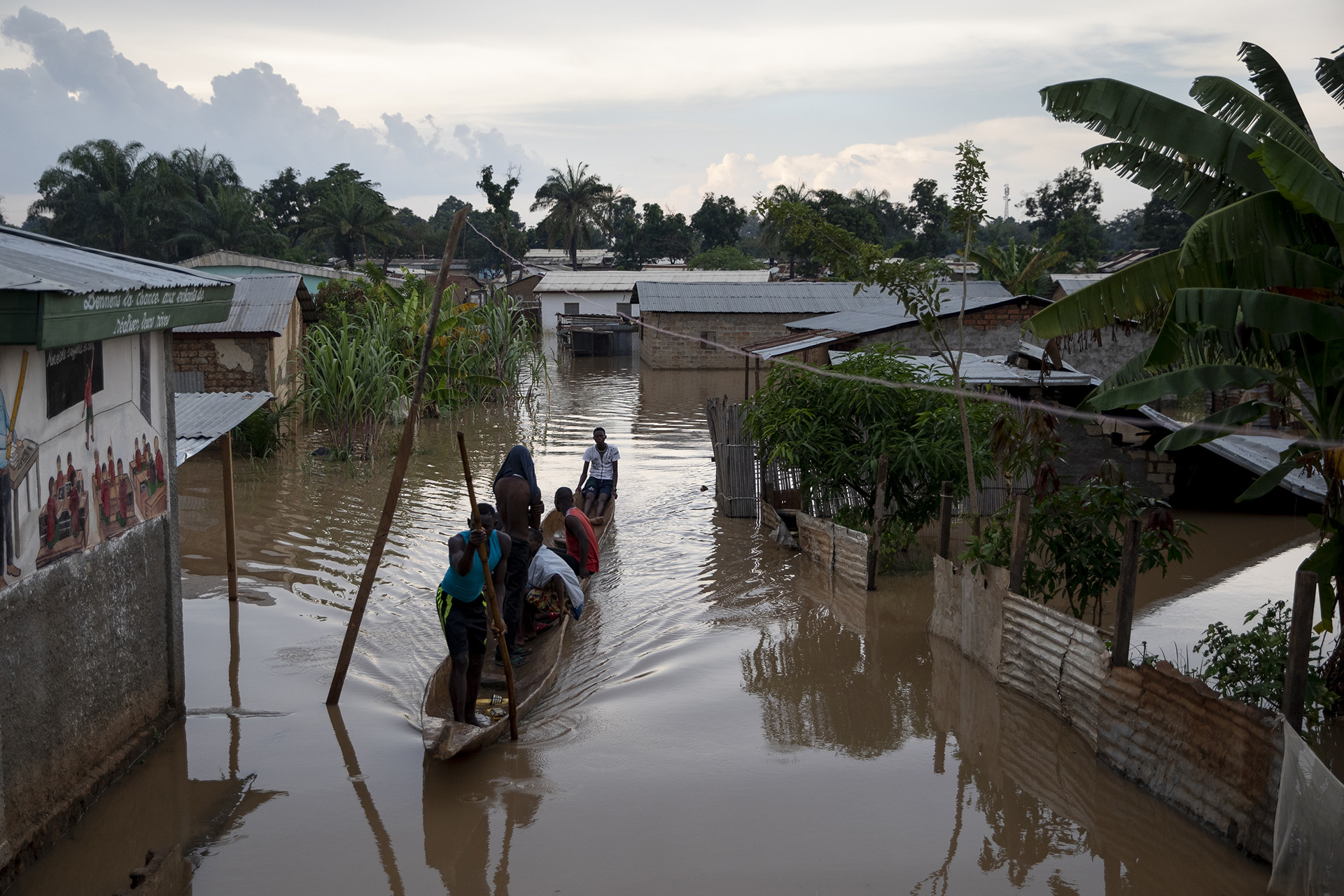 Residents of Bangui's flooded 2nd and 6th districts move between houses in rickety fishing boats. The government estimates that 28,000 have been left homeless, though the Central African Red Cross told TNH the number is more than 45,000.
'No support'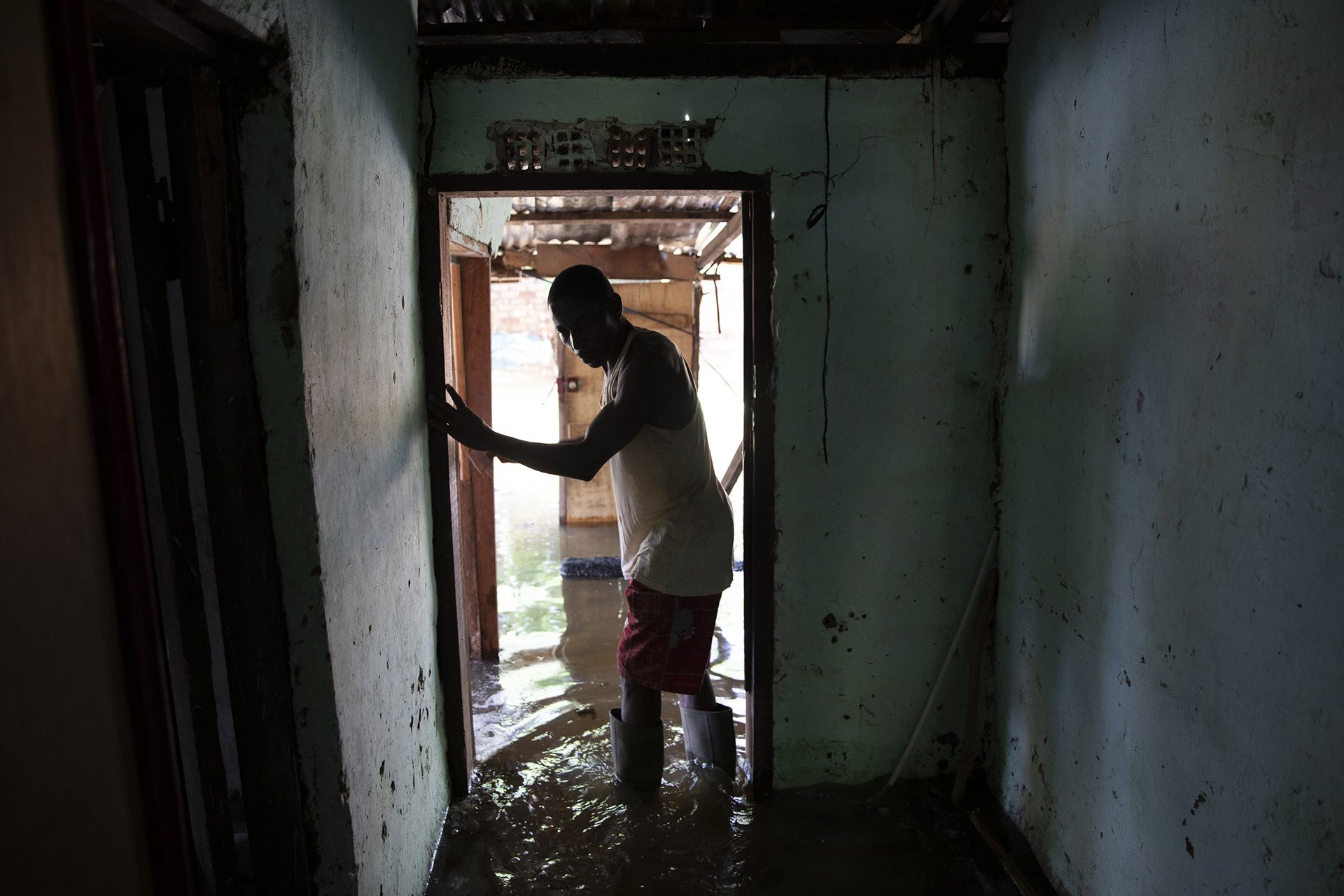 Stanislas Begia, his wife, and eight children have slept in the open since their house was flooded. Begia said he feared the house would be robbed if he moved to somewhere safer. "We will not have aid from the government," he said. "No support will get to us if it goes through the government's hands."
Schools submerged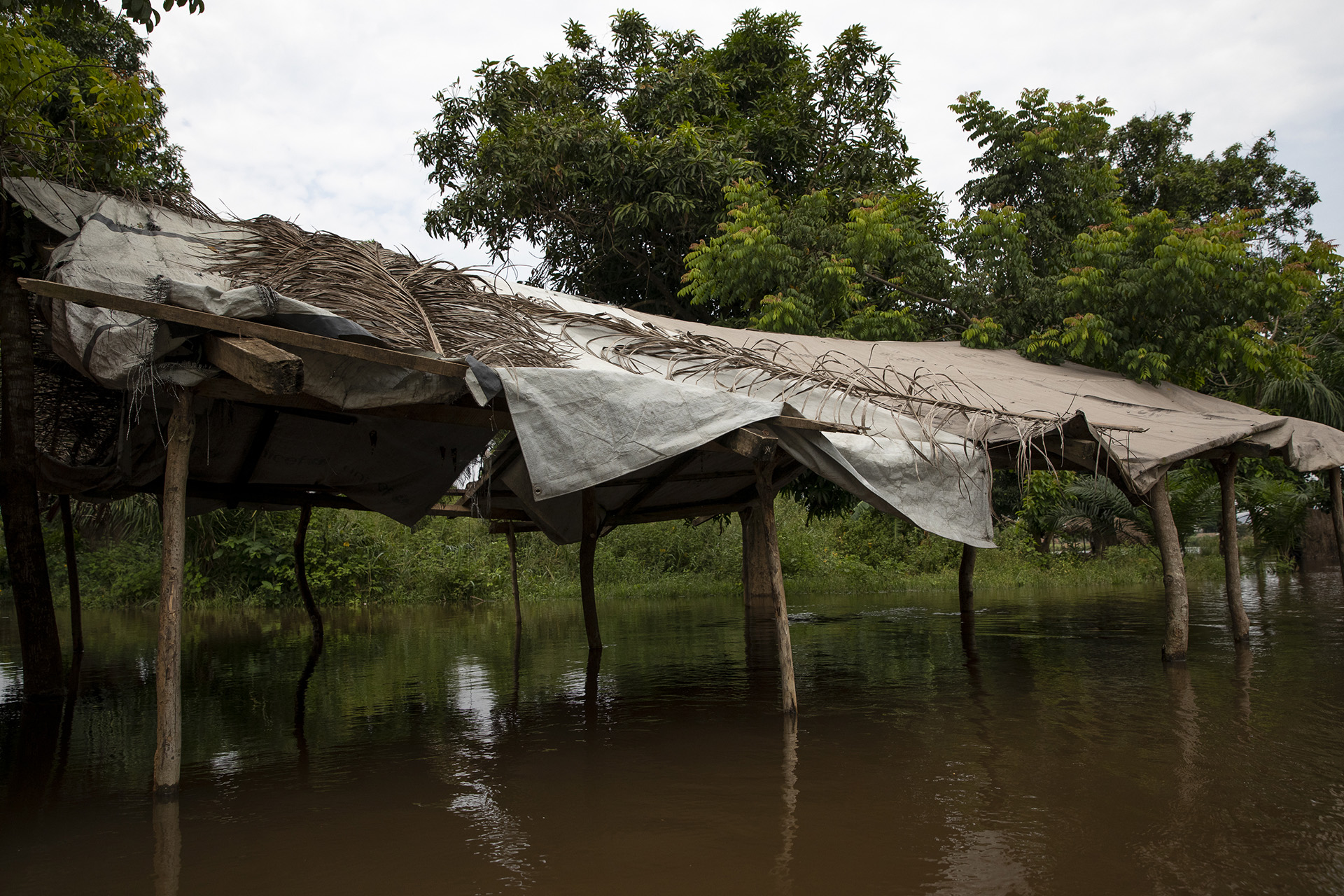 Three hundred children used to attend the school of Île Aux Singes, located on an island in the middle of the Oubangui River. The school's mud-brick walls have now fallen apart and the island's inhabitants have all left.
Safety in a stadium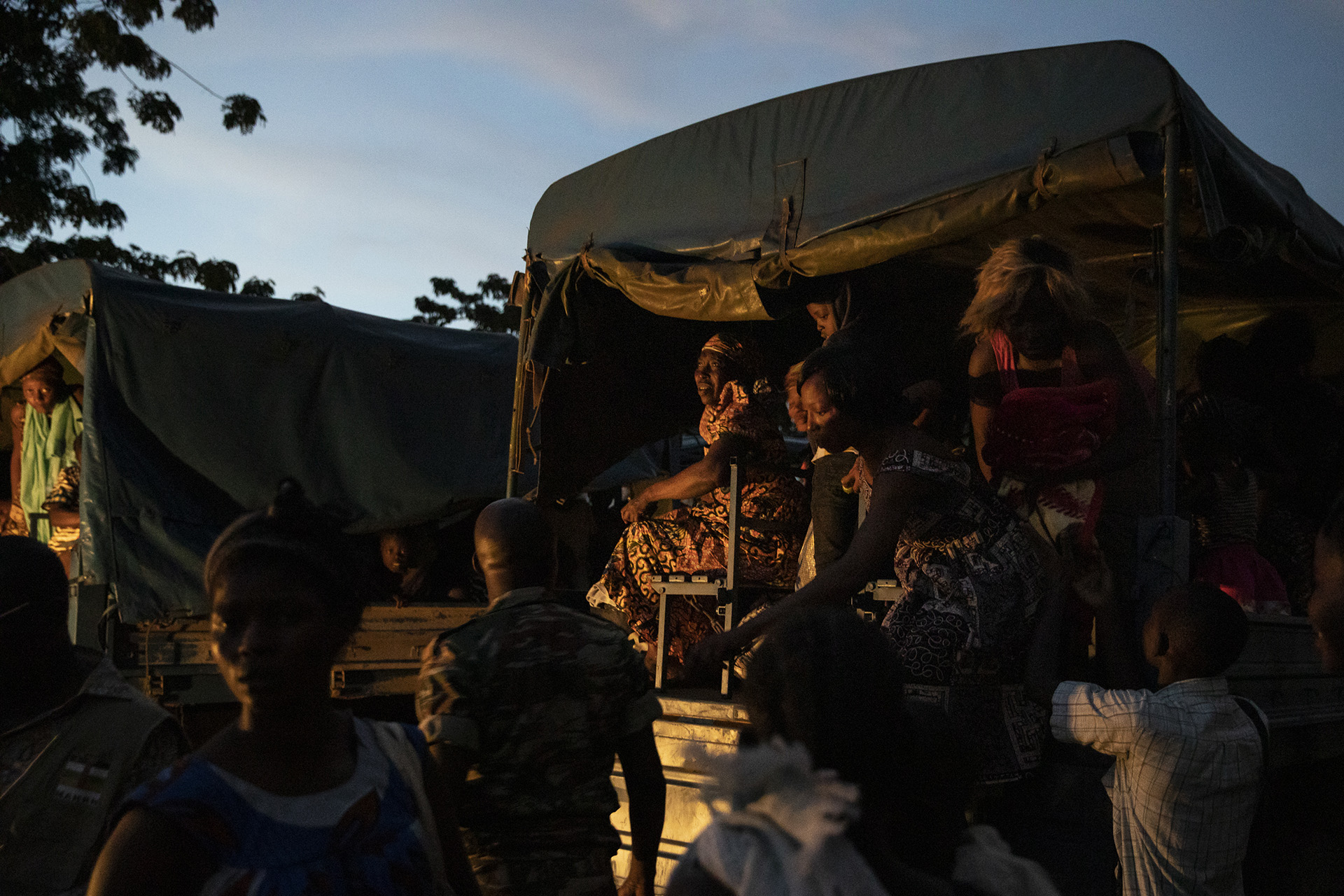 Trucks carrying women and children uprooted by the floods arrived last week at a sports stadium, where they will wait until more durable shelters are built. More than 500 people were relocated there in a single day.
Crowded tents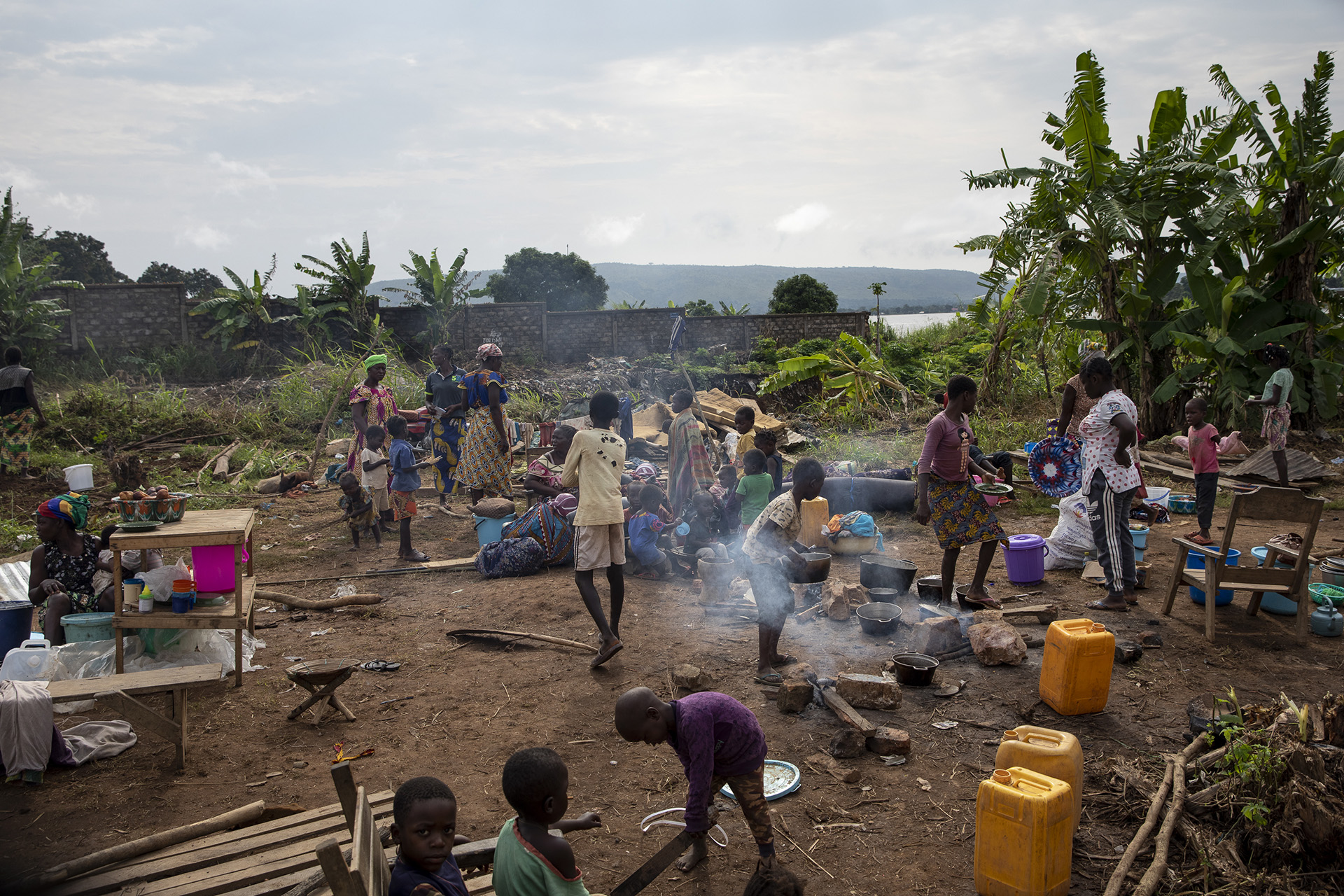 At another displacement site known as Socada, 2,036 people are still waiting for a roof to be installed. They live together under one main tent and smaller shelters built from scavenged materials. "The government put us here; they need to do something for us," said mother-of-six Veronique Nzouta, who suffers from high blood pressure and has been feeling more sick since the waters flooded her home.
Children at risk
Chantale, a mother of three, woke up two weeks ago with water rising in her house, touching her bed. "I did not understand what was happening," she said. At the displacement site where she lives, there are no toilets, few mosquito nets, and no drinkable water. She fears for the health of her children.
Rescued belongings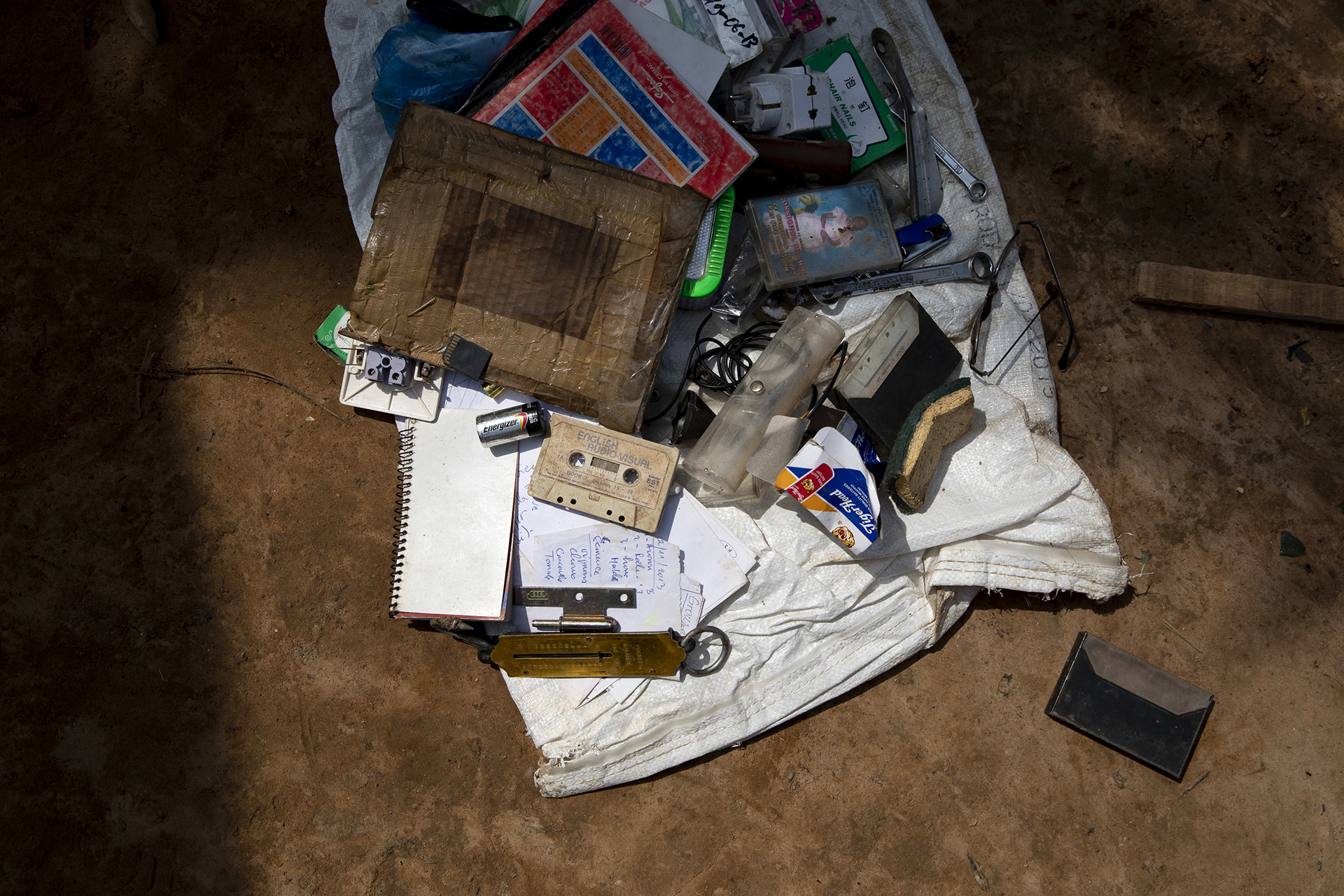 A few cassette tapes, a battery, and loose written notes are among the belongings Aubin Kongbia rescued from his flooded house. "It is not in two days, nor in two months that I had built that home," he said. "I'm never going to be able to reconstruct." His mud-brick house collapsed into the water a day after he abandoned it. His family now lives with three other large families in a house under construction that a neighbour has lent to them.
Sleeping rough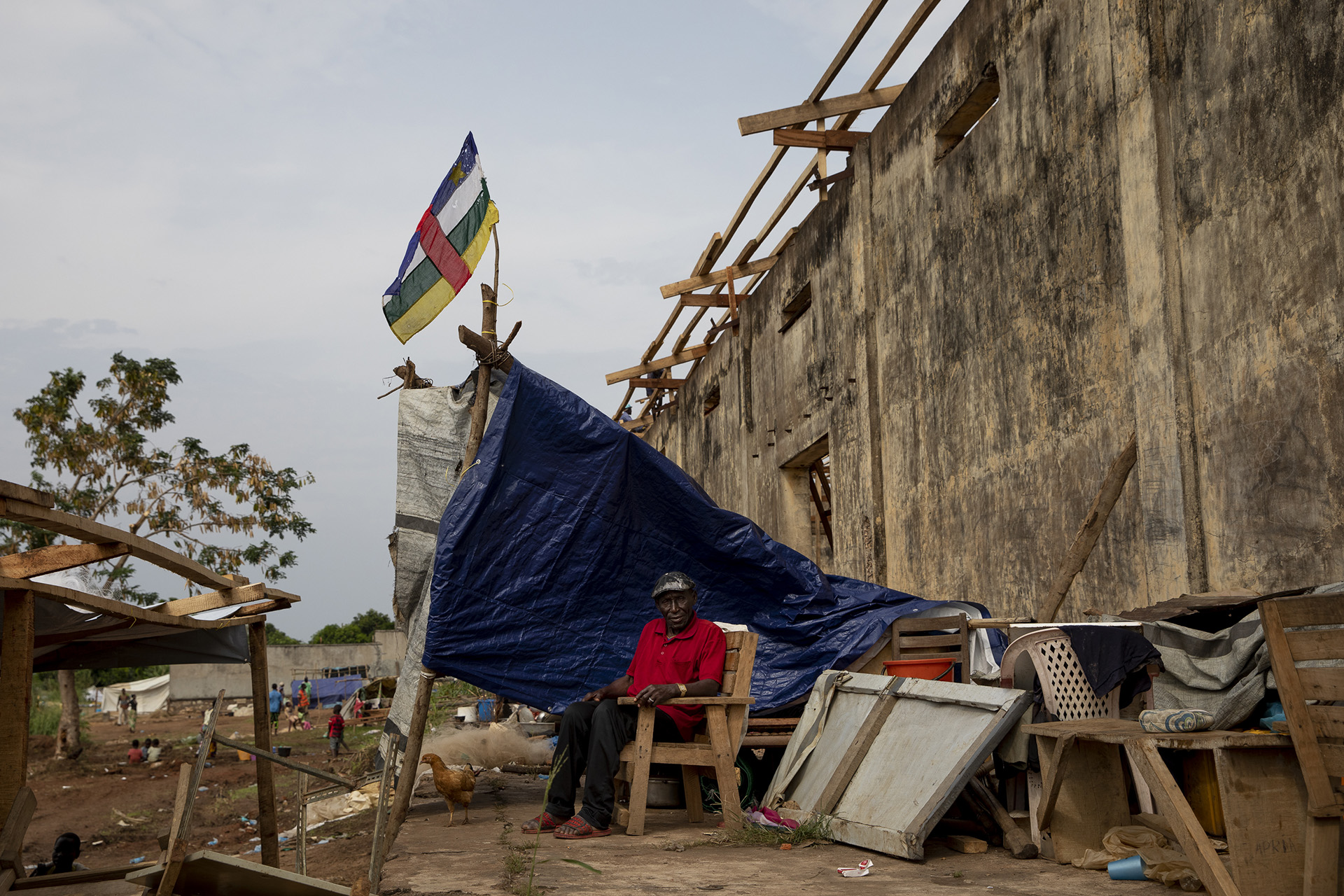 Bernard Toungba, 70, has taken shelter at Socada – on the banks of the Oubangui – with his children and grand-children. His family needs materials to cook, to make better shelters, and to protect themselves from mosquitoes. "Our conditions are bad; we sleep outside," he said. "There are so many worries it is hard to sleep."
Aid arrives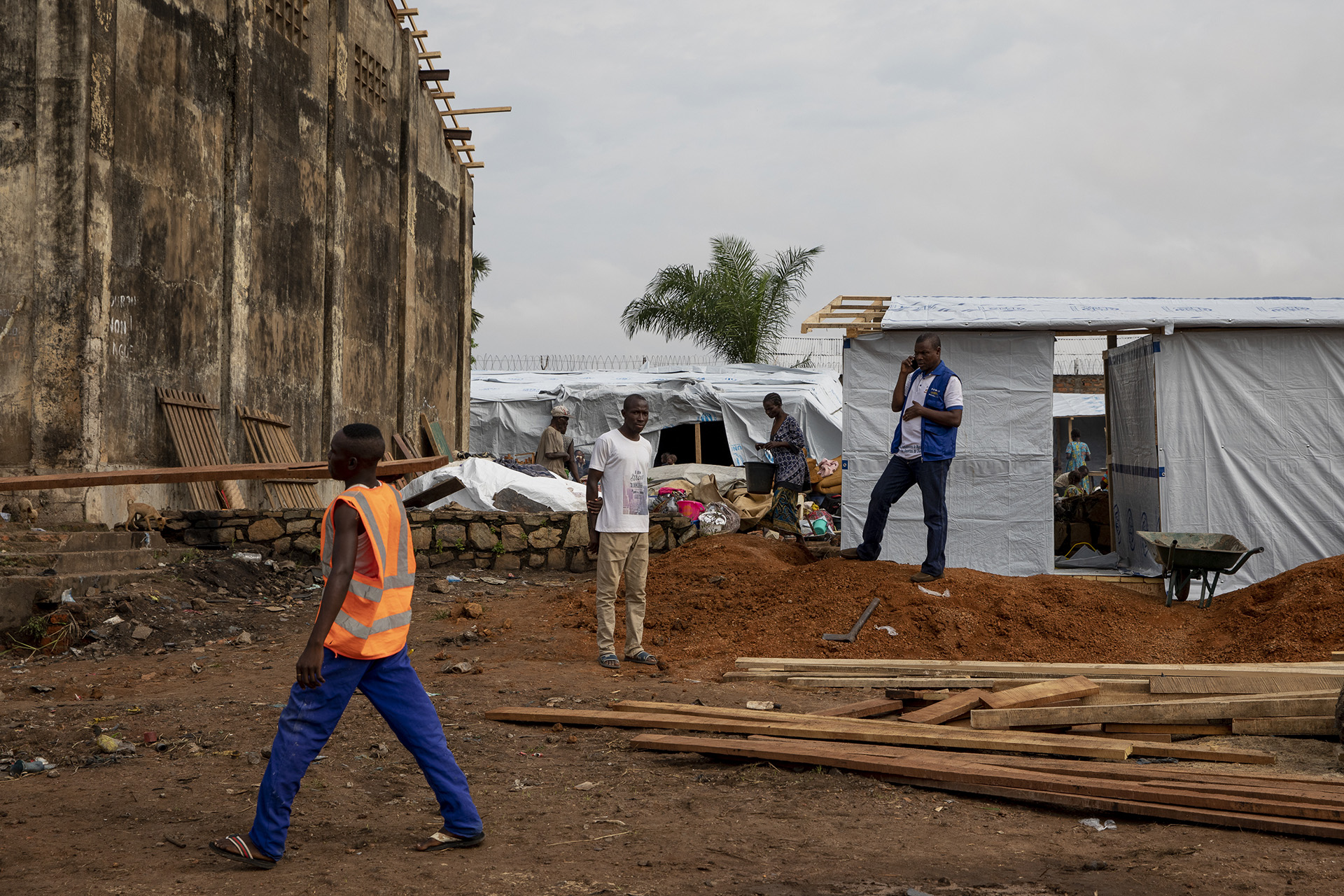 A local NGO, REMOD, is helping to construct latrines at Socada, but for now people use the surrounding fields as toilets and wash themselves and their clothes in the river. "It is an unexpected crisis," said REMOD president Alexis Guerengbenzi, adding that other emergencies in CAR usually trigger larger relief efforts.
as/pk/ag