Bangladesh's annual monsoon rainfalls submerge lowland areas for months on end. But in the rural southern district of Pirojpur the crops rise with the floodwaters.
Farmers here sow their harvests on floating rafts made from water hyacinth plants. This traditional method – known as dhap – allows farmers to grow food even when severe floods threaten livelihoods elsewhere in the country.
Photographer Zakir Hossain Chowdhury has had a firsthand view of the contrast this monsoon season. Floods damaged at least 160,000 hectares of cropland and displaced 300,000 people across the country in July. But in Pirojpur and two other southern districts where farmers have used floating gardens for generations, families continued to grow crops even as the waters rose.
Chowdhury's images show strips of vegetation unfurled in tidy rows over submerged land, and farmers tending to their buoyant crops in tiny boats. With parts of Pirojpur flooded or waterlogged for up to eight months of the year, farmers here say they're entirely dependent on their floating gardens.
Climate change is making Bangladesh's yearly monsoon rains more volatile and more intense – in some cases, severe floods have fuelled permanent migration away from rural areas. Agricultural experts say floating gardens can be one way of adapting to mounting disaster risks by strengthening food security.
Bangladesh's government includes the expansion of floating agriculture as part of its climate change adaptation strategy, and various NGOs have set up projects elsewhere in the country. The UK-based Practical Action has worked with local groups to introduce floating gardens in Gaibandha district, in Bangladesh's north, allowing people to grow crops throughout the year even when it floods.
But floating gardens have their limitations. The practice requires large stretches of land covered in still water through most of the year, enough water hyacinth plants – an invasive species – to build the floating rafts, and a market to make such farming profitable. And while floating gardens may be disaster-resistant, they're not disaster-proof: it's unclear how they'll withstand further climate threats like drought, temperature rise, or soil salinity caused by rising sea-levels and storm surges. 
In a 2013 paper, Haseeb Md. Irfanullah, the former head of the disaster risk reduction and climate change programme for Practical Action in Bangladesh, said the government and NGOs must better study climate change's impacts on floating agriculture before promoting it as a surefire adaptation method.
"Development agencies are too mesmerised by the sheer simplicity and buoyancy of this agro-technique," he said.
For farmers in Pirojpur, however, floating gardens are already integral to livelihoods.
"For eight months of the year, our land goes under water and then we have nothing to do," said 62-year-old Abdul Jalil Hawladar. "We do this cultivation to survive."
Adapting to a changing climate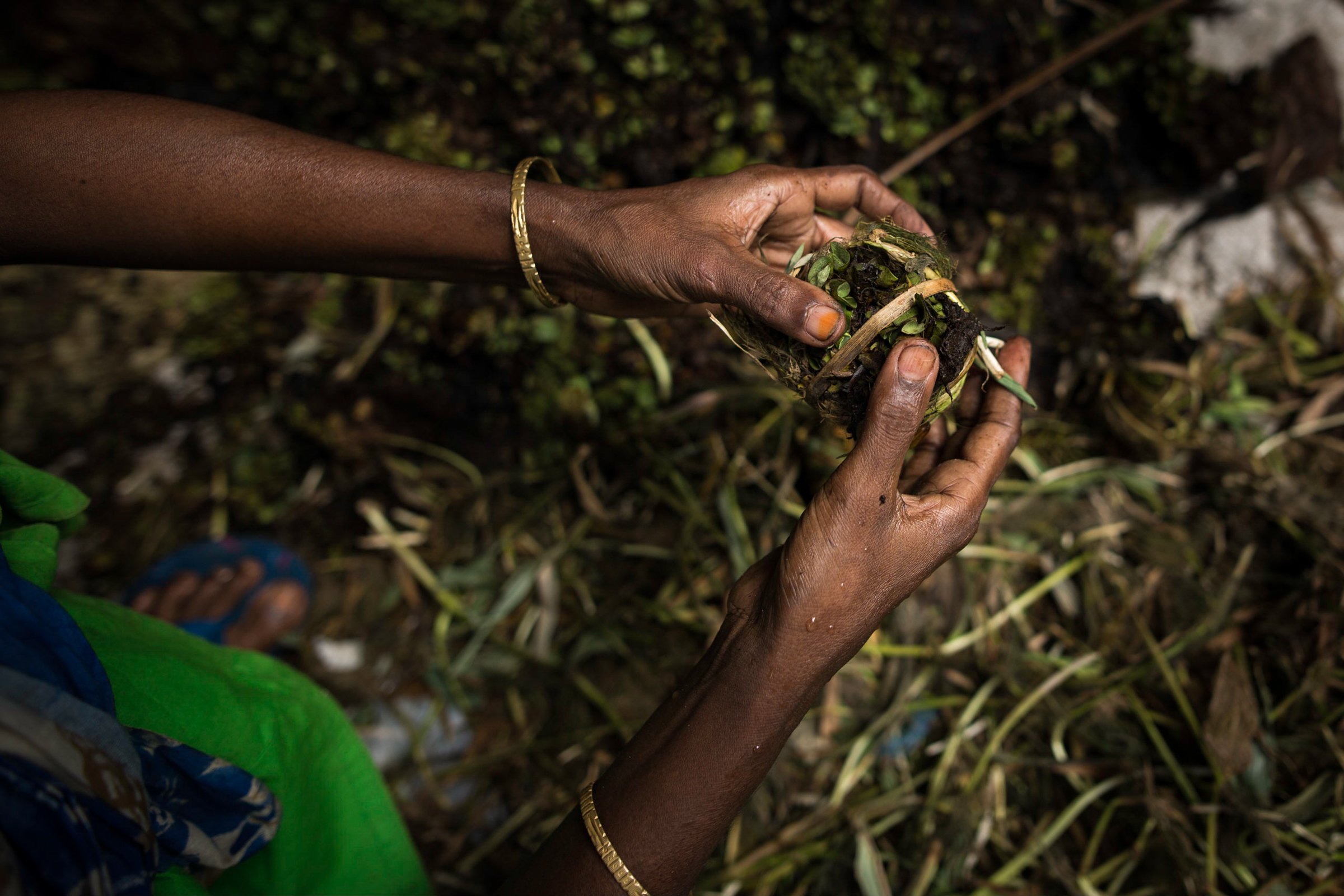 A farmer prepares daula – spherical seedlings made with a mixture including fibres from coconut husks. Vegetable seeds are buried in the daula, which are then planted in floating plant beds.
The UN's Food and Agricultural Organisation considers Bangladesh's floating gardens to be a globally important agricultural heritage system – one of 57 examples of traditional or indigenous agriculture seen as adaptable to environmental threats including climate change.
Creating the garden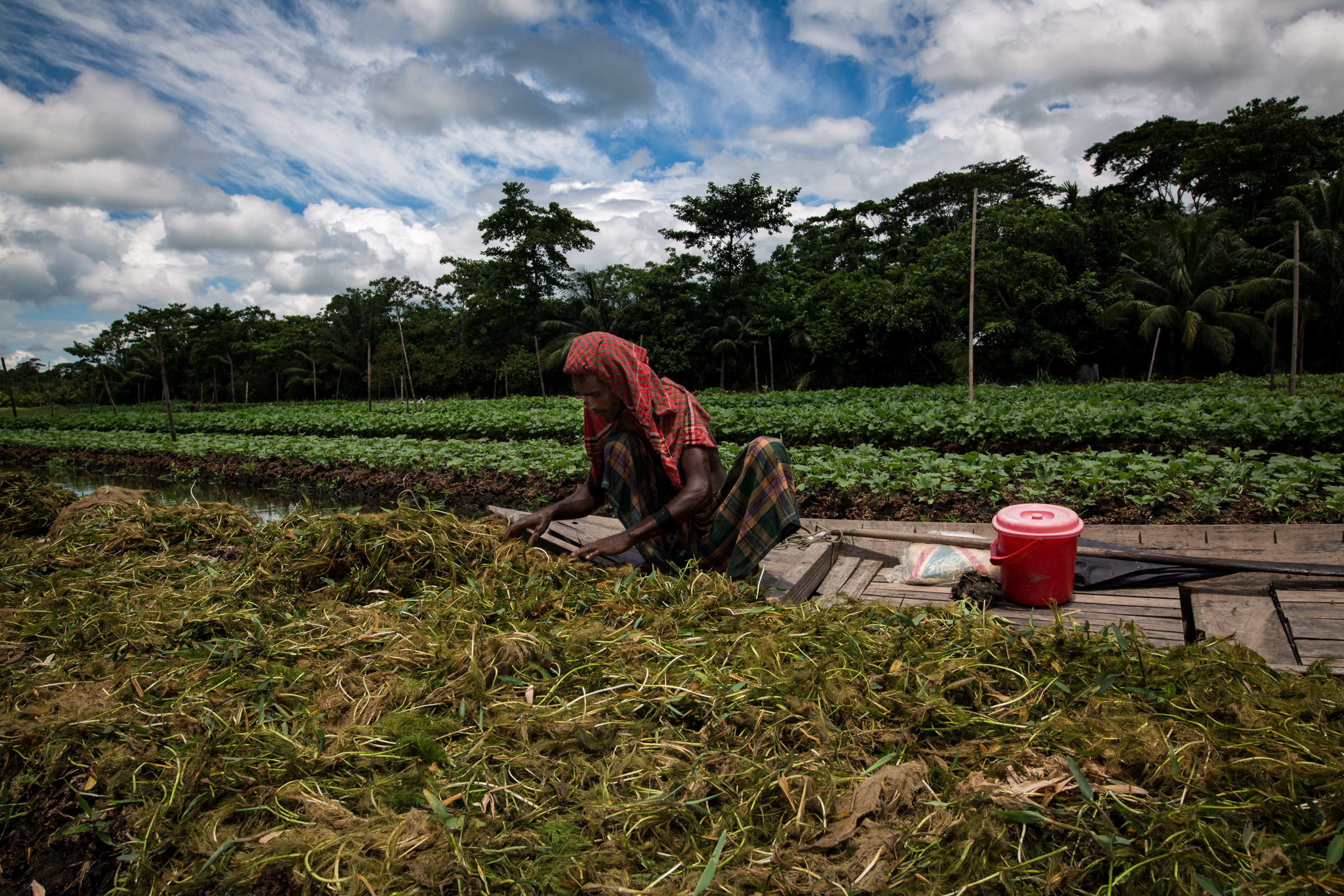 Dulal Miah, 43, prepares a new raft for planting. The plant beds are made from decomposed water hyacinth plants and straw, which are woven together to create a buoyant strip that can stretch up to 20 metres in length. A mixture of soil and mulch is added to the rafts, which can take several days to build.
Sprouting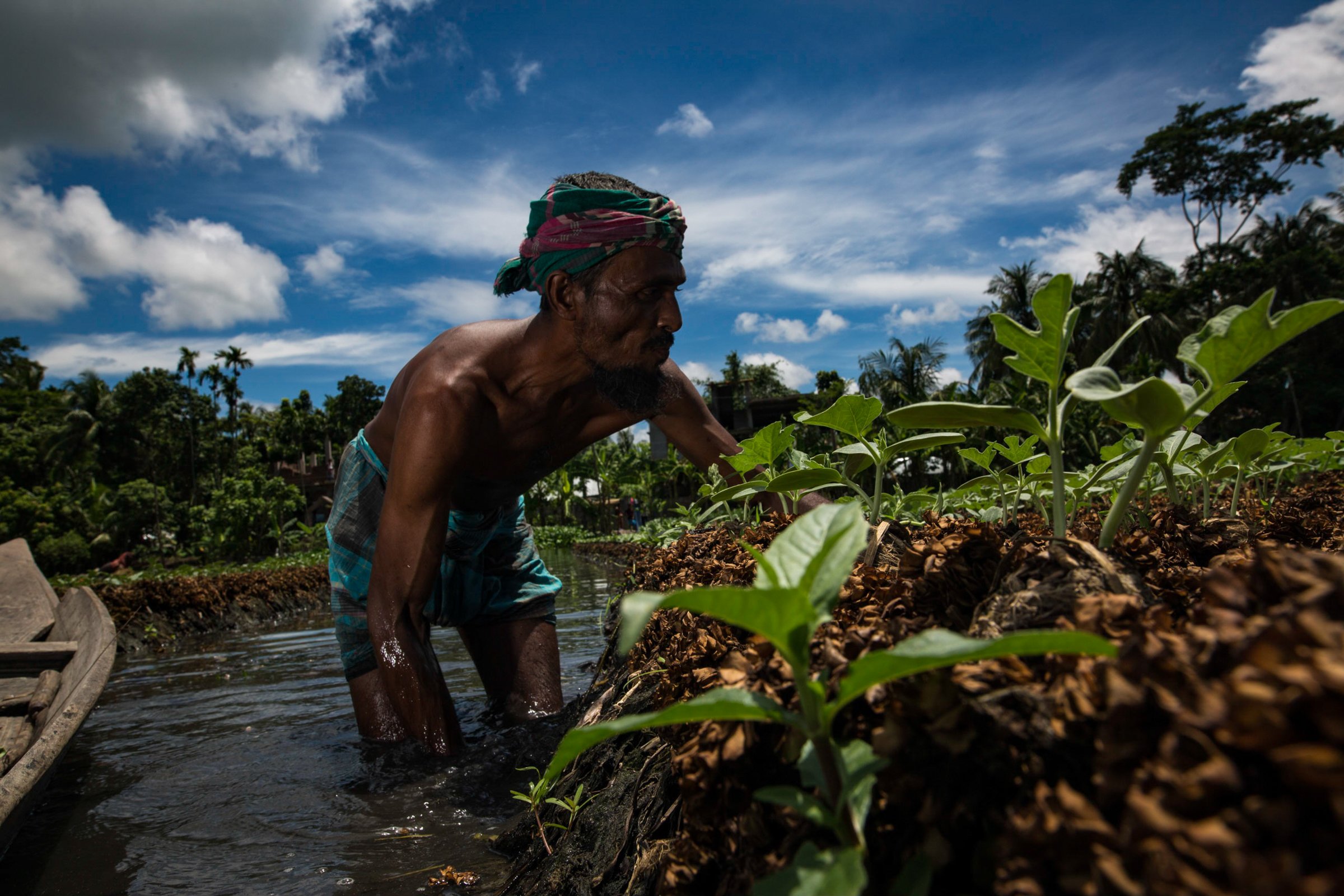 Mohammad Ismail checks on his crops. Farmers here grow beans, bitter gourd, papaya, beets, pumpkins, tomatoes, and chilli.
Tending the crops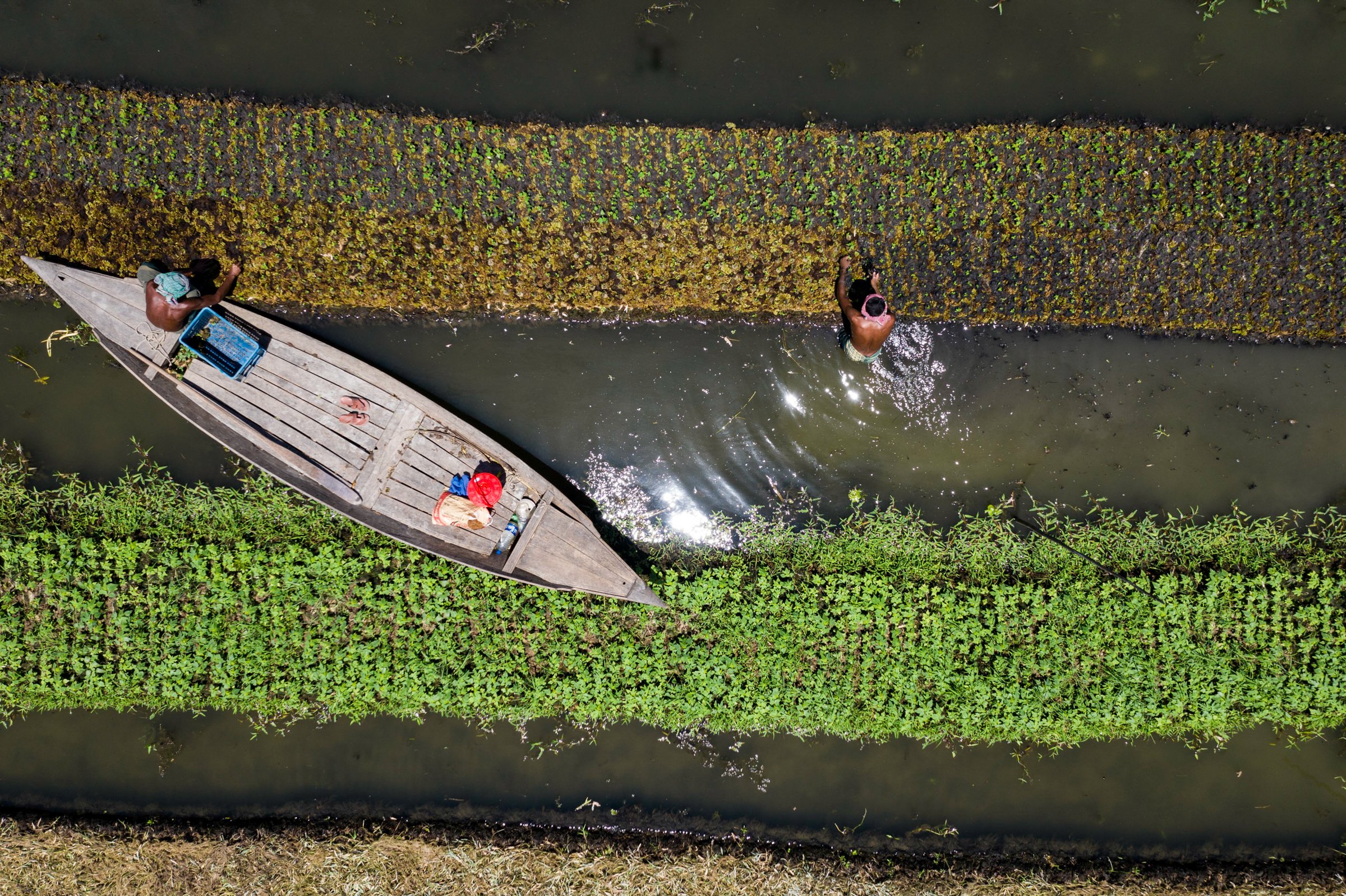 Farmers manoeuvre between their raft gardens in small boats.
While agricultural experts say floating gardens are adaptable to floods, they may not be the solution for everyone. Managing water in a flood-prone country is a constant balance: embankments meant to protect populated areas may also cut off water supplies to areas where floating gardens would otherwise flourish.
A buoyant harvest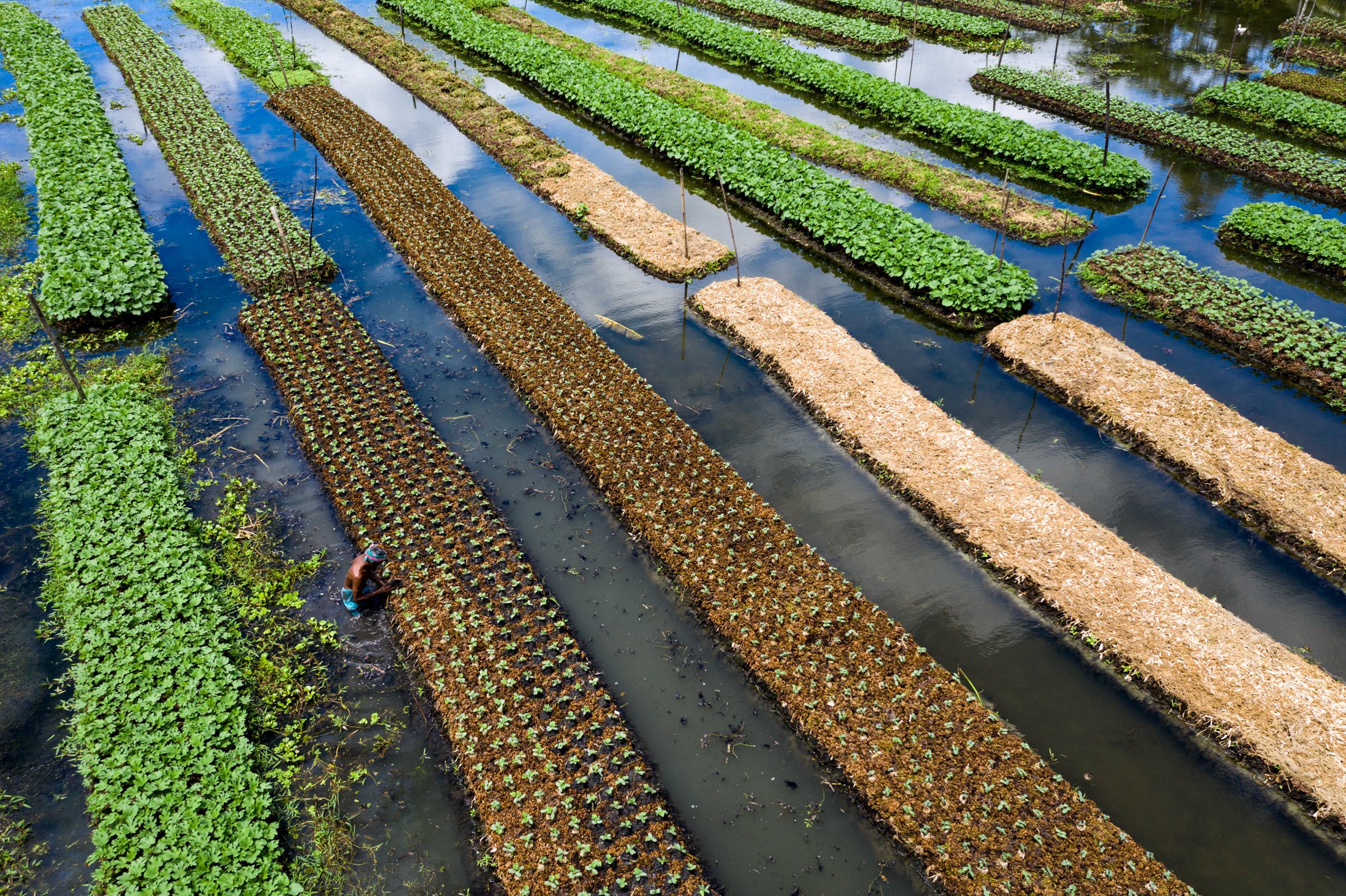 Farmers grow food for themselves, and also sell produce to local markets. The government says rural markets are under-developed, which makes it difficult for small farmers to thrive – another potential challenge in expanding floating gardens elsewhere.
From dawn to dusk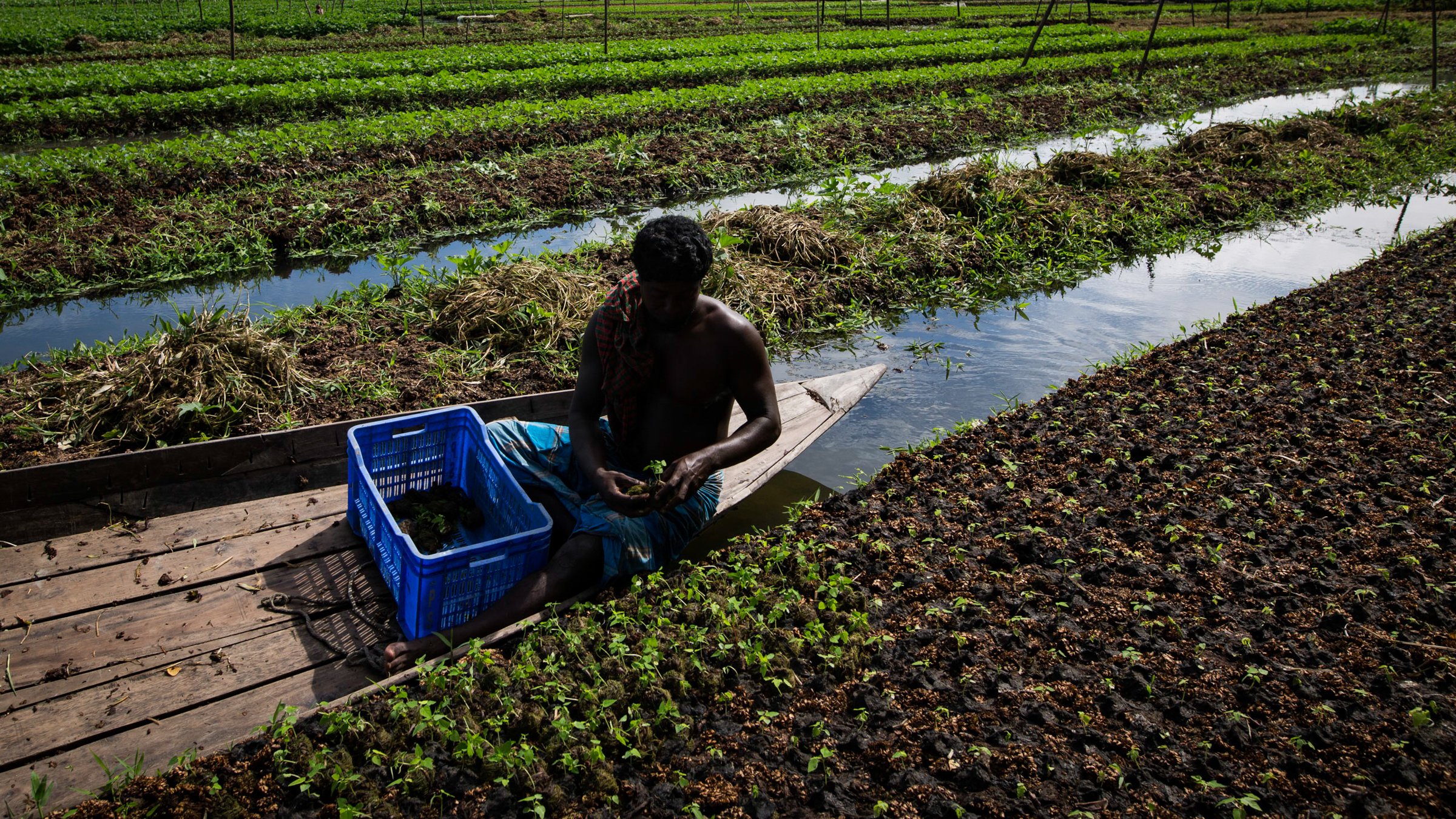 Abdul Mannan, 47, plants seedlings on his floating raft. He works all day: in this district, there are few other ways to earn a living.
"I would have nothing to do without this," he said.
(TOP PHOTO: Clouds are reflected in between rows of raft gardens. Farmers flit between their crops on small boats.)
zhc-il/ag/js