Venezuela's government says there is no humanitarian crisis in the country. But the stories of worried families navigating its crumbling health system suggest otherwise.
Journalist Susan Schulman went to Venezuela to report on the humanitarian impacts of an economic collapse that has seen more than 1.6 million people flee the country in the last three years – roughly five percent of its total population.
Her images, taken at a hospital and a clinic in the eastern city of Cumana, show a debilitated health system: shortages or a complete dearth of antibiotics and other medicine, run-down equipment, dirty facilities, and often no running water.
Amid the shortages, tiny medical organisations are taking on the responsibilities of the state. Fundación Jesed is one of them. Vanessa Ramos and her husband run the charity out of their living room in Cumana. Desperate patients, their families, and even medical staff turn to these micro-NGOs – there are dozens of them around the country – to source and supply the medication missing from Venezuela's hospitals.
Schulman accompanied Ramos as she visited clients at Hospital Universitario Antonia Patricio Alcalá in the city centre. Ramos is a life-line for many here. Walking discreetly through derelict hallways, she delivers supplies to a handful of families waiting with bedridden patients.
"People are worried because they don't have resources to buy medicine and they can't get it," Ramos says. "They look to me for a way to help them get hold of these medicines".
A family frets over their two-year-old child, whose pneumonia can't be treated because the hospital has run out of the right medicine – as well as bandages and gauze. Another family waits for emphysema drugs that no one can find. One father is just grateful for a bottle of water: the hospital has no running water.
Ramos says she feels the weight of the families who depend on her.
"Most of the cases," she says, "are life and death".
A gift from the dying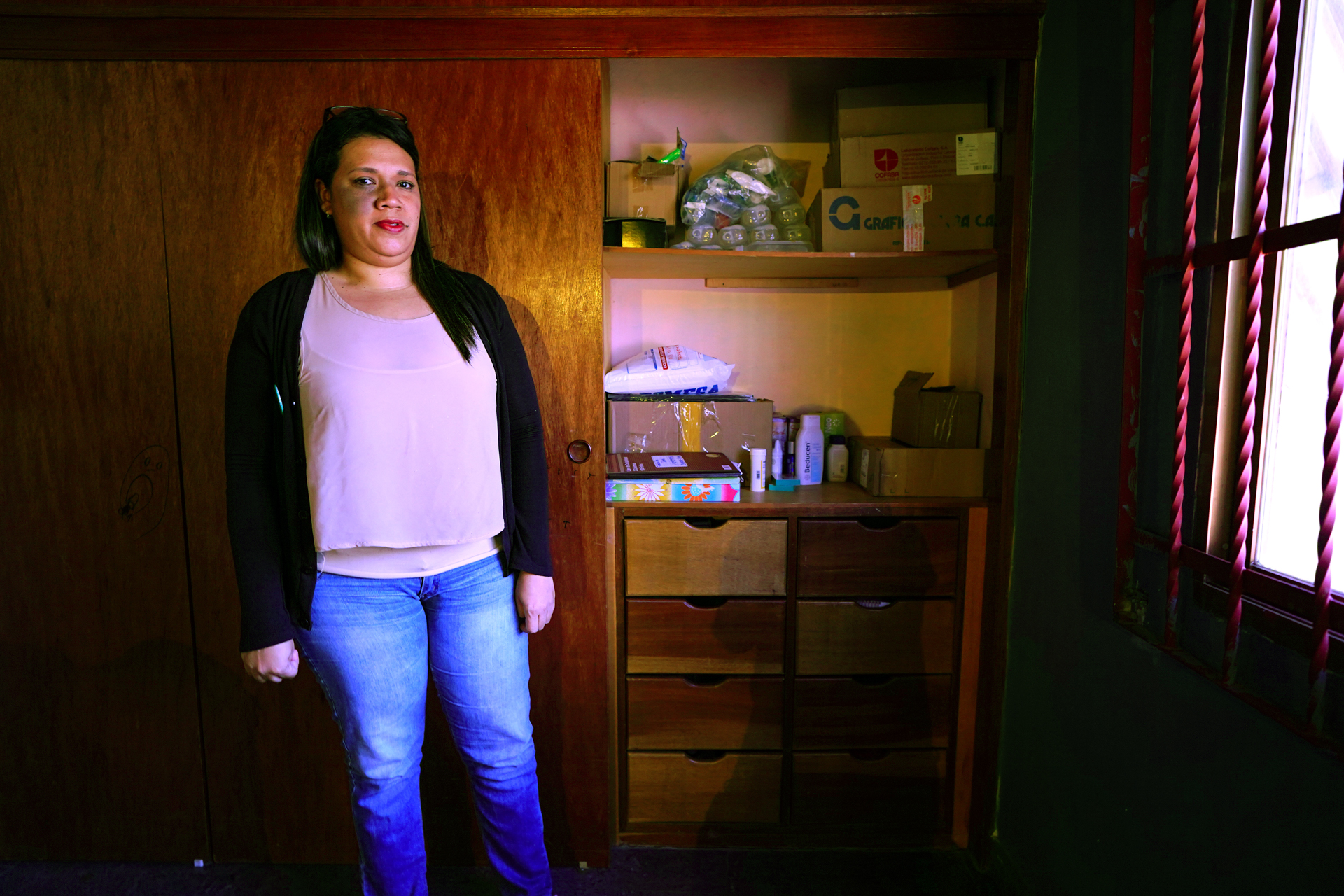 Vanessa Ramos runs Fundación Jesed out of her apartment. She's not a doctor: she works a full-time administrative job in the city. She started her charity last year after seeing how a close friend struggled to find leukemia medication for a dying child.
Most of the medication donated to her foundation is sourced and shipped from contacts abroad. Sometimes, she's able to find drugs inside Venezuela – medicine leftover after patients have died. She keeps the donated drugs in a small cupboard in her living room.
Flies and filth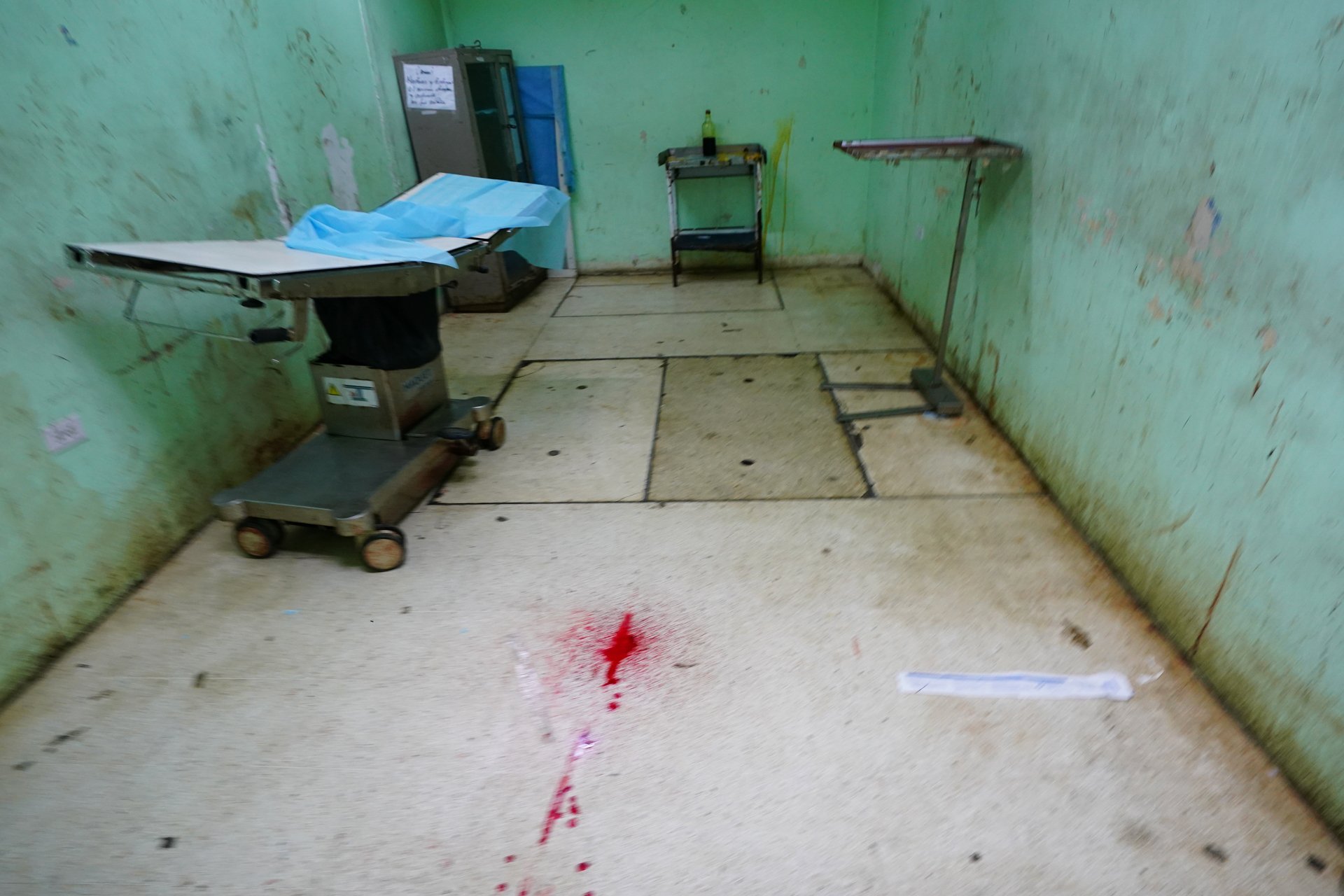 Vanessa enters the hospital discreetly, careful to avoid the attention of armed security guards. Her foundation is registered as a charity, but she's still wary of upsetting authorities. Venezuela has continually rejected international aid and denies there's a humanitarian crisis in the country.
"I go in without making a fuss," she says.
Flies and filth are everywhere in the hospital's hallways. The electricity is out; generators supply limited power to high-priority departments. Patients line corridors on stretchers; intravenous tubes hang from the frames of missing ceiling panels. Floors are bloodstained. Piles of rubbish swarm with bugs.
What malnutrition looks like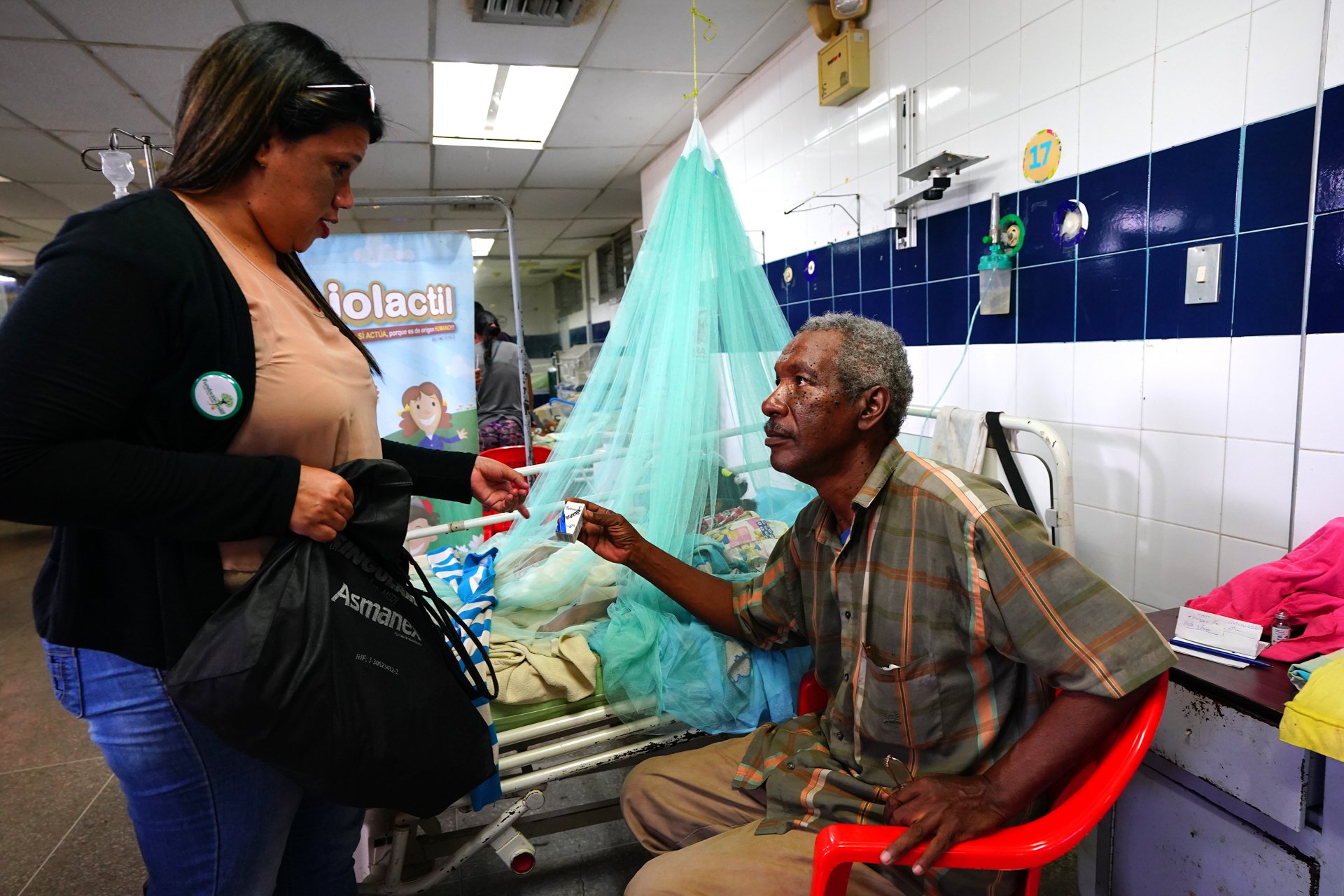 Barbara Sanchez, 11, is on the hospital's children's ward. She suffers from severe malnutrition, pneumonia, and a low hemoglobin count. Her father, 61-year-old retiree Jose Sanchez, waits by her bedside. Ramos gives the father a small box of medication meant to ease the child's breathing.
A missing diagnosis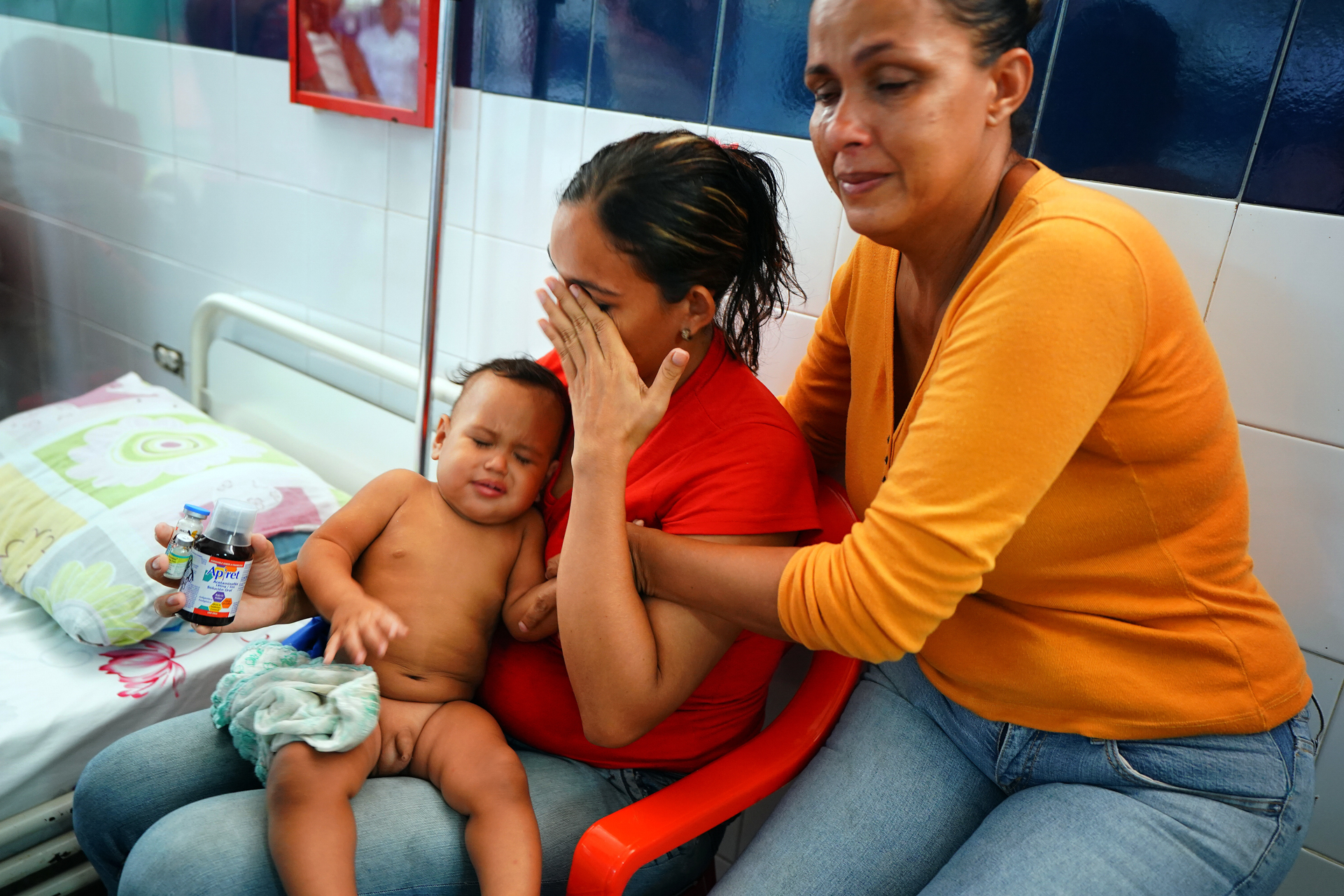 Nine-month-old Oranel Enriquez sits in his mother's arms in the children's ward. His mother is distraught. Oranel has a high fever and has been having convulsions. Doctors fear it could be meningitis but they don't have the supplies to do a test that would confirm it. Ramos brings the mother antibiotics and anticonvulsants, used to treat seizures.
In lieu of drugs, sweet rolls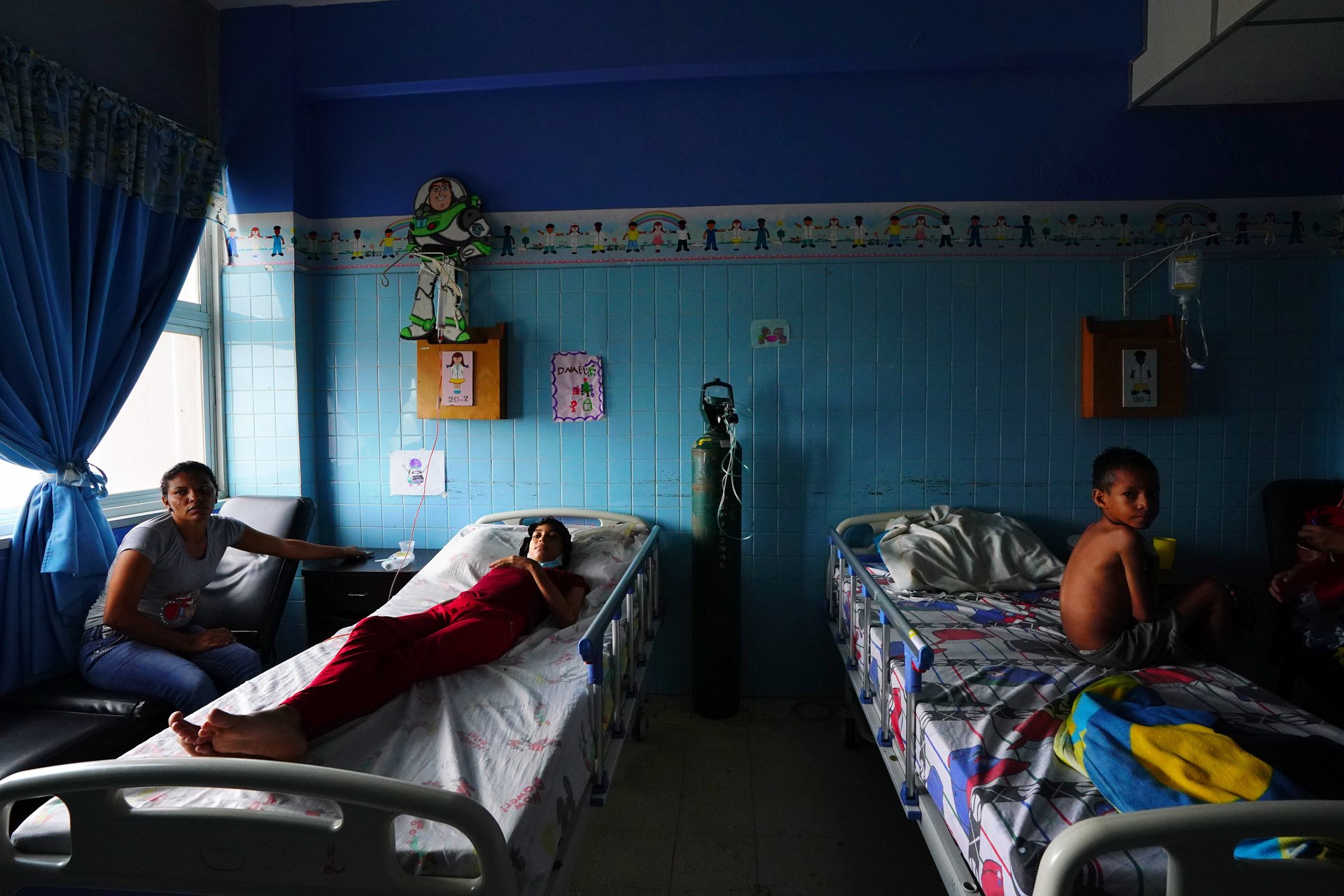 Over the last year, Ramos says the number of people coming to her for help has soared as medicine grows scarce across the country. Ramos visits the hospital's cancer ward even though she has no drugs to offer. Instead, she brings sweet rolls and small jars of pureed food.
Ramos recalls trying to help her friend's two-year-old child, who had leukemia.
"The medicine was extremely expensive and we couldn't get it in Venezuela," she says. "When we finally got the medicine, the girl was really ill and she passed away."
"We don't have the money"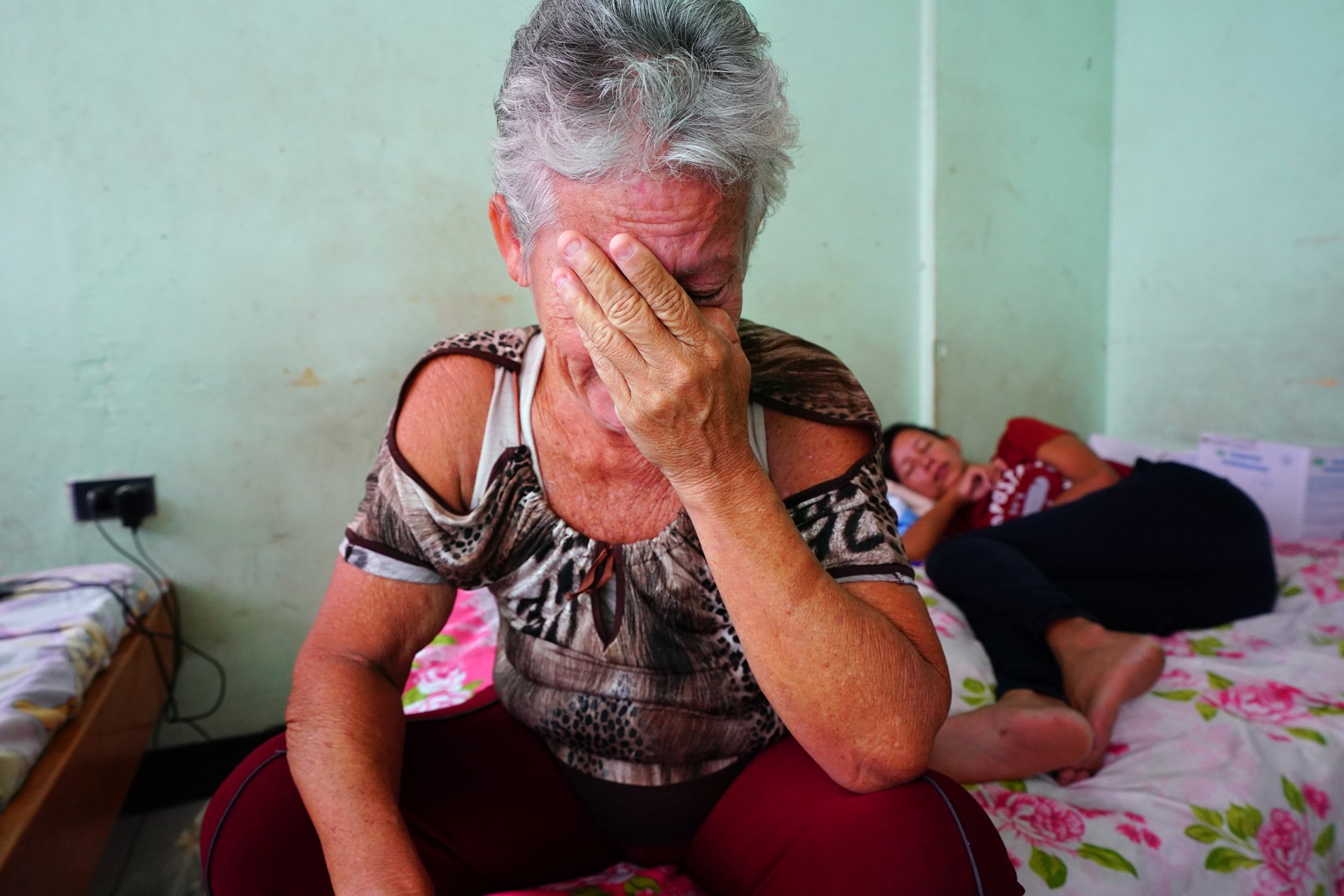 Vanessa visits the waiting room for relatives of patients in intensive care.
Five women are in the room. One of them, Noreiva Hijosa, 56, is distraught. Healthcare is meant to be free in Venezuela, but the doctors have asked her to find a scarce antibiotic for her 34-year-old son, Hilbert.
"He has emphysema and needs to take medicine every day," she says. "But I can't find it and now he has an infection. We don't have the money and the medicine doesn't exist here".
Hijosa says her son developed emphysema from his work as a fireman. His colleagues turned to social media to look for the medicine; they found it once, she says, but she couldn't afford to pay for it.
"He was saving lives and now, look," she says.
Grateful for water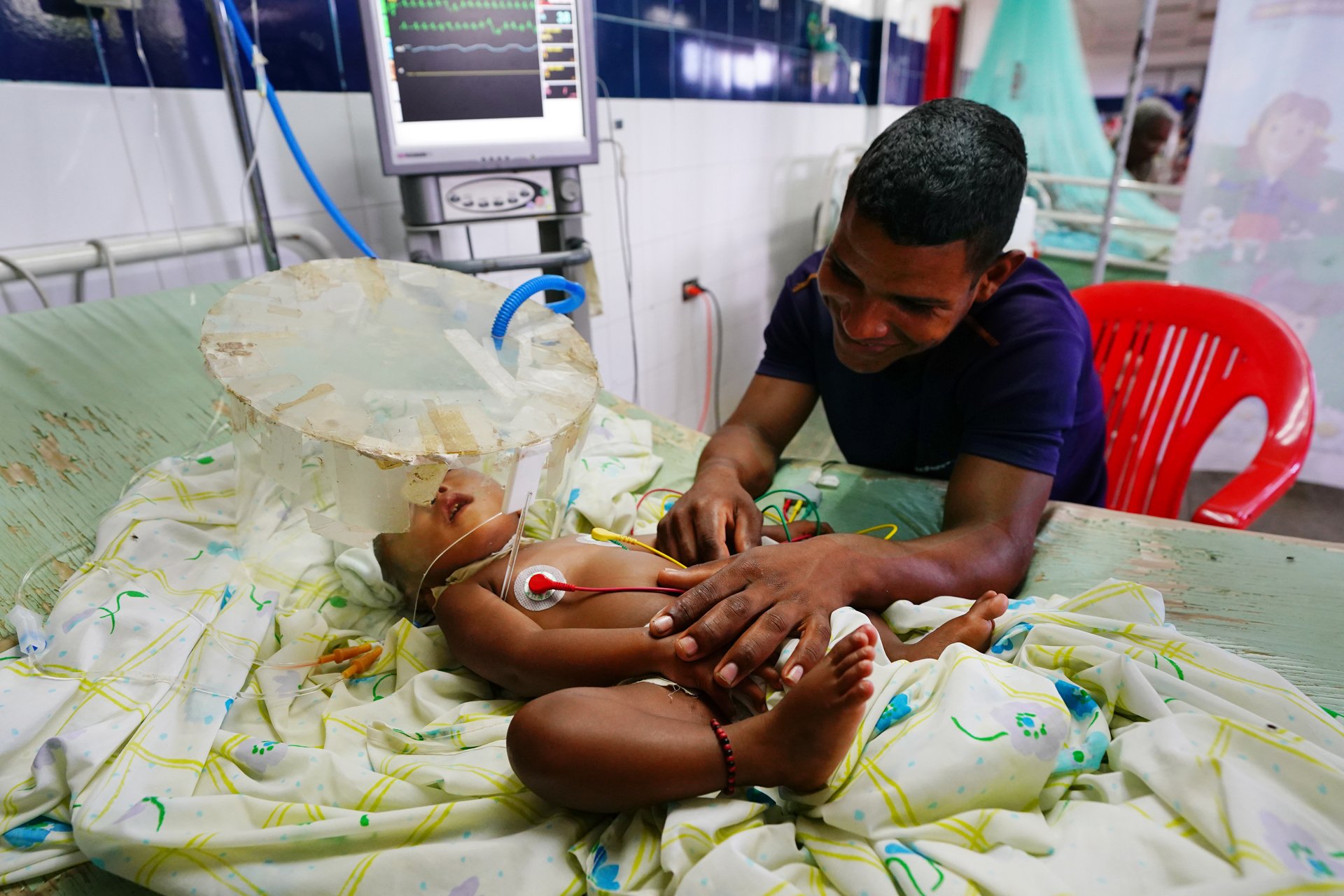 One-year-old Deiker Marcano lies on a cot while his father, Adonis, 25, looks on. Deiker has gastroenteritis and internal bleeding, and a makeshift oxygen mask covers his head.
Adonis is worried for his son's health. "We don't have any money to buy antibiotics or medicine," he says. "Or water".
He has become grateful for small kindnesses.
"A woman gave us water as a gift," he says. "There's none here."
On this visit to the hospital, Ramos sees five of her patients. But another five people ask her to find medicine for them.
"In the beginning I became depressed because I had cases where there was no medicine, the parents were worried seeing the children suffer, and I didn't have the resources to help them," Ramos says. "But now I am dealing with it, because I suppose I have to be someone who motivates others, to give them hope that we are going to find the medicine".
"A sense of impotence"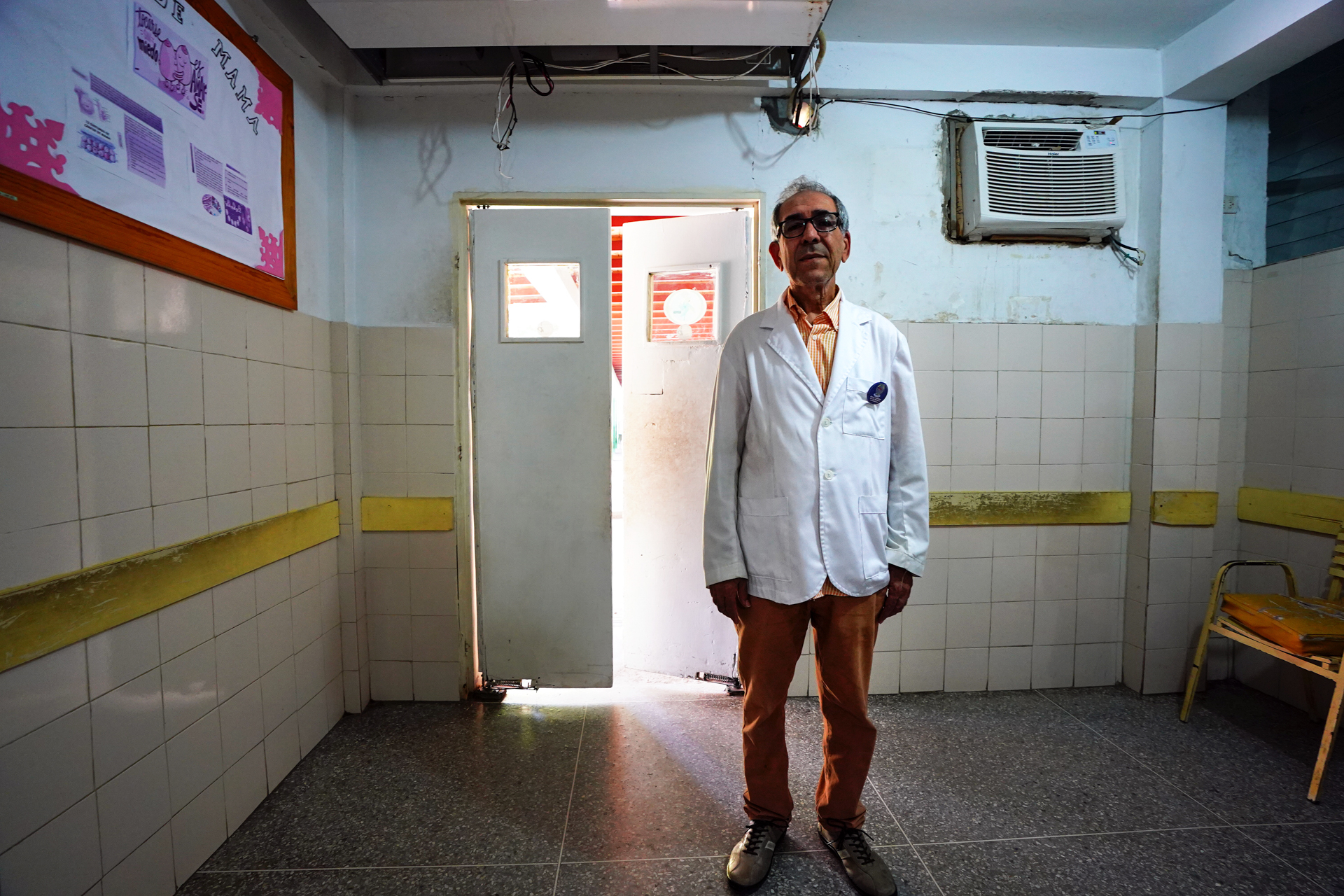 The situation has exasperated medical staff working in Venezuela's neglected health centres. In a small clinic in another part of Cumana, Dr Rafael Piroza says he has no supplies – not even running water.
The few drugs he is able to find don't come from the government, but from the tiny medical charities like Fundación Jesed.
In protest of the health conditions now facing the country, staff at the clinic have papered the fence outside the building with signs declaring what's missing: "No hay antibióticos"; "no hay tratamiento para infectados"; "no hay oxigeno". The lengthy list written in block letters covers a five-metre section of a chain-link fence. 
"There is a frustration and a sense of impotence," Piroza says. "We are formed to give and fight for life, and that we can't do that makes us feel like accomplices".
ss/il