The suspension of two major international relief organisations in Ethiopia could further worsen the humanitarian situation in Tigray, where an aid blockade is still effectively in place, even as conflict spreads into neighbouring regions and hundreds of thousands of people face famine.
The blockade, and a cash crunch caused by limited banking services in Tigray, have left aid groups struggling to function, and led to increased concerns about the welfare of the roughly 500 aid workers – both national and international – based in the region.
The risks are highest for Tigrayan staff who cannot easily leave the country and would be particularly vulnerable should federal forces retake the region, humanitarian officials told The New Humanitarian. Some have been displaced during the conflict and have lost family members and friends.
The Norwegian Refugee Council (NRC) and the Dutch section of Médecins Sans Frontières (MSF) confirmed last week that they had been barred from operating across the country for three months, with the government accusing them of "disseminating misinformation".
Several aid officials working on the Tigray response told The New Humanitarian they were unsure how to interpret the timing of the suspensions but believe the organisations have been singled out either for their humanitarian work or for running advocacy campaigns the government didn't like.
MSF was one of the main organisations delivering health services in Tigray, while NRC – which supported nearly 600,000 Ethiopians – was among the most outspoken agencies working on the crisis. A third group – the Dubai-based Al Maktoum Foundation – was also suspended, for "budget mismanagement".
The government said it had held "repeated discussions" with the aid agencies prior to suspending them, but issues weren't fixed.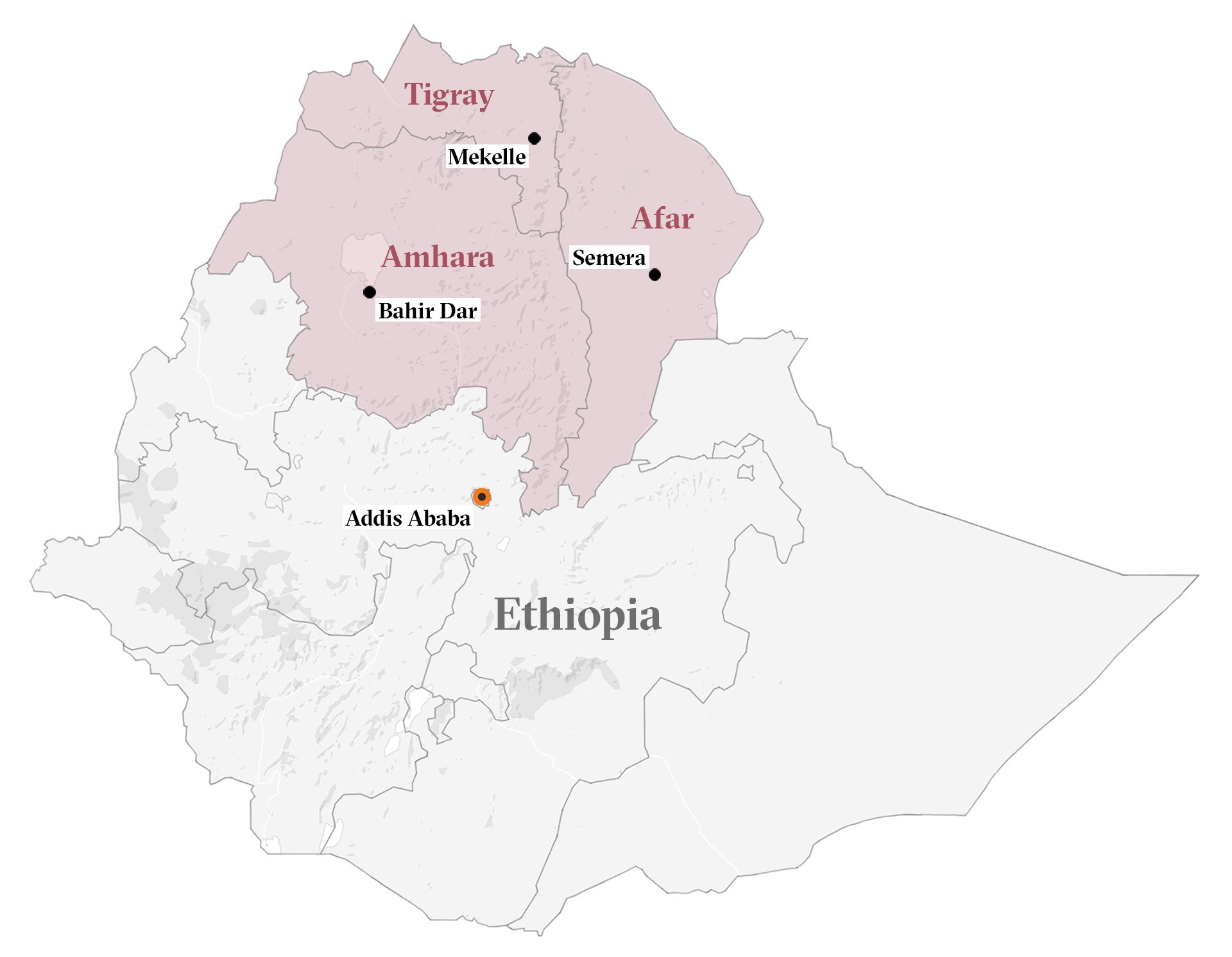 The suspensions – which come as the UN pushes back against government accusations that aid organisations are smuggling weapons to rebel groups in Tigray – is likely to further silence those wanting to speak out about what the UN referred to in June as the world's worst hunger crisis in a decade.
"The message [from the government] is that if you want to continue your programme in the country – let alone Tigray – then you will be silent," said a senior aid official who is not based in Ethiopia but is working closely with colleagues on the ground.
The official, and three others who spoke to The New Humanitarian over the past week, all asked not to be named for fear of reprisals from the government against their organisations and staff members in Ethiopia.
Tigray's nine-month conflict has expanded in recent weeks as rebels push deeper into neighbouring Afar and Amhara regions, uprooting some 250,000 people, according to the UN. Lalibela, a UNESCO world heritage site in Amhara – which has a longstanding land dispute with Tigray – is among the latest cities to fall. 
Prime Minister Abiy Ahmed has called on paramilitary forces from across Ethiopia's ethnically-based regions to respond to the offensive, and has threatened to deploy its "entire defensive capacity". Eritrean forces allied to Addis Ababa are also involved in the conflict.
Aid workers told The New Humanitarian that agencies will be stretched thin as they try to meet the growing humanitarian caseload in new regions: Most are already struggling to assist the more than five million people in need of urgent assistance within Tigray.
The UN's World Food Programme, or WFP, says about 100 trucks a day are needed to supply food, fuel, and other items to those in need of lifesaving support. Just a handful of convoys totalling a few hundred trucks have arrived in the region since late June. 
Aid officials accuse Addis Ababa of delaying the provision of aid through various procedural hurdles, while attacks on humanitarian workers and convoys have further complicated operations. Twelve aid workers have been killed since the conflict began.
Addis Ababa says it is making efforts to remove bottlenecks facing agencies but that checks on vehicles are necessary for security reasons. The government says it has spent more than $2 billion on aid and repair work in Tigray during the conflict.
Suspensions and speaking out
The Tigray conflict followed months of tension between the government and the region's ruling party, the Tigray People's Liberation Front. The TPLF dominated Ethiopian politics for almost three decades but lost power when Abiy took office in 2018 amid anti-government protests.
Addis Ababa announced a unilateral ceasefire on 28 June – after sustaining heavy battlefield losses – but the authorities have since blocked aid convoys from going into the region, while cutting off electricity, telecommunications, banking, and trade.
In response, the Tigray Defence Forces (TDF) – a military entity formed at the start of the conflict by civilians and existing Tigrayan military personnel – launched an offensive to break the blockade and pressure the government to accept its ceasefire conditions, which now include demands for a transitional administration that would force Abiy out.
The eastern push into Afar aims to sever a crucial trade route that links neighbouring Djibouti to Addis Ababa, and accounts for around 95 percent of Ethiopia's imports. The Amhara offensive seeks to cut supply roads there ahead of a possible offensive on western Tigray, which was annexed by Amhara during the conflict.
The NGO suspension, meanwhile, comes amid high-level visits from the UN's new emergency relief coordinator, Martin Griffiths, and USAID chief Samantha Power, who has called for the government to "unblock aid".
"The US has come down hard, the EU has come down hard, but is it really helping?"
The Ethiopian government justified the ban by claiming both organisations had spread misinformation on different platforms, and had failed to ensure foreign staff were working with appropriate permits.
But the senior aid official said banning the Dutch section of MSF – the Spanish section had already halted its work in parts of Tigray after the June murder of three staff members – was designed to remove "the backbone of health in Tigray". It also punished a vocal advocacy group that had documented "deliberate and widespread" attacks on healthcare facilities; called for an investigation into the June murders; and described violence against civilians in the region as "utterly shocking".
Though NRC has a smaller footprint in Tigray, it has also been outspoken on the crisis, making regular media appearances that have attracted the government's attention and ire, said a well-placed second senior aid official. This source said the Ethiopian government is wary of the organisation's secretary-general, Jan Egeland – a former UN relief chief perceived as having considerable influence among some of the Western diplomats leading calls for humanitarian access in Tigray.
The suspensions, the official added, could also be viewed as a "deflection" tactic aimed at forcing agencies to focus advocacy efforts on their reinstatement rather than on addressing the blockade and the humanitarian crisis.
After recent tensions with the government, however, some aid workers question whether advocacy is now even the right strategy. "The US has come down hard, the EU has come down hard, but is it really helping?" said the second official. "It seems like the government is just more reluctant to talk to them."
Depleted stocks and worn-out aid workers
For now, the only access point into Tigray for humanitarian agencies is a roughly 450-kilometre stretch of road from the neighbouring Afar region. In July, a WFP convoy was attacked along the route – reportedly by an Afar militia.
Though the government has accused the TPLF of blocking the route through its military operations, aid workers say Addis Ababa and its allies are responsible for denying access, and for shutting down other possible routes into Tigray.
Many view the blockade as a military strategy by a government unable to beat the TDF on the battlefield. "I think it is the only viable weapon they now have," said Mohamed Kheir Omer, a political analyst closely following the conflict.
Though 157 trucks reached Tigray from Afar last week, much more aid is needed. "Just because they allowed trucks in for some visibility at the time of a high-level visit [by Griffiths] doesn't change the fact that there is an ongoing blockade," said the first senior official.
A third senior relief worker, who was recently in Tigray, said fuel shortages caused by the blockade have prevented aid groups from trucking water to displacement camps, leaving some sites with no supplies for weeks.
As agencies scale back their operations – some are now entirely non-operational – the official said local NGOs and community groups are trying to fill the gaps. "They are doing their best, but the gap is huge," the official said.
"Just because they allowed trucks in for some visibility at the time of a high-level visit [by Griffiths] doesn't change the fact that there is an ongoing blockade."
Agencies have requested frequent flights through the United Nations Humanitarian Air Service. But just two flights have been authorised by the government so far, making it difficult to rotate staff in and out of the region, and to respond to medical emergencies.
The aid officials who spoke to The New Humanitarian said Tigray-based colleagues are struggling to contact their families due to communication issues; are forced to work in the dark; and in some cases are down to one meal a day for want of cash.
"Staff have not been paid salaries for one or two months [in some cases]," said the third official. "In an environment of inflation and price rises, it puts staff and their families in a precarious situation."
Allegations that humanitarians are providing weapons and other support to the TDF – dubbed a terrorist group by Addis Ababa – meanwhile, amount to a form of "psychological warfare" against them, said the first senior official.
Amhara-Tigray showdown
As the TDF move deeper into neighbouring regions, humanitarian needs are growing.
In recently captured Lalibela – home to 12th century rock-hewn churches – Amhara residents fled in anticipation of the rebel advance, said a former resident who is currently in Addis Ababa but had spoken to several relatives in the city in recent days.
The former resident, who asked not to be named for security reasons, told The New Humanitarian that TDF forces have not engaged in any looting or physical attacks "as feared" but have requested locals provide them with food.
In Woldiya, another Amhara city, a resident – who also asked not to be named – described the area as "teeming with tens of thousands of displaced people" who have fled TDF advances from other cities and smaller urban and rural centres.
The second senior aid official said agencies can expect fewer restrictions in Amhara and Afar – where a further 50,000 people are displaced – than in Tigray, but added: "This new escalation further [highlights] that the need is growing at a rate greater than our ability to [respond]."
What happens next in the conflict is unclear. For now, the TDF remains on the front foot, though Omer, the political analyst, said it may be "over-stretching" as it fights foes on multiple fronts.
"This new escalation further [highlights] that the need is growing at a rate greater than our ability to [respond]."
While the government has launched a recruitment drive and threatened new operations, morale is low, said Omer. Ethnic militias have been drafted in to support federal forces, but it is unclear how much fighting they have done, or will do, the analyst added.
Amhara forces have called for all "young people" to mobilise as they seek to push back the TDF advance and defend annexed parts of Tigray they say were unilaterally taken from their region by the TPLF in 1991.
Among the annexed areas are large parts of western Tigray from which thousands of Tigrayans have been forced out in recent months – a campaign the US has called ethnic cleansing.
Reclaiming the disputed lands – which border Sudan – would return Tigray to its pre-war borders, and help the TDF break the federal blockade by opening up a supply route through a neighbouring country.
As Amhara and other pro-government forces in western Tigray prepare for an assault, killings are already taking place: Dozens of bodies – some identified as Tigrayan –reportedly washed up on the Sudanese side of a border river last week.
The killings, which the government called TDF propaganda, follow comments from Abiy that referred to the TPLF as "weeds" and "cancer" – language a UN special adviser on genocide prevention said risked "pulling communities apart" and fuelling atrocities.
Philip Kleinfeld reported from Bamako. Edited by Andrew Gully.
Read more about...