Year-long protests calling for Haiti's President Jovenel Moïse to step down amid corruption allegations have gained momentum in recent weeks and threatened to make it even more difficult for aid organisations to reach 2.6 million in need of food assistance. 
Roadblocks and clashes between protesters and police have shut down critical supply routes between Haiti and the neighbouring Dominican Republic – which make up the Caribbean island of Hispaniola – while many roads around the Haitian capital of Port-au-Prince have become impassable. 
Fuel shortages have sparked riots and have led to interrupted water supplies, while people have struggled to find fuel for their generators, stoves, and vehicles. The World Food Programme has also suspended many of its aid operations because of the unrest. At least 17 people have died and nearly 200 have been injured in the recent protests, according to the Haiti-based National Network for the Defense of Human Rights.
"Our colleagues report that the health sector is probably the most impacted, with hospitals facing significant challenges to operate," Stéphane Dujarric, a UN spokesperson, said at a press conference last week in New York. "Fuel shortages, lack of safe water and other essentials are also affecting orphanages, civil protection units, and other emergency services."
Stéphane Michel, a gynaecologist at a hospital near the shanty town of Cité Soleil, told The New Humanitarian that some hospitals have closed because of insecurity or a lack of fuel or medicine. Many ambulance services are also not functioning, he said.  
One woman who had just undergone an emergency caesarean section had to travel nearly 100 kilometres from the coastal southern town of Jacmel to Port-au-Prince after hospitals in her area were shut down amid the turmoil, he said. 
In Fond-des-Blancs, about 125 kilometres southwest of the capital, the St. Boniface hospital will likely run out of supplies in a couple weeks' time unless the situation improves, its director general, Dr. Inobert Pierre, told TNH.
The hospital would usually see between 800 and 850 patients a day, but that number has dropped by half because of the roadblocks and unrest. 
Haiti, one of the poorest countries in the western hemisphere, has struggled to recover from the magnitude 7.0 earthquake that killed more than 100,000 people and left some two million people displaced in 2010. In the wake of that disaster, cholera followed and killed some 10,000 people – an epidemic linked back to UN peacekeepers sent to help Haitians.  
Since then, floods have displaced hundreds more in storms that have battered the island nation. In 2016, Hurricane Matthew destroyed 90 percent of the buildings along the country's southern coast and caused $1.9 billion in damage.
Unemployment is now above 70 percent, with an inflation rate of 19 percent and more than half of the country's 11 million living on less than $2.41 a day.
Continuous crises
Crowds have been calling for Moïse's resignation for more than a year now, but protests have escalated since auditors released a report in May that showed some $2.3 billion had gone missing after a deal with Petrocaribe, an oil alliance that allowed some Caribbean countries to purchase oil from Venezuela with deferred payments. The money saved was meant to pay for much needed infrastructure, economic, and social programmes. Few improvements were ever made, however, and auditors found evidence that implicated Moïse in an alleged embezzlement scheme.
Moïse has so far refused to resign, giving a pre-recorded address in the middle of the night on 25 September when he called for dialogue and offered a possible replacement for Fritz William Michel, his latest choice for prime minister who lawmakers have rejected.
Charlot Jacquelin Jr., an advisor to Moïse, said the government is trying to solve the crisis but has been crippled for nearly six months.
"Since 2018, we have not had a budget, a legitimate government, and with pressure from the private sector, the fight for power over fuel – everyone looking for their profits – is creating major problems for the nation," Jacquelin told TNH. "This situation has become very difficult for the nation due to high demand and low supply."
Hospitals 
Hospitals have been in short supply of staff and medicine due to the unrest.
"The health sector is probably the most affected [by the unrest] with hospitals facing significant challenges to operate," the UN's emergency aid coordination body, OCHA, said in a written statement. "The shortage of fuel and the inability to replenish medical supplies are the main concerns."
Health-related aid programmes have already been affected and will "likely be completely disrupted if the situation continues, OCHA said, adding that maternal health activities were "practically at a standstill" in certain areas and mobile clinics were also affected.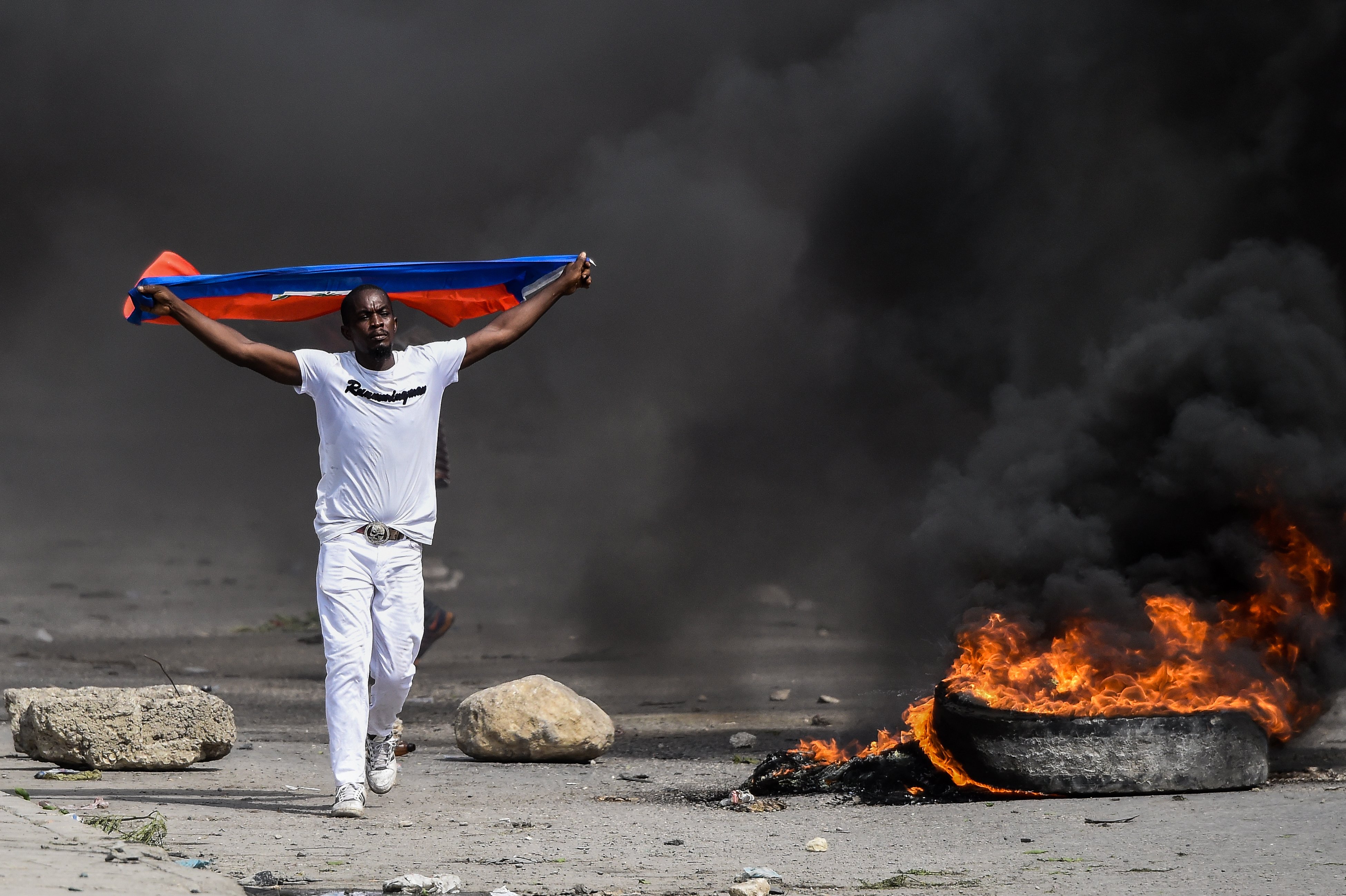 Food and Water
Prior to the recent unrest, some 571,000 Haitians were already at an "emergency" level of food insecurity, meaning they had very high acute malnutrition or were having to employ emergency strategies to get by.
The unrest has already forced a "slowdown" in efforts to support tens of thousands of the hungriest Haitians with urgent food aid and, should the protests continue, "thousands of people already facing the consequences of severe food insecurity will be further negatively impacted, with food assistance unable to reach them", OCHA said.
Beneath regular downpours of mid-afternoon rain, people have been waiting in long lines for water with empty gallon containers perched on top of their heads.
Haiti's water and sanitation agency has said that roadblocks are preventing its diesel fuel supplier from reaching water stations to power pumps.
"There's a real water problem because we don't have fuel and our workers can't get to work," agency director Guito Edouard told CNN. "Workers drive cars with a state logo which can be dangerous to drive during a protest."
Some neighbourhoods connected to the sewage system depend on water being pumped in from a reservoir, but most people have to buy their own drinking water from private suppliers. 
The unrest has also affected deliveries from the UN's World Food Programme. So far, only 39 percent of schools have received commodities, and food deliveries to schools in southern Haiti have been particularly affected after national roads were blocked. Cash aid transfers to some 37,000 people in the Grand'Anse, Artibonite, and other areas have also been postponed due to the unrest and fuel shortages, WFP said. 
Education
September is when students should have been starting or registering for the new academic year, but the protests have closed dozens of schools, according to Jean Richeler Cantave with the Boisrond-Tonnerre school in Mirebalais, about 60 kilometres northeast of the capital.
"I don't know what is going to happen in the coming week; we're always waiting to see if we can open," Cantave said. 
Some fear repeated school closures will hurt Haiti's long-term future. More than 80 percent of Haitians with a university degree already live outside of the country.
"You lose momentum in any kind of learning you were having in that short-term period," said Amber Walsh, deputy country director of the Haitian Education Leadership Program, or HELP, which sponsors students to attend university. Because of the ongoing unrest, classes have been cancelled, and students have been told there may not be water or electricity in their dormitories.
"Most schools are not going to make up that time missed," Walsh told TNH. 
Josue Pierre, a 24-year-old agronomy student at University Quisqueya in Port-au-Prince, is in his fourth year in the HELP programme. With five sisters and two brothers, he is the first in his family to attend university. 
Originally from Petite Rivière de l'Artibonite, a fertile valley area around 120 kilometres north of the capital, Pierre is hesitant to return home even though classes have been cancelled. 
"We, as the youth, must stand against corruption," he told TNH. "It is not only the president's fault, but every Haitian's responsibility to help the country move forward and eradicate corruption."
Business
Caribbean Craft, which employs more than 100 local artisans, lost its entire inventory of supplies when their buildings were torched on 27 September.
On Twitter, the company said: "When incompetence, lack of leadership and governance, eagerness to steal, corruption, and impunity are aligned: the entire society collapses."
Owner Magalie Dresse vowed to rebuild and stay. 
"I will fight for the talented artisans all across Haiti by offering them a state-of-the-art facility that will help them promote their goods, develop new skills, and improve their communication," Dresse told TNH. "This is what my fight is about now – it's beyond me."
Elitha Janvier, 48, runs a fruit stand in the capital. Normally, she earns around $50 a week, but she has been unable to work in the unrest because of security concerns. 
"We do not have people who care for us," she said.
When asked for a solution and why Moïse was refusing to step down, Jacquelin, his advisor, skirted the question, saying that all sectors of society needed to come together to "make people regain confidence in their country".
"People have been constantly asking their presidents to step down during their term," he said. "This is a constant thing because there is a lack of democratic culture in Haiti and a lack of its understanding thereof. It is sadly historical."
Haiti gained independence in 1804 – long before many countries around the world. Since then, however, more than two dozen of its leaders have been pushed from power through coups, uprisings, or assassinations.
(TOP PHOTO: A police officer throws a stone during a protest on 4 October against President Jovenel Moïse outside the main UN base in Port-au-Prince.)
jo/pd/ag