The woman fleeing years of war in Somalia thought she was sailing to Italy, only to be dumped by smugglers on the shores of Cyprus. With no chance of leaving the island, she applied for asylum. That was five years ago. She's still waiting.
Her case is emblematic of an asylum system aid groups say is overburdened by a surge in migrant arrivals. This week, the government reportedly asked for help in relocating 5,000 people to other European countries. 
While EU-wide arrivals are decreasing, Cyprus is bucking the trend.
EU statistics show that the small country – population 1.2 million – registered 7,765 asylum applications in 2018; an upsurge of 70 percent from the previous year that made it the European country with the highest number of asylum seekers per capita.
According to a report from Politico, Cypriot Interior Minister Constantinos Petrides sent a letter to the European Commission, writing that "Cyprus is in urgent need of immediate assistance, given the unprecedented high number of arrivals", and asked member states to "submit their pledges for relocating 5,000 persons from Cyprus".
Petrides placed some of the blame for the influx on Turkey, which he said "systematically refuses to cooperate with the competent authorities of the Republic [of Cyprus]".
Cypriot authorities have previously been quick to accuse Turkey and its satellite in northern Cyprus of exploiting the island's unique geopolitical circumstances to facilitate migrants' journeys.
Since a 1974 conflict with Turkey, the northern third of the island has been occupied by the self-declared Turkish Republic of Northern Cyprus, recognised only by Ankara. 
UN peacekeepers patrol a 180-kilometre-long buffer zone that cuts across the island, including Nicosia, the capital, through which the burgeoning migratory route now flows over a relatively porous border.
Aid groups in Nicosia told The New Humanitarian that asylum seekers are subjected to long waiting times and are not allowed to leave the island. They argue that the Cypriot government is picking a fight with Turkey to distract from its own dysfunctional migration laws.
Executive director Doros Polycarpou of KISA (the acronym stands for Action for Equality, Support, Antiracism in Greek), an NGO that fights discrimination against migrants and refugees, blamed the jump in numbers and consequent backlog in processing asylum applications on a lack of avenues for people to legally extend their stays in the country.
That's because the UN's refugee agency, UNHCR, estimates that around half the people who apply for asylum in Cyprus come from what it calls "non-refugee producing countries".
This refers largely to South Asians whose student or work visas have expired, and who Polycarpou said know submitting a claim to the understaffed Cypriot asylum service can prolong a stay by years. 
"We have huge numbers of people who apply for asylum only because they lose their status," Polycarpou said. "This is why we tell the government that in order to deal with the asylum system, you need to look at the [government] migration system. But instead, they blame Turkey."
Migrants 'have no idea that they are in Cyprus'
In 2017, 138 third-country nationals arrived in Cyprus through the island's north compared to 2,625 in 2018, and 3,060 through 2 June this year, according to the Cyprus Ministry of Interior. The largest number of people seeking refuge last year – 1,970 – were from Syria.
Stavros Christofi, head of the official Cypriot Asylum Service, admitted he was daunted by a backlog of more than 14,000 asylum cases.
"It's a huge number," he said. "And every month more than 1,000 new cases are made."
UNHCR's representative on Cyprus, Katja Saha, criticised Cyprus for not implementing techniques to quickly assess urgent or illegitimate claims. "There is no prioritisation," she said. "What they can do is put in place an effective accelerated procedure for manifestly unfounded claims."
With boats arriving from Turkey, Lebanon, and Syria, Christofi said Cyprus has looked for help from the European Asylum Support Office, which now has 29 staffers on the island, adding to the asylum service's own 14 employees. Christofi estimated this should allow his agency to make 5,000 decisions a year. 
The government in Nicosia considers northern Cyprus to be occupied territory, so it has been unwilling to construct a fence or well on the border as other European countries have done. And the absence of diplomatic relations with Turkey precludes any sort of readmission policy.
"We cannot put up a fence; we cannot send them back," Christofi said of the dilemma.
Not all arrivals in Cyprus are intentional, like that of the 23-year-old Somali woman who expected to land in Italy, and hoped to travel north to join family members in Scandinavia. Like others interviewed, she asked not to be identified by name for fear of jeopardising her asylum application.
"When we show them on the map where they are, they have reactions from crying to speechlessness to anger."
She said many of her fellow Somali women travelled by sea to Cyprus from Turkey, believing they were on the way to Greece or Italy: "The smuggler tells them that they will be taken to another European country, one where their families are," she said.
Refugees fleeing Somalia take a plane from Kenya to Istanbul, then board a boat: "It's a small boat, people hide down below," she said. "They don't see any light; they know nothing until they reach here."
Many who arrive at a Nicosia centre for migrants run by Caritas "have no idea that they are in Cyprus", the Catholic charity's coordinator, Gosia Chrysanthou, said. "When we show them on the map where they are, they have reactions from crying to speechlessness to anger."
Increasing economic hardship and political pressure on Syrian refugees to leave in countries like Lebanon and Turkey has encouraged more people to flee to Cyprus, said UNHCR's Saha. 
"There has been building pressure for returns in the last six months, so people still inside Syria don't consider these countries viable final destinations," she said.
Risk of exploitation 
After applying for asylum, people in Cyprus receive an identify document that allows them to work after one month, precludes travel to Europe. Some people say this has forced them to use smuggling routes, sometimes for the second time, to reunite with family members.
Cyprus has two reception centres where newly arrived asylum seekers wait to be registered. The largest is on Kofinou, near the southern city of Larnaca. The second is in the village of  Pournara, on scrubland 20 kilometres west of Nicosia that used to be a Greek military camp.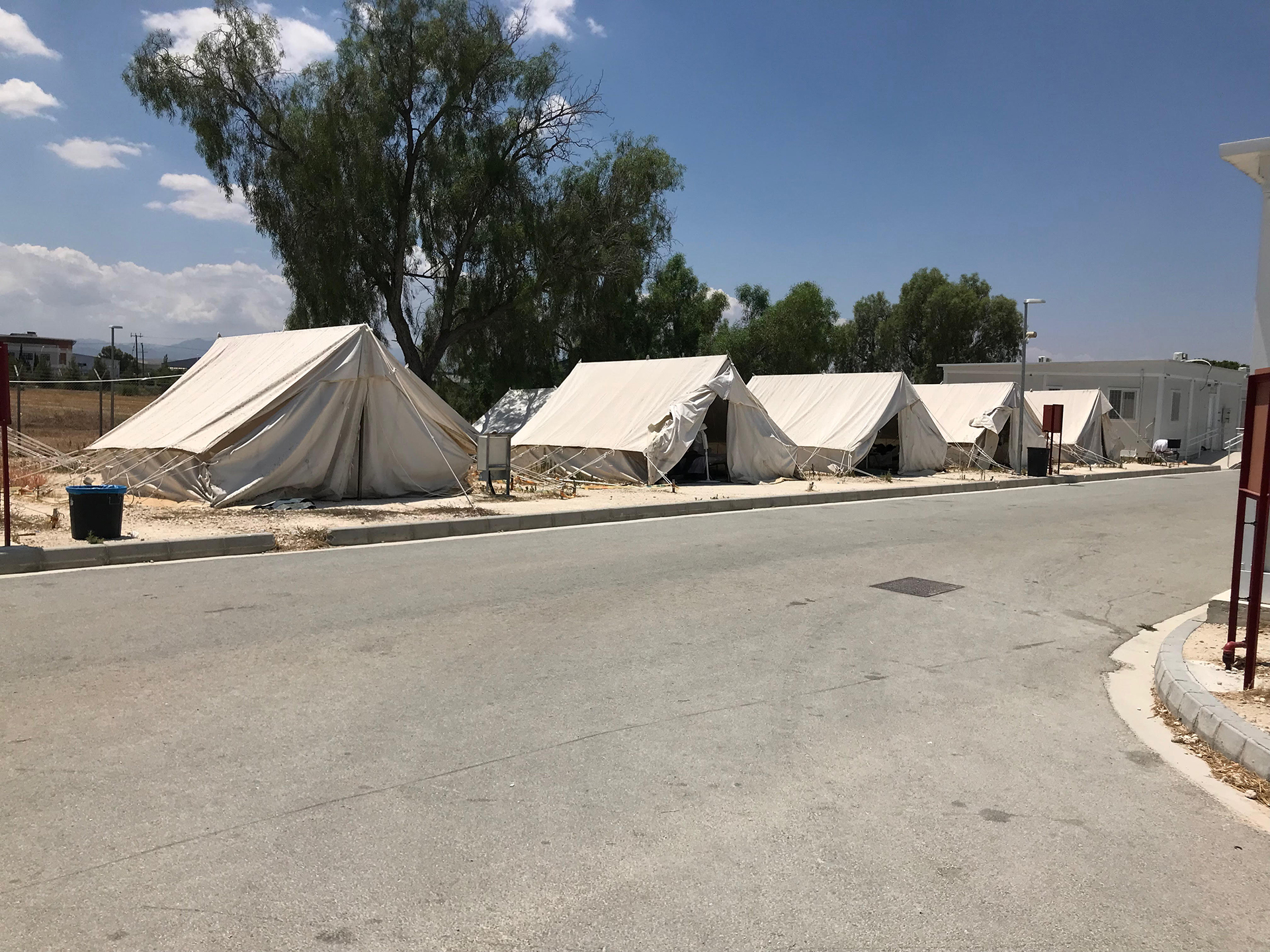 There, temperatures soared to 36 degrees when TNH visited in July, creating stifling conditions in the plastic tents where asylum seekers sleep for a few days while conducting preliminary registration.
Among them was Sikandar, a Pakistani national who spent several years working in northern Cyprus, drawn by promises of cheap education and work made by an agent back in Peshawar, in northern Pakistan. But he was attracted by the prospect of better economic opportunities in Nicosia, and crossed into Cyprus.
"I know I might not get asylum but a few months after you apply, they give you the right to work," he said. "Marriage might be an option for me to stay here too."
In addition to applications from South Asians and Syrians, Cyprus is seeing rising numbers of people fleeing Cameroon's escalating conflict, where violence in the country's anglophone regions has displaced more than half a million people. Some 500 Cameroonians claimed asylum in Cyprus in 2018. The number of Syrians is likely to decrease since authorities in northern Cyprus started requiring Syrians in June to have visas in order to enter.
Fidelis, an English-speaking teacher, said he escaped clashes between the military and separatists in western Cameroon.
"You cannot sleep safe," he said. "[Soldiers] can open your door any time and take you."
Fidelis told TNH that he arrived in the north of the island, deceived by smugglers and unsure of where he had been brought.
"Someone picked me up in a car at the airport, dumped me on the street and I started looking for a way," he recalled. "I thought that I had paid for housing as part of the package. When I arrived it was a different ballgame."  
Asylum seekers are entitled to 100 euros (around 112 dollars) a month for accommodation, but every recipient interviewed pointed to skyrocketing rents and widespread racial discrimination that leaves many sleeping at bus stations, in parks, churches, and abandoned buildings.
Because of language differences, work opportunities tend to be restricted to mainly menial tasks like cleaning or working in factories or kitchens.
Gosia from Caritas noted the inherent risks of this sort of life on the margins. "Men and women are being sexually exploited in exchange for a bed or couch to sleep. It's happening, and it will get worse," he warned. "We are pushing people into criminality in order to survive. It's the migration policy which is flawed and creating an asylum seeker crisis, not a refugee crisis."
(TOP PHOTO: The buffer zone dividing the island of Cyprus.)
ac/as/ag