Rights groups are warning of an escalation in inter-communal violence in Sri Lanka as Muslim minorities – and hundreds of refugees and asylum seekers perceived to be Muslims – face a growing backlash following April's Easter Sunday suicide blasts that killed more than 250 people.
Sri Lanka's government declared successive days of overnight curfews this week after mobs attacked Muslim-owned businesses, mosques, and homes in towns north of the capital, Colombo. One man was reportedly killed. Rights groups say the violence was fuelled in part by viral social media posts inciting violence against Muslims.
More than 1,000 refugees and asylum seekers seeking safety in Sri Lanka have also fled their homes since the 21 April suicide blasts. The refugees and asylum seekers were evicted from their rented homes following pressure on local landlords; the UN's refugee agency, UNHCR, says more than 1,060 people have been sheltering in mosques or crammed into police stations and community spaces mainly in parts of Colombo and nearby Negombo.
UNHCR is calling on the government to act faster to get the situation under control, ensuring that refugees are safe and re-housed.
"Families with small children are living without proper shelter, sanitation and access to health care," the agency said in a statement. "Quick responses are needed."
"If not adequately dealt with, the recent violence has the potential to escalate even further."
The Easter Sunday suicide blasts struck six churches and hotels in different parts of the country. The government blames the attacks on little-known local Islamist groups, while so-called Islamic State has also claimed responsibility.
The violence points to a new layer of tensions simmering in multicultural Sri Lanka following the April blasts. Sri Lanka's 26-year civil war ended a decade ago, but reconciliation between the mostly Buddhist Sinhalese majority and the predominantly Hindu Tamils has been notoriously slow and divisive. The country's Tamil-speaking Muslim minority was largely caught in the middle of the conflict.
While the civil war battlegrounds aren't directly tied to today's violence, rights groups say a failure to investigate wartime abuses has enabled tensions to spread easily along other fault lines. Sinhalese Buddhist nationalists have previously targeted Muslim communities with little pushback, including attacks on Muslim homes and businesses in the city of Kandy last March.
The Centre for Policy Alternatives, a Colombo-based civil society group, said inaction or unwillingness "to prosecute any person for inciting racial and religious hatred have exacerbated a culture of impunity and must not be taken lightly".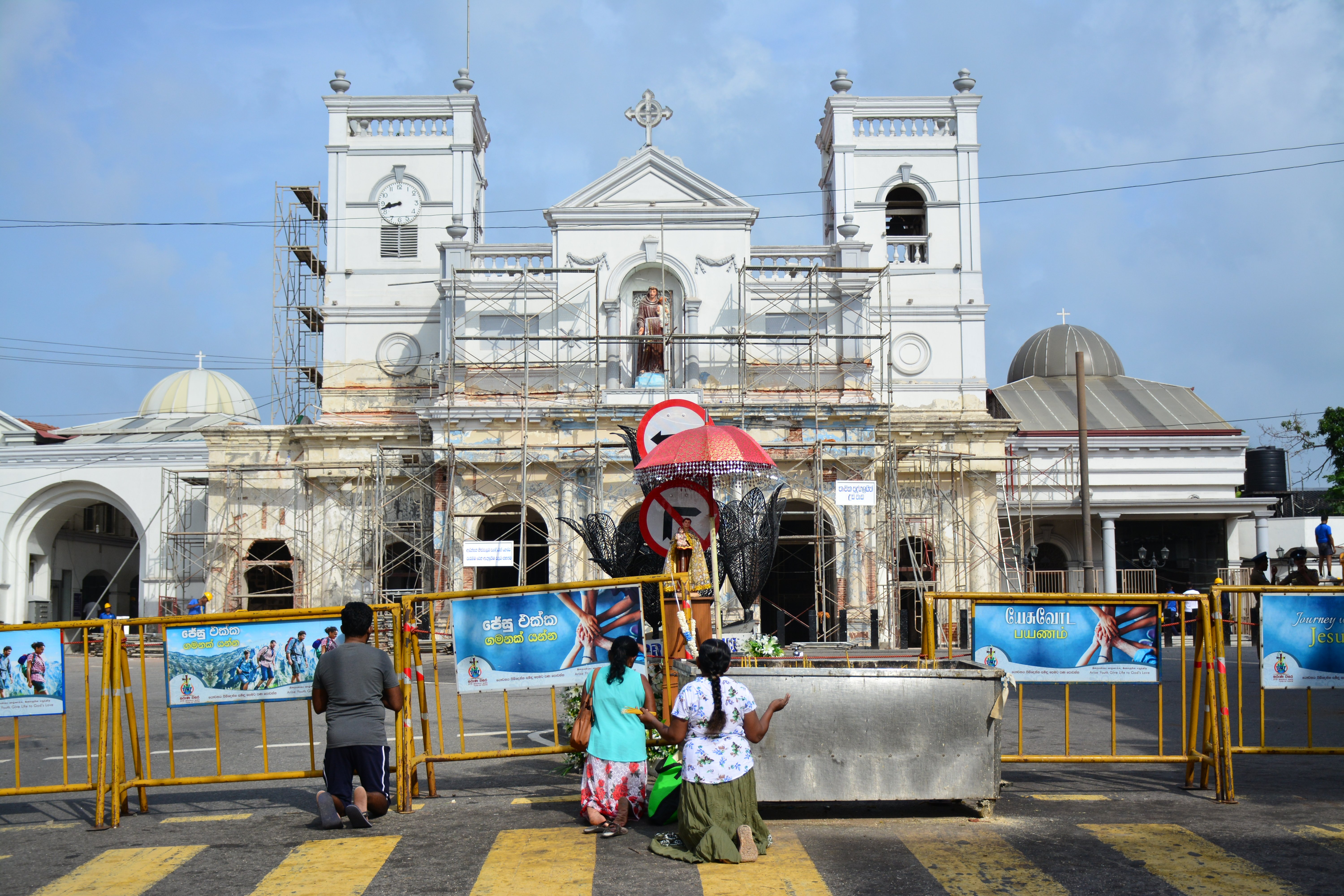 The UN's special advisors on the prevention of genocide and the responsibility to protect called on the government to investigate the mob violence and hold perpetrators accountable.
"The country is trying to move forward from a traumatic period of inter-ethnic armed conflict, but these attacks are pushing Sri Lanka backwards," they said. "If not adequately dealt with, the recent violence has the potential to escalate even further."
Fleeing persecution
The post-bombing backlash is keenly felt in seaside Negombo, where the deadliest explosion killed dozens at St. Sebastian's Church in the city centre. Negombo is majority Catholic and also home to hundreds of the 1,700 refugees and asylum seekers living in Sri Lanka.
Asylum seekers in Negombo say landlords started forcing them from their rented homes days after the blasts.
"I was sleeping when I heard loud shouting outside our house, and then all of sudden someone was kicking our door," said David, a Pakistani Christian who asked that his full name not be used.
He arrived in Sri Lanka in 2017 fleeing allegations of blasphemy – rights groups say Pakistan's controversial blasphemy laws are used to persecute minorities; dozens have reportedly been killed in mob lynchings after being accused of the crime.
Last Sunday in Negombo, a traffic accident erupted into mob violence that saw several Muslim homes attacked. David and his wife, Shaista, have now left the city and are staying with a friend in Colombo. But the threats have revived old fears for both of them.
"We have forgotten the horrors of what has happened in Pakistan to us for such a long time," said Shaista, a Muslim who also requested her full name not be used. "But after this incident we feel like we are again in Pakistan."
Other evicted refugees and asylum seekers have sought shelter in Negombo's main police station, where dozens of women, men, and children are crowded into a small parking garage. Infants and the elderly lie on thin mats and plastic sheets; the garage is open on three sides and there are limited toilet facilities.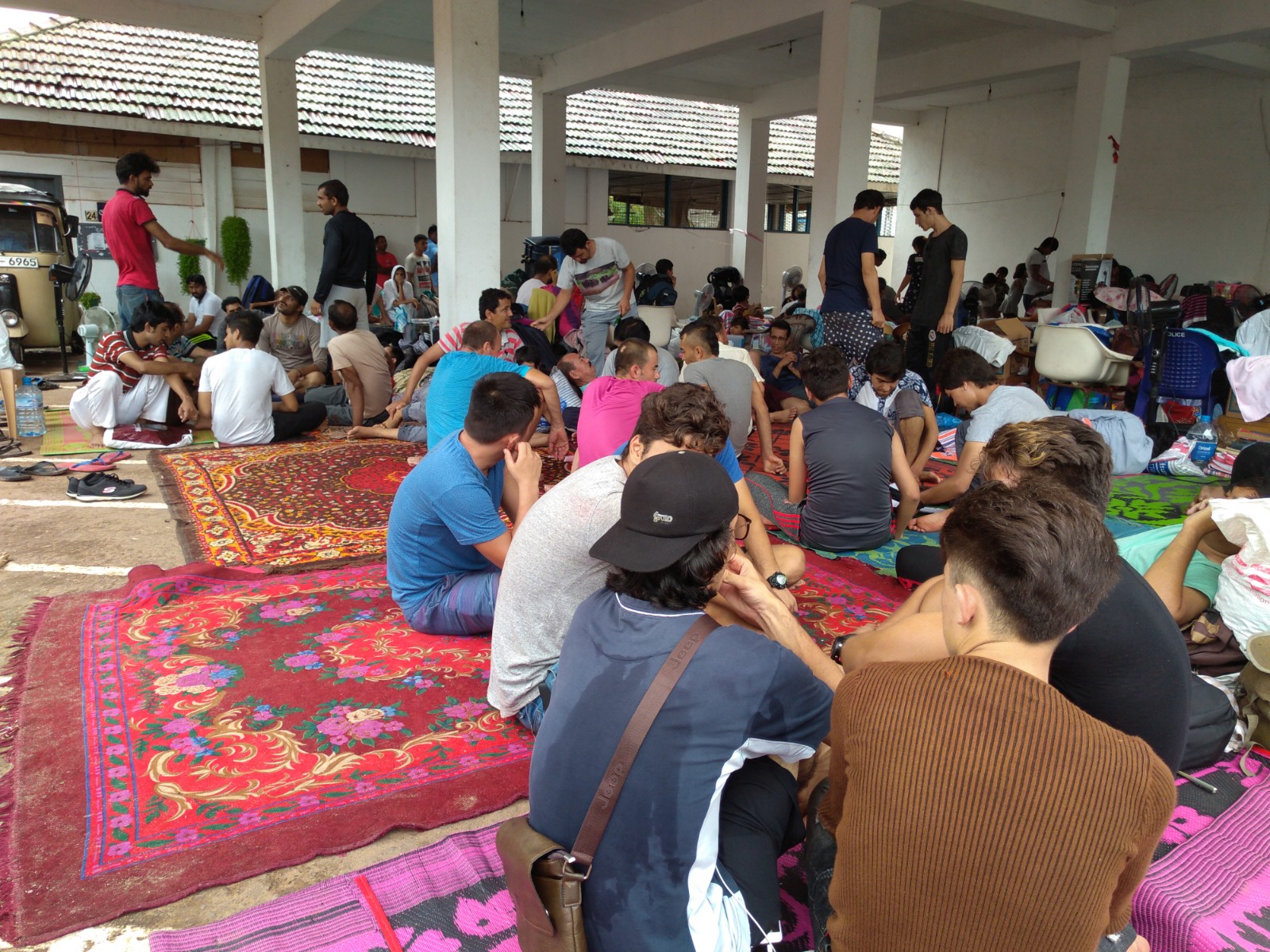 New fault lines
The majority of the nearly 1,700 refugees and asylum seekers in Sri Lanka are from Pakistan and Afghanistan. They include Ahmadi Muslims and Hazara from Afghanistan, who face persecution in their own countries.
Ruki Fernando, a Colombo-based rights activist who also works with asylum seekers, said refugees have been caught up in a backlash that has exposed new divisions between Negombo's Muslim and Christian communities – both religious minorities in wider Sri Lankan society.
"They don't know how to separate terrorist from Muslims."
"Historically, Christian and Muslims have been coexisting very peacefully. There have been no serious tensions," Fernando said.
Since the April bomb blasts, he added, "that hostility against Muslims has been visible. And that is rather sad."
Sister Rasika Pieris, a Catholic nun in Negombo, said there is now a palpable sense of "hatred" toward Muslims among some Christians in the city.
"They don't know how to separate terrorist from Muslims," she said. "For them, all are Muslims; that's how they think. So they have a kind of hatred feelings towards Muslims."
Others see troubling signs for the future in the recent violence. In a statement Tuesday, M. A. Sumanthiran, a Tamil politician and spokesman for the Tamil National Alliance, which includes political parties from the Tamil minority, drew a link between the mob attacks and Sri Lanka's civil war history.
"If people do not think that the government and the security forces are able or willing to protect them, they will be forced to defend themselves," he said. "We appeal to the government: do not let yet another community in Sri Lanka feel that in order to survive in this country, it must fight for itself."
(TOP PHOTO: A man points out damage in a shop after a mob attack in Minuwangoda on 14 May 2019, north of the Sri Lankan capital Colombo.)
ak/il/ag/js