Local authorities and NGOs are leading the initial rescue and relief effort on the Indonesian island of Sulawesi in the aftermath of earthquakes and a tsunami that have claimed hundreds of lives.
The government has asked for limited international assistance as the full scale of the destruction and loss of life becomes apparent, with the toll feared to rise into the thousands as some of the worst-hit and hardest-to-access areas are reached.
On Monday, Indonesia said it would authorise "selective acceptance" of international help, three days after a series of earthquakes and a tsunami struck parts of Central Sulawesi province, including the major population centres of Palu and Donggala.
Immediate rescue efforts have been down to local authorities, the Red Cross, and NGOs with branches in Palu. But many of these organisations were themselves hit by the disaster. The Salvation Army says six of its members died, and its main hospital in Palu had to be evacuated. World Vision said many of the 38 staff of its local partner, Wahana Visi, are now camping outside the office in Palu as their homes have been damaged.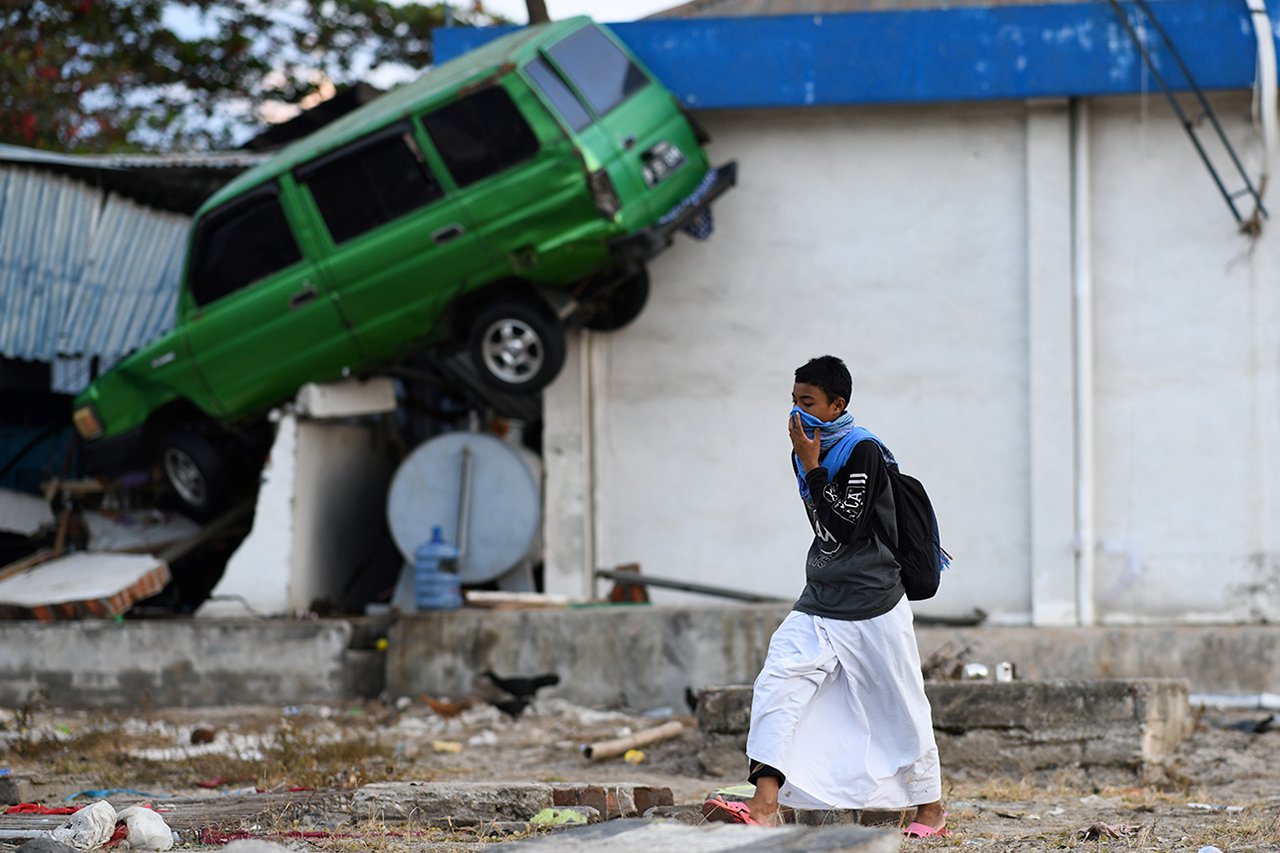 Landslides, debris, and a shortage of fuel and electricity have hampered aid efforts as humanitarian groups struggle to reach the hardest-hit areas on a part of Sulawesi's western coast, where thousands of people are feared to be still trapped or missing.
Here's what we know so far. (For updates on the aid effort, check back on the site and follow us on Twitter.)
What happened
A series of earthquakes struck Central Sulawesi's Donggala Regency on 28 September. The strongest, a 7.4-magnitude quake, hit just after 6 pm local time. Indonesian authorities say a tsunami hit the mainland less then 15 minutes later, striking areas including Palu, the provincial capital, and Donggala, a coastal area to the northwest.
As of 2 October Indonesian authorities had confirmed at least 1,234 deaths and 799 severe injuries*. However, these numbers are expected to rise steeply in the coming days as more information trickles out of hard-to-reach areas. Indonesian Vice President Jusuf Kalla has warned that the toll could run into the thousands.
Scale of the damage
Damage has been severe in Palu and in Sigi, an area south of the city, where the Indonesian Red Cross estimates that more than 50 percent of the buildings have collapsed or are severely damaged.
"We are afraid there are still a lot of people trapped under the building debris," Aulia Arriani, a spokeswoman for the Indonesian Red Cross, told IRIN.
Limited rescue efforts have only recently been able to access Donggala. Roads to the area northwest of Palu had been cut off by landslides. The official death toll on Monday included only 11 people from Donggala, where heavy damages are expected but communication has been limited.
More than 61,800* people have been displaced, with assessments ongoing. One UN assessment estimated that more than 191,000 people are in "urgent need" of humanitarian assistance.
Who is responding
Authorities in Indonesia are in charge of rescue efforts. Multiple international aid groups say they're ready to respond, in addition to local NGOs and aid workers that had mobilised after the earthquakes and tsunami struck.
After an August earthquake in Lombok, an island east of Bali, the government "strongly" declined international aid and urged local NGOs not to invite international aid agencies. The government now says international assistance for Central Sulawesi will be considered on a case-by-case basis in line with needs on the ground.
Indonesian organisations involved with Humanitarian Forum Indonesia, a consortium of local NGOs, have already sent staff and supplies to the area. Other aid groups preparing to respond include CARE International, Catholic Relief Services, Singapore-based Mercy Relief, Islamic Relief, and Save the Children. Télécoms Sans Frontières, which specialises in emergency telecommunications, said it was mobilising a team, while Mission Aviation Fellowship said it expected staff to arrive on Monday to help set up a satellite communication system.
Local volunteers from surrounding areas have also organised relief and rescue efforts. Lian Gogali, a rights activist based in Poso, about 100 kilometres east of Palu, is among those who have organised an emergency response, gathering volunteers to deliver food, medicine, and fuel to the affected areas.
"We are the ones who can supply direct food to Palu," Gogali told IRIN.
Search and rescue
The Indonesian Red Cross says it is concentrating its efforts on search and rescue in Palu, Sigi, and – when access allows – Donggala.
Arriani said unknown numbers are believed to be trapped under collapsed buildings, but rescue efforts have been hampered by a lack of heavy equipment like cranes, as well as fuel shortages and a lack of electricity.
"During the night, we don't have any lights because the electricity is still out," she said. "And there is a lack of fuel because there's no fuel in Palu."
Immediate needs
Indonesian authorities say urgent needs include fuel, drinking water, tents and tarpaulin for emergency shelters, generators, baby food, body bags for the rising number of dead, and medicine, medical staff, and field hospitals.
Indonesian members of ACT Alliance, a consortium of church-based groups, say there is an immediate shortage of tarpaulins, blankets, tents, food and health services for the growing number of displaced. They also say there is a pressing need to help vulnerable groups like the elderly, children, people with disabilities, and pregnant women as the local rainy season approaches.
Difficult access
Palu's airport was damaged during the Friday earthquakes. It has since partly re-opened, but aid groups are mainly routing staff and cargo over land and sea – stretching the length of time it takes for relief supplies to reach Central Sulawesi.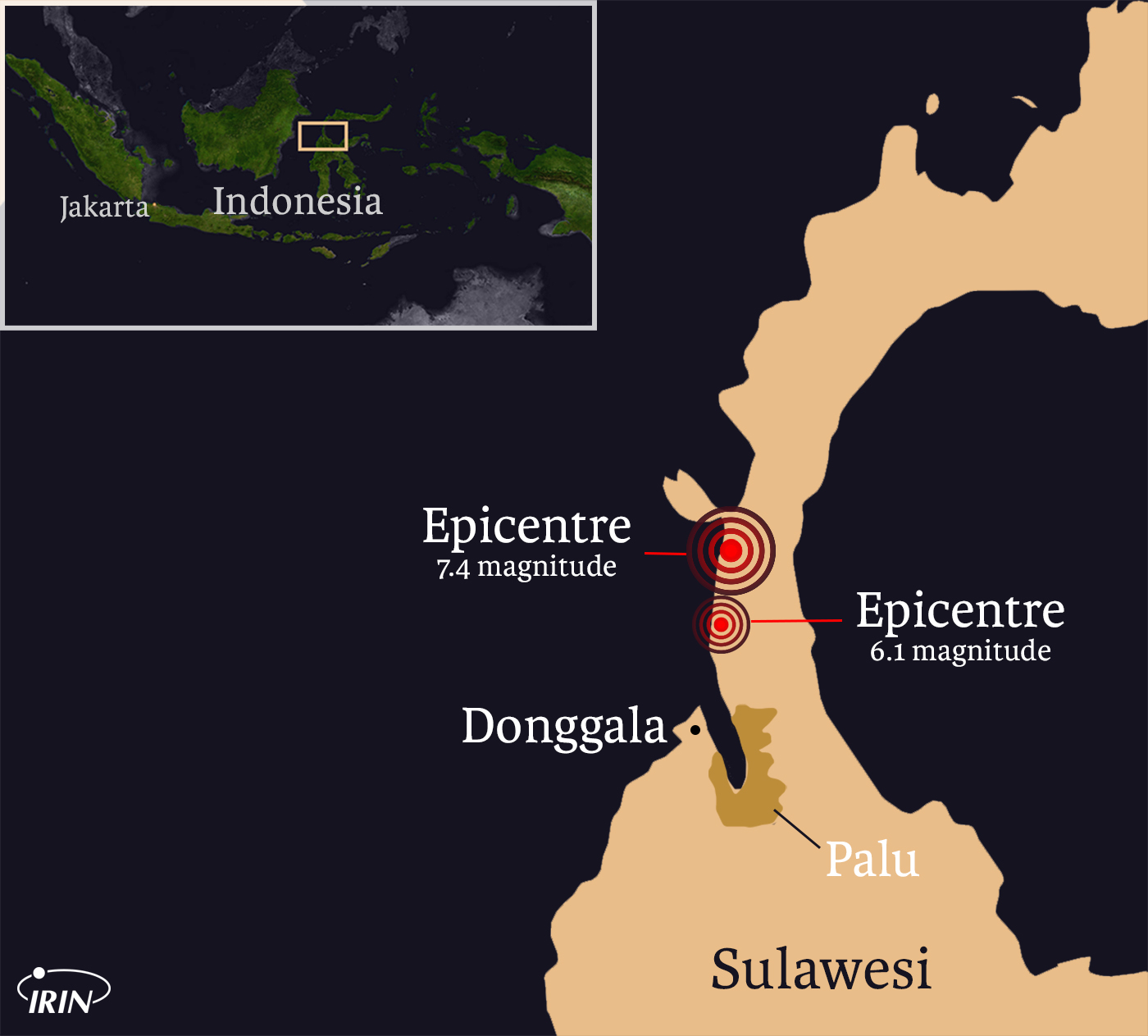 Save the Children said staff with its local partner, Yayasan Sayangi Tunas Cilik, were travelling by boat from Makassar, a city nearly 500 kilometres away in South Sulawesi. Arriani said the Red Cross is transporting relief supplies by boat from the Indonesian capital, Jakarta – a roughly 1,800-kilometre journey via Makassar.
Hampered aid efforts
Blocked roads and fuel and electricity shortages continue to slow aid and rescue efforts.
Aid groups were struggling to reach Palu and its surrounding areas with relief supplies. Indonesian staff from Catholic Relief Services and local groups including Caritas Makassar and the Muhammadiyah Disaster Management Center tried to reach the provincial capital Monday but were stuck well outside Palu earlier in the day.
"Landslides have slowed road travel, fuel is scarce, the airport is damaged, and it takes time to coordinate large-scale transport by sea," Fatwa Fadilla, the group's programme manager for disaster risk reduction, told IRIN.
Questions around early warning
Tsunami experts say an advanced warning system could have prevented deaths. Indonesia had been testing a new early warning system but implementation had stalled, according to the Associated Press.
But early warning is just one part of an effective alert system. Such systems must include a way to notify residents, clear evacuation routes, safe evacuation centres, and education efforts so that residents know what to do. The spokesman for Indonesia's disaster management agency, Sutopo Purwo Nugroho, said no warning sirens sounded as the tsunami swept into the busy seafront in Palu. Limited early warning, planning, and knowledge of what to do contributed to the tsunami casualties, he said.
Indonesia's meteorological agency says it sounded a tsunami warning shortly after the largest earthquake struck at around 6 pm local time, predicting that waves of up to three metres (10 feet) could strike by 6:22 pm. Authorities say they're still analysing the exact cause of the tsunami and when it hit. The agency says viral videos suggest the tsunami hit Palu between 6:10 pm and 6:13 pm. The agency said it ended its alert at 6:36 pm, because a tidal gauge near Mamuju – south of Palu – indicated the wave had already passed.
But waves that hit Palu and surrounding areas appeared to be far higher than authorities predicted, with some reports they reached as high as five or six metres (18 feet). The AHA Centre, a regional disaster coordination body for Southeast Asian countries, said the shape of the shoreline leading into Palu city – a long, narrow inlet – may have amplified the height of the ensuing wave.
News organisations, like aid workers, had to rely on limited sources and access, but online news tracker GDELT recorded 50,000 articles up to mid-Sunday.
(* Figures updated 2 October)
il/ag