The Irish NGO GOAL has suspended food voucher distributions in Syria's troubled Idlib region since February as donor concerns widen about delivering aid in areas controlled by extremist groups. A GOAL spokesperson confirmed it had "paused" the initiative but did not offer details of the move, which has not been previously reported.
GOAL is the second US-funded NGO known to curb operations in the Syrian rebel stronghold this year. Much of Idlib is controlled by al-Qaeda affiliate Tahrir Al-Sham (HTS), which attracts additional donor scrutiny. A USAID spokesperson said there were questions about "integrity" in the project.
Idlib, bordering Turkey, is home to nearly three million people, two thirds of whom are in need of food aid, according to the UN. It hosts hundreds of thousands of displaced people, many from other parts of the country.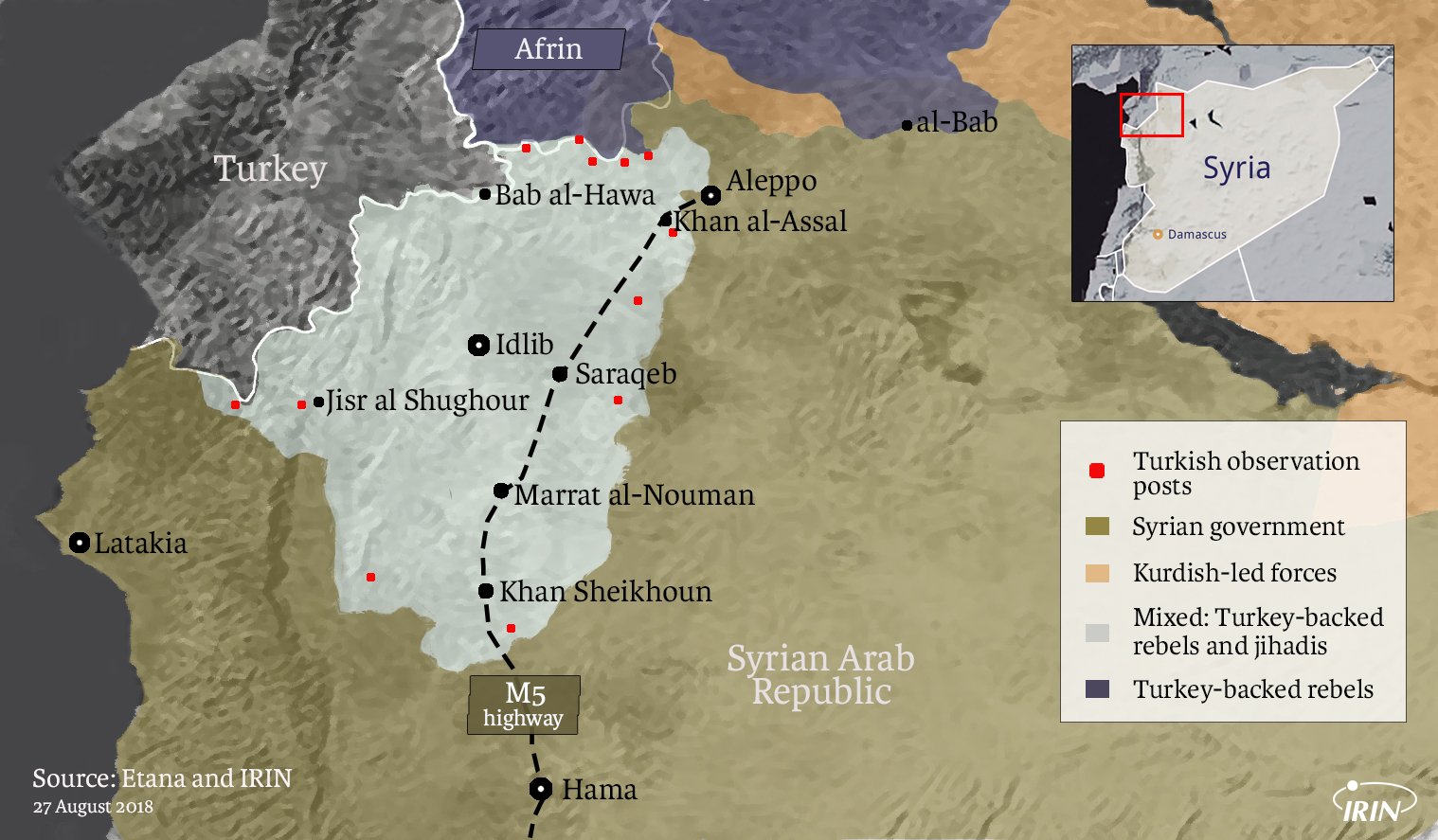 The government of Syrian President Bashar al-Assad, backed by Russia, had signalled its determination to mount an offensive to retake the area from HTS and other armed groups, some of which cooperate with Turkey. An international outcry at the potential impact on civilians has been followed by a stop-gap deal, brokered by Russia and Turkey, to try to eliminate HTS without a land offensive.
GOAL felt obliged to stop the food voucher project "in the context of the increasing complexity and ever changing landscape of the operating environment," an email from the charity's spokesperson said.
USAID said it agreed with GOAL's decision but was expecting further details before reinstating the programme. Nevertheless, "USAID continues to work with GOAL and other partner organisations in Northwest Syria to assist displaced people and other vulnerable groups," its emailed statement said.
Public documents show that the number of Syrians receiving cash allowances or food vouchers supplied cross-border to rebel-controlled areas dropped from 216,977 in January to 107,103 in March. This 50 percent drop is likely due in part to the GOAL suspension. However, the UN World Food Programme, which gathers this data on food aid operations, refused to break the numbers down further.
WFP declined to comment on the impact of the suspensions but did say the UN agency had increased its own deliveries "in the past few months". WFP "facilitated coordination between partners to identify locations and plan any humanitarian response needed in case any NGO shuts down," a spokesperson added.
Tighter regulations
NGO officials and researchers say the United States is becoming increasingly inflexible in enforcing anti-terror regulations. New guidelines issued last week take the pressure up a notch further in Syria. A separate USAID investigation into alleged fraud and corruption at GOAL in Turkey has recently finished.
IRIN reported last month that a large NGO, Catholic Relief Services, had halted its operations in Idlib, also around February, after US investigators alleged CRS had delivered American food aid directly to armed extremists. Without accepting the allegations in full, CRS told IRIN it had dismissed staff as it works to "further enhance" anti-fraud measures.
The impact of GOAL's "pause" is unclear. GOAL did not reveal how many people were dropped from the voucher project or whether those beneficiaries had found alternative sources of support. As the second-largest NGO recipient of US funding for Syria, it had supported 250,000 people with food relief projects in the region. It also supports public bakeries and water supplies.
Among mounting needs in the region, food is a major concern. Food "baskets" and vouchers reached some 670,000 people in Idlib, according to June statistics. GOAL, along with other NGOs and the UN, relies on a handful of Syrian aid groups to do the last mile of registration and distribution. IRIN's requests for comment from Syrian NGOs working with GOAL were unsuccessful.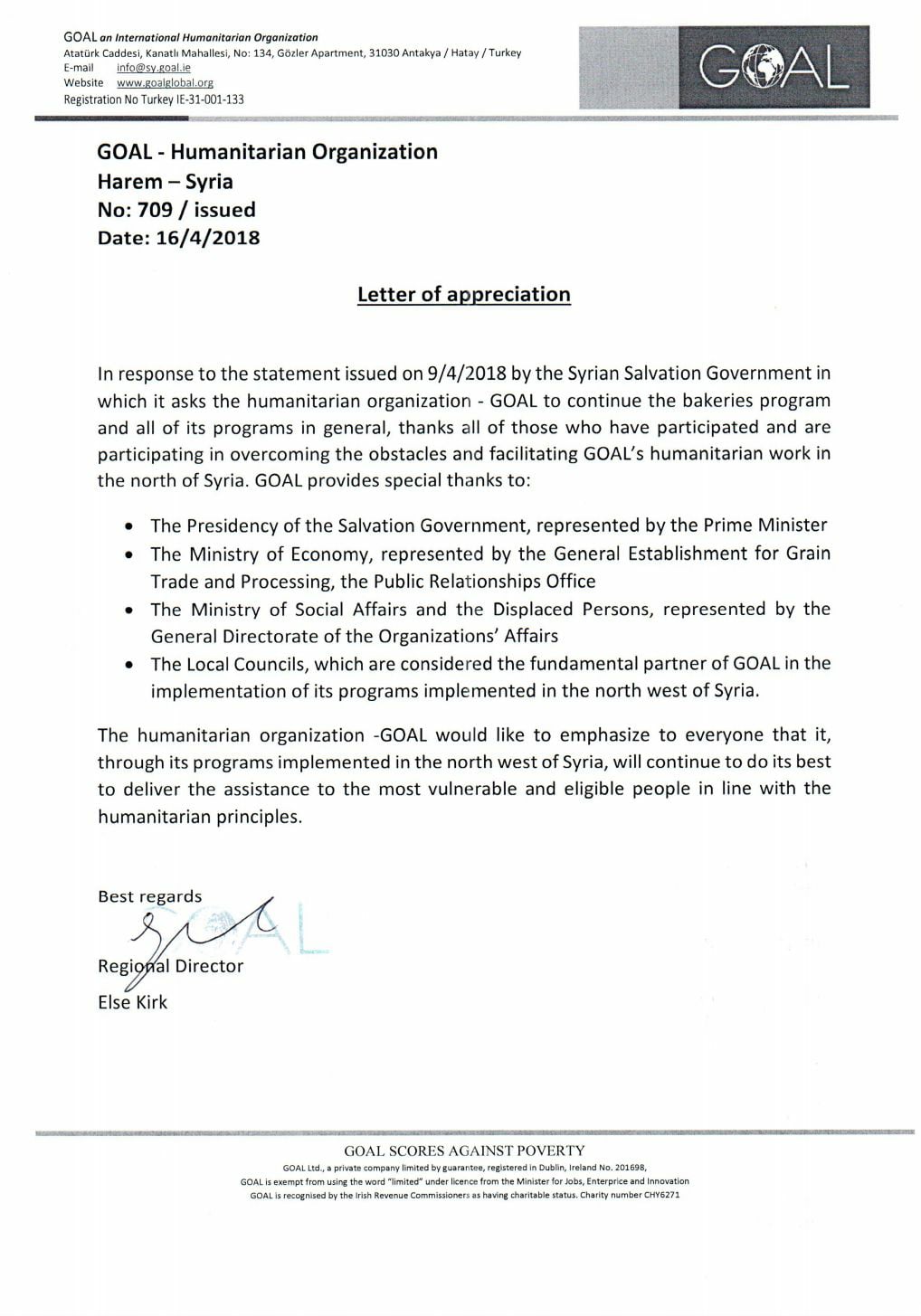 From 2015-2017, GOAL received about $143 million from USAID for Syria, according to data on the USAID website. In recent weeks USAID has redacted the names of its grantees in Syria from public data, but earlier downloads retained by IRIN contained the details.
After the voucher programme was paused, GOAL's regional director wrote a "letter of appreciation" in April to the administrative arm of HTS, saying the NGO would try to continue its support to bakeries. The letter was released online, and GOAL was accused by an online publication of collaborating with extremists. USAID said the letter was not a focus of concern as GOAL was not providing support to HTS. GOAL did not comment on the letter when asked.
GOAL described working in Syria under demanding donor conditions as "challenging". In its emailed statement, which noted that four staff members had been killed during its Syria operations, the charity vowed to continue its work as long as it is "in a position to deliver aid in these complex environments and adhere to humanitarian principles."
bp/ag